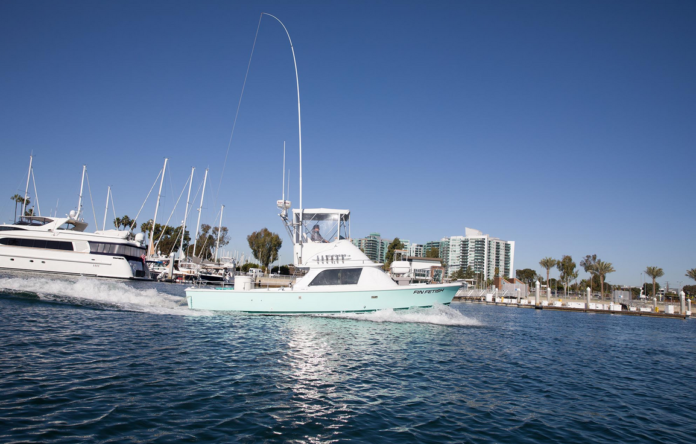 New in 2021, Western Outdoor News is offering a reverse 1.5-day trip with Fin Fetish Sportfishing. This is a freelance trip, but the most likely course of action will be fishing white seabass, yellowtail, rockfish & lingcod at the islands. The unique nature of a reverse 1.5-day allows passengers to fish several prime bite windows including the afternoon/sunset of the first day and first light of the second day.
The trip departs from Fin Fetish's dock in Marina Del Rey at 10 a.m. on Friday June 11 and will return at approximately 7 p.m. on Saturday June 12. There are five total spaces available for this trip. It is priced at $630 per person which includes dinner for day 1, all rods and reels, tackle, bait and fish cleaning. Not included are any additional food, drinks/alcohol, fishing license, and crew gratuity.
Anglers will be fishing on either the Fin Fetish, a custom 31-foot Bertram or the Fin Fetish II, a 33-foot Crystaliner Express.
All passengers will receive a spool of Hi Seas Fluorocarbon, a Gamakatsu G-3200 Utility Box, and a Frogg Toggs Cinch Sack Backpack. Contact Michelle or Lori at 949-366-0827 for more information. Trip Jackpot Winner will also receive a $100 Huk Clothing Certificate!
No refunds or cancellations within 30 days of trip date unless you can fill your spot.
Contact Lori or Michelle at 949-366-0827 for more information.