Description
WON California Tuna Jackpot
Join us August 14 & 15, 2021 at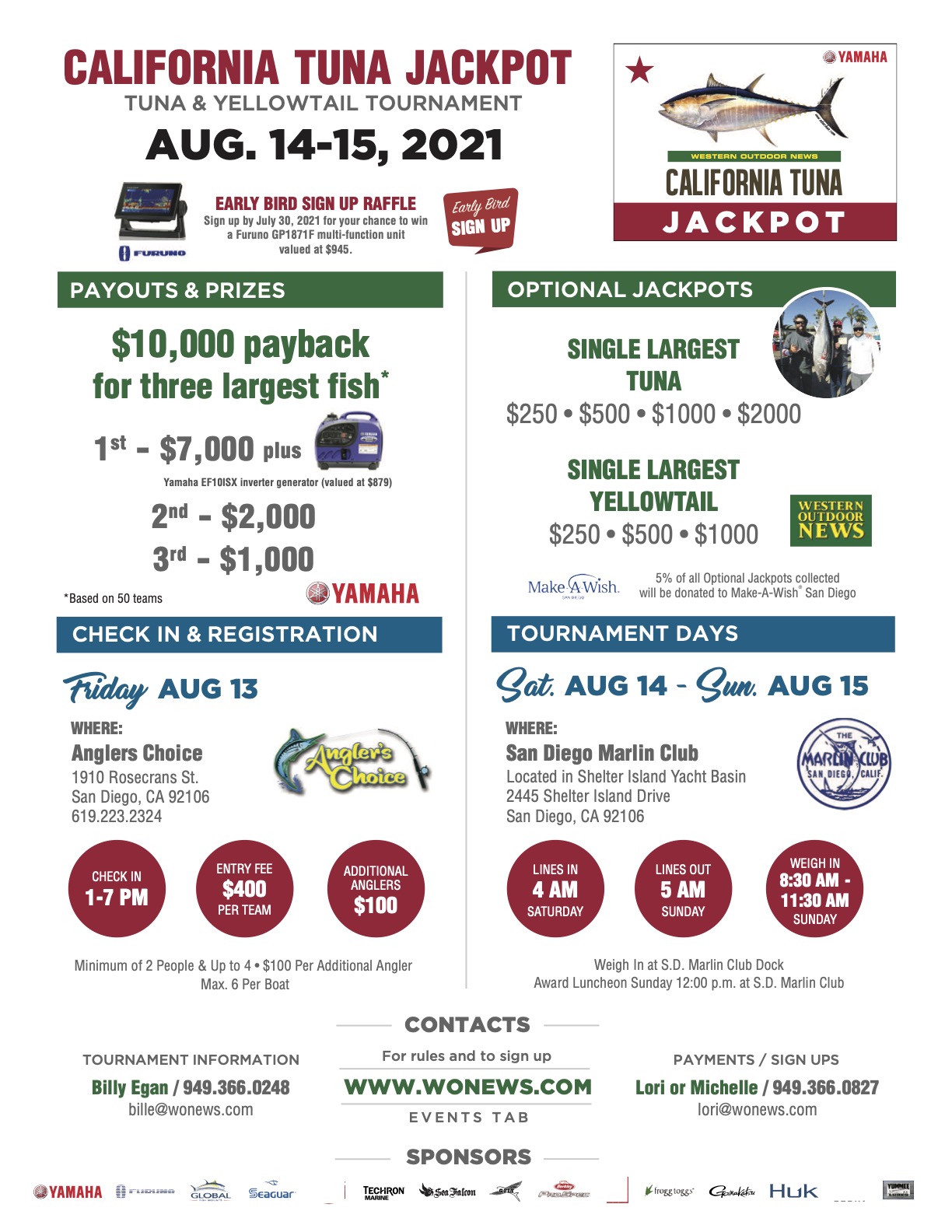 Download entry form Here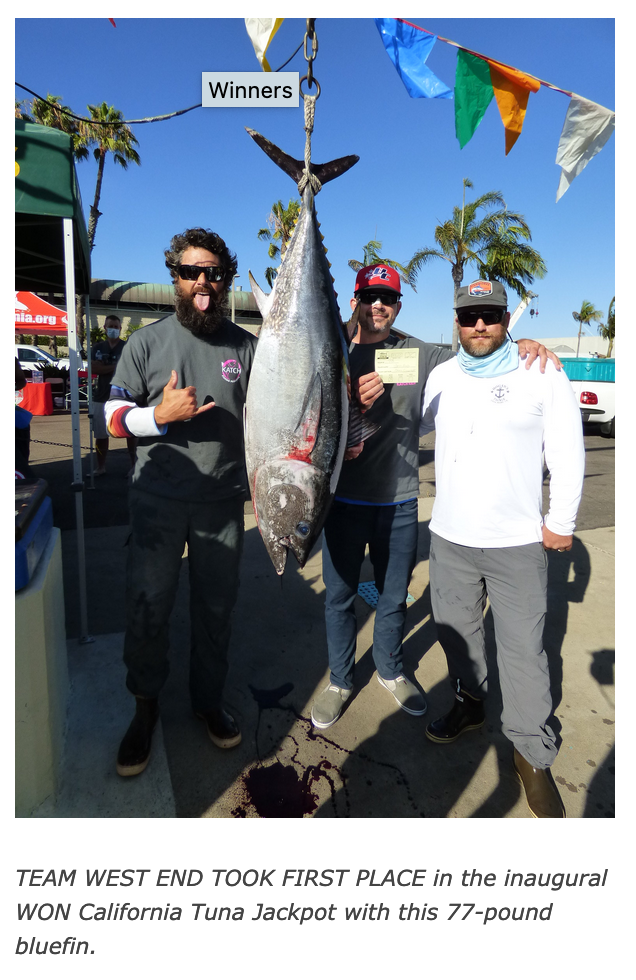 Western Outdoor News has been the leader in California for outdoor enthusiasts for the past 70 plus years, and we pride ourselves on the ability to both supply our readers with the best outdoor content and reports for both their fishing and hunting needs on a weekly basis. WON also leads the market in unique events and tournaments like none other in the industry, and the company is pleased to announce a new tuna tournament years in the making, the WON California Tuna Jackpot.
After a very successful first event, we can't wait to get back at it in 2021. Once again our sponsors will be heavily involved and ready to doll out thousands of dollars in gear for the second installment of the Ca Tuna Jackpot.
The format for the competition is the top 3 largest tuna caught during the Saturday, August 14th, California Tuna Jackpot (lines in at 4:00 A.M. – lines out at 5:00 A.M. August 15th) are in the money. The team that catches the biggest tuna on August 14th wins 70 percent of the total cash in the entry pool. The second largest tuna wins 20 percent, and the third largest tuna wins 10 percent. Based on 50 participating teams, the first place team will take home a cool $7,000, while second takes $2,000 and third place takes $1,000.
The WON California Tuna Jackpot entry fee is $400 per team of four. You may have less than four team members, but there must be a minimum of two members on each boat. Teams may have up to six maximum team members. No more than 6 people are allowed on any tournament boat during tournament hours, and all people on the boat must be on the registered team. Each team member over four is $100 additional for each member. The California Tuna Jackpot will have optional tuna jackpots available for teams interested in boosting their chances at big money payouts. The event also offers teams a yellowtail option, as we all know there should be some toads roaming the same grounds as the tuna during our event. Please click on the entry form for more details on our available jackpot options.
Teams are encouraged to sign up as early as possible with at least their general team entry, so we can make sure all team members are registered and have completed the necessary paperwork to be eligible for team earnings. Teams may send entry by mail with options included. Options will not be available online and must be paid by check, wire transfer or money order in advance or at Anglers Choiceon August 13th from 1:00 P.M. to 7:00 P.M.
Once a team has completed their registration process and has been cleared by WON, registered teams may launch at any Southern California launch facility of their choice, and begin their journey to their chosen fishing grounds. Tournament fishing times are August 14th from 4:00 A.M to 5:00 A.M. August 15th. All tournament fish "MUST" be presented to our official weigh station by boat at the San Diego Marlin Club with all team members on board. The weigh-in will be held at the S.D Marlin Club dock between 8:30 A.M. and 11:30 A.M on August 15th. All teams must be inside the Ballast Point landmark entry of the bay by 10:30 A.M. to be eligible to weigh their catch. Teams may not fish for target species until lines-in at 4:00 A.M, but may make bait prior to lines in.
The California Tuna Jackpot awards show will commence at 12:00 P.M. at the S.D. Marlin Club parking lot with our event sponsored raffles and awards presentation for the top 3 teams and optional winners.
Don't miss out on this second annual event during yet another amazing West Coast Tuna season. WON looks forward to growing this event for years to come!
For more information contact Tournament Director Billy Egan at (949) 366-0248 bille@wonews.com or check out our California Tuna Jackpot FaceBook page.
2021 WON CALIFORNIA TUNA JACKPOT RULES
6/1/2020
It is the sole responsibility of the participating anglers, captains and crews to know and abide by the tournament's rules. By entering the California Tuna Jackpot they acknowledge the above and agree to all rules.
All decisions by the tournament directors and advisory board are final. Decisions on rules interpretation requested by teams or team members will be reviewed and made only by the tournament director and are final. WON reserves the right to change/modify rules at any time. WON reserves the right to deny any team's or individual's entry.
The official radio channel for the California Tuna Jackpot is channel 65 or you can text TD Billy Egan at 949-290-0582 to report in if your team is not weighing in.
The tournament director reserves the right to alter starting and finishing times to coincide with weather, tides and probability of better fishing conditions.
No more than six people are allowed on any participating boat.
The team entry fee is $400 with a minimum of two and up to four anglers per team. Additional team members over 4 are $100 each. Captains and any crew are considered anglers.
Fishing from kayaks or personal watercraft is not allowed.
All teams that have not pre-registered must check in at the Anglers Choice (1910 Rosecrans St, San Diego, CA 92106) between 1:00 P.M. and 7:00 P.M. August 13th, 2021.

Fish may not be removed from your boat prior to weigh-in, and all team members must be on the boat when presenting fish to the weigh-in at the San Diego Marlin Club dock on Saturday August 15th between 8:30 A.M. and 11:30 A.M.
Boats may depart from any location to start the tournament. All boats must weigh-in at the designated S.D. Marlin Club assigned tournament dock.
Tournament waters are California and Mexican waters. All boats are responsible for proper permits necessary based on water intended to fish.
All California Fish & Wildlife regulations and U.S. Coast Guard regulations must be adhered to.
Lines in at 4:00 A.M August 14th and lines out by 5:00 A.M. August 15th. All boats weighing fish must enter San Diego Bay and pass Ballast Point by 10:30 A.M. to be eligible to weigh their fish.
Eligible species are bluefin tuna, yellowfin tuna, bigeye and yellowtail. The three largest single tuna win the top 3 general entry payouts. Only the biggest tuna caught by a team will count towards the TOP 3 Tuna prize payouts. Prize money is paid for 1st through 3rd place overall largest tuna of the one day event.
Teams may bring up to one fish to the weigh scales (one tuna or one yellowtail or both), provided they are entered in the yellowtail optional jackpot.
It is the team's sole responsibility to determine their biggest fish. Fish are weighed only once. The weigh in area will be set up at the San Diego Marlin Club docks. Weigh-in is on Sunday, August 15th from 8:30 A.M. to 11:30 A.M. or until all waiting teams have been logged in at the scale.
On Sunday August 15th, all teams that do not weigh-in fish or attend the awards ceremony will need to notify tournament control via text to 949-290-0582. (Tournament control channel is __).
All decisions by the tournament director are final, and he has the right to refuse any signups, and the right to disqualify any team for verbal or physical abuse of anyone present, or breaking the rules.
In the event of a tie in any overall or optional pool the two teams will split the winnings equally for that divisional award. More than two teams tying will result in an equal split for all teams.
All teams who win money are subject to a possible lie detector test after the event, and all monies will be withheld from any affected teams until the results of the test are known.
The team that catches the biggest tuna wins 70 percent of the total cash in the entry pool. Second largest tuna wins 20 percent of the cash in the entry pool. Third largest tuna wins 10 percent of the cash in the entry pool.
If there are no Tuna weighed in for the general entry pot, Yellowtail will become the default fish for determining the top 3 teams.  If there are no Tuna or Yellowtail weighed in for the optional jackpots, the option money will be paid back to teams minus 20%.  If there are no fish brought to the scales on August 8th, the general entry payout pot will transfer over to the following years CA Tuna Jackpot held in August, 2022.
All team anglers must sign a Release of Liability and must be aware that the dangers of fishing in boats are inherent, and that all decisions concerning safety are personal choices. It is up to all teams to adhere to all safety regulations, and to make proper personal choices.
All fish submitted for weighing must be accompanied by a cell phone video. You may be asked to provide this video as evidence of your catch. Teams not producing video at weigh in may be disqualified. Video must show the entire fish and be recorded at the time of the catch, once the fish has been landed, and prior to the fish being unhooked.
Mutilated fish in which the ability of the fish to fight has been compromised will not be weighed in. The tournament director will make the final decision, with no protests allowed since it is a visual judgment call.
Teams will not be paid on site due the potential large nature for optionals. Team captains must notify WON regarding the team payout break down per boat and team member prior to the event starting.
All verbal protests and supporting evidence must be presented to the tournament director(s) immediately upon returning to San Diego Marlin Club, followed by a written protest no more than 30 minutes after the verbal protest. Protests must be filed with WON staff at the "official" weigh station location. Evidence will be ruled on by both tournament director and the staff advisory board. Any verbal or physical abuse or threats from entrants toward Jackpot staff is cause for a team's disqualification.
2021 CALIFORNIA TUNA JACKPOT REGISTRATION & TOURNAMENT SCHEDULE
COST:  $400 per team of up to four. $600 per team of six.  Minimum of two and up to six anglers per team.
REGISTRATION:
Teams may register online at wonews.com by clicking the Events tab. Options may be sent in by check no later than August 6th.  Options may also be sent by wire transfer or dropped off to our San Clemente office.  Any team member changes must be completed before August 13th by 7:00 P.M.
AUGUST 13th CHECK IN AND ONSITE REGISTRATION: 1:00 PM – 7:00 PM

Anglers Choice – 1910 Rosecrans St, San Diego, CA 92106

Teams can register during "Check In" at any location, but ONLY CASH will be accepted onsite! All optionals will be CASH ONLY and all optional payments must be made onsite if not paid already.
OFFICIAL START:  Saturday, August 14th, 4:00 A.M. until lines out at 5:00 A.M. August 15th, 2021.
WEIGH IN:  Sunday, August 15th San Diego Marlin Club, 8:30 A.M. – 11:30 A.M.
AWARDS CEREMONY & RAFFLES: Sunday, August 15th, 12:00 P.M.
*Approximate times. 
For more information contact Tournament Director Billy Egan at (949) 366-0248