Description
Baja's triple threat of fishing, at prime time!
With 3 days of panga fishing, 1 day each inside Mag Bay, inshore, and offshore for marlin and tuna, this trip offers something for everyone, a true variety pack. November is an ideal time to fish the area, and as a bonus the weather should be very nice.
Trip host Baja Fishing Convoys has arranged for nearly everything an angler will need. All meals are inclusive on fishing days, as is the arrival day dinner and departure day breakfast. Round trip ground transfers and lodging at Hotel Brennan (2 anglers / room) are also covered by the $1,759 trip cost.
Anglers will bring their own tackle, rods and reels. Gratuities and fish processing is not included.
Sign-up online, call or email Dylan Hartnett at (949) 366-0921; dylanh@wonews.com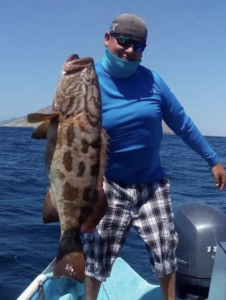 Additional info
November 10-14, 2020
5-day trip
The cost of this package is $1759 per person.
Includes: Round trip ground transfers, meals, lodging and panga.
Airfare is not included; Aero Calafia is the airline that flies on these dates. Tickets are roughly $250 round trip. Prices are subject to change until the ticket is purchased by the customer. Tickets can be purchased directly from Aero Calafia or call Orchid and she can help you with booking your flight. Rod travel tube, fish and excess baggage costs are additional and paid at the airline counter.
Ground transfers: Are from the Loreto airport. If anyone books flights to arrive in Loreto earlier, they must return to the Loreto Airport to meet the rest of the group for the ride to San Carlos.
Hotel: Hotel Brennan.  2 per room. www.hotelbrennan.com.mx/Secciones/inicio
Pangas: 3 per Panga.  Panga sizes range from 24 to 27 feet.  These are old school pangas with benches.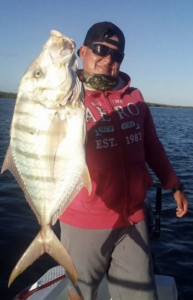 The three days of fishing consist of:
1 day offshore fishing
1 day inshore fishing
1 day fishing inside the bay
Meals consist of:
Day 1 – Dinner at hotel
Day 2 – Breakfast burritos/sandwich/beverage packed for panga trip. Dinner at the hotel
Day 3 – Breakfast burritos/sandwich/beverage packed for panga trip. Dinner at the hotel
Day 5 – Breakfast burritos/sandwich/beverage packed for panga trip. Dinner at the hotel
Day 6 – Breakfast at the hotel.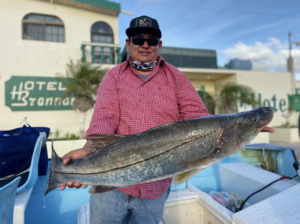 Gear and Tackle: Everyone must bring their own tackle, rods and reels.
These are the staff members to tip:
Boat captain – $40 per person per fishing day (3 days).
Cook – $5 per person per day (4 days).
Assistants/helpers – These guys help with carrying stuff around and make sure your fish are properly transported to and from the freezer. Sometimes there is one person and sometimes there are 5 people helping. $20 per person total will cover everyone.
Taxi driver:  $5 per person each way.  This is to be paid directly to the driver on arrival and departure days.
Tips and fees will be collected by Orchid at the end of the trip. We will invite the boat captains and the help to come over for dinner on our last night when they will be thanked for the services rendered.
Fish packing: If guests wish to have their fish vacuum sealed they need to take their own rolls of vacuum seal bags. There will be a freezer fee of $10 per person per fishing day.
Fish travel: Cooler bags recommended, airline travel fees may apply.
For Mexican fishing licenses: bajafishingconvoys.com/mexican-fishing-license
Cash:  Cash will be needed for tips and personal shopping in town. San Carlos has no banks so it would be best for everyone to have cash with them. Small denominations are best. The airport in Tijuana may have an ATM in case anyone wants pesos.
Travel Insurance: Is HIGHLY recommended. Orchid can facilitate this for you. Or you may buy it wherever you feel comfortable.
San Carlos 411: San Carlos is located at the south end of Mag Bay. This is a small, dusty, sleepy fishing and whale watching village in Baja California Sur. There is no night life here really and there are no major malls or grocery stores. The fishing here is phenomenal and Orchid says she had never seen fishing in real life like she has here. The species are large and in charge. Bring the right gear for large wahoo, dorado, marlin, tuna, yellowtail, grouper, snook and much much more.