Description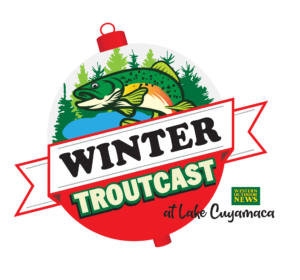 The 1st annual Western Outdoor News
Winter Troutcast at Lake Cuyamaca
Decmber 12th – 13th, 2020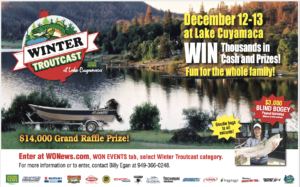 All event activities including onsite registration will be
held at the Lake Cuyamaca South large parking lot. 
Daily weigh-ins will be at the ramp bathrooms.
OFFICIAL ENTRY FORM
________________________________________________________________________________________________________________________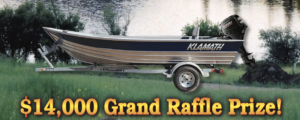 Western Outdoor News is proud to announce, that we have taken our highly successful Big Bear TroutFest event format, and duplicated it for an awesome Christmas winter event to be held at Lake Cuyamaca this coming December 12th and 13th, 2020.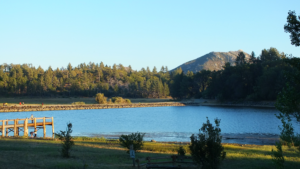 The all new "Winter Troutcast" trout tournament at Lake Cuyamaca will bring the San Diego mountain region an event with tons of prizes and ….
Steeped in annual tradition and family fishing fun, Western Outdoor News is proud to announce that we have a brand new event that is making its way "up the hill" December 12th and 13th  for its 1st installment of the "Winter Troutcast" Holiday Trout derby at Lake Cuyamaca.  And if there were ever a year to head up to the San Diego mountains, enjoy the great outdoors fishing with friends and family and have a shot at winning some top-shelf prizes, 2020 is certainly it.
This new trout event is assured to bring with it all the usual fun and prize haul that longtime Big Bear TroutfesTers anglers and new anglers have come to expect to the second weekend in December. Along with that, there will be lots of quality rainbows swimming around by the time it's time to wet lines. Not only will there be the usual big stocking in the days ahead of the event, but this year Lake Cuyamaca is starting early with their fish stalking, with the first of many to go in the lake as early as September 24th. These trout plants will include a good number of trophy-caliber rainbows as well, so there will be plenty of targets in early December.
The event format is simple: 600 maximum anglers will compete in one of four divisions — Adult Male, Adult Female, Junior Male and Junior Female — for trophies and prizes for the top 5 heaviest weights of total trout caught and weighed over two days in each division. There is also a great, new prize package going to the angler who brings the heaviest overall trout to the scales as Winter Troutcast's Big Fish: an extremely lifelike replica of the catch by Global Fish Mounts and a 7-night stay in a 26-foot custom trailer at Mono Lake in the Eastern Sierra next May 5-12, courtesy of Bridgeport Vacation Trailer Rentals. The winner will enjoy the early days of the 2021 Sierra general season trout fishing with up to 8 friends or family members.
There will also be 20 Blind Bogey cash awards dished out to anglers who come closest to 20 randomly pre-selected total weights, along with tons of great raffle prizes at Sunday's awards ceremony, highlighted by the grand daddy of them all: the Grand Raffle Prize 15-foot Klamath Advantage aluminum boat with a Suzuki 20hp tiller motor and an E-Z Loader trailer, valued at $13,000. And you don't even have to catch a single trout to win it! Just sign up!
Also up for grabs at the raffle will be a pair of killer Sea Eagle inflatable fishing vessels: a FishSkiff16 with a Suzuki 6hp valued at $4,000 along with a PackFish7 that can both get anglers into those tight spots where big fish lurk, and both highly fishable platforms — check them out for yourself at SeaEagle.com. Other great prizes set to go out at raffle include SKB tackle backpacks, high-end Engel hard-side and soft-side coolers and an array of rods, reels, baits and line from event sponsor Berkley. And of course, there will be the usual goodie bags dished out (first 600 anglers, the max is 600 so get signed up fast) at event registration that include custom Rooster Tails and Thomas Buoyant lures, Frogg Toggs backpacks and an official "Winter Troutcast" 2020 hat.
Speaking of registration, that goes down Friday, December 11th, at the Lake Cuyamaca South parking lot.   Anglers are encouraged to register ahead of time through our website at wonews.com.
"Winter Troutcast at Lake Cuyamaca is going to be a fun filled family event and almost identical to our highly successful annual Big Bear TroutFest anglers have come to expect.  This year we are going to be doing the registration, weigh-ins and awards ceremony at the Lake Cuyamaca South parking lot (from 3 to 7 p.m.) in order to have more space and room to spread out and hopefully make things a little easier and more comfortable.
All in all, it's shaping up nicely to be yet another fantastic tournament in the beautiful setting of Lake Cuyamaca with plenty of good fishing to be had.
Winter Troutcast festivities kick off with Friday's registration at the South parking lot at 3 p.m. to 7 p.m. Friday, Dec 11th where goodie bags will be dished out, followed by lines in the water first thing Saturday morning in the gray light of the dawn to get the action off and running for those that registered early.
Locking up your spot for the inaugural Winter Troutcast trout derby at Lake Cuyamaca couldn't be much easier. Don't delay as this is sure to sell out fast.  Simply visit WONews.com and click on the 'EVENTS' tab on the homepage, then click on 'Tournaments and Derbies' on the drop-down menu — or call tournament director Billy Egan at (949) 366-0248. Adult entry fees are just $75 and Juniors (under 15) are only $50 (includes $5 Blind Bogey ante and $7.50 toward the lake's trout stocking program).   Additionally every angler will need to pay the lakes fishing permit fee of $8 per day, which is a total of $16 per angler for both days.  The lake has agreed to waive their $10 per car parking fee if your purchasing a fishing permit for the event.
          A few things to keep in mind when planning to attend!
1) Each person that signs up for the 2020 Winter Troutcast will have their angler number added to the raffle bin for a chance to win the grand raffle prize Klamath boat and Suzuki motor package worth $14,000. On Sunday, December 13th at the end of the awards program, one lucky angler will win that prize. In addition to the grand raffle prize, there are tons of other raffle prize awards dished out.
2) Trophies and merchandise will be awarded to the top five winners in each of the following categories: Adult Male, Adult Female, Big 5 Kids Division Male (14 and under) and Big 5 Kids Division Female (14 and under). This event is perfect for the entire family, and we have prizes and levels so that anyone can win!
3) A Blind Bogey Contest in which participants can win cash. All entries include a $5 entry into our blind bogey contest.  10 random weights will be chosen for each days combined weight. If your daily weighs is closest to, but not over the pre-determined Blind Bogey weight, you win your share of the money pooled for that day. All anglers that have signed up will be eligible for the cash that will be awarded as part of the Blind Bogey Contest.
4) Of course, the fishing should be great at Lake Cuyamaca,  Lake Cuyamaca stocks thousands of dollars worth of trout in the lake prior to the event, with the help and cooperation of the Western Outdoor News and our anglers.
5)  Lake Cuyamaca offers many amenities for both the daily or weekend anglers.  They have ample shore line, and also offer private boat launching at their facilities.  All boats or watercraft will be subject to a quagga mussel inspection prior to launching.  Private boats, kayaks, canoes and float tubers are allowed at Lake Cuyamaca.  Lake Cuyamaca also offers both rental cabins and trailers, as well as camping and RV sites for those that love to make a weekend out of their fishing adventures.
Please feel free to visit Lake Cuyamaca's website for details on how to make reservations for any of your camping, RV and rental cabin needs.
The inaugural Troutcast will be limited to only 600 entries and it will fill up fast, so don't delay.  For more information on our Winter Troutcast at Lake Cuyamaca, call Tournament Director Billy Egan (949) 366-0248.
2020 Winter Troutcast at Lake Cuyamaca Itinerary
Friday December 11th – Anglers check-in at the Lake Cuyamaca South parking lot from 3 pm to 7 pm.  (15027 Highway 79, Julian, CA 92036  TEL: 760-484-6465). If you have not paid your $8 per day Lake fishing permit, you will need to do so at registration.  Anglers will receive their wristband with raffle number on it, goodie bag, copy of rules and itinerary, and most importantly, have their raffle number placed into a raffle bin which makes them eligible to win prizes, including the Klamath boat with 20 hp Suzuki tiller motor and EZ Loader trailer package courtesy of Klamath Boats and Suzuki Motors valued at $13,000.  Late sign-ups, if any are available, will also be taken at this time.
Saturday December 12th – Late angler check-in at the Lake Cuyamaca South parking lot, (15027 Highway 79, Julian, CA 92036) from 6 am to 8 am.  It is strongly recommended however that you use the Friday evening check-in.  Fishing will begin on Saturday morning, December 12th at 7:00 am and continue until 5 pm.  The official tournament scales, located at the Lake Cuyamaca launch ramp parking lot will be open from 2 pm until 5 pm.  Anglers not in line by 5 pm will not have their fish weighed and their catch will not count towards that day's competition.  Once you weigh fish, you are done for the day and cannot weigh additional fish or continue to fish.  Fishing times are 6:00 am to 5:00 pm.
Sunday December 13th – Fishing will begin on Sunday morning, December 13th at 7:00 am and continue until 3 pm.  Scales will be open at the Lake Cuyamaca South parking lot from 12 am to 3 pm.  Anglers not in line by 3 pm will not have their fish weighed and their catch will not count towards that day's competition.  Once you weigh fish, you are done for the day and cannot weigh additional fish. Each angler may weigh only 5 fish per day.  Fishing times are 6:00 am to 3:00 pm.
The raffle prize drawing and awards ceremonies will commence around 4 pm in the Lake Cuyamaca South parking lot.
We will be awarding 1st through 5th place trophies and prizes for the top adult male, top adult female, top junior male (14 and under) , top junior female (14 and under) and overall big fish.  Thousands of dollars in raffle prizes will be raffled off to those in attendance. You must be present to win.  The Blind Bogie cash prizes will also be awarded on Sunday. The awards ceremony will end with the grand prize raffle of the $13,000 Klamath boat and 20 hp Suzuki motor package with EZ Loader trailer.  Awards should be over no later than 5-5:30 pm to allow everyone the chance to get down the hill before dark.
Since there is no seating in the Lake Cuyamaca South parking lot, it is strongly recommended that you bring folding lawn/beach chairs.  All anglers are encouraged to practice social distancing practices as well as wearing a face buff or mask during all gatherings.
Additionally, due to the crowd size, no dogs will be allowed on Lake Cuyamaca property during the Winter Troutcast award ceremonies.
Boat Owners
Private boaters launching vessels on Lake Cuyamaca are required to submit their vessel for quagga inspection before launching.
Quagga Mussels
These are a non-native, invasive species that were introduced to the U.S. in the mid 80's by a ship transporting cargo from the Black Sea.  Since that time, they have slowly spread throughout the Great Lakes drainage.  The result is billions in damage to man made structures, decimation of fisheries, and an overall negative impact on the ecosystem.
In January of 2007, Quagga Mussels were discovered in Lake Mead, Nevada.  This is the first time they have been found west of the Rockies.  Since this time, they have spread throughout the Colorado River chain and into many Southern California Lakes fed by this water source.  As a result of this spread, many water agencies are adopting a variety of methods in dealing with the Quagga—methods that have gone as far as closing lakes to the public.
Western Outdoor News in conjunction with Lake Cuyamaca urges you as a boat owner to take the time to familiarize yourself with boat cleaning procedures prior to coming to Lake Cuyamaca.  For information on boat cleaning requirements and procedures and the Quagga Mussel crisis, please visit or www.wildlife.ca.gov/Conservation/Invasives/Quagga-Mussels .  Thanks for helping to prevent the spread of this alien species.
---
2020 Winter Troutcast Official Rules
PLEASE READ THESE RULES CAREFULLY AS THEY APPLY TO ALL CONTESTANTS
Contestants may fish from shore, float tube, canoe, kayak, boat, or any other legally permissible vessel provided they meet all local, state, and federal regulations. All vessels are subject to a quagga inspection prior to launching.
All boats, including float tubes, canoes, and kayaks used during the Winter Troutcast must be properly outfitted with the USCG vests, signal devices, oars, and bailing devices. All vessels must also possess current state registration stickers if required.
Contestants using their own vessels are subject to a Quagga Mussel inspection prior to launch on Lake Cuyamaca. Please see their website for regulations at http://lakecuyamaca.org/
All participants under 13 years of age fishing from a vessel 26 feet or less are required to wear a U.S. Coast Guard-approved life vest (PFD) during on the water tournament hours. See dbw.ca.gov for details concerning life vests.
At the time of check-in, all Winter Troutcast contestants will be issued a wristband with their raffle number on it. These wristbands must be worn for the duration of the event and should not be removed until the close of the contest at 6:00 pm on December 13th, 2020.
Pre-fishing with a licensed guide is permitted up until 5 pm on December 11th, 2020. Other than providing emergency assistance, no fishing guides licensed on Lake Cuyamaca may participate, or in any way assist other Winter Troutcast participants during the contest period.
All California Department of Fish and Wildlife regulations will apply to the Winter Troutcast. All contestants 16 years of age or older will be required to possess and carry a valid California Fishing license. Any angler cited as being in violation of California or Federal Fish and Game laws will be disqualified from the Winter Troutcast tournament.
All fish submitted for weight during the Winter Troutcast must be taken from the waters of Lake Cuyamaca during the official contest hours. Fish brought in from outside of Lake Cuyamaca as judged by the tournament staff will result in angler disqualification. All fish must be caught live, with rod and reel, fair game hooked, per California Department of Fish & Wildlife regulations. No snagged fish will be accepted. CA Fish and Wildlife regulations may be viewed on line at wildlife.ca.gov.
All California Department of Boating & Waterways and all local Lake Cuyamaca boating regulations must be observed during the tournament. Any boat operator cited by local, state, or federal agencies for violating boating laws during the tournament will be disqualified.
Lake Closures – Lake Cuyamaca will be closed to Winter Troutcast contestant fishing from 6 pm on December 11th to 7:00 am on December 12th.  The lake will again close to Winter Troutcast contestant fishing on December 12th at 5 pm and reopen on December 13th at 7:00 am. It will close again on December 13th at 3 pm. Contestants may be on the water during off-limits times but are not allowed to have lines in the water. Anglers found fishing during the off-limits period will be disqualified from the Winter Troutcast event.
Official Contest Hours – The Winter Troutcast will start at 7:00 am on Saturday, December 12th and cease at 5 pm on December 12th. Scales will open Saturday at 2:00 pm in the parking lot above the launch ramp next to the permanent bathrooms and close at 5:00 pm. All anglers who are in line prior to 5:00 pm will have their fish weighed.  On Sunday, December 13th, the contest will start at 7:00 am and cease at 3:00 pm.  Scales will open at 12:00 am and close at 3:00 pm. Again, all anglers in line prior to 3:00 pm will have their fish weighed.  The tournament director is the keeper of the official event time.
Limits/Size – Trout submitted for weight during the Winter Troutcast must be a minimum of 10 inches in overall length (from tip of nose to tip of tail). All fish under 10 inches as determined by our weigh staff will not be included in the total weight. Each angler in the Winter Troutcast event may weigh 5 trout per day. Once you weigh your fish, you are done for the day and may not submit any additional fish for inclusion to your daily weight. You may not go back out fishing once you have weighed your fish.
Unless cooperating jointly, all boats must maintain a distance of 50 feet between them when anchored or drift fishing. Boats which are trolling are exempt from this rule. There is no minimum distance for shoreline anglers.
The Tournament Director has the sole discretion to disqualify any catch for any reason deemed to violate any tournament rules or the spirit of the competition. Decisions of the Tournament Director are final and may not be appealed. All anglers are responsible for weighing in their OWN fish and may not pass or hand off any fish to anyone else. Handing off fish to junior anglers will not be accepted, and if you are caught handing off a fish, both anglers are subject to immediate disqualification. Protests must be filed in writing with the Tournament Director no later than 2:30 pm on Sunday, December 12th to be considered.
Divisional Prizes ─ Merchandise prizes will be awarded to the top 5 finishers in each of the Adult Male, Adult Female, and Junior's divisions based upon total weight at the close of the competition. The largest trout of the tournament will also receive a trophy and merchandise. Junior divisions consist of anglers under the age of 15. All divisional winners must be present to receive their prizes, or the merchandise portion of their prizes will be donated to the general raffle.
Ties ─ In case of a tie based upon weight, the greater number of fishes caught over the course of the two-day event will determine the winner. In case the anglers each caught the same number of fishes, the winner will be determined by their entry date. The earliest entry date will win the tie breaker, so sign up early!
Raffle Prizes – All anglers as a part of their entry will have their raffle number (from their wristband) placed into a raffle bin. Raffle numbers will be drawn, and raffles will be awarded to those persons who are present. Contestants who are not present will forfeit their prize. All raffle numbers will be placed back into the raffle bin prior to the Grand Prize drawing of the Klamath boat/Suzuki Motor and EZ Loader trailer package.
Blind Bogey Contest ─ Each person entered in the Winter Troutcast event is a part of the Blind Bogey contest. $5 of each entry fee is allocated for this contest. WON will also provide Lake Cuyamaca $7.50 from each entry to be used solely for restocking Lake Cuyamaca with trout. Blind Bogey prize drawings will be held Sunday during the awards ceremonies.
All anglers and family members attending the 2020 Lake Cuyamaca Winter Troutcast will adhere to county social distancing guidelines and wear a face buff or mask during all tournament activities. We will be utilizing the large South parking lot for our awards, and it is recommended that all participants space out accordingly.