Our first trip sold out fast we added a second trip!
Dreaming of big yellowfin?
Join WON for a 3.5-day trip aboard the Apollo out of Puerto Vallarta, Mexico!
Fly down, fly back at your cost for this fiesta of big game fishing — some anglers will come in early or extend their stay to enjoy this authentically Mexican coastal city. The trip is limited to just 12 guests and a
host who will shoot photos and document this adventure to be featured in Western Outdoor News!
Sign up before it's too late.
The trip price is $1,458 per angler, and that includes all meals and non-alcoholic beverages. As an added value, fish processing is included. To make this as easy as can be, quality big game rods and reels are provided by the boat! Anglers should bring leader material and hooks.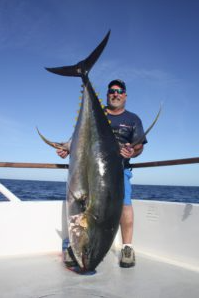 Anglers who sign up will meet the Apollo at Puerto Vallarta Marina, a short taxi ride from the airport. There are many hotels and fine restaurants in the area.
Departure is March 1 at 6 p.m. The trip is scheduled to return March 5 at 8:30 a.m.
Sign-up online by clicking HERE or call Lori or Michelle at (949) 366-0827!
Editors Note – The Apollo Trip sold out quickly but two more Puerto Vallarta Trips will be announced soon here on WONews.com