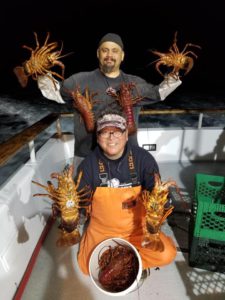 Join WON aboard either the Gail Force or Triton for a Full-Day Lobster/Rockfish combo fishing trip on Wednesday, Nov. 18! The trip is running 12 p.m.-12 a.m. out of LA Waterfront Sportfishing in San Pedro, Calif.
This freelance trip will likely go to Catalina island to load up on some tasty rockfish or fish the shallows before switching gears to lobster hooping after dark. It's a great way to check out our lobster fishery with a limited load of only 10 anglers per boat! All lobster gear is included.
The price on this trip is $175 and each boat is limited to 10 anglers and a WON editor. There will be product giveaways from our sponsors including Promar, P-Line, Berkley, Daiwa and more.
We will take photos and document the trip to be featured in Western Outdoor News! Sign up before it's too late.
Sign-up online, call or e-mail Dylan Depres at (949) 366-0726; dylan@wonews.com