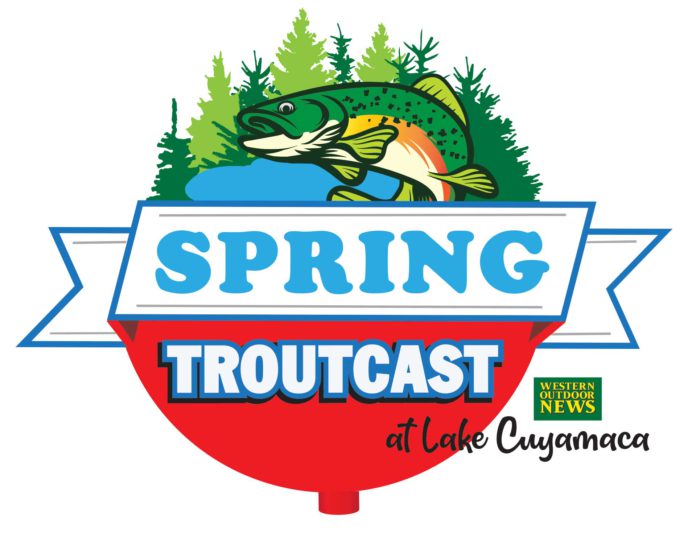 Western Outdoor News is proud to announce the inaugural "Spring Troutcast" at Lake Cuyamaca will be held April 24-25, a great time to head into the San Diego mountains to enjoy great fishing with friends and family and take a shot at winning some top-shelf prizes. Originally slated for December of last year, this is the rescheduled date for the new event.
This new trout derby on the WON calendar will deliver all the usual great times along with the prize haul that long-time attendees of WON events have come to expect. Pre-event trout plants will include a good number of trophy-caliber rainbows, so there will be plenty of big targets in late April.
The event format is simple: 600 maximum anglers will compete in one of 2 divisions — Adult and Juniors — for prize packages for the biggest fish weighed in during each of the 8 weigh-in segments. There will be 4 weigh-in segments each day, one adult winner and one junior winner will be awarded one of 16 prize packages offered.
There is also an amazing new prize package going to the angler who brings the biggest overall trout to the scales: a lifelike replica of the catch by Global Fish Mounts and a 4-night stay in a 26-foot custom trailer at Twin Lakes in Bridgeport (Annett's Mono Village) in the Eastern Sierra, courtesy of Bridgeport Vacation Trailer Rentals. The winner will enjoy the early days of the 2021 Sierra general season trout fishing with up to 8 friends or family members.
There will also be 16 Blind Bogey cash awards dished out to anglers who win each divisional weigh-in segments during the two day event. Those payouts will be based on $5 from every entry divided into 16 envelopes.
Like Big Bear TroutfesT, this event is highlighted by the Grand Raffle Prize, a 15-foot Klamath Advantage aluminum boat with a Suzuki 20hp tiller motor and an E-Z Loader trailer valued at $14,000, and a Sea Eagle Fish Skiff 16 paired with a Suzuki 6hp worth $4,000.  You don't even have to catch a single trout to win either of these prizes! Just sign up!
Also up for grabs at the event will be a Sea Eagle PackFish7. This highly versatile and packable one man boat can get you into tight spots other boats can't. Check out all of Sea Eagle's highly fishable platforms at SeaEagle.com.  There will be the usual goodie bags dished out (first 600 anglers, the max is 600 so get signed up fast) at event registration that includes custom Rooster Tails and Thomas Buoyant lures, Frogg Toggs backpacks.
Enter HERE, or call Billy Egan at (949) 366-0248.