Description
#ALL4WON2023
This is the Option for WON BASS anglers to get involved with "All 4 WON" in 2023!  Our 2023 schedule is set and our dates are locked in.  You may enter all events or select the events you are interested in.  All anglers MUST pay membership for 2023 regardless of when you paid in 2022.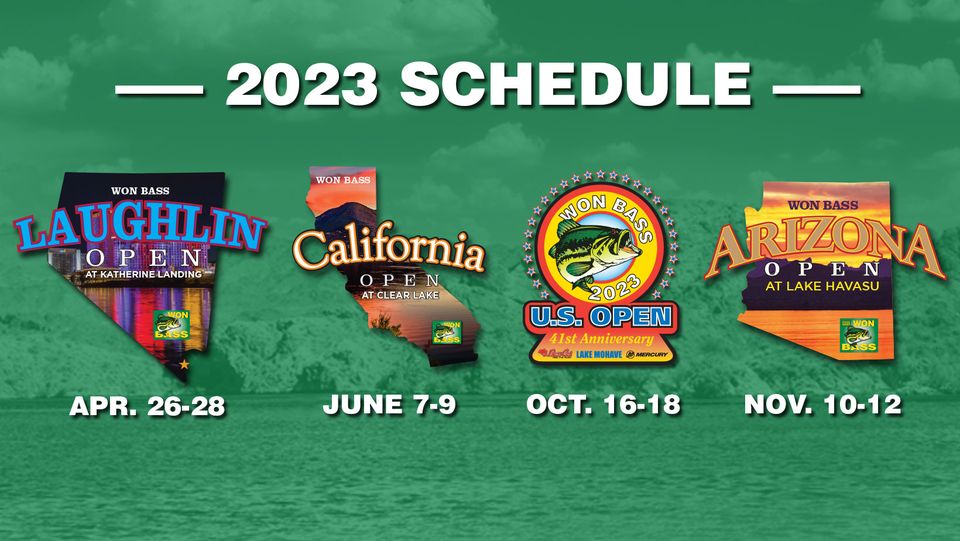 2023 WON BASS SEASON EVENTS
All 4 Events are included in the LifeSource-Power Pole 2023 AOY RACE
Laughlin Open 2023 – April 26th – 28th, 2023 at Lake Mohave*
CA Open 2023 – June 7th – 9th, 2023 at Clear Lake*
U.S. Open 2023 – October 16th – 18th, 2023 at Lake Mohave*
AZ Open 2023 – November 10th – 12th, 2023 at Lake Havasu*
* Denotes AOY Points Race Event
If you are only signing up for one or less than #all4won2022 events, you must add the membership to your shopping cart, then go back to the event you wish to purchase to add that item to your cart before checking out!  Make sure both items or all events you are interested in are listed before checking out!  If you are purchasing membership or entry for another individual other than yourself, please make sure to list the anglers name in the notes section.
All 2023 participants are required to update their membership for 2023 to receive guaranteed event status entry to any or all 2023 Opens.  Membership fee for 2023 is $50, which includes a 27 week subscription to Western Outdoor News and 12 issues of WON Bass.  Won Bass membership will also include a 2023 season WON Bass Hat valued at $30.  Deposit for any event does not guarantee entry, but does guarantee you a spot for entry.
Membership fees are non-refundable once paid.  Deposits for all events are non-refundable if refund request is requested within 30 of the event start date. 
Purchase Pro or AAA to get yourself locked in for All We Do in 2023!