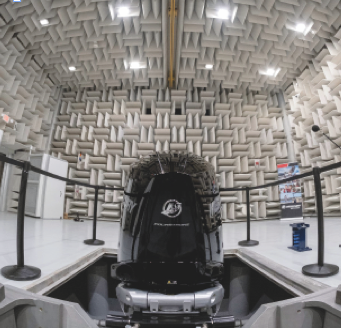 Recently the staff at Western Outdoor News had the opportunity to sit with Mercury's Vice President of Engineering, Tim Reid. Tim shares his experience in working for one of the largest outboard manufactures in the world. Reid talks about exactly what Mercury has done to become not just a top outboard manufacturer in the world at the forefront of marine engineering, but also a diverse number of systems that work together to create their fully networked joystick control unit. For the full conversation you can listen to Episode 24 of the Western Outdoor News Podcast at WONews.com, on your favorite podcast site or on YouTube.
[buzzsprout episode='8753341′ player='true']
WON: Hi Tim, if you could you please give our audience a quick overview on what it is exactly the Vice President of Engineering does at Mercury Marine?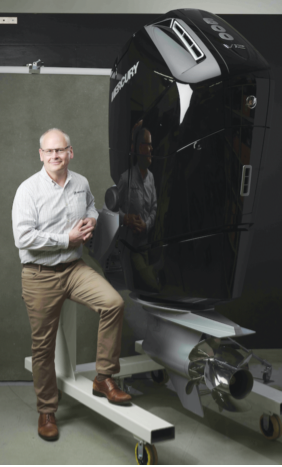 TIM REID: I'm responsible for all of Mercury Marine's new product development and current product engineering. So underneath me are about 420 engineers, designers and technicians who invent, create and develop our propulsion systems, our control systems and our connected products.
WON: Can you can you take us back to 1995 and talk about some of the goals and some of the big achievements, back when you first started at Mercury?
TR: Yeah, I began in '95. Then it certainly was the start of the transition to low emission outboards, where EPA and CARB really mandated 75 to 80% reduction in our overall emissions. Really, at that time, Mercury was putting plans in place around how we were going to hit those targets with our product. Not just product oriented, but really going back and looking at our engineering and manufacturing capabilities, and really bolstering that as we transitioned in technology.
Also, around that time, Mercury started really transitioning the business to look at much more disciplined manufacturing and engineering service. We put in place plans and executed those plans to receive an ISO certification. That gets into really documenting exactly what you do, how you do it, and then showing that you consistently do it that way. We also around that time had a lot more discipline around new product development, and went to a detailed Stage Gate process, in that you didn't get to exit that stage until you completed all the requirements of that step.
WON: Was your engineering team still as large as it is today? How spread across the country were you then?
TR: You know, at that time we were much more focused in the in the Fond du Lac (Wisconsin) area. Of course we had the Stillwater, Oklahoma Engineering Center, which was responsible for the Mercruiser sterndrives at the time. Those are the engineers that are still in Oklahoma today — a lot of great knowledge and capabilities that we're able to retain and keep in an office building down there. So really the organization was probably around 250 engineers at the time. So we've grown quite substantially because of the breadth of products that we brought on, and the different ones.
WON: With all that talk about cleaner emissions, when did the change from two-stroke to four-stroke really become relevant?
TR: Yeah, that was about the same time. By '97, we really needed to have our product line starting to shift over. Initially, Mercury looked at a lot of different technologies. Mercury on the outboard side was fundamentally only a two-stroke company, so Mercury did quite a bit of investment in really looking at different two-stroke injection technology — cylinder wall injection, and ultimately looking at the Optimax technology that was in production. Along with that and at the same time, we were investing in four-stroke.
You may or may not know, Mercury has a relationship with Yamaha. And at the time, you know, we transitioned to having some of our Mariner brand being co-engineered with Yamaha. Well, it was a somewhat natural progression, I'll say, to go into the four-stroke, since both companies were kind of shaking out where the technologies were going at the time. We had a co-engineering and manufacturing agreement with Yamaha on our first couple four-stroke products. Where one company would take the engineering lead on the entire product, the other one would support. Mercury worked on what we thought was not really core to deliver to the customer: Touch points for shift and gearcase, throttle control, cowlings. Those things we made fundamentally different, but a lot of the packaging of the base combustion engine was the same. So we were able to kind of balance our investment in four-stroke as we started down that path, learning what the customers wanted while working with a partner at the time.
WON: What size four-strokes did you guys start with?
TR: We obviously started with the smaller end like a lot of companies did. Mercury started with the 9.9 and 50. Those two markets, and those two horsepower segments are pretty good volume for the industry. The four-strokes were seen as less performance, and not that high torque that really popped a boat out of the hole. So what four-stroke technology was, was a lot quieter, with much better NVH overall, absolutely smoke free, and had better fuel consumption.
WON: That was the time of the 2.5-liter, and I think ultimately the 3.0-liter Opti two-strokes, correct? So, at what point did you guys start to look at larger horsepower four-stroke technology and the forced induction side of things?
TR: Yes, we started with the 9.9 and 50. Then around the year 2000, we started the engineering on the inline six Verado, which ended up going to production in in 2004. In that early development, Mercury was really looking at how do we go after a broad segment of the market? The key to that was really getting that low-speed torque. To give the abilities and performance to customers that have primarily been two-stroke owners. Mercury started looking at a lot of different technologies in that larger four-stroke range.
And at the time, since we were a smaller organization and really needed to learn in the four-stroke side, we started with world class engineering consultants and trying to understand what technology where should we invest our time. We looked at large displacement V-6 and V-8s, both supercharged and turbocharged. Ultimately, we came back and centered on the supercharged concept inline six,
really because we knew that it was at the time, the most likely to hit our cost and weight targets and performance targets. And at the time, the automotive technology and methodologies really ended up with larger and heavier outboards than what we wanted.
WON: Can you explain what NVH is?
TR: Oh, thanks. NVH is noise, vibration and harshness. So, it's really around how quiet it is and how smooth it operates. Mercury puts a lot of effort into that, especially compared to our competition, because it makes for such a different boat ride when you're out in the center console running fast, and can have a conversation without yelling. The boat's not vibrating and it just makes for much more enjoyable day. Recently, two years ago, we invested in our latest noise vibration harshness test center. It's actually two buildings inside a building where we can go in and it's super quiet. It's a semi-anechoic chamber, and we can run outboards and sterndrives inside there. We can go detect those small errors, be able to address and fix them before we get to the field. So, a lot of detail, and an over $12 million investment in the facility and test equipment to really take it to the next level.
WON: What makes the engineering more complex when you're dealing with a marine-based motor?
TR: I think if I had to pick one system or one thing that's different about marine engines, it's that we push seawater through the cooling system. That's our medium for cooling, we don't use antifreeze. We certainly could use antifreeze and go to a closed loop system, and that would resolve some of the issues on the engine. Unfortunately, it would add a lot of weight, complexity and cost as well. So, when we push saltwater through the engine to cool it, there's some constraints that we need to follow and the coolant temperature needs to be much lower. If seawater gets above roughly 80 degrees centigrade, the minerals inside of it will start to deposit on the cooling passages. And you can imagine over years and years how those can become plugged. So, there's a lot of work on keeping those temperatures lower. We designed the flow system to keep relatively high velocity so that is flowing quickly and it wants to sweep out some of the debris and other things that get inside an engine, but also keep those surfaces in the cylinder heads in the blocks at a temperature that we don't have mineral deposits.
WON: Since you started in the '90s at Mercury, what would you consider is your biggest breakthrough as an engineer at Mercury?
TR: I would really say in the recreational market. The technology that really came in and changed things is joystick controls. You know, joystick controls don't come about just because you put a joystick on the boat, it really is a technology stack that started with our digital throttle and shift. Then we went to digital steering and continued to add technologies into that set. And ultimately joystick control really comes down to not just the joystick, but the all the calculations behind it.
That positions the engine, steer and throttle and shift so that you can move about sideways and that certainly was a carry down from cruise ships and tugboats, how we executed it economically in a way that then a customer could afford to buy it. What was quite a bit different and some of the other features we add to the recreational boater, it really enabled these really large center console and cruisers that we're seeing today. You know, years ago, I don't think anybody would have predicted we were going to see 60-foot center console boats with 2,400-plus horsepower on it. And I think the joystick was critical to that because there are certainly captains out there that can manage a 50-foot boat. But joystick control really opens up the ability, and really the confidence, that a captain needs to put that boat on the dock where it needs to be in close quarters.
WON: What is your opinion about, or are there any plans to introduce electric outboards in the future?
TR: Well, you know, at a high level, I can't talk about future products. I think in the electric field, any leading vehicle manufacturing is looking at electrification. That doesn't matter if it's automotive, lawn mowers or marine. I think that Mercury and Brunswick have made it clear that we are going to be a major player in electrification. By the first quarter of 2023, we're going to have five electric products out there.
For more on Mercury, visit MercuryMarine.com.