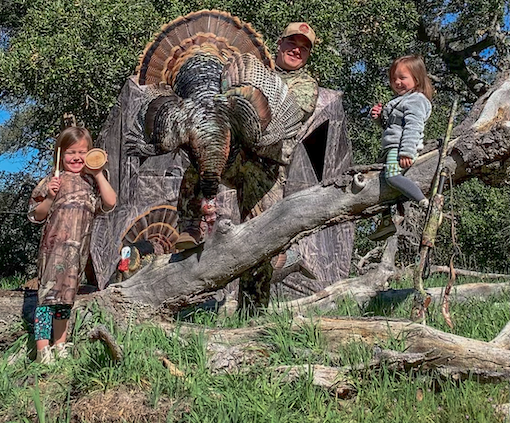 SANTA YSABEL — Gobbling toms, mild weather and eager hunters combined to make opening weekend of turkey season in San Diego County just about perfect. WON field checks showed that hunters with access to private lands had the most success, but hunters reported seeing plenty of birds in areas open to public hunting as well.
Some veteran turkey hunters said the third year of meager rainfall is starting to impact bird numbers, but those who took time to scout before opening day had much better success than gunners out for the first time. "The birds are there, but they have to travel further to food and water and are spread out," said Santa Ysabel resident Gary Whyte.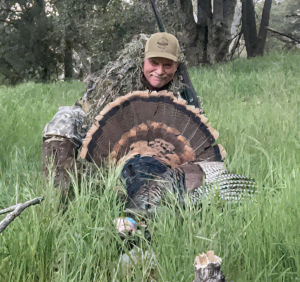 San Diego County has earned a glowing reputation as a prime turkey hunting area since 293 wild birds were introduced at three locations in the early 1990s. The birds liked their new home, adapted well and thrived, today with an estimated population at somewhere around 50,000 birds scattered from the urban fringes to the desert and from the U.S.-Mexican border to Riverside County.
Within the county, however, there is no dispute that the epicenter of turkey hunting is on the nearly 50,000 acres controlled by My Country Club (MCC), a sportsman's group offering hunting, fishing and camping to members. Wild turkey hunting is one of the club's most popular activities because of the prime oak woodlands and pine mountains available to hunt from Santa Ysabel to Palomar Mountain. MCC owner Janice Mendenhall called it an ideal opening weekend of turkey season. Temperatures opening morning were in the mid to low 50s, with clear skies and no wind.
WON settled in at Lake Henshaw Café on opening day to check on hunters as they came in for breakfast or lunch. By noon opening day, six had come in with great stories and some big Toms to brag about. One of the first, and perhaps the biggest bird was shot by David Bertram from El Cajon, with the help of his two daughters, Vonna, 3, and Charity, 5. Bertram set up a blind east of Lake Henshaw on My Country Property and could hear birds gobbling on a nearby roost tree before sunrise.
"I made some yelps and cuts and started imitating everything the hens were doing and they came in my direction. About 10 a.m. the big tom came in and I took him with a shot at 20 yards," Bertram said. Both daughters were equipped with GoPro's to get video of the hunt.
Lukas Reinberger, 15, from Orange County also hunted a My Country Club zone east of Warner Springs and tagged an opening morning bird. He had set up behind a camo panel in the bottom of a draw and began calling when he heard gobbling. "I was using a mouth call and called for about 10 minutes when he came in at full strut and I got my shot at 20 yards," Reinberger said.
Chris Osteen from San Marcos was in a stand near Santa Ysabel and had only heard gobbling in the morning. He took a break for lunch and headed back out in the afternoon and caught movement coming out of a cluster of oak trees.
"There were three birds, and it was a long shot, maybe 50 yards," he said. But he took the shot as the birds began moving away and downed his opening day bird.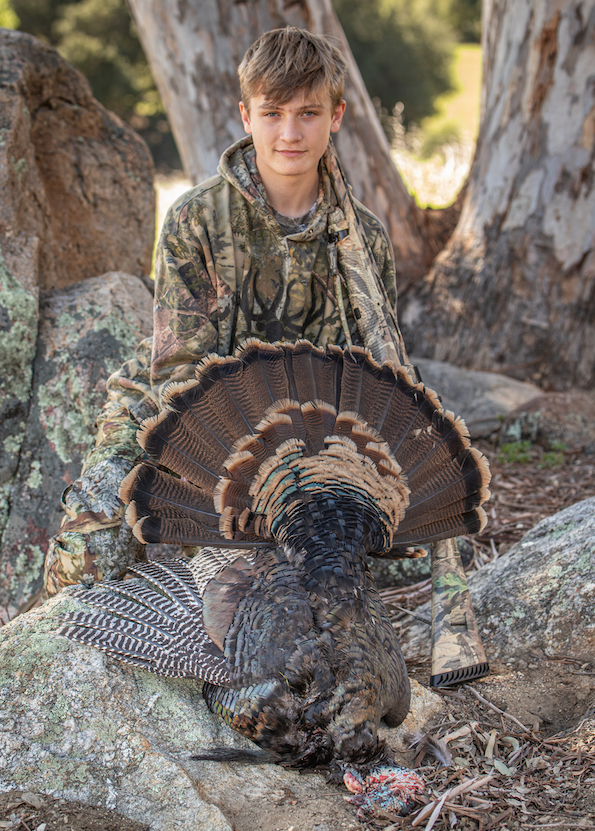 Robert Yakemonis from East Vale had put out two decoys in a MCC zone west of Warner Springs and immediately got responses to his calling that he started about 5:45 a.m. opening morning. "Everything shut off about 7:45 until I started calling again about 10:20 and four Jakes came running right at my decoys," he said. "The birds were all bunched up and I had to wait for a couple of minutes for one to get clear enough for a shot at 26 yards."
My Country Club's Mendenhall was also at the Henshaw Café to check on hunter success. By the close of the hunt opening weekend, she counted 15 members who had taken a bird. That means a success rate of 20 percent for the 75 MCC hunters in the field. WON also heard from at least five others who were successful on private or public hunting lands. Mendenhall said if this keeps up, the 2022 spring season will rate at above average.
Hunters with access to private land also did well during opening weekend.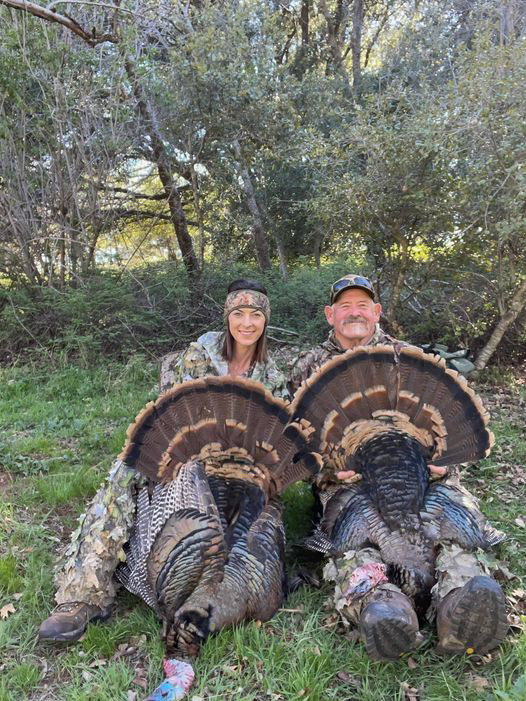 Father and daughter Steve Turigliatto and Stefanie Kemble from Escondido hunted near Julian. It was Stefanie's Birthday, and she downed the first tom. They decided to call it a day. "We were picking up and we hear another gobble, so we put everything back out and I called in the second one," Steve said. Their birds were 20 and 22 pounds with 9½- and 11-inch beards. 
Palomar Mountain Resident Jeff von Urff did some pre-season scouting and it paid off opening morning near Santa Ysabel. "I got set up about 45 minutes before shoot time and was happy to hear several gobbles in a few different areas of the canyon," von Urff said. He had two gobblers reply to some soft yelps and purrs, followed by a hen and a tom who ran by the hen to get to his decoys. His opening day bird weighed 20.2 pounds with an 8 3/4-inch bead.
Turkey season continues daily until May 1 with a daily limit of one bearded bird, three for the season.