BY MIKE STEVENS
LEE VINING – Catching four species of Eastern Sierra trout in one day is known as the "Sierra Grand Slam," and it's something some anglers like having on their brag board. I've never done it, but I've also never really tried. However, if I ever get the urge to check it off I know exactly where I would go to get it done in relatively short order. I would also add a fifth species to make it a "Sierra Super Slam" for good measure, and I'd head straight up Tioga Pass. If you want to beat me to it, here is how I'd "shoot my shot."
Rainbow trout
Tioga Pass is accessed by taking 395 north past the June Lake Loop and making a left on to Highway 120 just before Lee Vining. At the bottom of the pass. Lee Vining Creek runs through a series of campgrounds and a big meadow. This offers a great shot at knocking out a rainbow (big ones get stocked in there, too) and getting the party started. You also might get lucky and pick off a brown trout and get out of the gates with two species in one stop. Ellery Lake is right off the road near the top of the pass, and Saddlebag Lake further up offers another shot.
Brook trout
Next, I'm heading to Saddlebag Lake and the 20 Lakes Basin. In the past, you could hop on a water taxi to take you to the far end of the lake to the trailhead, but it's not back in operation yet. So, you'll have to hike it, but it's easy and flat. Since it's a loop, there are two ways to go, and heading up the left trail will bring you to Greenstone Lake in 15 minutes, tops. Whipping a Kastmaster, small spinner or fly-and-bubble will connect you to a brookie in short order. If you still don't have a rainbow, fish Saddlebag's inlets down below where they usually hang out.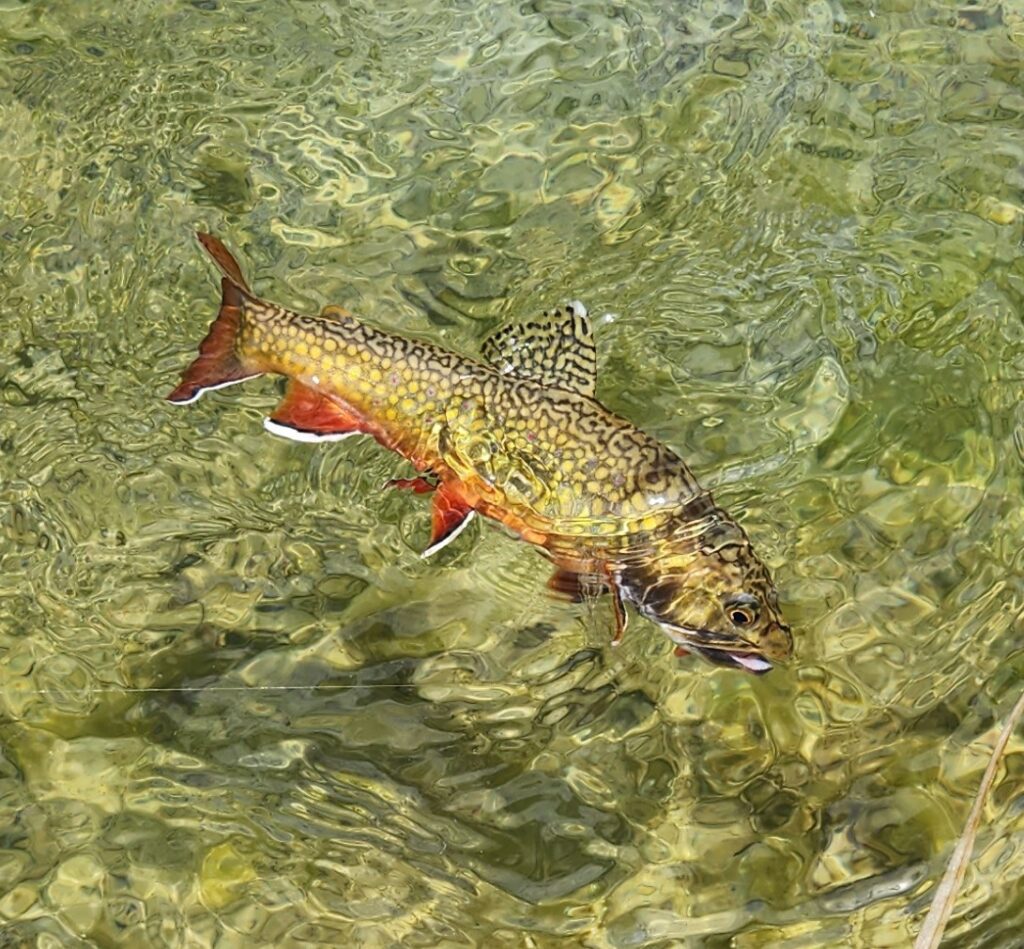 Golden trout
After that, I'd go back down the way I came so I can head up the trail on the right. Hummingbird Lake will be a tiny one on the right, and it also has a ton of brook trout in it, I just prefer Greenstone because it has bigger ones. Odell Lake is next on the trail (about ¾ of a mile from the trailhead) and it not only has goldens in it, but many are quality models reaching well over 12 inches. Same deal here with jigs, spoons and flies, and fish hard here because if you don't strike gold at this spot, you're going to have to burn some time finding an alternative.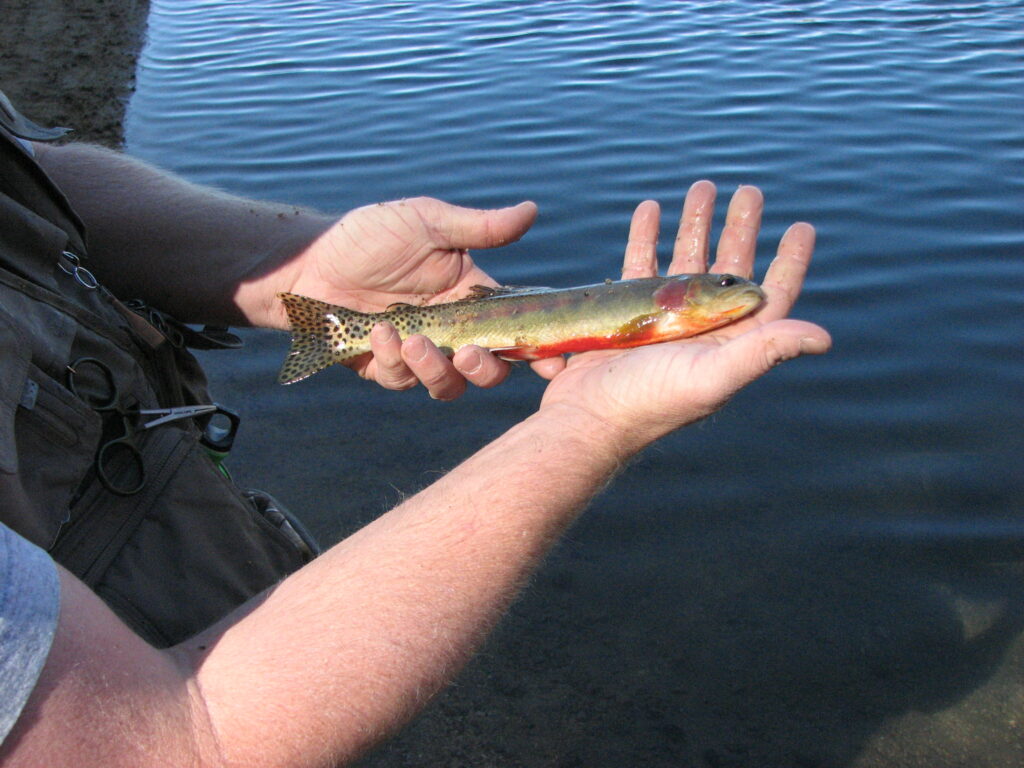 Brown trout
On the way up to Saddlebag, you can't miss the creek running below and along the road. That's Saddlebag Creek, and it's chock full of small brown trout. Thankfully, size doesn't come into play when it comes to Sierra Grand Slams so just get down there and get it done. If you're not working with fly gear, you want the smallest spinners or minijigs in your box. Finding fish is the easy part, but they are skittish as all get out in that skinny water, so you have to tread lightly, and as you're walking (upstream is best) look well ahead of you for fish (or spots) you haven't spooked yet. For such skinny water, there's actually a good amount of little pools, deeper runs next to shallow riffles, and overhanging brush to target. If you don't scare all the fish off, you'll get a brown down here.
Cutthroat trout
The classic Grand Slam typically consists of the species listed above, but it doesn't have to. When I fifth is added for a Super Slam, it's usually a cutthroat because there aren't at on of Sierra waters that have them. If I've already got a standard Slam after my run up Tioga Pass, I'd hit June Lake on the way back to basecamp (Mammoth, for me) which has both numbers and quality. I'd hit the shore along the road both to save time and for deeper water within casting range on that side of the lake, and I'm throwing Thomas Buoyants or Rapala Husky Jerks until my arm hurts. If desperation sets in, I might send out a Berkley Mice Tail on a Carolina Rig while I'm hucking metal (get some use out of that 2-rod stamp), but luck might have to come into play. Chances are I'm working through rainbows and hoping for a cutt.
If that doesn't work, my backup plan is McLeod Lake above Horseshoe Lake in the Mammoth Lakes Basin. It's a straight shot from parking lot to lake that takes about a half hour, but the lake only has cutts. They aren't big (a 12-incher is something to get fired up about), but long casts with a Kastmaster or small spinner will eventually connect.
That's my game plan should the urge ever come over me to get my slam on. It hasn't in over three decades of Sierra trouting, but I can imagine that motivation would suddenly arrive if you went out there and did it my way, first.