BY DENNIS GROAT
Excitement was high as we left the dock. It was early June in 1983, and yellowtail fishing had been great around San Martin Island. This trip, planned by Seeker Jigs owner Joe Pfister, was going to be a multi-day trip, jig fishing for yellowtail aboard the Pacific Star. With all of our gear finally stowed and the Star heading south, Captain Chris Flores called us all into the salon. Nothing could have prepared us for what we were about to hear at this meeting. We all knew that 1983 was a year of El Nino warm water, but THIS was mind boggling.
"The water at San Martin has turned over. It is all green, and the current is running wrong right now," Captain Flores began. "The fishing is absolutely dead there, and it looks like conditions aren't going to change for a while." Then the proverbial "other shoe" dropped… "I have some friends running a jig boat outside of us, and they are picking up a few albacore. We are gonna head out to that area and see what we can do. This trip looks like it will be albacore or nothing."
Albacore? In the first week of June??? The traditional date for the start of albacore season was somewhere around July 4. On top of that, no sportboats had reported any albacore yet. And this was supposed to be a…  jig fishing yellowtail trip!
As soon as this meeting concluded, bedlam reigned on the Pacific Star. In 1983, it was still the days of straight anchovy baits. Our bigger jig rods and reels with heavy line were now almost useless for this trip. We needed light gear, light line and SMALL hooks.
All of the anglers on this trip came together to pull off a total reset on the fly. The heaviest rods were rigged up for trolling. Scrambling through our spare tackle, we gathered all of the light line we could find. I had recently purchased a battery-powered Trilene line stripper, and we wore out its rubber drums, dumping 40-pound and 50-pound mono line from our reels. Once everyone had some semblance of a light outfit spooled up, we pooled all of our small hooks to see what we had. Bigger J-hooks were in abundance, but the small #2, #4 and #6 hooks were in short supply. We divided these now-precious small hooks up among us like water on a desert island, and rigged up as best we could for a trip that was now light-line live bait fishing.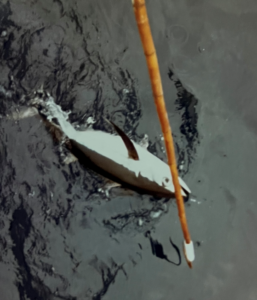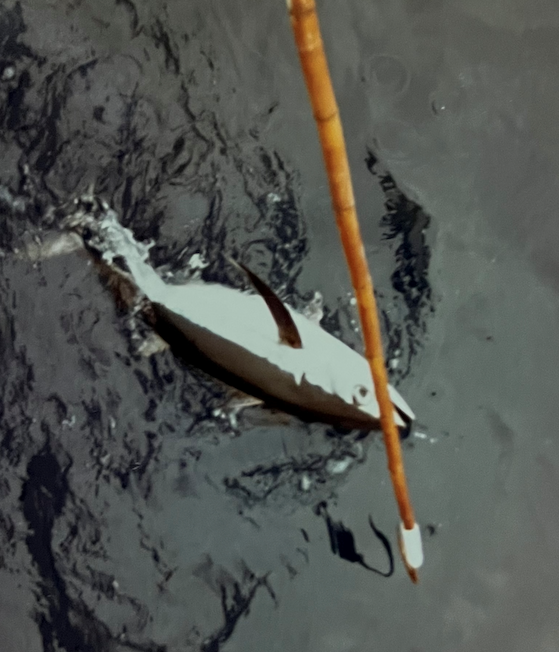 When the trolling rods and boat trolling lines were let out the next morning, none of us had any big expectations. Early season albacore were traditionally small fish, and besides, it wasn't even early season yet! We hadn't trolled for an hour when the first troll fish hit. With the shouts of "HOOKUP!" reverberating throughout the boat, anglers flew out of the galley to get a bait in the water. A few of these baits produced solid hookups, erasing some of the doubts that had crept over us. As these fish came over the rail, we were blown away. These were definitely not the 8- and 10-pound early season longfin. They were solid 20-pound-class fish, and our hopes for this trip now skyrocketed.
Two more troll stops produced a good smattering of fish, and then… IT happened. The fourth troll stop produced a solid bite, and it got nothing but better as time passed. Incredibly, this now-wide-open bite continued for almost four and a half hours! Crewmembers frantically gaffed, tagged and dropped fish into the hold.  At the height of the bite, dropping fish became impossible, as did anything but a quick gaff and drop onto the deck. We unhooked and tagged our own fish.  Soon the deck box was overflowing with plump albacore. Trash cans were put into service, and soon these were full also. Fish were now just left on deck, and washdowns were cancelled until this incredible bite finally subsided.
Good fishing continued throughout the day. There was no limit to sport-caught tuna in those days, and we were more than making up for all of the albacore trips from past years where we had spent endless hours with no tangible results. As the day's fishing concluded, Captain Flores assessed our bait situation and made an important radio call. The combination of the insane day of fishing and the loss of the bow bait tank from a plumbing leak had put us dangerously low on bait after only one day of fishing on our trip. One other sportboat, the New Lo An, had come out into the same area but had reached the end of their fishing time for their shorter trip. Captain Flores arranged for them to pass over their remaining bait, a move that ultimately saved the remainder of our trip. With our bait replenished, we were now anticipating what tomorrow would bring and retired for the night.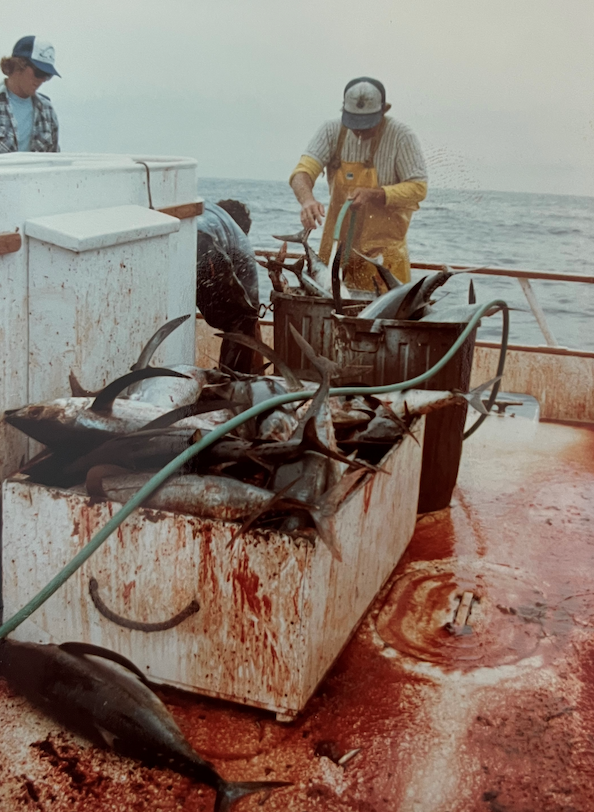 The second day did not disappoint. Although we didn't have another crazy stop, we had consistent bites on both the trolled feathers and on live baits. With a pile of fresh albacore in the Pacific Star's hold, and with bait still a consideration, I decided to shift over to light jigs and see what resulted. Joe Pfister had taught me how to throw a light jig, then use the current to get it kicking just right. Using my Newell 322 spooled up with 30 pound mono, I fished a light Sea Strike 21 jig in place of our diminishing anchovy supply, and after a handful of retrieves, finally found the right speed to entice bites from these feisty longfins. Late that afternoon, on my last cast of the day, the albies twice hit and missed my jig. As the jig reached the boat, a chasing albacore grabbed it as it left the water. The hot fish was burning donuts on the surface, and I was doing everything I could to keep its head and tail from dropping below the surface. Seconds later, a deckhand gaffed my fish. It just doesn't get any better than that in albacore fishing!
Our third day of fishing on this trip was shortened to allow for travel time back to the dock. With bait running low, I decided to fish only the jig that day, resulting in 8 more nice albacore. As we headed for the dock, we reflected on what we had just experienced. It was a most unlikely trip for catching albacore, and it had been a trip that was almost beyond belief. We reveled in our good fortune and we instinctively knew that none of us would likely ever experience another one like it. We returned home with what would be for most of us the albacore trip of a lifetime.
These days, sport-caught albacore in Southern California are seemingly a distant memory. But with changes happening every year, hopefully conditions once again bring these incredible tuna back to our SoCal waters. I know I am packing some small hooks just in case!