Southern California-based AFTCO is well known around the world as a leader in technical clothing, fishing accessories and tackle and even conservation. The company's latest project is the all-new line of Blue Fever fishing lures which quickly gained a foothold with offshore and inshore anglers in Southern California, and that's sure to evolve into a national if not global thing after these baits were unveiled at the ICAST Show in Orlando this past July.
Recently, Western Outdoor News staffers Billy Egan and Brad Van Zyl joined Benny and Matt Florentino for and on-the-water look at the Blue Fever family of lures from AFTCO which at this point includes the Swimmer, Jerkbait, Digger, Crossbreed and Hybrid.
They hit Catalina Island and connected with quality calicos, a yellowtail and a variety of other island species (how could they not when fishing with those guys) but more importantly, they got a hands-on look at what makes each bait unique.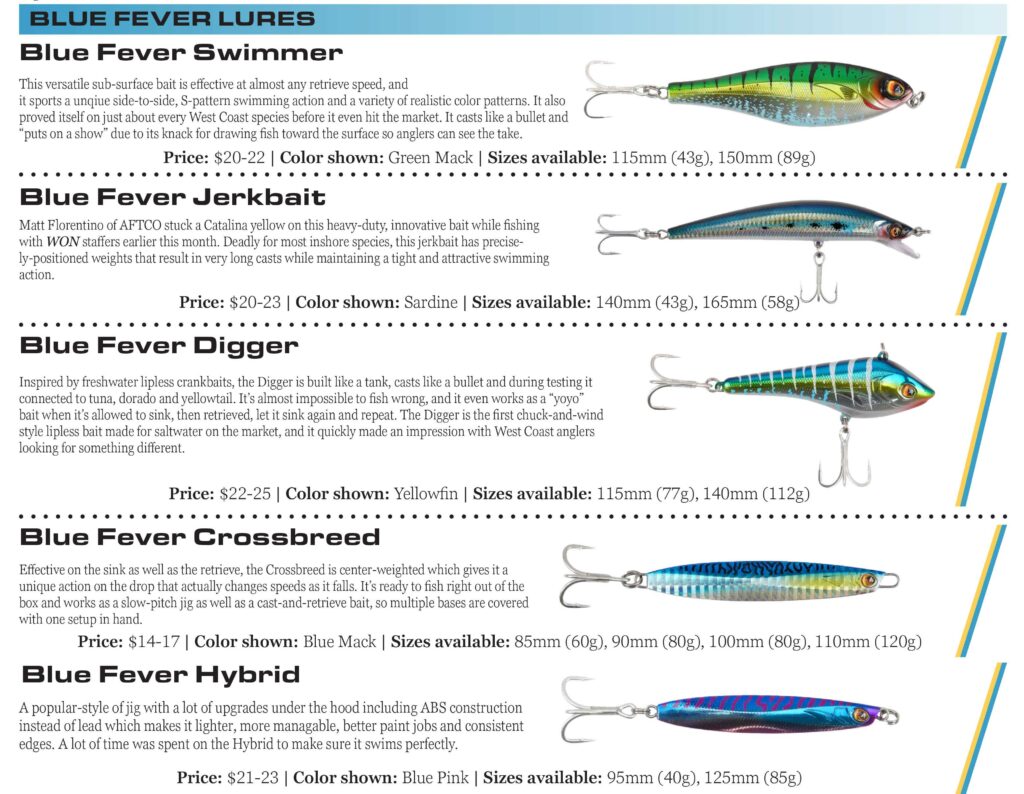 As it turned out, there was a lot more of that than the WON guys expected. For one, a lot of what goes into what makes these baits so effective is under the surface.
Take Blue Fever Jerkbait, for example. At first glance it just looks like a jerkbait, but according to AFTCO's Tackle Brand Manager, Robbie Gant, his team was on a mission to "make the best-casting jerkbait as possible."
Of course that means adding weight, but that's a slippery slope when the goal is also to maintain the desired swimming action. Gant told WON (for an upcoming WON podcast) that after spending a lot of time playing around with the weight, they were able to find that "sweet spot" where they could add weight for casting and keep the action right where they wanted it.
Gant said a fast grind with a pause is a great way to work it, and the bite is particularly exceptional when it gets hit on stop.
The goal for all lures in the AFTCO Blue Fever Series was for each bait to be fishable right out of the box, by all levels of angler. That starts with the action. Regardless of which Blue Fever lure is being used, it can be effectively fished on a basic "chuck and wind" retrieve. They were also engineered to be versatile across the board, so while casting and retrieving absolutely works, anglers also have complete freedom to experiment with retrieve speeds, depth and cadence.
The other part of AFTCO making them fishable right off the shelf was including top-notch hardware. With so many lures currently on the market—even high-dollar ones—anglers love the action, but they have to swap out the hooks and split rings before it ever touches the water.
The Blue Fever lures come stock with high-quality 4x-strong hooks and beefy top-shelf split rings. So they leave the factory ready to stand up to just about anything that swims.
"We put an emphasis on making sure it was the best hardware we could possibly put on the lures," said Gant. "You can fish them right out of the package and catch anything on our coast."

The Blue Fever Crossbreed and Hybrid are other great examples of baits with a familiar look, but also with a lot going on under the hood that sets them apart from the pack.
The Crossbreed is center-weighted which gives it a sink that actually changes speeds as it drops.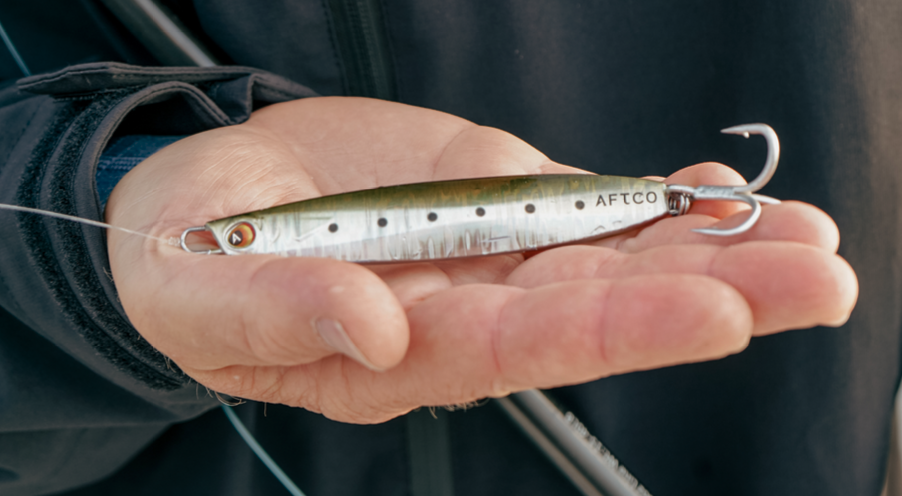 "On the sink, it falls vertical and then it 'grabs an edge' and will fall horizontal, then it will lose the edge and go back to vertical," said Gant.
The center weight also allows it to excel in a slow-pitch situation, but it doesn't hinder the swimming action, so it can also get hit on the way back up. Like all Blue Fever lures, the Crossbreed can also be retrieved near the surface.
Taking all that versatility into consideration, and angler standing at the bow with a Crossbreed at the ready can potentially cover all those tactics without having to swap out one rod-and-reel outfit for another.
The similarly-styled Hybrid is unique in that it's constructed of ABS instead of lead. That makes it lighter, more manageable and much better-looking paint jobs than anything on the market.
AFTCO tinkered with a pair of lead inserts to again achieve a bomber cast while allowing it to swim properly.
The AFTCO Blue Fever Digger is the most unique of the bunch. At first glance, it looks like any number of popular trolling lures out there, but it's actually a lipless crankbait made for casting and built for salt, the first of its kind.
It's very versatile, covers a sprawling depth range and it can even be fished yo-yo style.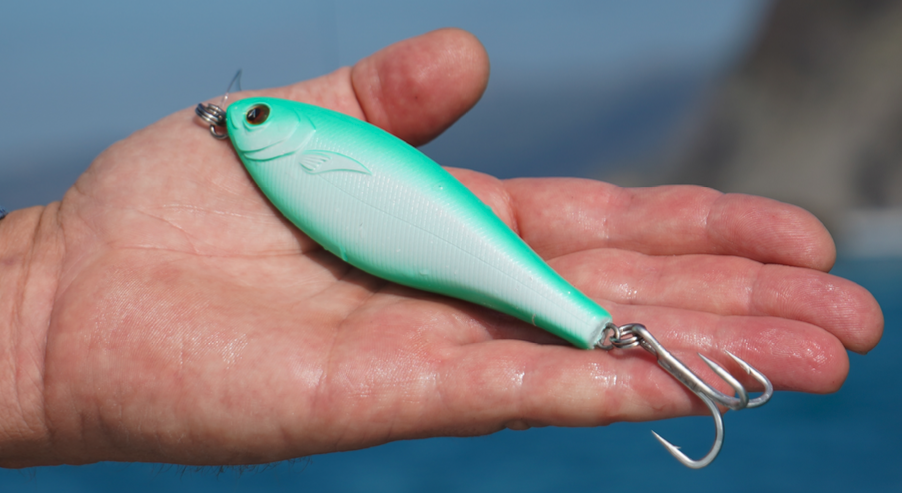 The Blue Fever line embodies the quality and thoughtfulness we come to expect of all AFTCO products, and we are confident these baits will deliver exciting action and limits for anglers across the west coast.
For more information on Blue Fever lures and everything AFTCO has to offer, visit AFTCO.com.