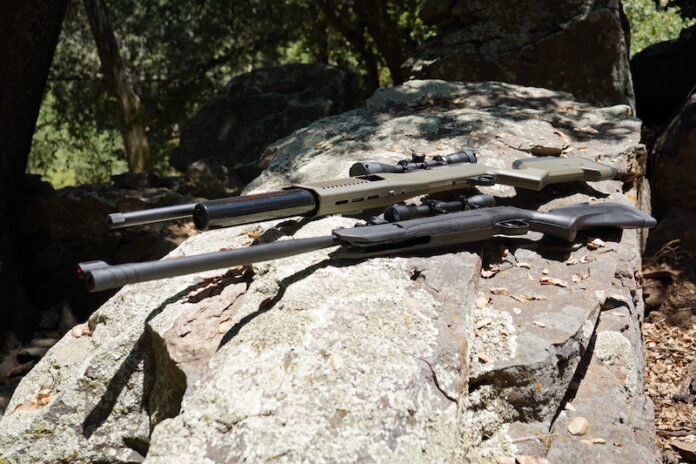 Umarex Emerge .22 leaps forward in the break-barrel game
BY MIKE STEVENS
SAN CLEMENTE – In a previous life, I worked on the fishing side of an outdoorsy sporting goods shop, but I spent a lot of time on the gun side when things got slow. This was over 20 years ago, but there were some things I learned that stuck with me.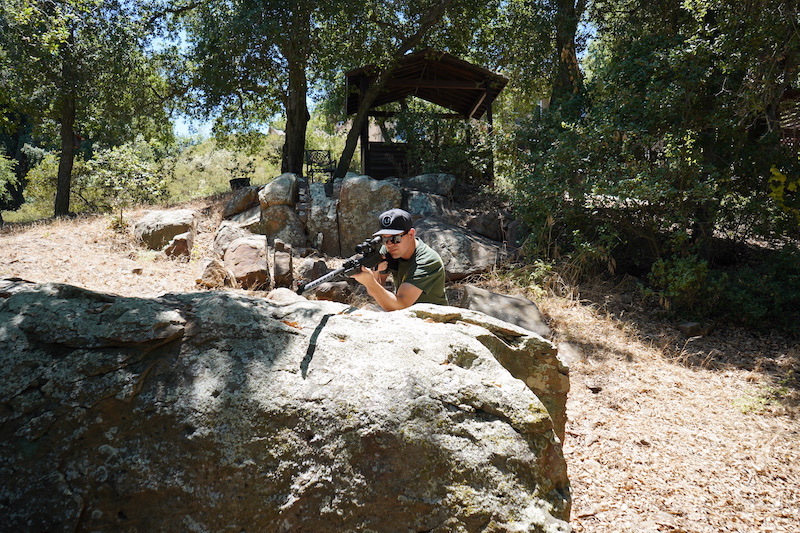 Among them was the fact there are serious air gun guys out there and equally-serious guns to accommodate them. They ranged from those who just enjoyed quiet, low-cost plinking without having to leave town to where it's legal to discharge firearms to those who legitimately hunted with them. I recall running across several small-game hunters who preferred a quality air gun over say, a .22 firearm for various ballistic advantages (and the quiet factor) they picked up while comparing one to the other, and these varied depending on the unique elements each hunter was dealing with. Regardless of options on that kind of stuff, these weren't your grandpa's varmint-control 10 pumpers, CO2-powered cheapies or Ralphie's Red Ryder. These were accurate, powerful and sweet-looking outdoor tools.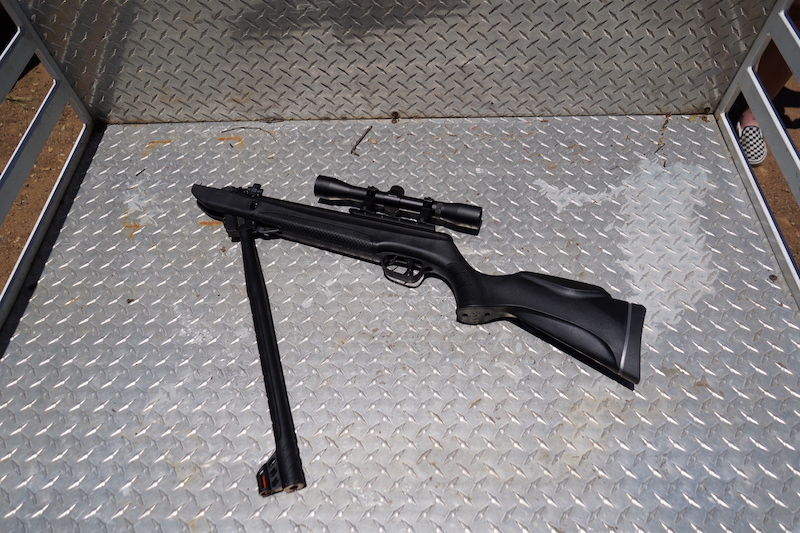 Like everything else, their quality and measurable performance indicators have vastly improved between then and now. These days, Umarex leads the category with a wide range of options from pistols to full-auto tactical stuff on up to nail-driving top-quality rifles. Western Outdoor News staffers have been checking them out both in the office and in the field, and it quickly became evident why Umarex stands where they do in the air gun universe.

The Umarex Emerge break-barrel, 12-shot TNT Turbo Gas piston-powered .22 air rifle is one of them. The auto-advancing 12-shot rotary magazine was easy to load, cock and shoot even for WON's very-pregnant accountant who put together tight groups using only the fiber-optic front and rear sights, and later with the 4×32 scope installed.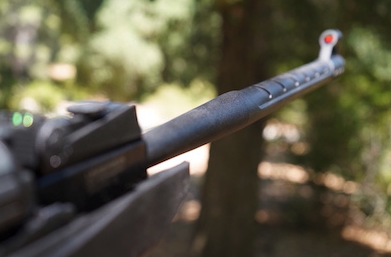 The Umarex Emerge .22 sends 12-grain pellets downrange at 800 feet per second which is right at home for target shooting, plinking and small game hunting. The Emerge is equipped with a muzzle device packing Umarex's SilencAir Technology which ensures quiet shooting which was great news for this writer who later employed the rifle for suburban backyard gopher management.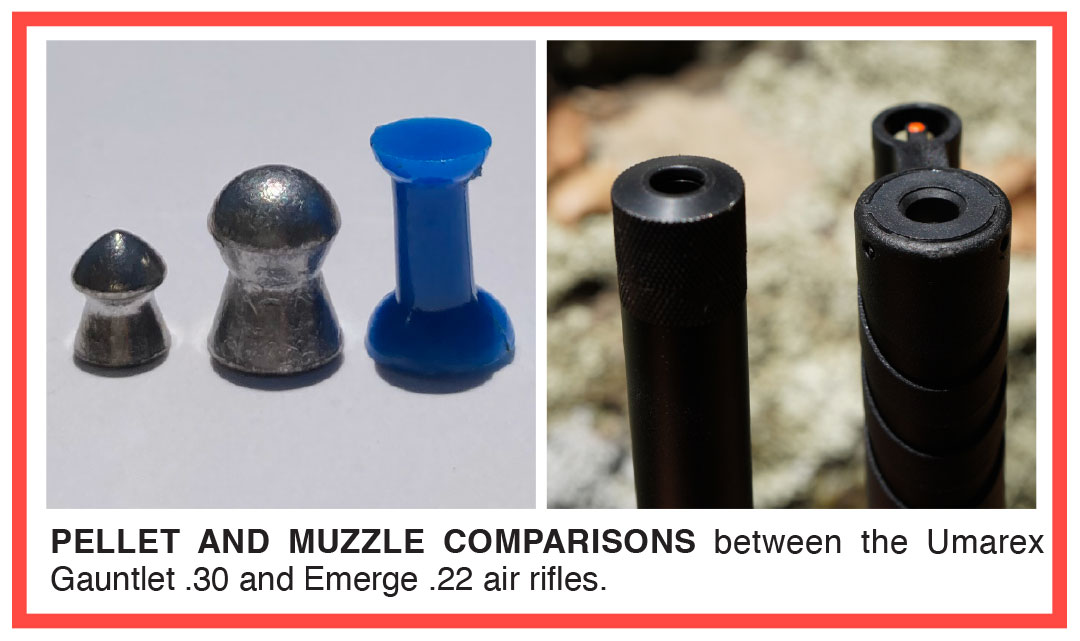 Rounding out the features of the Umarex Emerge .22 are: automatic safety, two-stage adjustable trigger and a lightweight and strong package built around an all-weather polymer stock.
Depending on what the shooter is looking to accomplish, some Umarex Emerge .22 owners are dialing up the versatility by running a variety of pellets including the Umarex Brimstone 18.67-grain, Ruger Impact SuperPoints and 14-grain Meisterkugeln Professional Line pellets and finding impressive results.
Umarex Gauntlet 30 delivers heavy-hitting accuracy


Umarex really shook up the air-gun world with the launch of the Gauntlet family of air rifles which quickly gathered a cult following from shooters who loved the performance high marks and custom features at a very manageable price point. Umarex has added to the Gauntlet suite of air rifles with the Gauntlet 30 – .30 Caliber PCP High-Pressure Air Rifle.
That's right, .30 caliber.
The heavy-hitting Gauntlet 30 stays true to the custom feel, precision looks and easy-to-shoot signatures as its predecessors while delivering 99 foot-pounds of energy at 1,000 fps with 44.75-grain lead pellets. It doesn't take long to see the accuracy is there along with that ramped-up power – and that's with a variety of pellets and even slugs – and the shot groups are very consistent to over 30 shots before the muzzle velocity falls off a bit.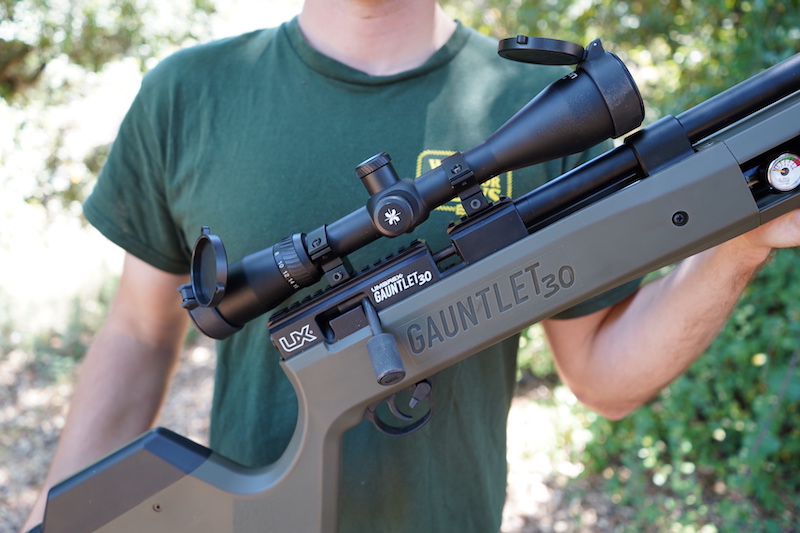 The Gauntlet 30 isn't a quiet shooter as air rifles go, but it's surprisingly quieter than we expected for that caliber. The trigger pull is easy enough, and while cocking took some effort, it was tested out-of-the-box and will likely get easier over time.
While WON was checking out the Gauntlet 30, we were lucky enough to have a reader putting one to the test in the field after he picked one up for himself. Victor Pardo brought his to Florida where he used it to help with invasive species (specifically, iguanas and Egyptian geese) management, and the veteran Western hunter was happy to give an honest review of his Gauntlet.
"This being my first air gun for the price point, it did really well," said Pardo. "The bolt seems a little hard to pull back, but maybe after time it will loosen up, and the barrel does feel like it needs some support in the front. But it's a great rifle for the price, well worth it."
At a hair under 9 pounds out of the box and at 47 inches long, it's pretty clear that a shooter would be best served firing the Gauntlet 30 with a bipod or benchrest, and the bolt action really is manageable given the overall size of the complete package.

The Umarex Gauntlet 30 delivers custom-rifle power and accuracy at an incredible value making it an outstanding "level-up" opportunity for serious air-gun enthusiasts.
Check out everything Umarex has to offer at UmarexUSA.com.