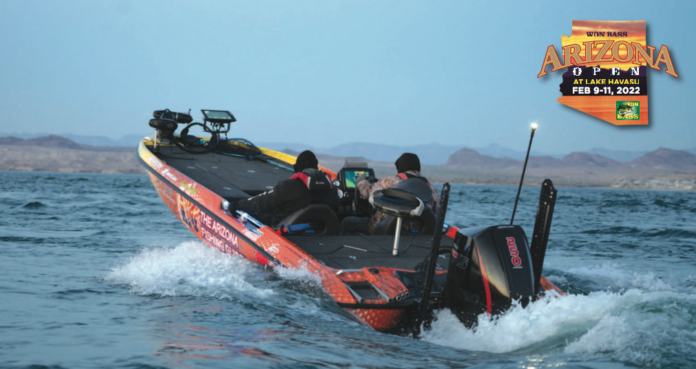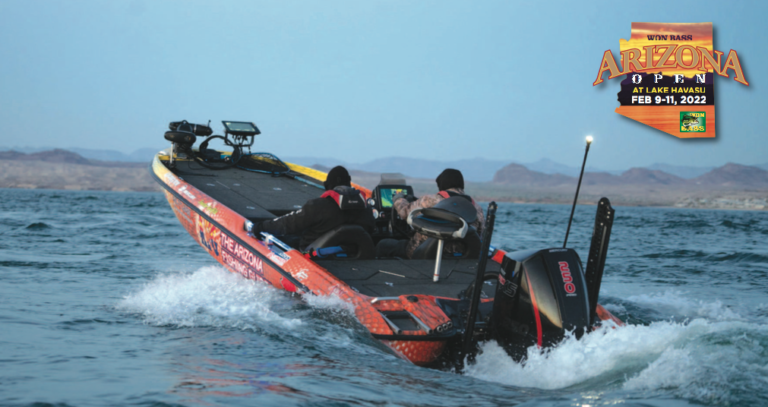 BY BLAKE WARREN
LAKE HAVASU CITY, Ariz. – The WON BASS season gets off and rolling early next month in the Sonoran Desert, as a large field of top pros will once again descend on the bassin' paradise of Lake Havasu for the Arizona Open presented by Bass Cat and Mercury Marine come February 9-11. The first of four events on the ever-growing tournament circuit for 2022, the tourney is sure to have its fair share of fireworks in what has become a highly competitive, grind-it-out desert shootout as the opening salvo to the WON BASS season.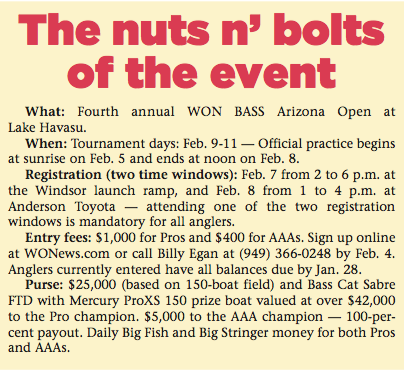 "Just like at Mead, this is another event that will test your grit," said tournament director Billy Egan. "We put it just in the right spot with the lake emerging out from wintertime, both the fish and us humans, and it's a great place to kick off our season."
The timing, being in the middle part of February, makes the early season tournament quite the crapshoot as to how it will ultimately play out, and as always, the fishing will be highly dependent on the weather, both in the days preceding and during the event. While another relatively mild winter could have a fair share of fish up on beds come game time, heavier, colder weather through the next month could keep the bass in somewhat of a holding pattern, and more so staging prior to doing their annual dance in the shallows.
And while February at Havasu doesn't necessarily mean big numbers of fish, it can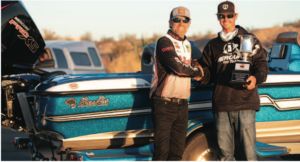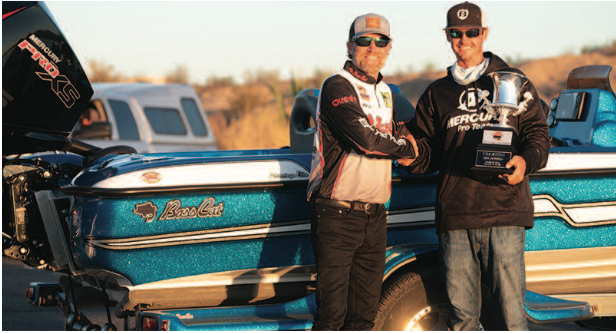 certainly translate into big sizes, as many top local anglers and pros say the month can often produce some of the biggest bass of the year at the renowned desert fishery. One thing's for sure, it takes some solid bags to claim a championship at the Arizona Open, as the last two editions of the tourney were won with 52.34 and 53.11 pounds over three days, respectively. Is this the year the tournament sees its first double-digit bucketmouth hit the scales?
Up for grabs for the 2022 Arizona Open champion is a cool $25,000 paycheck (based on a 150-boat field) and a beautiful Bass Cat Sabre FTD outfitted with a burly Mercury ProXS 150 and PowerPoles along with a Next Gen lithium battery — a boat package valued at over $42,000. Of course, the 100-percent payback at WON BASS will also ensure more than a few anglers will be heading home having cashed a check as well. Based on the same 150-boat field, the AAA champ will take home at least $5,000 in 2022.
During what is generally regarded a "big fish month" at the lake, anglers will also be cashing Big Fish checks throughout the three-day event, with WON BASS doling out $1,000 for first Big Fish and $500 each for second and third on the Pro side each day, while the AAA Big Fish payouts will be $500 for first and $250 for second and third. There's another $1,000 kicker thrown in each day for Pro Big Bag and $500 for the AAA Big Bag.
The Arizona Open is also the first opportunity to rack up points in the year-long WON BASS Angler of the Year points race, followed by the second and third legs of the battle for 2022 AOY at the 10th annual California Open at Clear Lake (April 13-15) and the 40th anniversary of the prestigious U.S. Open at Lake Mead (Oct. 10-12).
The WON BASS Pro Angler of the Year will receive a top-shelf Daiwa Steez casting combo valued at over $1,100, while the AAA AOY will score a Steez spinning combo worth $1,300. The second place Pro in the final standings will receive a $500 package courtesy of PowerPole. Look for the AOY prize pot to only continue to grow as the year unfolds to add even more incentive to be sure to fish all three WON BASS qualifying events in 2022. The top 10 anglers in the final AOY standings will also find their way into the inaugural
Bass Cat Western Shootout among other top western Pro in 2023 (location and date currently TBD).
To lock up your spot for the Arizona Open — or any other WON BASS event — sign up online at WONews.com or contact Billy Egan at (949) 366-0248 prior to Feb. 4.
Official practice for the Arizona Open starts Saturday, Feb. 5 and goes until noon on Tuesday, Feb. 8, at which time all boats must be off the water ahead of the following day's morning tournament launch. There will be two windows for event registration — attending one of the two is mandatory for all anglers: Monday, Feb. 7 at the Windsor rampfrom 2 to 6p.m.and in town at Anderson Toyota on Feb.8 from1 to 4p.m. BassCat test rides will also be available at Monday's registration window at Windsor. Along with checking in and getting all the necessary info for the event to all anglers, each angler will also receive a free spool of 20-pound Spiderwire braid and a complementary Gamakatsu Sun Shield and decal at registration.
Along with title sponsors Bass Cat Boats and Mercury Marine, major sponsors for the 2022 Arizona Open include Berkley, Abu Garcia, Phenix Rods, Plano, Frabill, Gamakatsu, Seaguar, Power-Pole, Daiwa, Next Gen, Chevron Techron and Century Marine.
Who will claim the crown in 2022?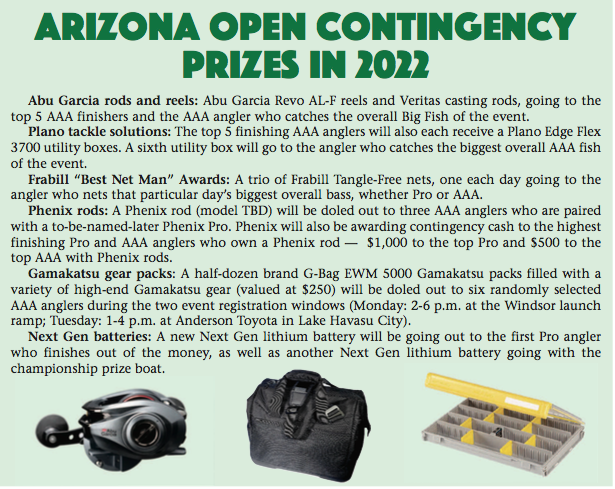 While it's damn near impossible to predict how this year's tournament will ultimately play out and who will be crowned champion in mid-February. If recent history is any indicator, it will be a close, hard fought, grind-it-out affair that goes down to the wire.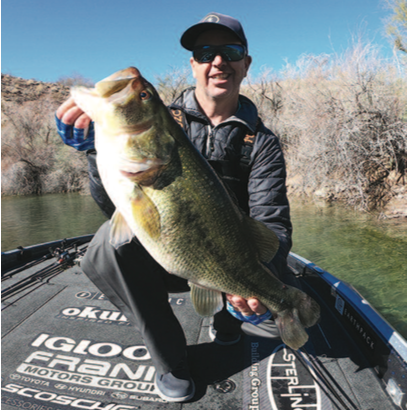 After Los Angeles Pro Todd Woods claimed the inaugural Arizona Open in 2019 with 61.95 pounds (the standing total tournament record) by a little over 5 pounds, it was a pair of local Havasu sticks who claimed the title each of the last two years: Shaun Bailey with 52.34 in 2020 and Mike Williams with 53.11 in 2021. Those two victories were by much narrower margins, as Bailey had four anglers right on his tail within just 3 pounds and Williams claiming victory over SoCal Pro Todd Kline by less than 3 pounds with a strong final day's bag.
It's highly likely that it will take at least 50 pounds to take the title again at Havasu this year, meaning averaging somewhere in the neighborhood of 17 pounds a day to legitimately be in the running for the 2022 championship trophy.
San Clemente, Calif. Pro and 2021 Arizona Open runner-up Todd Kline is licking his chops to get back out to Lake Havasu and kick off his tournament fishing season by improving by just that one key spot at this year's Open.
"I absolutely love Lake Havasu and the fact that we're fishing for both largemouth and smallmouth," Kline told WON BASS. "You never quite know what you're going to get this time of year but you can bet the bite will be very dependent on the elements, and with the recent weather, I'm anticipating challenging conditions."
As for going toe to toe with the handful of top Havasu locals who perennially fare well come tournament time at the lake, Kline knows it's a tall task but intends on riding last year's second place finish and bringing that confidence he built with his strong showing with him to next month's event, along with a solid game plan.
"As always, the manmade structure will play a key role, as it tends to hold fish year- round," he continued. "Not all of it is the same and the local guys know the key coves and pockets that will be holding fish. My goal is to locate the key ones (pieces of manmade structure) and hope history repeats itself at the locations that have produced in the past for me at this time of year. Obviously, bait will be a major factor as well — find the shad and the fish will be near, no doubt."
As for bait selection, Kline said he'd likely be keeping things relatively simple with a few key options: drop-shotted Roboworms, Senkos, Coolbaits underspins and crankbaits like a Spro Rockcrawler in craw color along with a deep crank such as a Spro Little John DD45 or DD70. If the water's a little colder than expected, he said he may lean more on lipless cranks in shad patterns.
Only time will tell what the conditions will be like at Havasu come Feb. 9, but you can rest assured that at least a handful of anglers will be able to find the fish, crack the code and reach that magical 50-pound mark after three days and thousands of casts in the desert to put themselves in the running for the trophy. Will you be one of them?
The 2022 WON BASS Arizona Open blasts off at safe light on Wednesday, Feb. 9, fishing through Feb. 11. Official practice begins at safe light Feb. 5 and runs until noon on Feb. 8. To sign up, head for WONews.com and click on the Events tab or call tournament director Billy Egan at (949) 366-0248.