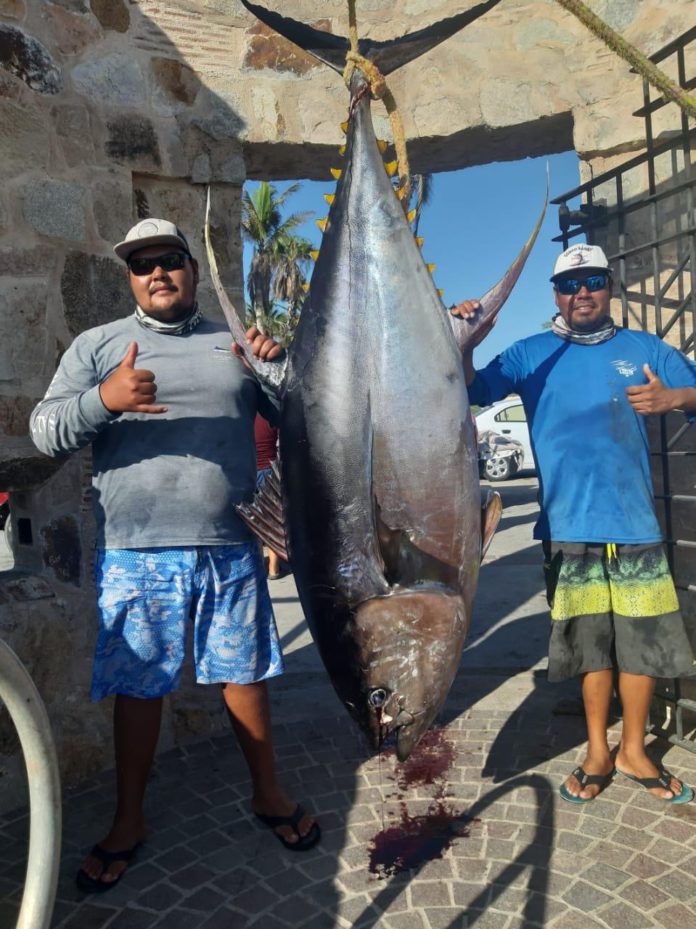 As weather patterns stabilized, the entire peninsula cranked things up a notch with some serious end-of-summer action. Everyone's talking about the 367-pound yellowfin in San Jose del Cabo
BY  MEGAN McDONELL
SAN JOSE DEL CABO – Eric Brictson of Gordo Banks Pangas claimed the highlight for the week on his website – the season's first super cow! The 367-pound yellowfin tuna, brought in on Friday from a 23-foot super panga operated by Jesus and Gerardo Bañaga of La Playita, was hooked near the Inner Gordo Banks.
Rebecca Ehrenberg of Pisces Sportfishing had the full play-by-play. She said, "They were 4 miles from shore getting bait and landed a decent skipjack. They sewed it up and put it out on their Shimano 30 Tiagra with 80-pound line and 90-pound leader. They looped around the area only once when this super cow yellowfin torpedoed out of the water after their bait. The fish ran for an hour straight, with the guys in hot pursuit, trying to avoid getting spoiled. After the run, it headed down deep – and the hard work began. Two and a half hours after the hookup, they had the fish at the gaff. It was difficult to weigh (and some bystanders doubted the accuracy of the scale, saying it might have been heavier), but the numbers stopped at 367 pounds!"
Besides this big boy, Brictson reported the yellowfin tuna bite overall was really productive around the San Luis Bank, striking mainly on caballito, and the average size was in the 40- to 70-pound range.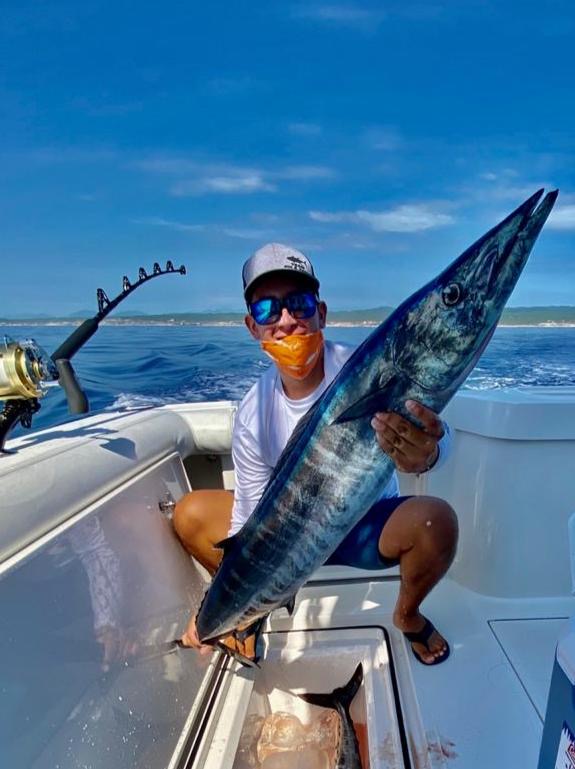 "Anglers were using caballito and rigged ballyhoo for baits, also, a few scattered schools of sardinas are being located near marina jetty," he said. "On the fishing grounds themselves, there have been some small skipjack and bolito caught and used for trolling."
He added that the wahoo went on a great bite this week, striking readily on trolled Rapalas throughout the zone from La Fortuna to Vinorama. "Many charters were landing 3 to 5 wahoo," he said, "and average sizes ranged from 15 to 35 pounds. Nice to see these wahoo [since] it has been a while since we have seen them in numbers like this."
As for dorado, Brictson said anglers tended to find them while trolling small schools, and sizes ranged to 20 pounds, but the majority were 5 to 12 pounds.
CABO SAN LUCAS – Pisces Sportfishing is thrilled that tuna season is in full swing. "Tuna fishing has picked up from San Jose to Cabo since last week," said Rebecca Ehrenberg, "with Pisces boats landing fish in the 80-pound range regularly now."
She said 60% of Pisces boats targeted tuna this week with success, and they caught a total of 205 yellowfin! The wahoo are starting to show up too, anywhere from the Cabo Coast at Cabo Bello through to the Iman and Vinoramas on the San Jose side.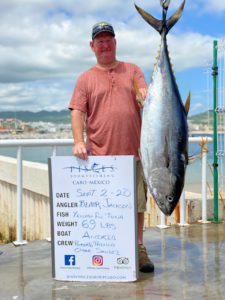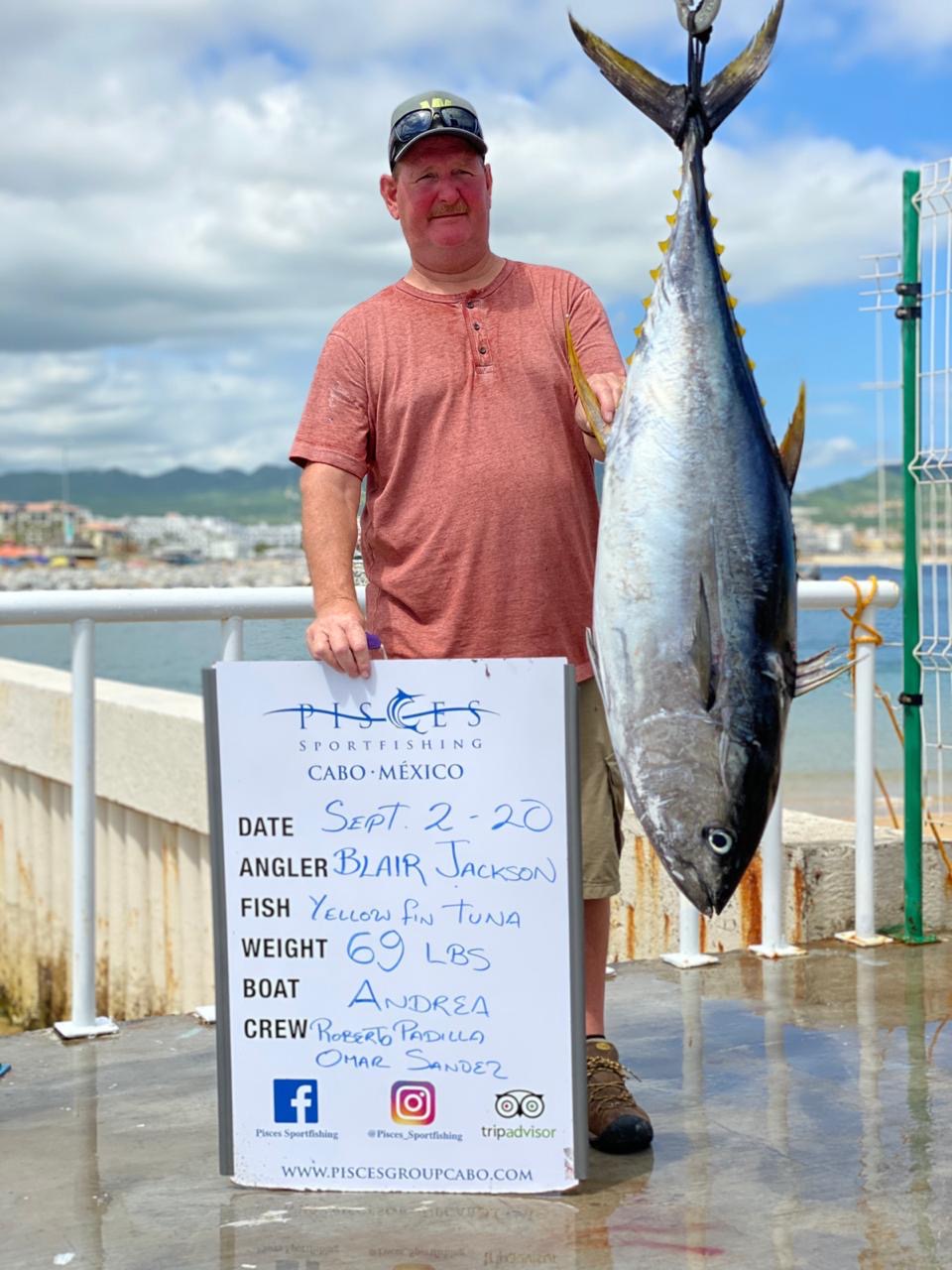 And although fishing has been somewhat inconsistent, Ehrenberg said they got 1 black marlin of about 300 pounds (released) on their 37-foot Viking BBII, a couple of 250-pound blues, 4 wahoo and a few striped marlin for the week.
EAST CAPE – John Ireland of Hotel Rancho Leonero happily reported "a much-improved week of fishing!" – with consistently blue water and skies.
"The water cleaned up, and the fishing definitely picked up," he said. "Wahoo have finally arrived in decent numbers, yellowfin are being taken both inside and outside under the porpoise and [there were] lots of dorado around early in the week."Getting more into the specifics, Ireland reported 2 or 3 wahoo a day coming to the cleaning table – and nice fish too, from 25-45 pounds. He said most were taken on Rapalas, marauders and slow-trolled ballyhoo half a mile to 3 miles off the beach from the park boundary to Punta Colorado. "By far the best wahoo fishing of the year!" he added.It sounds like the yellowfin tuna fishing went pretty well for them too. "Lots of footballs mixed with bigger fish in the 30- to 60-pound range taken both inside in the same areas as the wahoo and 10-20 miles offshore outside under the porpoise," said Ireland. "Hoochies, cedar plugs and sardines are working on the schools outside. Inside, lots of skipjack are being taken with about 2 for every yellowfin."
Apparently the billfish bite opened up on Friday too, thanks to lots of good live sardines. Ireland said those are mostly around from Frailles north – and best on the drop-offs from Punta Colorado to La Ribera.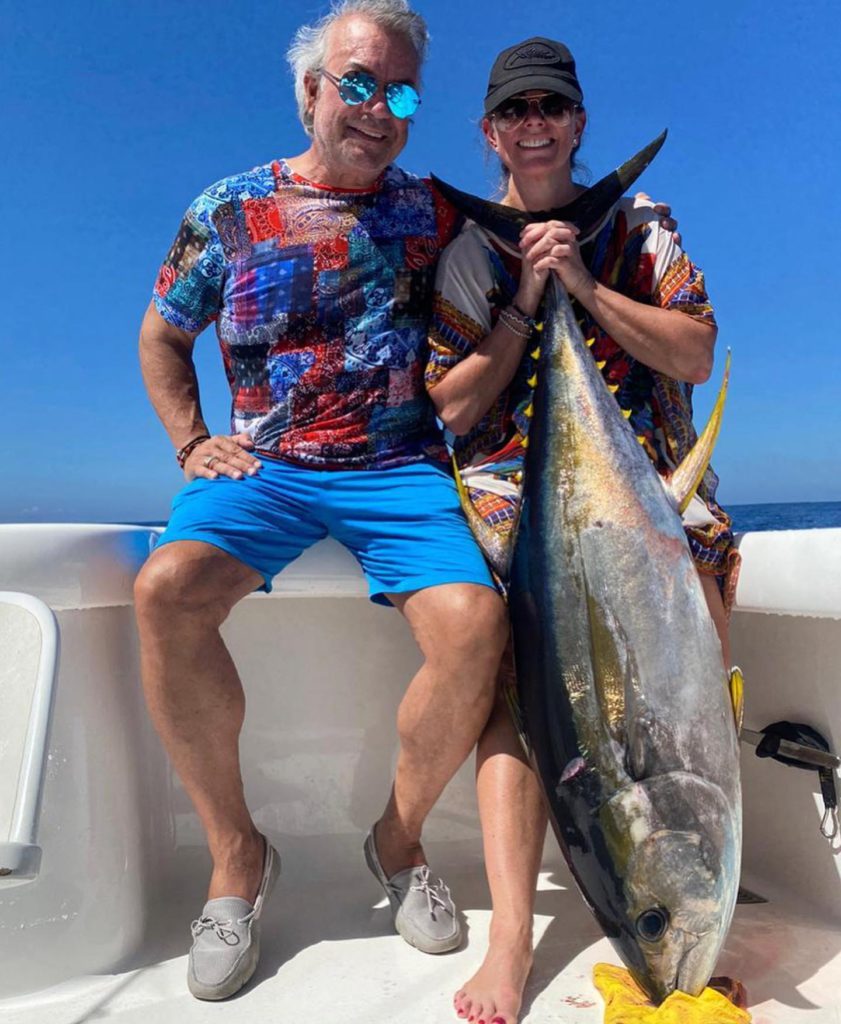 Finally, the bottom fishing has been good and consistent as usual – with amberjack, grouper and lots of pompano biting on the inside high spots. "Chunk squid and skipjack [are] really working," added Ireland.
Nearby on the Cape, Eduardo Verdugo of the charterboat Anzuelo reported via Facebook on Sept 3 that they got 2 marlin and 1 good wahoo.
Matthew Clifton of Scorpion Sportfishing added his report to the mix as well, saying that wahoo showed up in good numbers this week – and "Rapala Xrap Magnums are always the way to go for these predators." He said they caught some quality tuna and dorado too, including a 53-pound bull – and striped marlin, sailfish and blue marlin also bit well.
LA PAZ – Jonathan Roldan of Tailhunter International reported that, "with the full moon, the week surprisingly started really strong!" Both their Tailhunter Las Arenas and Tailhunter La Paz Fleet got limits of dorado – and, overall, they had a great combination of solid fishing action and sunny weather.
According to Roldan, the dorado weren't big – the largest ran maybe 20 pounds – but with the 5-10 pounders, there was a lot of action – and many boats often limited early, then caught and released fish.
Roldan also reported some great inshore fishing – with nice cabrilla, pargo, snapper, roosterfish, amberjack and big bonito. "It made for some good days of fishing," he said.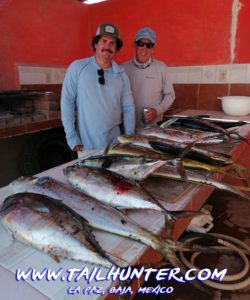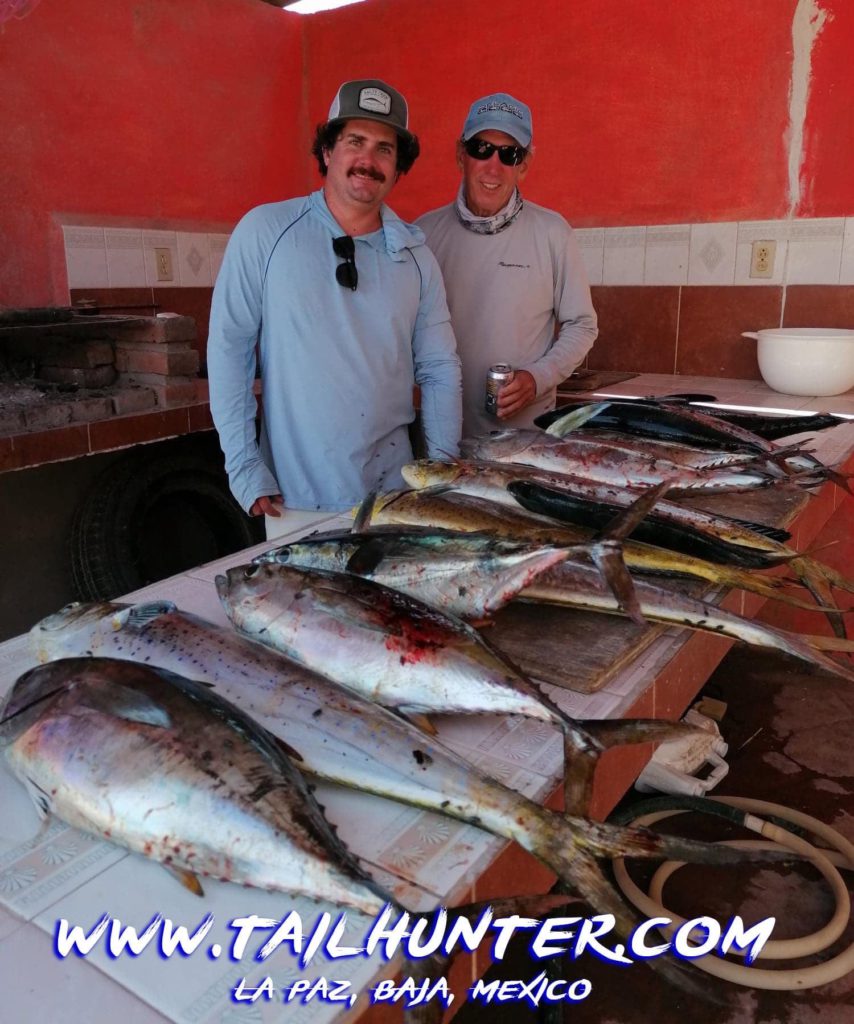 As the week went on, unfortunately, their Las Arenas fleet really had to work hard to find fish, but their La Paz fleet continued to do okay.
In other La Paz news, the beaches and malecon reopened after almost 5 months of COVID-19 closure! "It was good to see people in the water, walking along the waterfront and cruising the malecon in the evenings," said Roldan.
LORETO – Rick Hill of pinchysportfishing.com wrote in Sunday to say the dorado are popping up everywhere in Loreto – with most under 5 pounds.
"Loreto must be close to a dodo nursery area because, for the past 5 years, all we seem to see is a flood of recently hatched dorado," he said.
On top of that, triggerfish, cabrilla and yellowtail are all being landed in the Coronado Island high spots. "Shopping for some nice fillets is relatively easy if you don't mind the intense sun!" said Hill.
SAN QUINTIN BAY – It's officially prime time at San Quintin Bay and inshore waters for yellows – plus, the white seabass action is heating up too. The bite last year was incredible, and it's shaping up to be another monster summer and fall for the croakers.
Capt. Juan Cook should know – he was a busy angler last week! He reported he was out on the charterboat Slapfish on Friday with his friend Tim, Tim's daughter Jaclyn and her boyfriend Shawn. "It was a slow day as far as I'm concerned," said Cook, "but we did catch a couple nice lingcod – and Jacyln caught a fine 20-pound yellowtail."
Then on Saturday and Sunday, while he was out with some firefighters from Newport Beach and a couple friends, Cook said the halibut, calicos, reds and lingcod all bit well for them.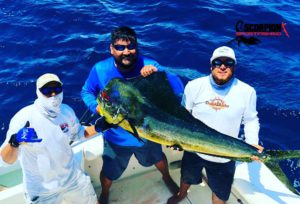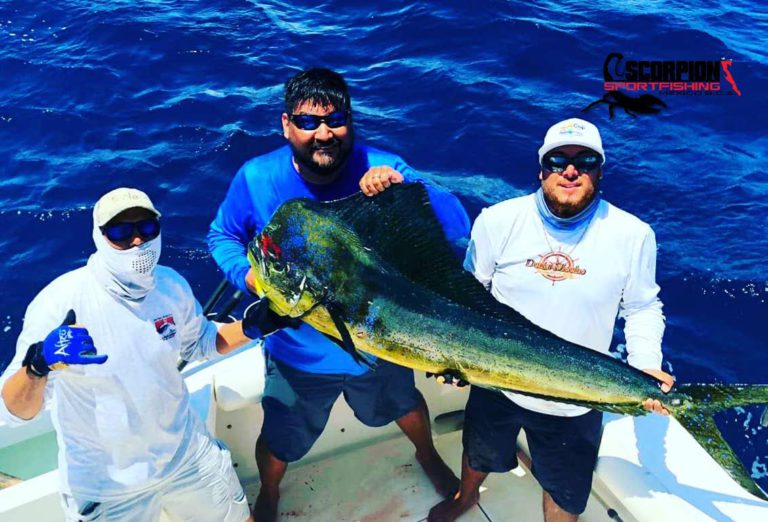 And finally, while he was out with Antonio Gonzales Echegeray Sr., Ricardo Lerri and Rafael Rodrigue on Monday, they had a great day fishing for halibut, calicos, bonita, yellowtail, lings and reds.
Cook said he did not target the white seabass as they are not very big right now (10 to 14 pounds), but they are growing – and some panga fleets were landing bigger-sized catches.
Want to contribute to the Baja reports? Please do! Send them to baja@wonews.com.