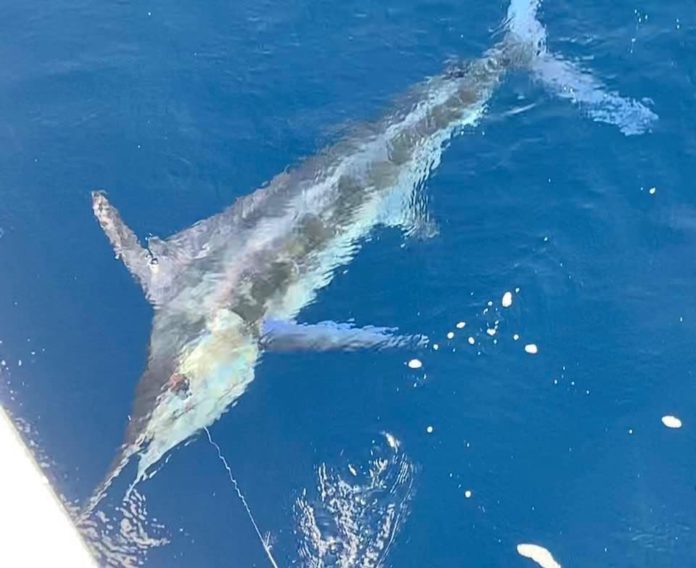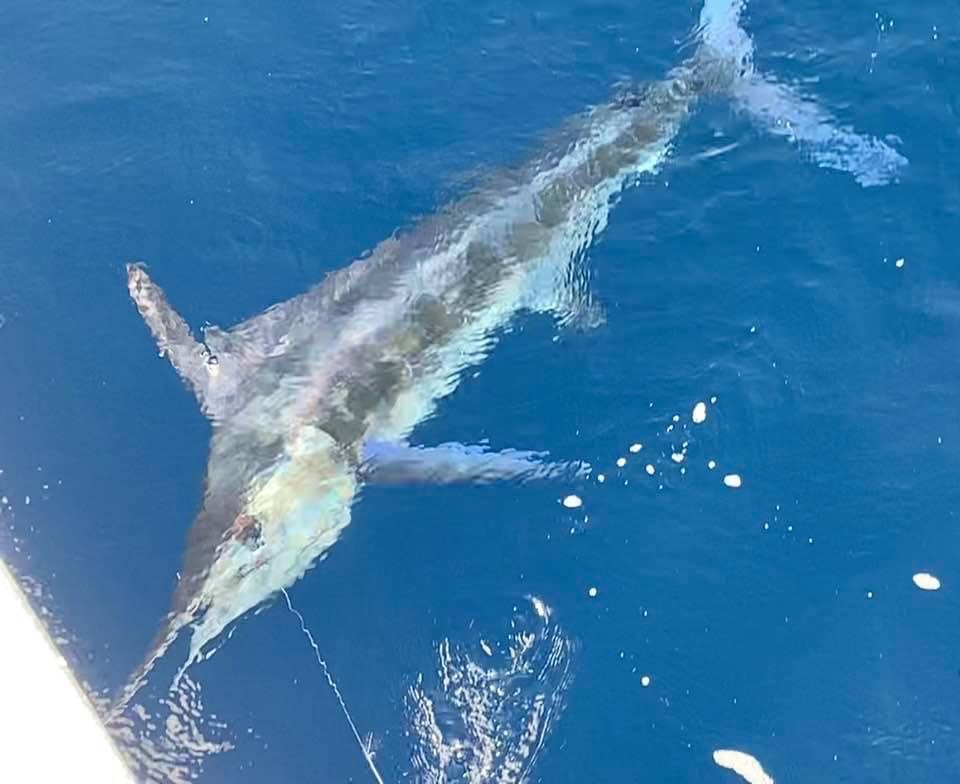 The tuna finally showed up in La Paz, and the yellowtail are biting in Loreto. In Mag Bay, it's all about the marlin, and in San Jose del Cabo, mixed surface and bottom action. In Cabo, they're catching early limits of dorado and gearing up for the 22nd annual WON Los Cabos Tuna Jackpot tournament from Nov. 4-7.
BY MEGAN McDONELL
LA PAZ – Jonathan Roldan of Tailhunter International reported that
the seasons are definitely changing in La Paz, with cooler air temps during the day and some really pleasant evenings.
However, with the change in temperature, Roldan said they're also getting more winds, especially the north winds that blow from about November to April that can make fishing a little bumpy and choppy. "It can also hinder our ability to get to certain fishing holes and even to get to the places where we get live bait," he said.
Apparently, that's what happened this past week. "We had two to three days of pretty good windy conditions and whitewater on the ocean," said Roldan. "For better or worse, there aren't too many folks fishing this week, which will be typical as we get closer to the holidays." He said it'll be mostly snowbirds looking for sunshine and walk-in anglers just looking for one day of fishing out on the water.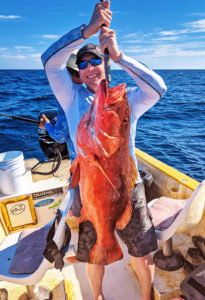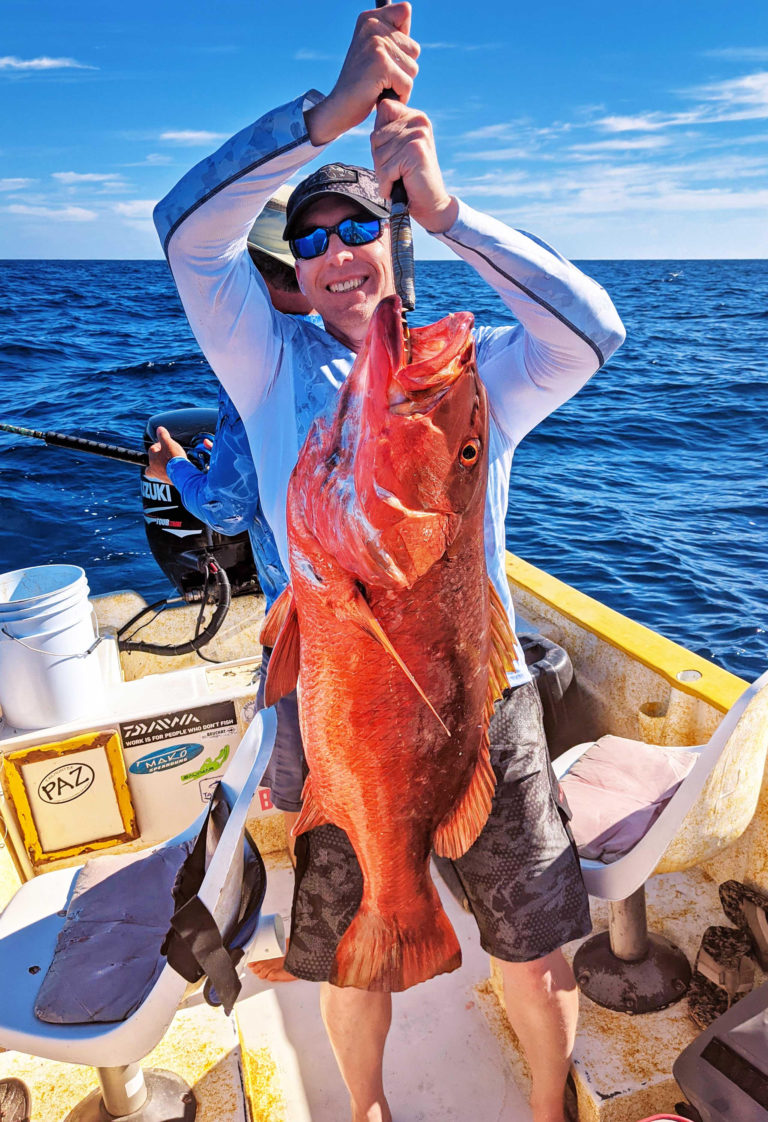 That being said, Roldan added that there was still some excellent fishing to be had this week – with some boats and areas much more productive than others.
He said their Tailhunter Las Arenas fleet had the most variety. "We actually got into some tuna – finally, after almost an entire season with no tuna! The guys had to run really far, however," he said. "They went south, almost to the north end of the East Cape. They made it one day, but then after that, it was too windy to get there on subsequent days."
Still, Roldan said there were some legit 10- to 20-pound dorado, cabrilla, snapper, jack crevalle, bonito and several types of pargo. "We even got one big dog-tooth snapper pulled out of the rocks," he added.
For their Tailhunter La Paz Fleet, Roldan reported it was simply too windy to catch anything – though he knows there are dorado and sierra right in the bay around where the big tanker ships are anchored off Punta Prieta.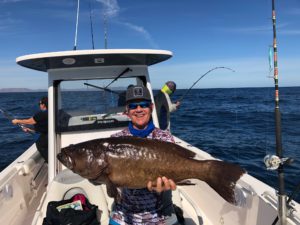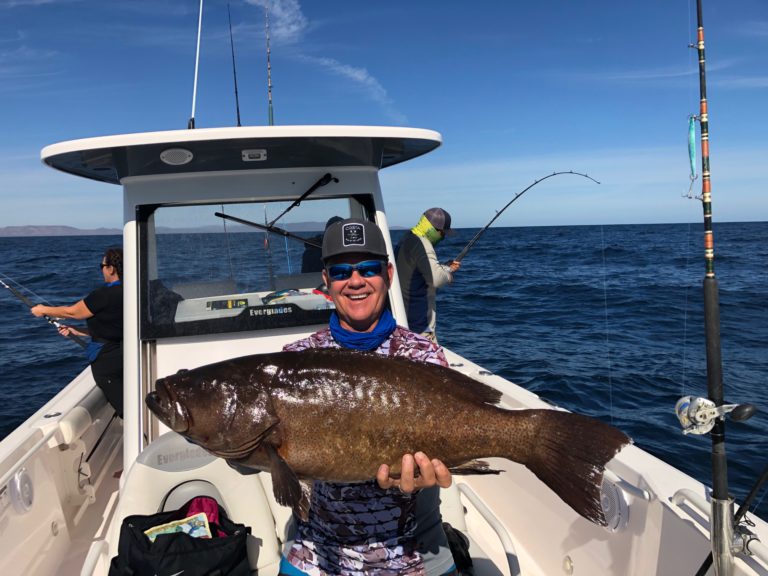 LORETO – Rick Hill of pinchysportfishing.com reported they only had a few fishable days this week due to a high-power north wind that blew down the gulf.
They made the most of it though, tapping into the yellowtail high spots – which Hill says, "have returned to center stage, with most boats starting the day at San Bruno or Candeleros."
Hill said most yellows this week were under 15 pounds, and the most common catches overall were pinto bass, snapper and cabrilla. As for bait, he said, "Live sardina and cut dead mackerel did the best job, with only a few bigger yellowtail hitting the live mackerel."
Hill is optimistic about the months ahead. He added, "The best weather in Baja is here until New Years!"
Former WON editor Pat McDonell and fellow angler Chris Wheaton also had the chance to fish in Loreto this week on their way to the WON Los Cabos Tuna Jackpot. They were blown out of LA Bay, so they continued to Loreto and fished three days in the steadily improving weather.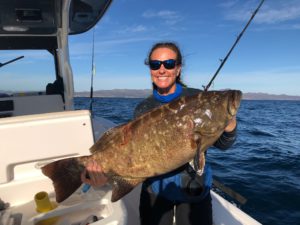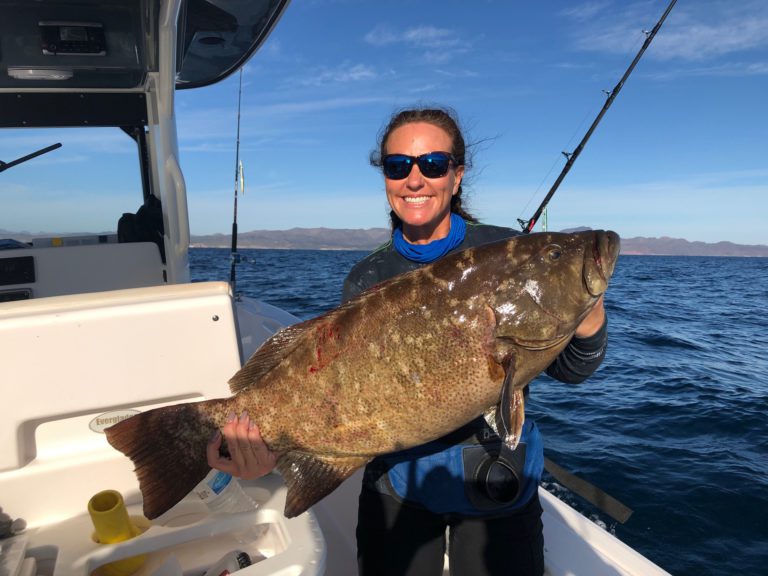 They sent in a similar report to Hill's. Said McDonell, "We caught yellowtail to 15 pounds (or maybe 20) and leopard grouper of 5 to 20 pounds, so it was very good on the heavy iron and also on bait on the dropper loop rig."
McDonell and Wheaton fished with Nemenchas Sportfishing captains on a local boat, a 29-foot Everglades. "It was a great stop for us on the way to Cabo," said McDonell. "The best day was Friday, with the Pacific Lures getting the mix of fish on the yo-yo. The Butterfly Jigs were also working great."
Fishing with them the final day on Halloween were Randy Hayes and Joey Bragole of Seal Beach and Kathy Hunter of LiveLoreto.com. McDonell, Wheaton and Hunter are all members of the Tuna Jackpot tourney staff. They will fish Mag Bay and Bahía Asunción on the run home after the tourney ends.
MAGDALENA BAY – Speaking of Mag Bay, the marlin fishing has been especially epic lately, and a couple anglers have the stories to prove it this week. 
Former WON private boat columnist Paul Lepote and his friends ran their boat south from SoCal to get into the prime season on the west coast of Baja.
He posted on Facebook that they had a great time in Mag Bay, with multiple marlin caught throughout their trip. He wrote, "For my fishing friends, we are catching the fish 8-10 (miles) in front of the Entrada and we are anchoring at Mag City at night. Good bait catching here but none in Santa Maria Bay or at Punta Belchers. For those coming down, we caught lots of dorado and yellowfin above Cedros and really good marlin fishing 12 miles below Turtle Bay." Lepote added that most of the fish were raised on teasers and caught dropping back ballyhoo or live mackerel.
In other Mag Bay action, those anglers going from Loreto two hours over the La Gigante mountains to fish with Bob Hoyt of Mag Bay Outfitters, and also fishing with pangeros out of San Carlos to the south, were catching marlin and wahoo within 10 miles.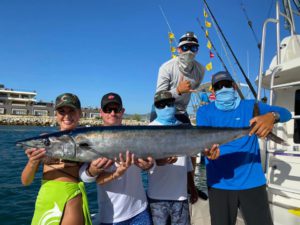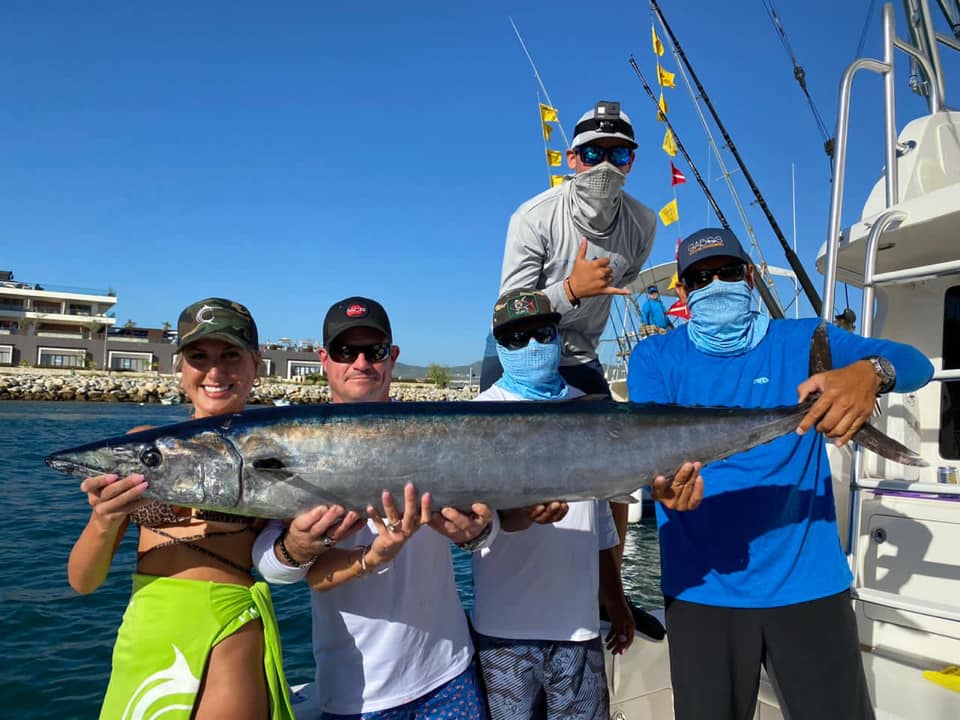 GONZAGA BAY – Orchid Martinez of Baja Fishing Convoys wrote in on Saturday to say they were out in the Gonzaga Bay area fishing for cabrilla – but also saw lots of nice-sized sierra, white sea bass, sheepshead and triggers. "We picked an awesome week for weather!" she said.
SAN JOSE DEL CABO – Eric Brictson of Gordo Banks Pangas reported on his website they're starting to feel more of a climate change in San Jose del Cabo too – with strong north winds early in the week and cooling ocean temperatures.
As for fishing, Brictson said sardinas continued to be the main bait source and were found schooling near shore from San Jose del Cabo marina area to Chileno. "Slabs of squid and ballyhoo were other options," he added.
Brictson reported that most local charters have been working the grounds from Santa Maria, Palmilla, Gordo Banks and north to Vinorama. Like last week, he said the overall bite was more scattered and there wasn't one consistent spot.
One of the more common gamefish they saw this week was dorado, though the majority were smaller-sized fish. Brictson also reported a handful of wahoo this week and expects that, with the conditions shaping up, these fish should become much more active in the coming weeks. Off the bottom, he said the highlight was landing a few dogtooth snapper up to 40 pounds – but they saw more triggerfish or small pargo compared to anything else – with an occasional cabrilla, bonito, island jack or rainbow runner.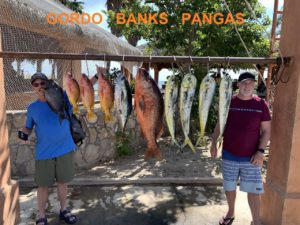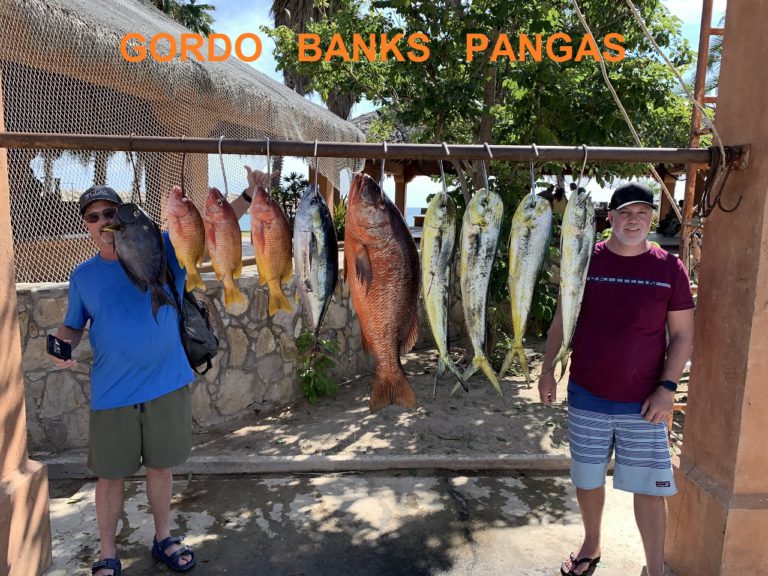 Brictson said anglers also found a couple yellowfin tuna, though the largest they saw were in the 50- to 70-pound class, with some smaller 10- to 20-pounders mixed in. The locals apparently had a good tuna bite for a few days earlier in the week off of Palmilla – catching some nice-grade fish of about 40 to 50 pounds – but Bricston said this action faded out later in the week. With the WON Tuna Jackpot coming up, he believes they will see some nice-sized yellowfin hauled in. We sure hope so!
Finally, along the shore, Britcson reported jack crevalle, roosterfish, sierra and more triggerfish. "We expect to have more sierras move in as the water temperature cools off," he added.
CABO SAN LUCAS – Pisces Sportfishing reported a strong week of fishing. On October 29, they posted some stellar photos on Facebook of their 45-foot Chasin' Tail. "Some great weeks of fishing recently for Captain Pepe and Mate Christian," they wrote.
The next day, they posted more envy-inducing pics of their anglers and crew making it look easy! They wrote, "Jason Jeter and Kayla Van Fleet absolutely slayed it yesterday on Pisces' 35-foot Bill Collector 2. They went 1 for 2 on wahoo and caught early limits on dorado, with over 20 bites and lots of releases!"
Of course, in other Cabo news, the 22nd annual WON Los Cabos Tuna Jackpot tournament starts this week from Nov. 4-7.
Want to contribute to the Baja reports? Send them to baja@wonews.com along with any photos and captions.