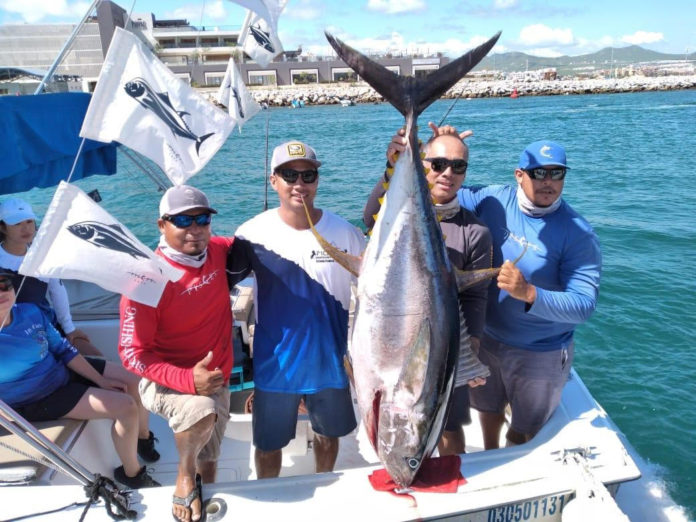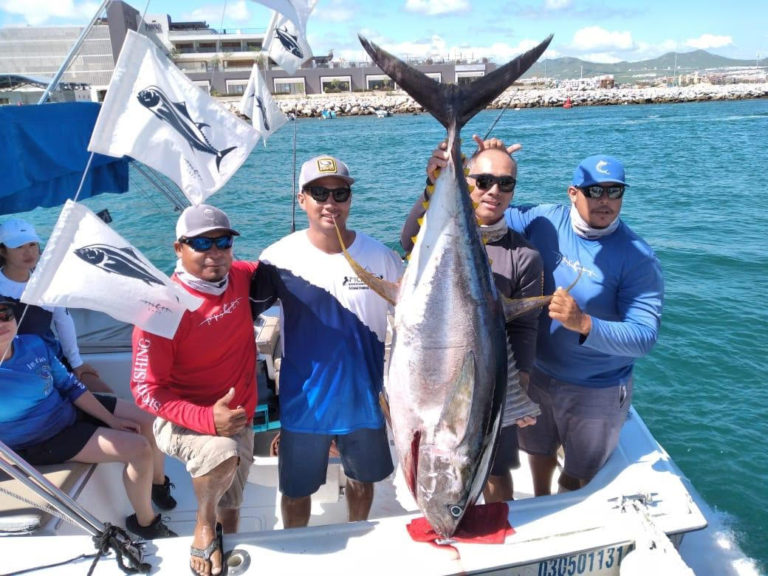 As conditions improved after Hurricane Genevieve and a couple smaller tropical storms, the region made up for lost time with some great fishing
BY MEGAN McDONELL
CABO SAN LUCAS – Pisces Sportfishing reported on Facebook that, while ports were closed for a couple of days, they managed to make the most of it with some top-notch fishing. On Aug. 25, a solo angler really scored – with two yellowfin and a striped marlin, followed by fresh sashimi aboard the 32-foot Bill Collector!
On the same day, their new 58-foot Viking Tag Team made its debut to great success – bringing in a bunch of marlin, including a beautiful blue.
The next day, Pisces' 28-foot Andrea took in 2 marlin, 2 sharks and 4 yellowfin; the 31-foot Tiburon had 3 striped marlin, 1 shark and 2 yellowfin; and the 31-foot Rebecca had 4 striped marlin, 1 sailfish and 2 yellowfin.
Finally, they closed the week out with a bang – what they called a "terrific tuna" day! On Sunday, they reported 76 yellowfin total, plus 4 dorado and 2 striped marlin released, including a 155-pound yellowfin on the 31-foot Ruthless.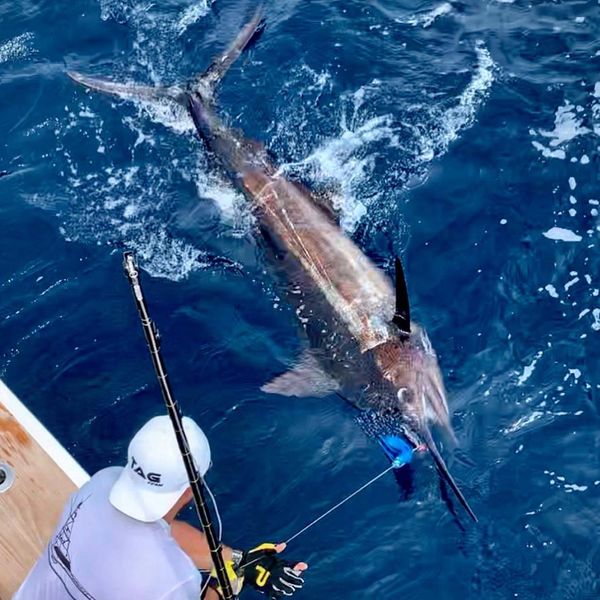 EAST CAPE – Eduardo Verdugo of the charter boat Anzuelo reported that the wahoo are in play big time on the East Cape. At one point, they pulled 5 at the same time! Unfortunately, only 1 stayed on – but that means there are lots of quality-sized wahoo in the area.
LA PAZ – Jonathan Roldan of Tailhunter International reported that, while they're on high alert amidst storm season, it hasn't been too bad yet.
"Knock on wood, we seem to have mostly dodged a couple of chubascos," said Roldan. "And even with the cloudy skies, fishing actually seemed to improve. Fortunately, the storms didn't push a lot of wind when they came through, so waters stayed pretty flat – and the fish seemed to wake up a bit from what they were doing previously."
According to Roldan, the big roosterfish are still hanging out around Las Arenas – but it was the dorado schools that seemed to turn on last week. He reported a lot of 5- to 20-pound dorado for both their Tailhunter Las Arenas Fleet and Tailhunter La Paz fleet. "Especially this past week, we had a lot of first-timers and couples – so having some great dorado fishing – plus add in pargo, cabrilla, jack crevalle, bonito and triggerfish – and there could be some really fun action."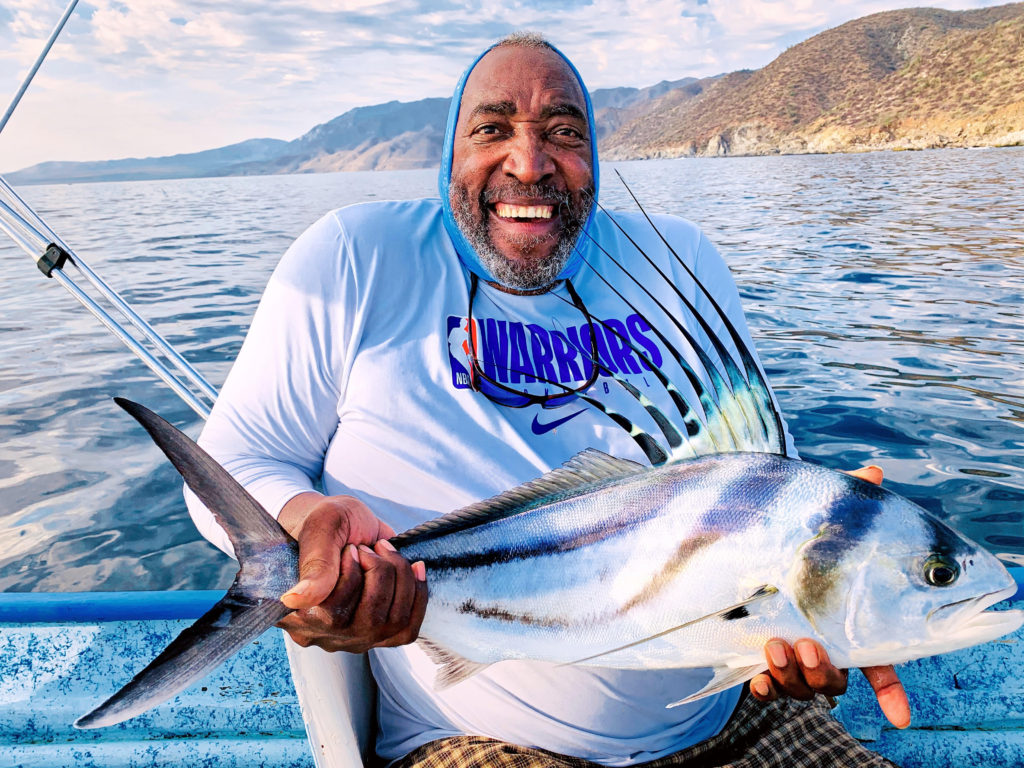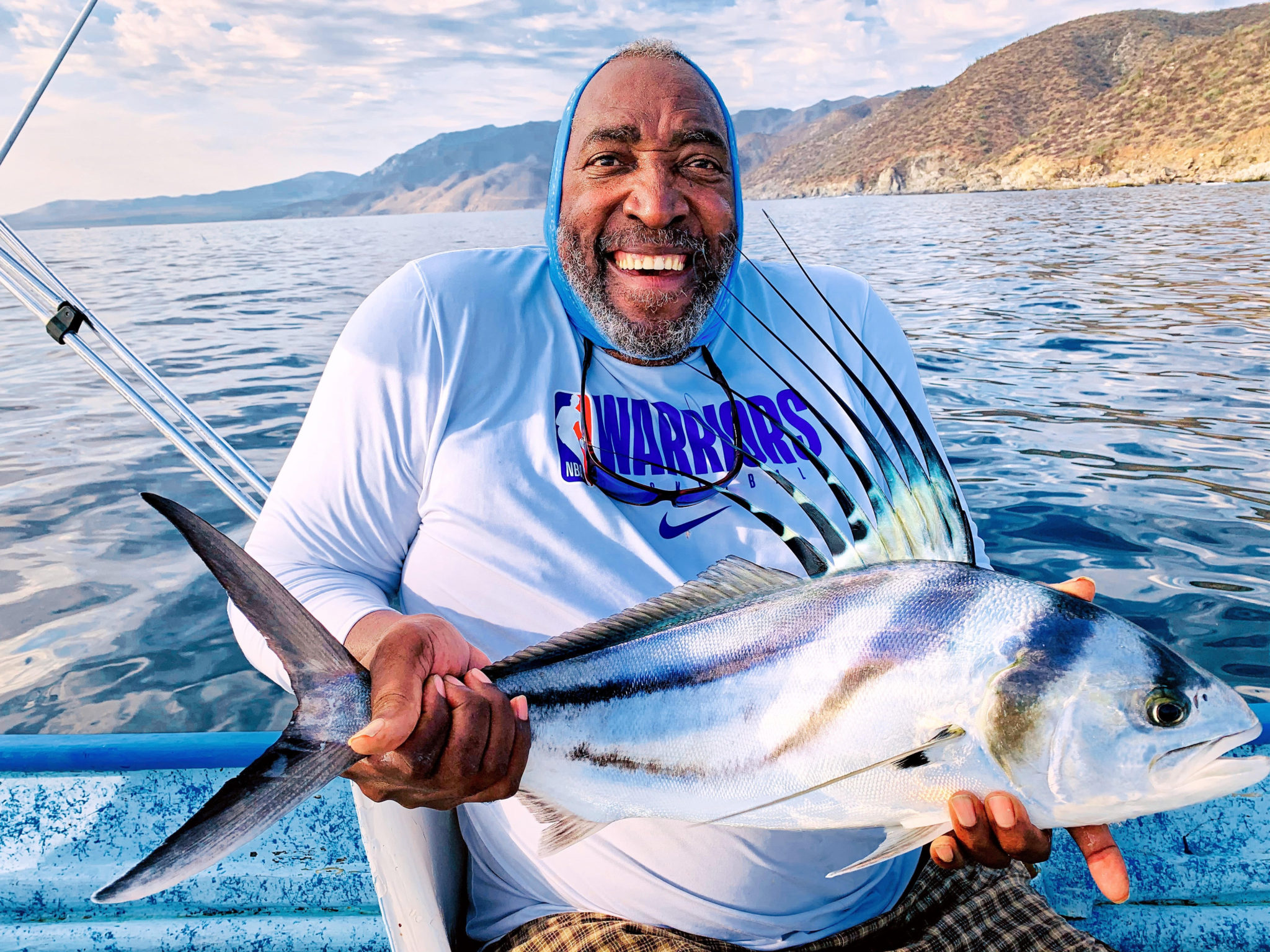 Not every boat did great every day, of course. Roldan said that there are still some areas of off-color cold water and, without as many boats as normal for all the fishing fleets, it's hard to cover all the spots every day. "However, if they were fishing several days, everyone went home with fish," he added.
Roldan said there's still no tuna or wahoo showing, which is unusual for this time of year, but with some biters to the south of them, he's hopeful the schools will head up soon.
As far as COVID-19 restrictions go, the governor of Baja Sur downgraded the quarantine alert from level 5 to 4 – which means they can go from 30% occupancy at hotels and restaurants now to 40%. It also means, gyms, churches, salons and many other non-essential businesses that had been shuttered can now open.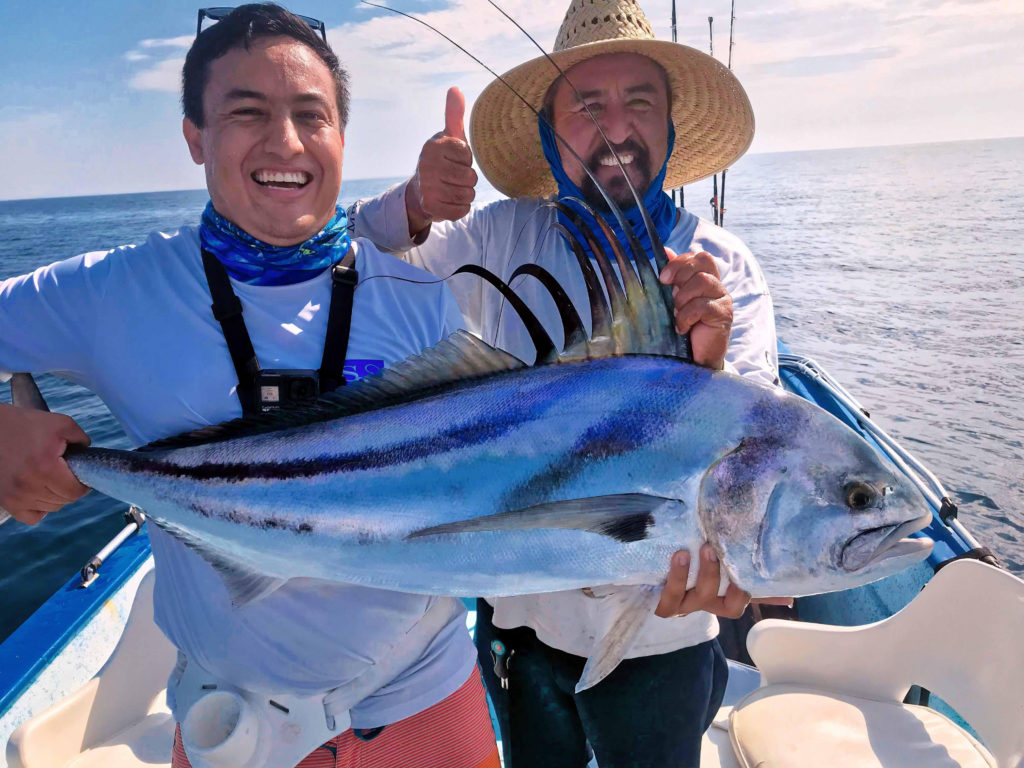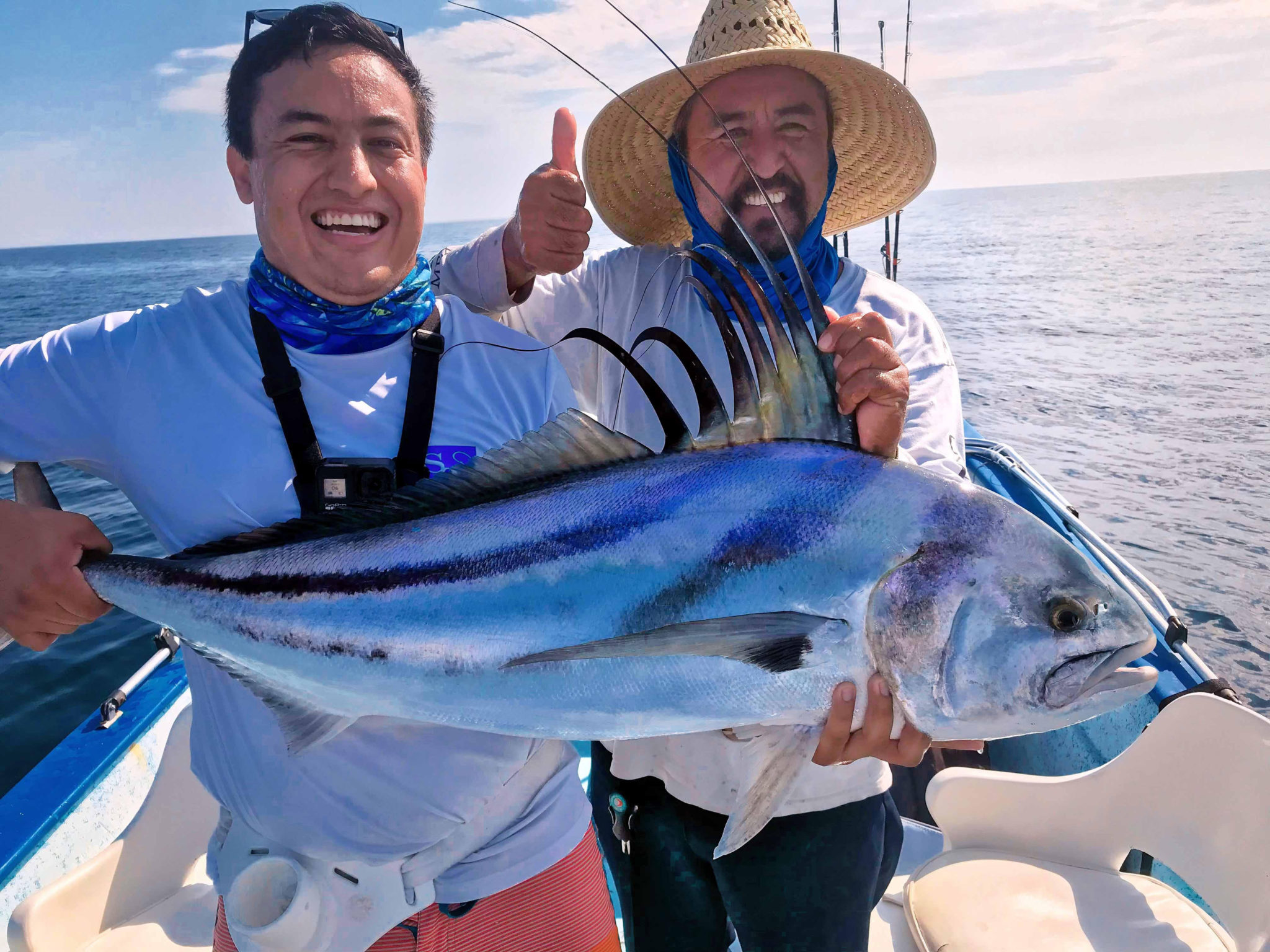 LORETO – Rick Hill of pinchysportfishing.com sent in some good intel on Loreto's hot spots right now. "Up north along the coastline is where the sardina are hiding out," he said. "And wherever the baitfish are piled up is where you will find the hungry hunters."
More specifically, Hill said the dorado and huge cabrilla are working over the sardina "clouds" in the small bays near San Bruno – with dorado to 20 pounds and cabrilla averaging 10 pounds at sunrise and late afternoon. "Larger fish are breaking off light line and, as you would expect, not biting anything heavier than 20-pound mono," he added.
SAN JOSE DEL CABO – Eric Brictson of Gordo Banks Pangas reported on his website that, "as tropical weather patterns continue, so do light crowds of visiting tourists."
Those anglers who did turn up last week had some success though – as ocean conditions slowly rebounded after the storms. "Anglers reported some great action for popular gamefish species such as yellowfin tuna, dorado and wahoo," wrote Brictson. "Caballito were once again available from the marina area, after becoming scarce early in the week."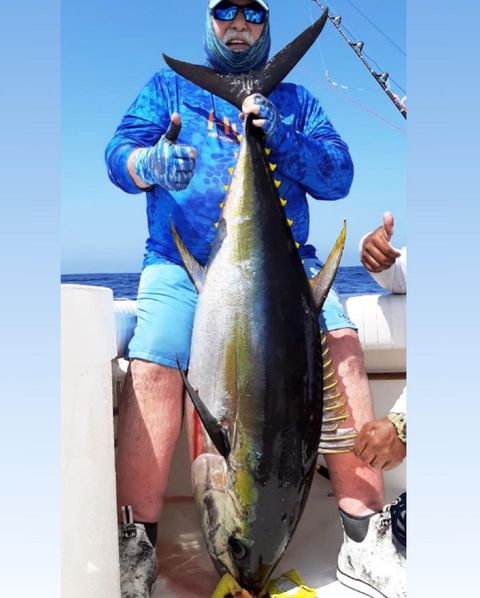 Brictson said the most consistent action was found around the San Luis Bank, using both lures and baits. "The tuna hit on caballito and were in the 40- to 70-pound class," he said. "There had been some much larger yellowfin tuna found associated with porpoise, but this was some 30 to 40 miles offshore and was not a normal option for local charters." However, with cleaner currents now pushing closer to shore, he expects the cow-sized tuna to start to congregate on local high spots.
With the cleaner water, Brictson did see the wahoo become more active on the same grounds north of Punta Gorda – and he said sizes ranged from 25 to 40 pounds.
Finally, billfish and bottom action were both limited this past week, as was inshore action, though there were a few nice-sized roosterfish. Brictson thinks the coming weeks will produce some of the season's larger marlin, depending on the weather. "Historically, the month of September can be the most unpredictable of all," he explained.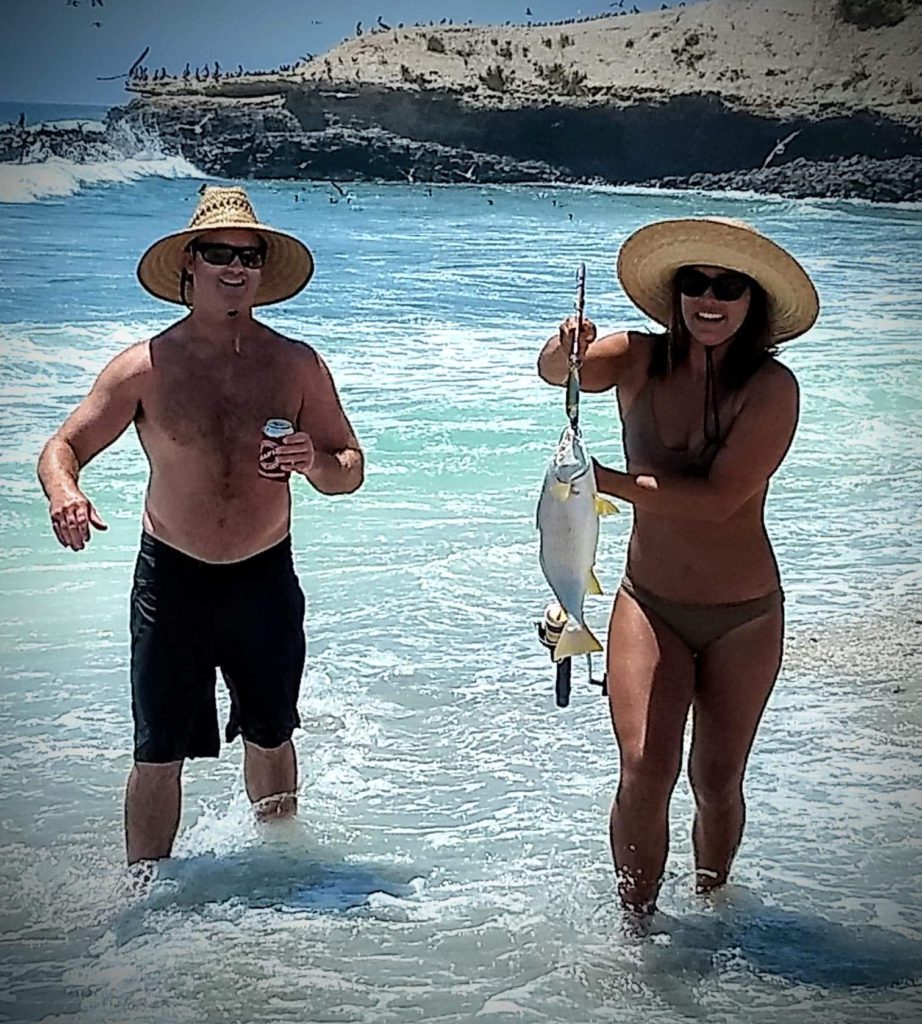 SAN QUINTIN BAY – Capt. Juan Cook reported via Facebook that the fishing there has been strong – with very good bait in the bay.
"We got easy limits of yellowtail at the breakers (240 spot)," he said, "but the 6 and 15 fathom spots all have fish, as well as Ben's Rock."
Cook added that there's some nice halibut at San Martin Island and good white seabass too, but most fish are small – from 6 to 15 pounds – though he's seen a few in the 18- to 20-pound range.
Last but not least, Cook said that calicos at the island are also "wide open" – with fish from 2 to 7 pounds.
BAHÍA ASUNCIÓN – Shari Bondy of La Bufadora Inn reported that the fishing is heating up in their neck of the woods. "Anglers and spearos are catching nice yellowtail, grouper, dorado, yellowfin tuna, calico bass, bonita and lots of halibut and croakers from shore," she said.
With the tough tourist season, Bondy was glad to have a few visitors down last week – and they had an absolute blast. She said first-timers Will Parrish and Alex Clemesha from San Diego came for a night and ended up staying 5! Another couple came down to fish and surf – and, less than an hour after check-in, speared a grouper in front of the Inn.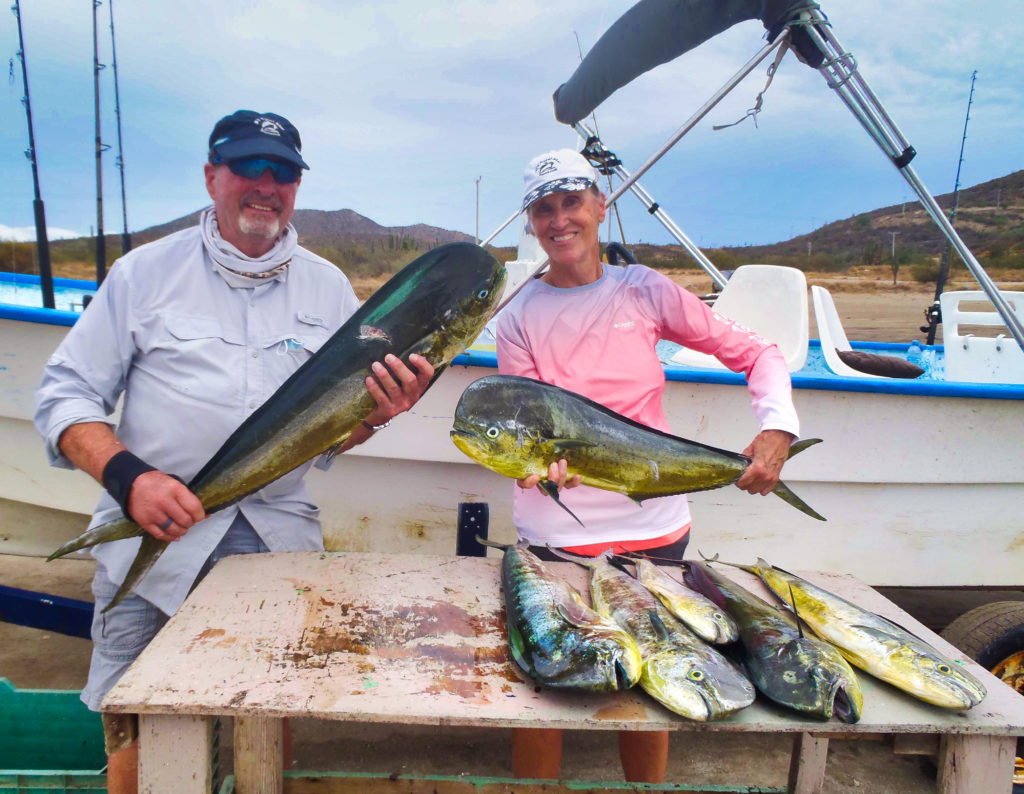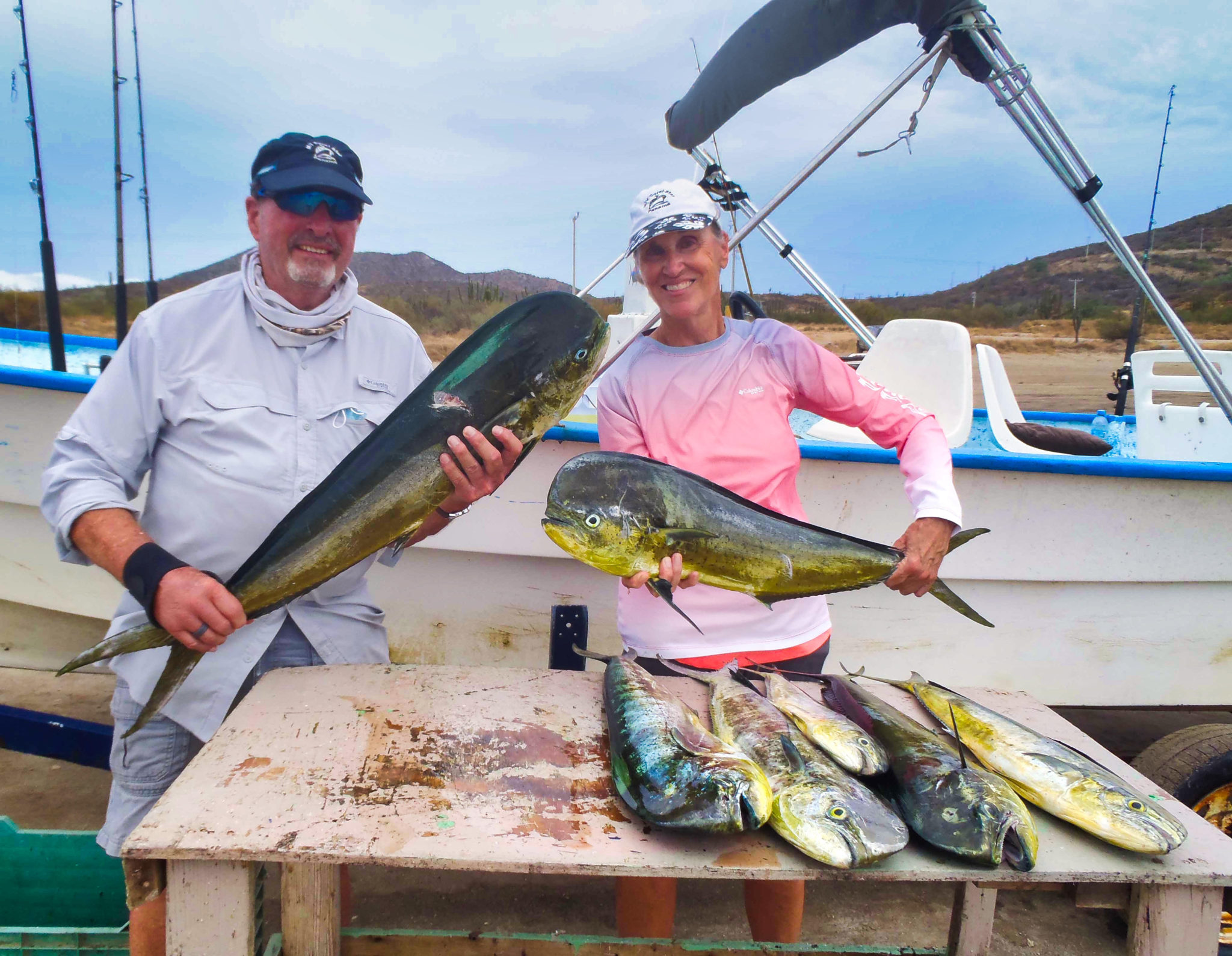 Shari owns La Bufadora with her husband, Juan – they built it completely from scratch. It's a great little spot on the peninsula with some sweet surf spots and fishing on traditional pangas. It's also got the combo of being part of old, remote Baja – but easy to get to. In fact, a paved road goes to the town from the Mex 1 highway.
TOURNEYS – If you're hoping to get in on the tournament action down south, here's a quick recap of some upcoming contests: the 22nd annual Los Cabos Billfish Tournament Oct. 11-15; "Little Bisbee's" Oct. 15-18; the Bisbee's Black & Blue Oct. 20-24; and the 22nd WON Los Cabos Tuna Jackpot Nov. 4-7.
Want to contribute to the Baja reports? Please do! Send them to baja@wonews.com.