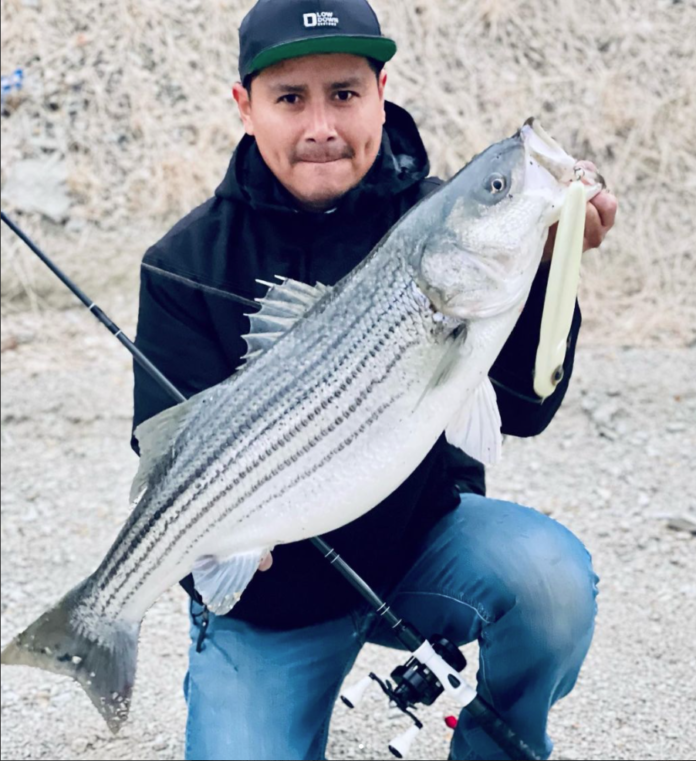 BY MIKE STEVENS
GORMAN – The value of trout stocking tends to equal more than the sum of its parts, and that's definitely on display at Pyramid Lake where largemouth and striped bass anglers have been enjoying upgraded fishing along with fishermen looking to fill a stringer with rainbows. One striper hunter took advantage of the situation and popped a trio of 20-plus pounders on consecutive days.
"I got to the lake around 2 p.m., and I knew the Main Ramp was going to be overcrowded so I decided to head over to the West Ramp hoping the trout had already made it that far by then," said Efren Moreno. "I started throwing the Huddleston then switched up to three other baits with no luck. It was close to closing time. and the wind had started to pick up because of the storm coming in."
The change in weather conditions prompted Moreno to mix in a big topwater bait, and he went with a 10-inch Profumo Stank Eye in bone color.
"I was working it for about 10 minutes and was thinking of changing it but told myself 'one last cast' because I really like the action on it. I casted it as far as I could, let it sit for about 20 seconds then twitch-twitch, pause, twitch-twitch pause, and the bait suddenly disappeared." he told Western Outdoor News. "It felt like it was a decent fish but by the way it was fighting, but I didn't expect it to be that size. It was about five feet from me was and I realized how big it was. The fish measured 34.75 inches and weighed 20.5 pounds."
Undoubtedly still flying high after that catch, Moreno headed back out there in the rain a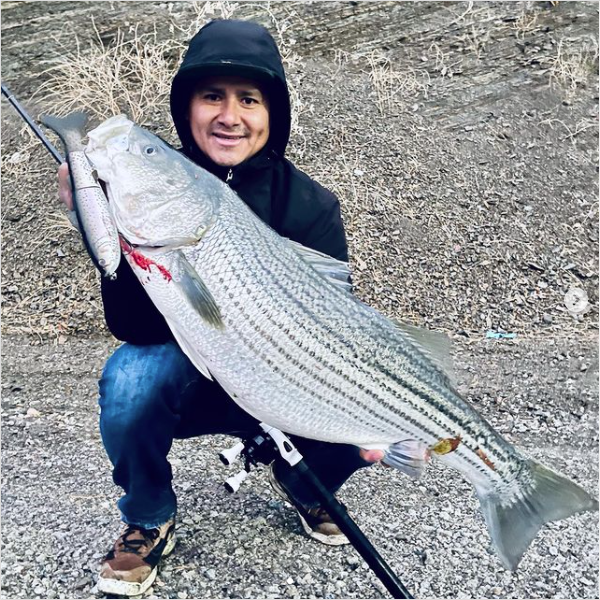 day later fished the same spot. He threw the Profumo again for two hours with no luck when the sky cleared, the wind died and he once again swapped baits.
"I grabbed the Baitsanity Explorer Gen 2 trout pattern and made the first cast to the side of the point I was fishing with no luck, then I casted straight to the point and saw the bait land on the water awkwardly," said Moreno. "I started reeling it in quickly, and as soon as I felt it swimming correctly I stopped to let it sink a bit more and got hit. As soon as I set the hook, the fish started pulling like a small yellowtail would. I started gaining some ground it changed direction and started swimming to shore and I felt slack in the line, so I started reeling in quickly and for a second I thought I had lost the fish. It began pulling drag but that was its last run and it gave up. It measured 39 inches and weighed 25.85 pounds."
That fish stood as a new personal-best striped bass for Moreno who beat his previous mark of 21.75 pounds. As it turns out, he's been on fire in general with stripers measuring 39, 38, 34.75, 30.5 and 28.5 inches so far this season.
Looking to press his luck, he hit Castaic again a day later with only two hours to work with, and he decided to fish from another spot. He started off with a Huddleston and some other soft swimbaits for nada, then switched to an 8-inch Lunker Punker and promptly missed a "small blow up."
With 40 minutes to closing and knowing it would take him 20 minutes to get to the next spot he had in mind, Moreno made the move.
"Once I got there, I switched up to the Profumo stank Eye, and first cast I let it sit there for a good 30 seconds," he said. "I moved it left and right and the biggest explosion of my life happened, the fish had taken the bait and made a nice run. Trusting my gear, muscled the fish and after a couple minutes I landed the fish measuring 38-inches and weighing 22 pounds.
For all three fish, Moreno was working with a Daiwa Shrapnel (Japan) 300 loaded matched with an extra-heavy rod by Low Down Customs and loaded with 20-pound P-Line CXX.