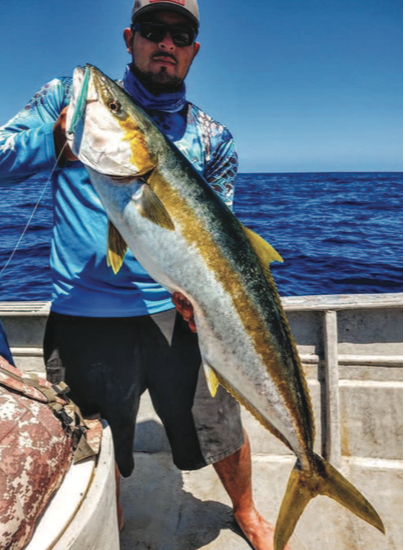 BY PAT MCDONELL
EAST CAPE – Baja fishing is in its seasonal prime as bluefin are being caught off Ensenada by charters chasing foamers and throwing poppers, boats from San Diego working those areas and up to the 371 and 425 spots. Meanwhile, on the Sea of Cortez, Loreto dorado and yellows are combining for great transition season action, and L.A. Bay yellows and cabrilla are big and limit-style. The East Cape is a "pick your poison" situation on tuna, billfish, dorado and roosters, and La Paz is enjoying its third solid week of tuna, wahoo, yellowtail and excellent dorado fishing. How's Cabo, you might ask? Tuna under porpoise are joining dorado – big dorado – and speaking of tuna, the area's first cow tuna was recorded, a 234 pounder in the Pelagic Triple Crown as tournament season officially began.
For now, let's begin with the East Cape, where it's game time as the fishing and weather heat up, with tuna, big dorado and lots of roosterfish, not to mention billfishing with lots of stripers and a few sails on the inside banks.
John Ireland of Hotel Rancho Leonero said conditions could not be better. "It's clear, flat and consistent 80-degree water, with very, very light winds," said Ireland. "The air is warming up, in the low 90s." Ireland had a tough time picking where to start in highlighting the recent action.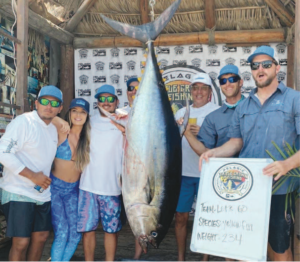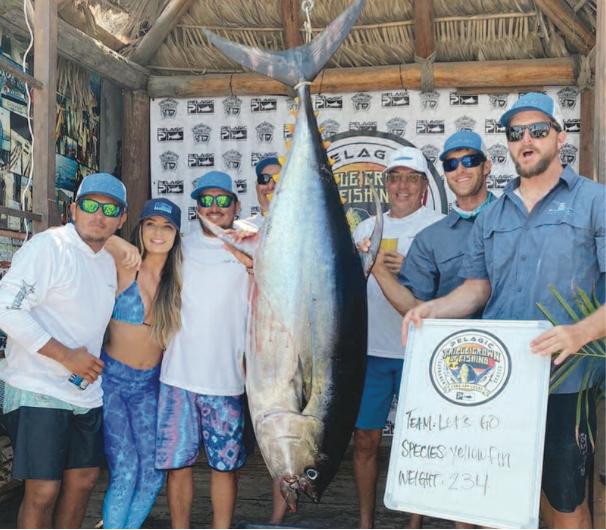 "The fishing these past two weeks has been off the charts!" he said. "It's been absolutely incredible fishing for almost all species! All anglers targeting yellowfin are limiting on nice fish. There's lots of billfish, and big bull dorado coming in daily. Believe it or not, we're still taking big yellowtail in this warm water. Big amberjack is also coming in at 80- to 90-pound range. African pompano are abundant and there's loads of roosterfish working all beaches. It's been good, good fishing!" Ireland said the yellowfin are on the porpoise pods 12 to 50 miles offshore, with limits of 10- to 50-pound tuna with the bright hoochies doing the trick on the troll and a few taken on the cedar plugs and poppers. This is the year of the big dorado. Last year the bulls came back to southern Baja strong after several subpar years, and it looks even better this year, with the annual East Cape Dorado Shootout coming up July 17 out of Hotel Palmas De Cortez. The huge tourney this time around should be full of parties and fun after last year's "no-party" Covid-19 format, but the no-crowd event last July still drew 109 teams. So look for this year's tourney to include the over 150 teams it usually attarcts. And this year, a winning dorado might have to be over 50 pounds and even 60 pounds to claim the first place prize of a truck.
CEDROS ISLAND – It's Cedros Island time (soon) as the is- land opens for business the first week in July after a closure of a year due to Covid concerns by islanders and then airport run- way repairs. Jose Angel Sanchez of Cedros Outdoor Adventures told WON the reports from local pangeros are sensational, and the guys he said are eager to get customers hooked up. "The yellows are big and calicos are also, and plentiful," he said. "Need I say more?"
If you are booked, great, Sanchez said. If not, there are spots "here and there" on the calendar for stays at the Baja Dreams Lodge.
"Fortunately, we are almost full for most of the season, but there are some groups of seats here and there," said Sanchez. "We have four seats available on a July 10-13 trip, and five seats available on a July 13-17 trip." Check out their calendar of trips with seats available and pricing at CedrosOutdoorAdventures.com /calendar/. He added, "These are with a non-stop flights from Tijuana airport after walking across the CBX bridge. It's easy peasy! You could also choose to go with the Ensenada flight after we pick you up in San Diego, and we take care of the rest."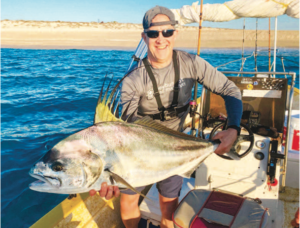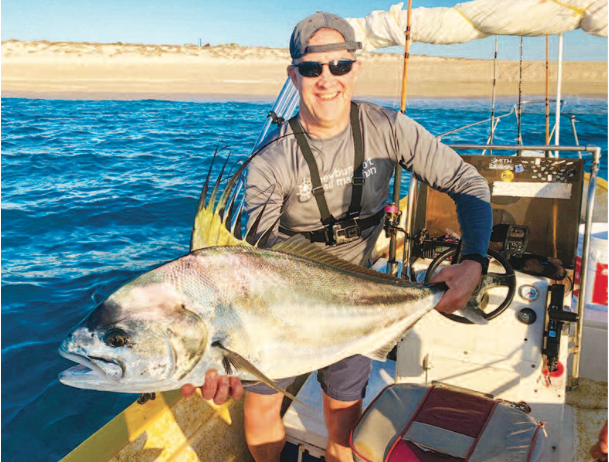 LA PAZ – Jonathan Roldan of Tailhunter International said it was another good week of solid fishing with lots of action for the most part.
"There were a couple bumps here and there where maybe one panga did poorly or an area just didn't produce," said Roldan. "Or, some folks swung for the fences and spent their day chasing more elusive species like tuna or wahoo that didn't show up. However, everyone who chased what was there and going on got plenty of fish.
"Frankly, our La Paz fishing was far better. If you wanted to load up the ice chest, the dorado continue to be more than accommodating. You just have to find the right spot. There's a lot of floating sargasso out there (kelp paddies), but not every spot is holding fish."
Roldan pointed out that sargasso attracts sardines and other baitfish, especially flying fish that are laying their eggs and for the dorado.
"It's like a floating buffet," said Roldan. "If you hit the right spot, it can be non-stop action. Some of the 'paddies' hold the younger 5- to 10- pound fish and many anglers are tossing them back. But other paddies hold 15- to 30-pound and larger dorado that are really putting the wood to some of the anglers and a good many large fish are getting lost, but it's still lots of fun."
He said his Las Arenas fleet is finally starting to see a few dorado as the sargasso moves south, but mostly the bite for their fleet has been a variety of fish including jack crevalle, snapper, pargo, cabrilla, bonito, amberjack, yellowtail, pompano and yellow jacks. Some days have been better than others. Roosterfish between 10- and 50-pound are still prowling the beaches.
He added, "We have also had a couple of big striped and blue marlin come up on the lines that I'm told were 150- to 400-pound fish that hit baits, but the hooks didn't stick."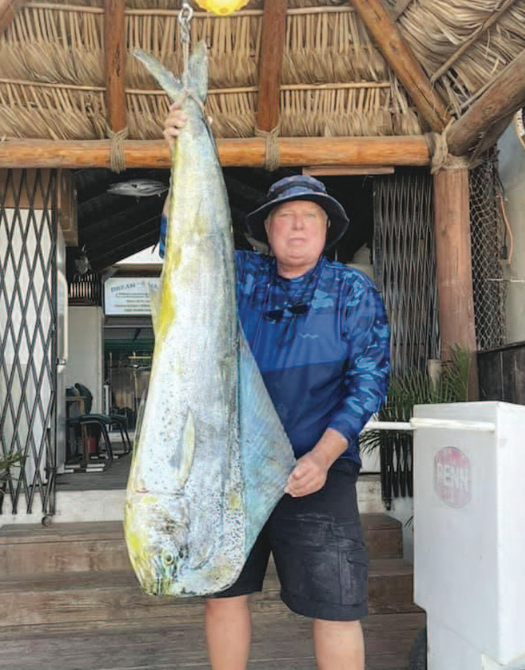 CABO SAN LUCAS – Marlin, big dorado, yellowfin tuna under the porpoise on the Sea of Cortez side, and even a swordfish highlighted the action this week. Oh yes, and the first tournament of the season was held, as 55 teams competed in the Pelagic Triple Crown.
Although full results were not available by deadline, the tourney boated some great catches, including the first yellowfin tuna "cow" over 200 pounds – a 234 pounder caught at the San Luis Bank by Team Let's Go, earning them $31,000. The big-tuna bite figures to only get better as the summer officially begins. That big tuna will fire up the entrants of the $1 million WON Los Cabos Tuna Jackpot Tournament, slated this Nov. 3-6. Rebecca Ehrenberg of the Pisces Sportfishing Fleet was keeping track of her boats in the event, and of course, they had some success.
"The Pisces had five vessels participating and we were happy to see two of them in the winners circle again this year,"said Ehrenberg. "The Pisces 48- foot Listo took first place in the jackpots for day two in the tuna and took second overall, earn- ing $21,400, while the 35-foot Bill Collector 2 took third place overall in the Dorado. Congratulations to both teams and all others for their efforts."
As an example of how the fishing was inside and out for the fleet, Ehrenberg said the Pisces fleet accounted for 119 billfish, including sailfish and one swordfish caught over two days, last Tuesday and Wednesday.
"Top boats like Bill Collector were releasing up to 10 marlin," she said. "We've also had a few dorado and tuna thrown in the mix, which should make for some great fishing. The C-Rod had 26 yellowfin tuna on one day, followed by 9 striped marlin released on the next and the third day they got a swordfish and two marlin released."
Ehrenberg continued, "They landed their surface swordfish by casting a live caballito bait at it. This crew has been working hard to land a sword all season, having spotted another six swordfish on the surface so far this year. A few weeks ago they had one on, and as the fish was hooked with bait dangling from the line, a big shark came up and took the bait, snapping the line. Talk about bad luck on that one! C-Rod Mate Martin Aguilar said then that he was confident they would find one before the season was over, and they did."
The fish was caught on an Avet reel, 30-pound main line and an 80-pound leader.
SAN JOSE DEL CABO – Up into the Sea of Cortez north of Cabo where the water was warmer than up into the Pacific, the bite improved significantly. Crowds were up, the air temps were up and schools were out in the U.S. so crowds were up, too. Eric Brictson of Gordo Banks Pangas reported that weather has remained comfortable, not unbearably hot yet, with clear sunny days with highs in the upper 80s, a bit tropical, as there are now two tropical systems developing, one of them named Carlos. But by the weekend they were far south and off to the west and are not forecast to impact Southern Baja at all.
"Perhaps we will see some increased ocean swells later next week and increased humidity," said Brictson. "Local ocean temperatures are in the 78- to 80-degree range, winds have been at times from the north and then from the south, but have not been too much an issue for anglers, mostly picking up later in the day, as ocean conditions have been favorable throughout the week."
Bait is key and local vendors at Marina Puerto Los Cabos have found good supplies of healthy-sized sardinas, as well as some caballito and mullet, with other options of slabs of squid and ballyhoo. Offshore fishing has been centered near the 95 and 1150 spots, mainly for striped marlin, but also a few dorado and yellowfin tuna are being found as well.
"The majority of the inshore and bottom action has been in the direction of the La Fortuna, Cardon, Iman, San Luis and Vinorama areas," said Brictson. "On the San Luis grounds there were tuna being hooked into every day, though the fish were finicky with some days better than others, and anglers were fortunate to land one or two. Some had four or five. Most of the yellowfin we saw ranged in the 20- to 60-pound size, though there was one 234-pound tuna (caught by a Pelagic Triple Crown tourney boat) landed Friday from these same grounds. The best bet was to drift fish with sardinas, squid or slow trolled caballito or bolito, if you happen to jig one of those candy baits up."
For a full report by Brictson, go to GordoBanksPangas.com.
LORETO – Rick Hill of Pinchy Sportfishing said it was likely some of the charterboats have been doing the triple header.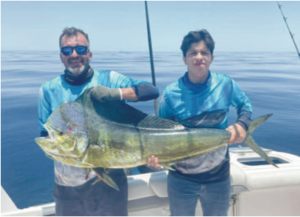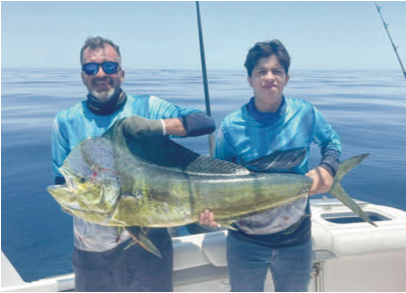 "This week it has been possible. Yellowtail are still the target for the early boats," Hill said, "but we have boats coming in with both dorado and roosterfish. The dorado catches have included the bigger bulls with many in the 20-plus- pound range along with the usual peanuts. Roosterfish are the big surprise. Maybe this is an early year because they usually don't come into the fish counts until August." The Nemencha Sportfishing Fleet had several great posts on social media. Capt. Julio Martinez Davis, his father Rigo Martinez Davis, and customers slammed big dorado. And several other fleets reported and private boat anglers like Tim Yarborough scored big cabrilla and yellowtail. It's a great transition time here.
BAY OF LOS ANGELES –Reports of quality yellowtail and cabrilla have been flowing from fleets in Bay of Los Angeles as the weather is heating up along with the fishing. Jigs on the surface on crashing forkies, yo-yo'd over reefs and live bait dropper looped on the drift are typical methods.
Be a part of the Baja reports each week, Send in a report to baja@wonews.com by Sunday morning and be included in the weekly report.