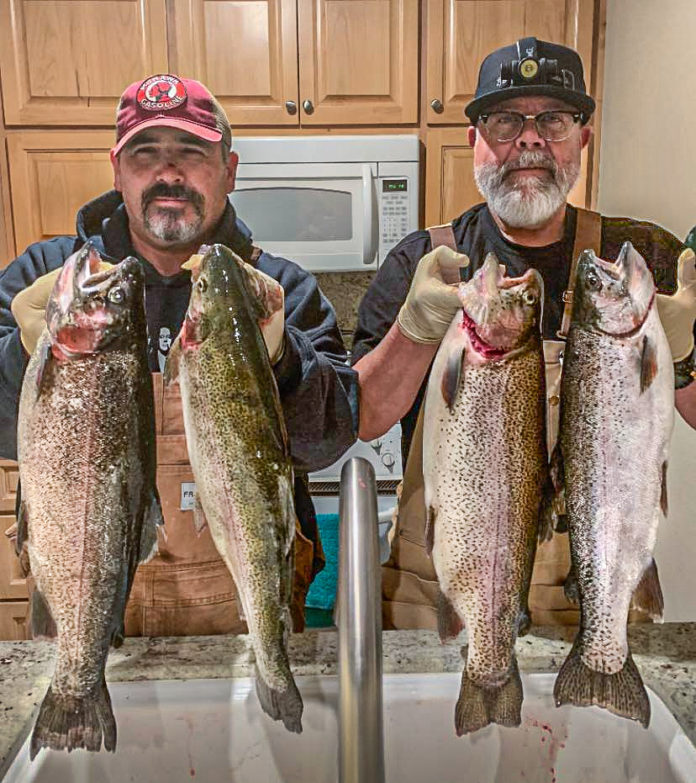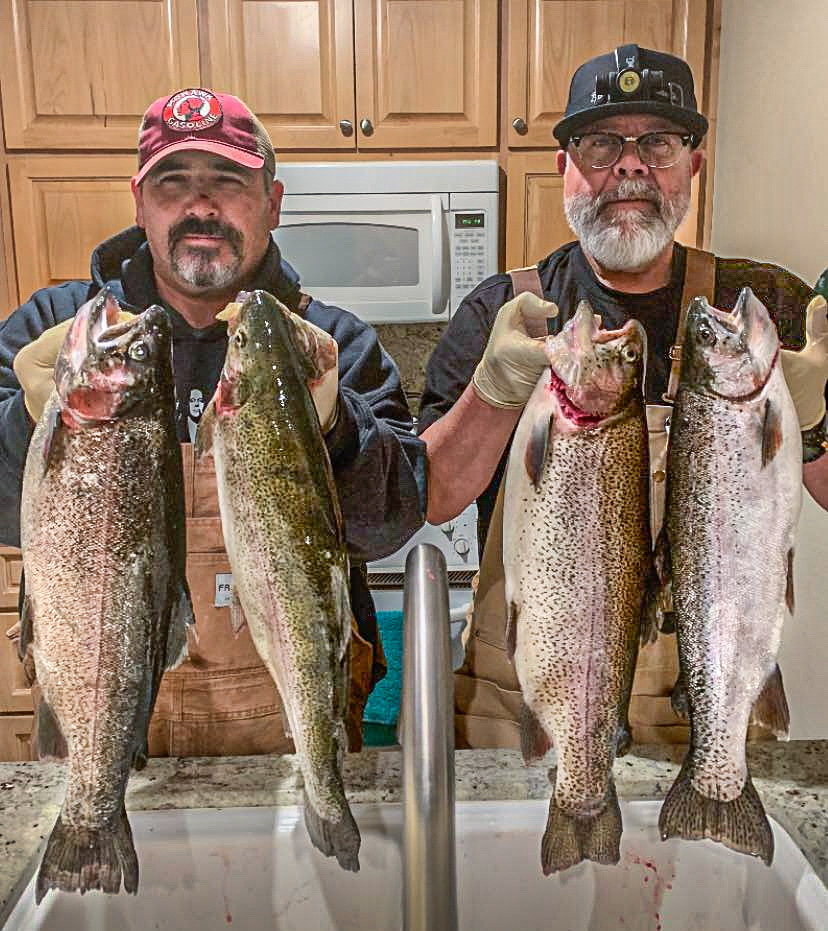 BY ERNIE COWAN
MAMMOTH LAKES — We were hoping the weather would hold for the final week of the Eastern Sierra general trout season, but right on schedule the first heavy snowfall of the season arrived.
While it made fishing a bit miserable, the bite at Mammoth Basin lakes was epic, providing a spectacular final for the few anglers on the water.
Lake Mary in particular was on fire, with a series of big rainbows caught by excited anglers.
Dan Thrasher from Monrovia has appeared in WON before, but again this week he fished at Lake Mary, connecting with 8-pound-plus and 5-pound, 15-ounce rainbows fishing in the chilly weather from shore with PowerBait and Mice Tails.
He was also using 4-pound line, so that had to add to the thrill.
Then there were fishing buddies Anthony Gutierrez and John Diaz who had quite a day at Lake Mary last week, hauling in 5-, 6-, 7- and 3-pound, 8-ounce rainbows using pink and white head Mice Tails and salmon/peach dough bait.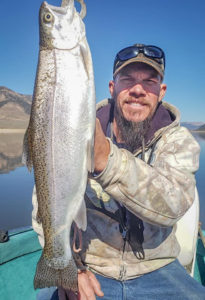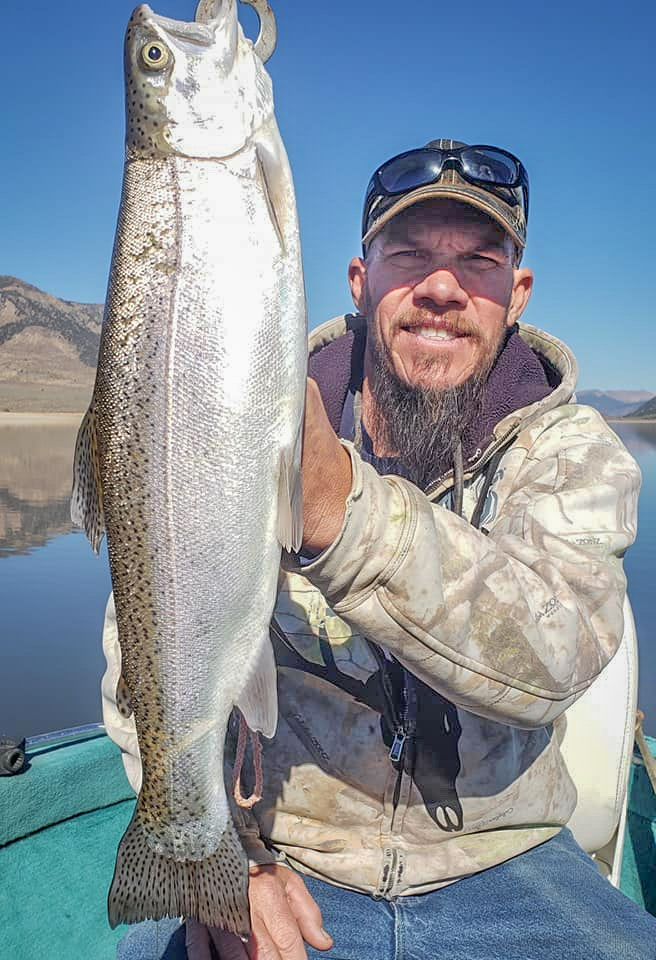 Dennis Corrigan from West Covina also checked in from Lake Mary with a 7-pound, 4-ounce rainbow caught with an inflated nightcrawler just before storms arrived.
And there were similar stories up and down the Eastern Sierra front as many of the bigs stocked all summer came up from depths to feed in water chilled by fall weather.
One of those bigs was a 9-pound, 4-ounce rainbow caught at Lower Twin Lake by angler Ray Joyce with a nightcrawler, along with a 7 pounder that inhales PowerBait.
WON has been telling readers all summer that the aggressive stocking program that began after disease ended state hatchery stocking this season would be a late season boon for trout hunters.
And that prediction has come true. It may also mean a new normal for Eastern Sierra trout fishing.
Typically, when the season opens in April, fish are hungry and happy to see baits and lures offered by eager anglers. While there are some bigs always caught, most opening weekend stringers are filled with smaller pan-sized rainbows stocked from state hatcheries.
When local landings, fishing groups, and Inyo and Mono County stepped up to fill in the loss of state fish, the result was a steady stream of 3- to 10-pound trout added to waters from South Lake to Bridgeport Reservoir and all in between.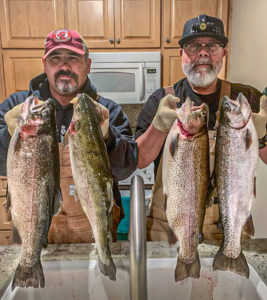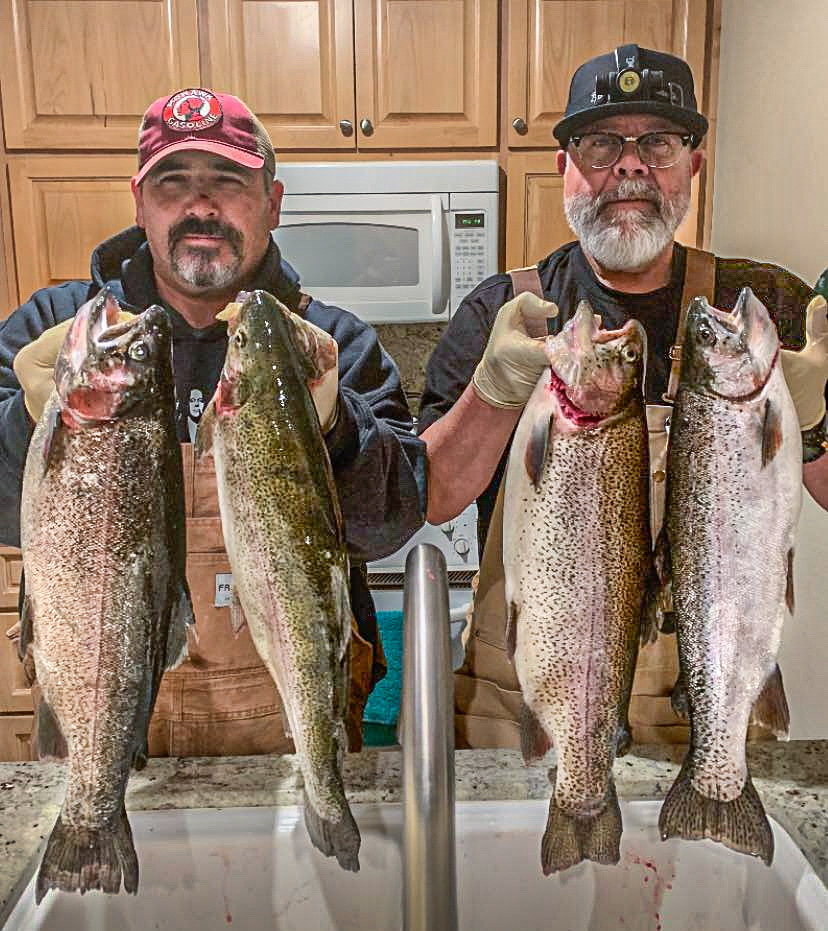 Many summer anglers complained that fishing was dead because the bite was slow, but that was more a product of an unusually warm summer and the fact anglers had not adjusted techniques to entice the bigs to bite in deeper water.
Yes, there were not the typical schools of smaller trout drifting about, but once the chill of fall arrived, the bigs came out of hiding and suddenly shore anglers were also connecting with monster rainbows.
This has created a new peak season for Eastern Sierra trout season that not only includes good numbers of fish, but bigger ones than are typically caught.
If there is a lesson here it should be to increase the stocking program for trophy rainbows and hope that state hatcheries will again be in business next season.
This would create the perfect combination of monster fish for summer anglers who learn deep water techniques, provide the pan-sized fish to fill stringers, and energize this new late season frenzy.
Let's hope.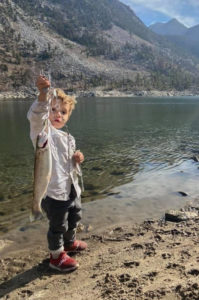 As you read this, the Eastern Sierra general trout season has closed, or at best there is one or two days left.
That doesn't mean you have to hang up the rods until next season, as several prime waters will remain open to winter fishing.
The biggest difference with winter fishing can be the weather. The fish don't care, but storms can come quickly, bring tons of snow and arctic-like temperatures hovering around zero degrees.
Until that happens, winter anglers will be essentially enjoying an extension of the regular season.
Winter waters include the upper and lower sections of the Owens River, a short section of Deadman Creek, Pleasant Valley Reservoir, Hot Creek, and the East and West Walker Rivers.
Pleasant Valley Reservoir and the Owens River below PV remain all tackle with a daily limit of five trout, with the exception of a short wild trout section. These areas are also at lower elevations, and not hit as severely by deep snow or cold.
Other winter fishing areas are generally limited to barbless artificials only with a zero limit but check regulations to make sure since there are small areas with special rules.
Tactics and equipment, not to mention being prepared for severe weather are also important for winter anglers.
But the harsh winter conditions also bring rewards, such as fewer anglers, incredible winter scenery and the chance to connect with some spectacular trout.
Here's the latest from open winter waters.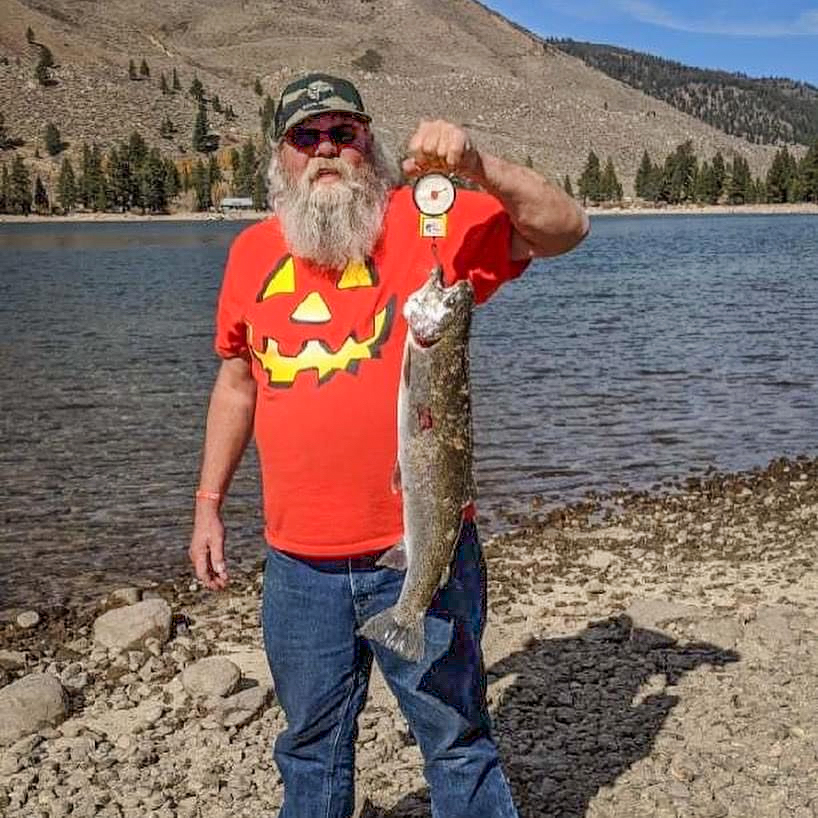 The Lower Owens from Big Pine and south offers both trout and warm water fishing.
Doug Rodricks at Sierra Drifters Guide Service offered this look at the Lower Owens.
"The Lower Owens flows have really plunged to low levels now so it is the perfect level for wading and fishing the Wild Trout section. We are continuing to run drift boat trips down here on the boating runs and will be fishing with our streamers and sink tip line setups. There have been some afternoon hatches taking place which can be fun with lighter weight rods in the 3 and 4 weight class."
Andre Nersesian with Eastern Sierra Sportfishing said typically right now the best action is early and late with nightcrawlers, salmon eggs, Thomas Buoyants and Sierra Slammers.
Tinemaha reservoir is good for bigger catfish for those putting in the work late in the day, with cats to 5 pounds reported. And, this is not a misprint, but monster carp topping 20 pounds are also in the mix at Tinemaha, along with a few bass.
The Owens below Tinemaha is producing a mix of rainbows, browns and an occasional bass, but they have topped 4 pounds.
As the seasons shift, anglers historically have done well at Pleasant Valley Reservoir connecting with bigger rainbows and browns near the dam. As temperatures cool, the reservoir continues to be a good winter fishery, but fish do go deeper to hang out in warmer water pockets.
Hot Creek is not only a postcard-like winter scenic area, it offers spectacular fishing.
Fall and early winter brings the spawn and that means some bigger browns will be in shallow water as they sit on redds.
Deeper pools will be holding larger schools of fish that fly fishermen should be able to attract with smaller flies under an indicator. Remember, it's barbless only here.
The Upper Owens is prime winter fishing country. The biggest challenge can be access if snows accumulate. Often, the only way in is by snowmobile, and tow truck companies do well pulling out vehicles stuck in mud pits or snow drifts.
Rodricks said some nice trout have already begun moving into the Upper Owens from Crowley Lake and this number will continue to rise.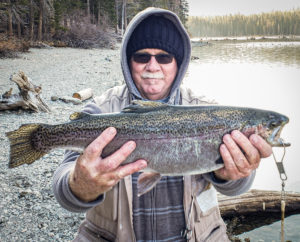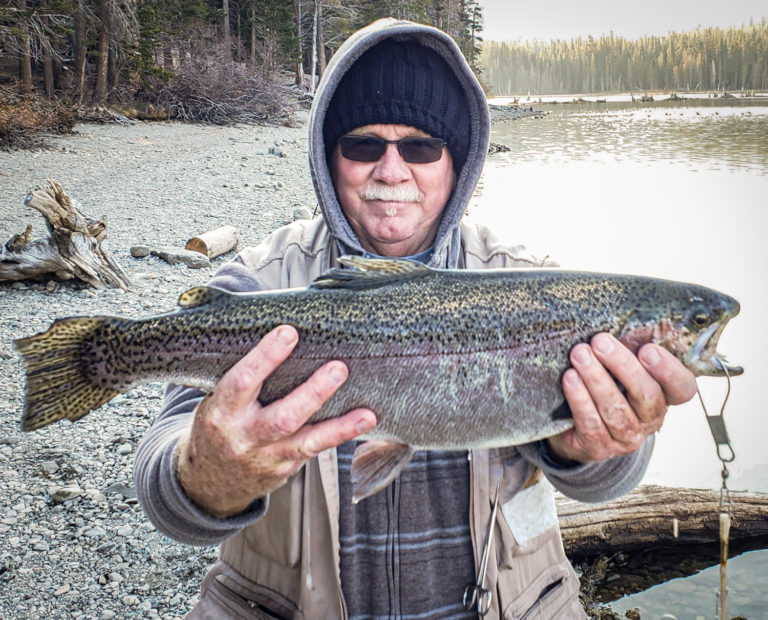 Look for Upper O trout to be lurking around cutbanks and deeper holes. They are very spooky and will not bite once they know you are there, so cast from a distance and be very stealthy with your approach.
The short section of Deadman Creek east of U.S. 395 can be excellent for smaller rainbows and brookies but will also be difficult to access when storms arrive.
Another prime winter water is the East Walker River out of Bridgeport Reservoir.
Jim Reid at Ken's Sporting Goods reports flows are at 69 cubic feet per second and fishing has been good.
"Most of the action we're hearing about is with nymphs but there have been a couple good dry fly reports later in the evenings," Reid said.
The West Walker River can also be good early in the winter season, but the deep canyon becomes a frozen icebox in mid-winter with few anglers wetting lines.