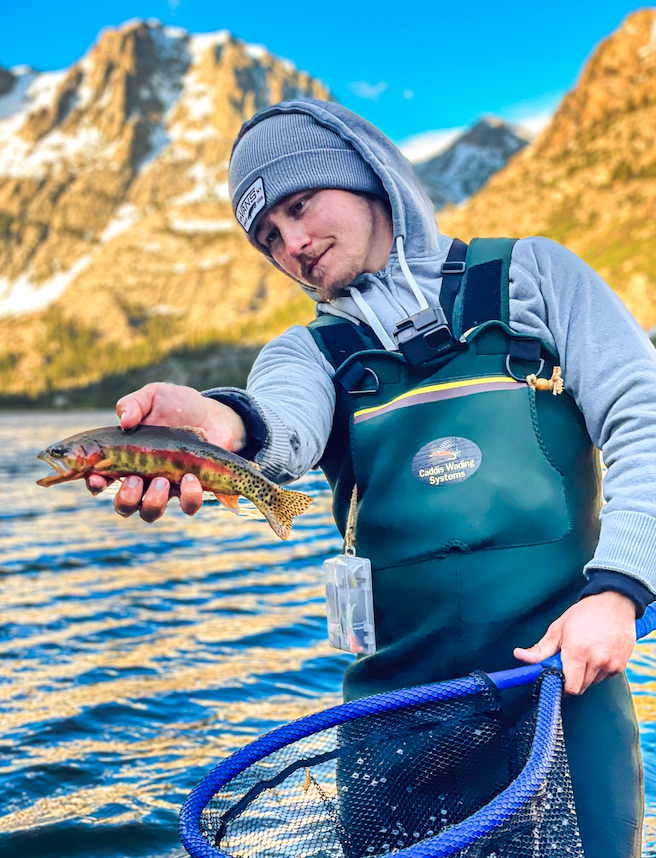 BY ERNIE COWAN
BISHOP—This year's Eastern Sierra trout season is like a beautiful sunset that keeps getting better.
Several factors have come together to make this one of the best trout fishing seasons in memory, without doubt, and for at least the past decade that has not always been the case.
The typical trout season for the past few years has started with a bang and remained strong for several weeks as hungry trout fed aggressively in cool waters.
As summer temperatures arrive, the bite slows down. Fish get lethargic and go deep.
The difference this year is a snowpack that is just beginning to thaw out. The last of the frozen lakes are seeing open water and water temperatures have remained ideal for hungry trout.
Summer vacationers will find an active trout bite that may not slow down at all, and simply blend into the typical fall feeding frenzy.
The only negative is that most flowing water is difficult to fish at best or impossible at the worst because of extreme flows. That's will also change and mean excellent fishing as the season unfolds.
The other factor adding to this year's epic season is the amount and size of the fish being caught.
WON Sierra trout reports in past years were filled with pictures and accounts of 3- to 5-pound catches. The rare 8- to 10-pound fish produced bold headlines and big photos.
Now, thanks to aggressive stocking programs, WON is almost ignoring anything below 5 pounds. So many 6- to 8-pound fish are being caught, that we simply focus on the bigs.
In addition to those big, trophy rainbows, the California Department of Fish and Wildlife hatcheries are back online at full capacity.
"All of CDFW's trout hatcheries are back in full production and operating at full capacity this year with disease issues and the drought behind them," said Peter Tira and information officer with DFW.
While high water and damaged access roads have prevented some areas from being stocked, that will change.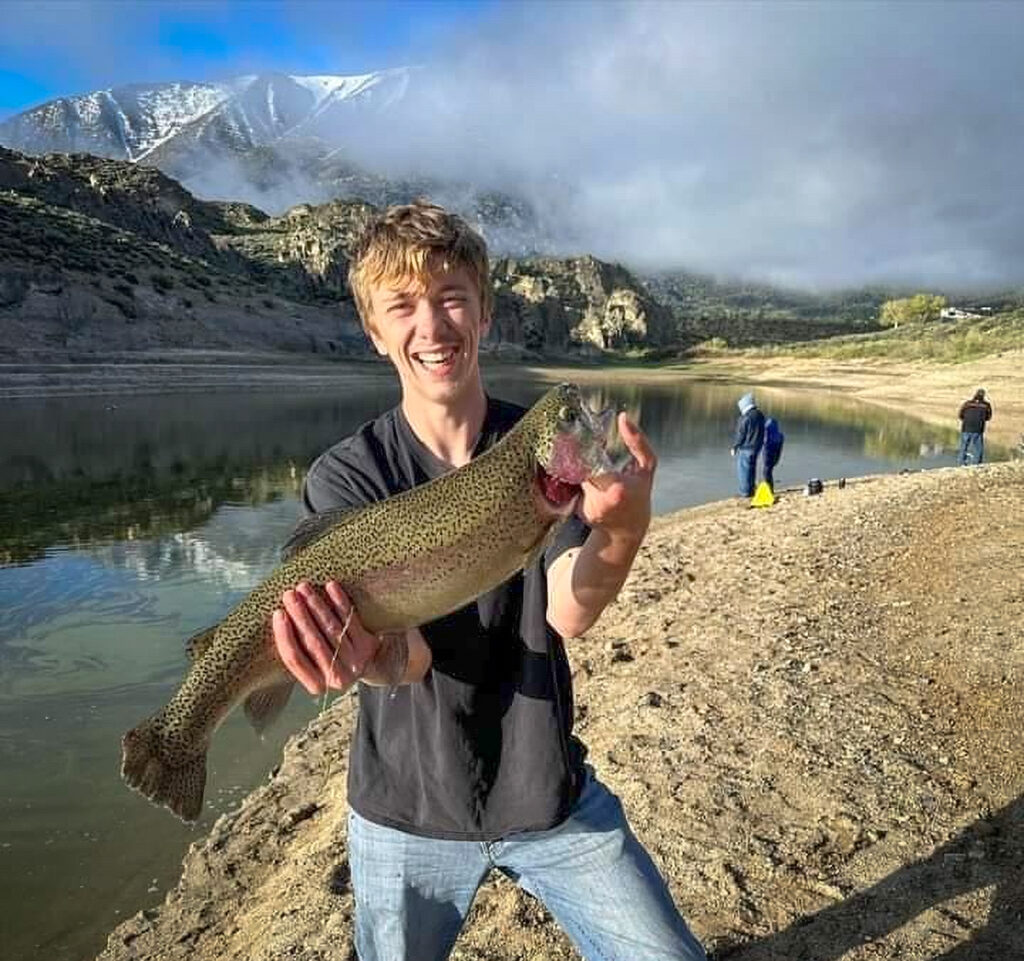 "The good news is that we will have a later trout season than in recent years in terms of fishable waters, good conditions and trout plants that will occur late into the summer and into the fall. The best trout fishing is yet to come," Tira said.
The unusual winter has also produced several other great things for trout hunters.
Lundy Lake was just a puddle at the end of last season, and is already full and stocked, along with other waters such as Grant Lake in June Loop.
High-water lakes and huge amounts of runoff are also bringing down golden trout that are being swept out of higher-elevation waters. A good example of that were the golden trout washed down from Alger Lake and caught in Silver Lake last week.
As the final lakes thaw, roads and campgrounds open, Sierra anglers can look forward to a season that continues to get better.
Bishop area—The roads to Lake Sabrina and South Lake are now open and water levels are rising rapidly as temperatures warm. Boats expected to be out at South Lake any day now.
Lake Sabrina received trophy trout last week, and anglers are reporting a good bite for both larger holdover rainbows and recently stocked trout. Services are open and rental boats are on the water.
Creek flows in both forks of Bishop Creek are extreme, but there are slower pools holding larger fish. It may take some hiking to find the best spots.
Intake II is stocked and continues to be good for limits of smaller rainbows, but crowds have been heavy.
Mammoth Lakes area—Roads and campgrounds in Rock Creek Canyon are now open and the lake has been stocked with both DFW and trophy Desert Springs rainbows. Anglers getting away from the crowds are pulling in some monster fish, according to the latest reports.
Convict Lake continues to be epic. The lake has been stocked with both trophy rainbows and extra fish from DFW hatcheries, so anglers are hauling lots of limits that include monster fish.
Water levels at Crowley Lake continue to rise, but boaters should be alert to sandbars just below the surface.
Guides at The Trout Fitter in Mammoth are reporting that fishing has picked up and become more consistent at Crowley, but fish are moving deeper.
"The best areas have been moving around. Sandy Point has slowed down with the fish moving more towards McGee, Alligator to Christmas Bay and around Hilton Bay-Pelican Point are still holding fish," they said.
Warmer weather has also produced an algae bloom at Crowley that prompted a recreational alert from Mono County for anglers to avoid algae scum, keep children and pets from swimming or drinking the water and to make sure fish fillets are rinsed in clean tap water before cooking.
At press time the roads into Mammoth Lakes Basin are only open to the town shuttle operating from 9 a.m. to 6 p.m. daily, but that could change by the time you readd this. Check before going in.
Rick Flamson at Rick's Sports Center said Lake George still has some ice and the other basin lakes are clear, but cold.
"This has made the bite a bit sporadic. Anglers tossing bait are struggling, but those tossing lures or a fly and bubble that requires fish to chase are getting reaction strikes," he said.
Anglers Lower Twin Lake tossing jigs and spoons are doing well for brooks and browns but get there early because parking has been a challenge.
Still no updates on when the road into Red's Meadow and the San Joaquin River will be opened, if at all this season.
June Lake Loop, Lee Vining—June Lakes waters are prime, except for Rush Creek which continues to run extremely high. June, Gull and Silver Lake were heavily stocked for the July 4th holiday and should continue to provide an excellent bite. The big fish of the week was a hefty 8.4-pound brown that inhaled a Kastmaster being tossed from shore.
A big surprise for June Loop anglers also came when golden trout began showing up at Silver Lake, apparently washdowns from Alger Lake due to the high level of spring runoff.
One campground is now open in Lee Vining Canyon but flows in the creek are extreme and the water is cold. Fish have been stocked, so look for the slower pools if you hope to catch trout.
New owners have taken over operations at Lundy Lake and conditions there are excellent with campgrounds open, the lake full, well stocked and producing lots of trophy fish, according to Wayne Beaver at Beaver's Sporting Goods in Lee Vining.
The bite at Lundy has been good, with trout taking Pinched Crawlers and nightcrawlers, and "anything in dark, natural colors," Beaver said.
Bridgeport area waters and Virginia Lakes—Roads are open and Little Virginia Lake is free of ice, while Big Virginia still has some floating icebergs.
Anglers are reporting good bites with inflated nightcrawlers, Mice Tails and PowerBait, along with Thomas Buoyants, small Rapalas, Sierra Slammers and Hook Up Baits.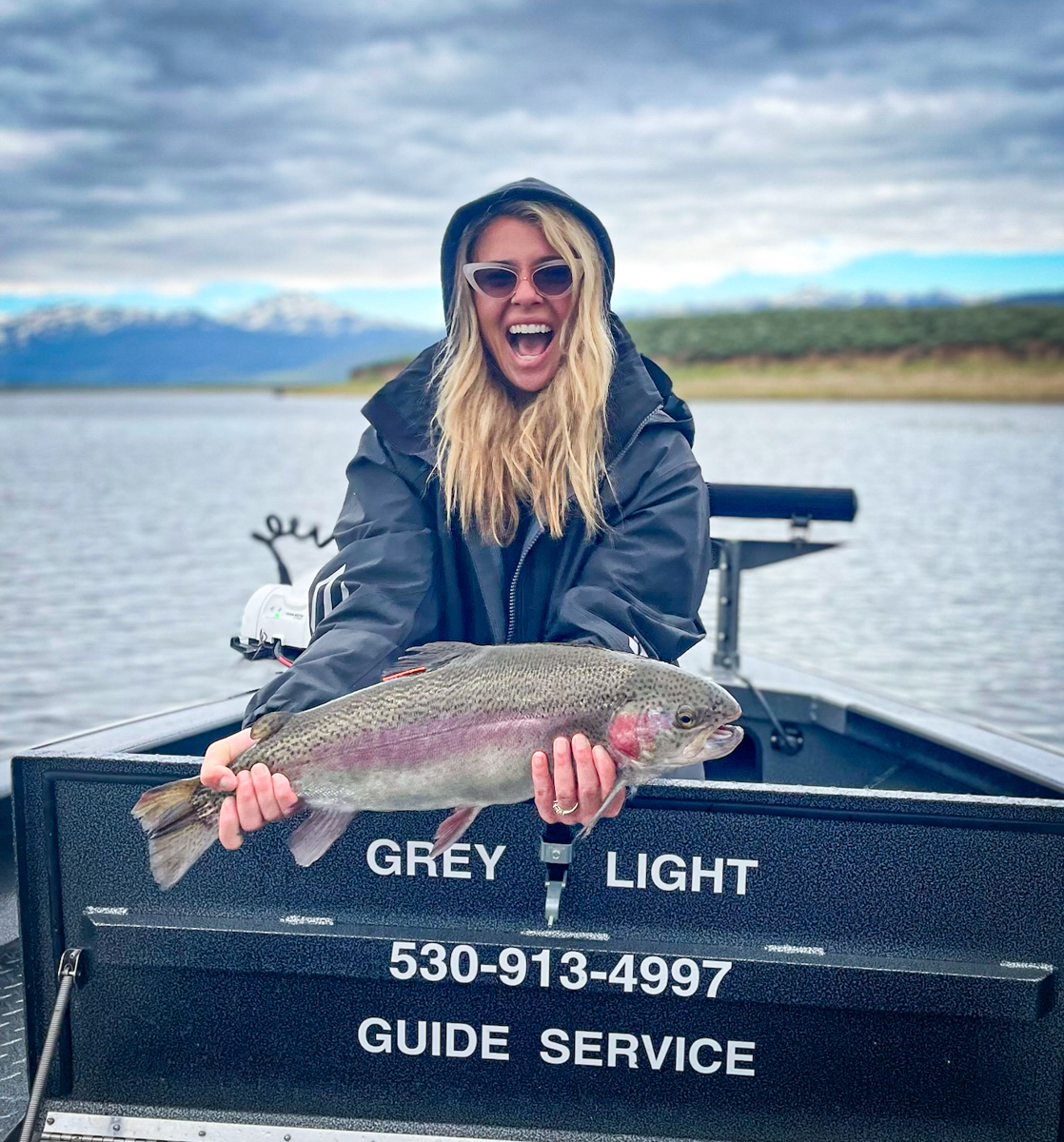 Jim Reid at Ken's Sporting Goods reports that Bridgeport Reservoir is stocked, and the bite has been good for both shore and boat anglers. The Marina is open with available rental boats.
Lots of bigger fish are being caught with small Rapalas, nightcrawlers, speedy shiners and Thomas Buoyants while the bait anglers have been doing well with garlic PowerBait, Pinched Crawlers, inflated nightcrawlers and Mice Tails.
Thanks to ideal conditions and aggressive stocking, Twin Lakes continue to be on fire for trophy rainbows and some browns. There are also reports coming in of nice Kokanee being caught on the troll as well.
Reid at Ken's said they seem to be running a bit bigger this year with several measuring around 14 inches.