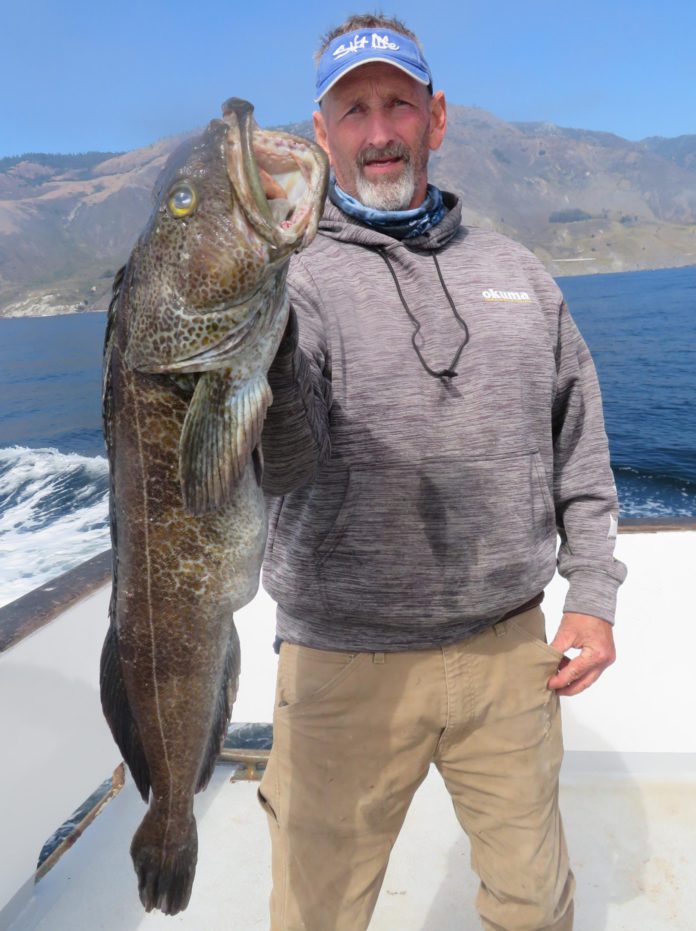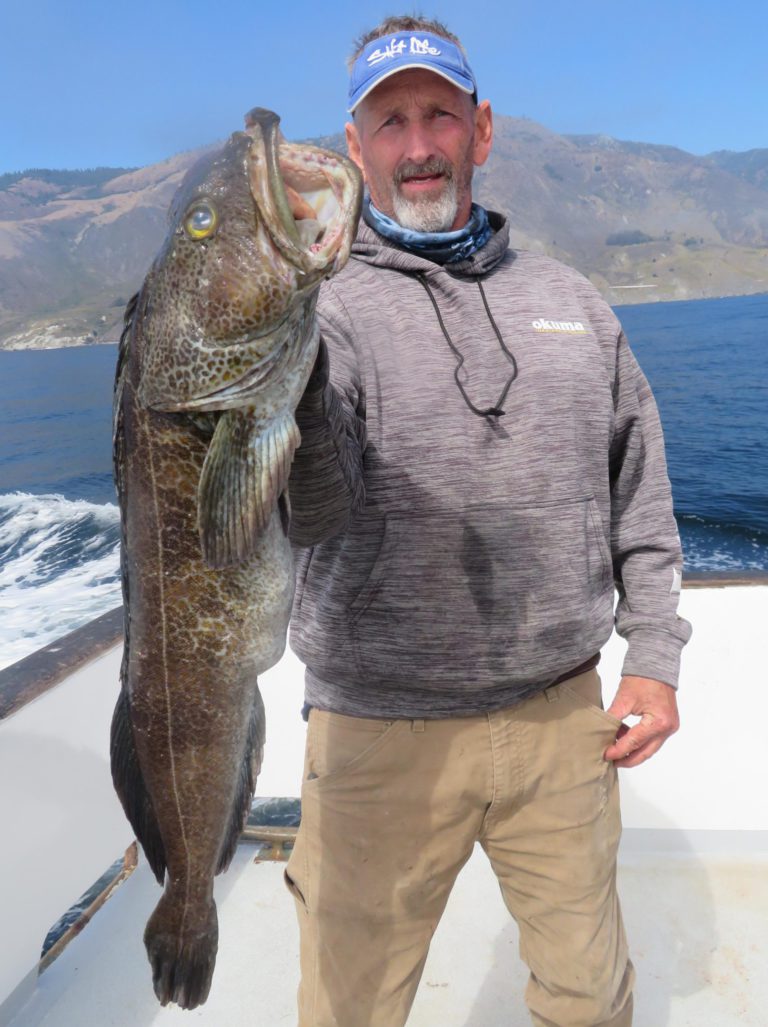 BY BOB SEMERAU
MORRO BAY — Perfect weather made the run northward to a spot offshore from Sand Dollar Beach, way above Point Piedras Blancas, a smooth and pleasant cruise. Whales and dolphins cavorted in the calm clear waters, entertaining excited anglers as Black Pearl made its way up the coast.
"We get very little fishing pressure up in the area to the north," explained Lisa Tardif, owner-operator of the 65-foot fiberglass-hulled sportfisher.
Tardif takes pride in making passengers feel at ease aboard the Pearl whether they are newcomers with rental rods or seasoned anglers out for the tenth time this season.
Check-ins began at 4:00 a.m. with each charter angler getting a briefing on new regulations, and a screening related to the current health situation. Virg's Landing Manager Bruce Harwood and long-time staffer Bob Bodine, now in his 13th year at the landing, signed-in the anglers as Frogg Toggs swag bags holding P-line Laser Minnow jigs and a spool of 30-pound Hi-Seas super premium fluorocarbon were given to each.
At the appointed hour of 5:00 a.m. passengers had been loaded up and Black Pearl began the trek northward with clearing skies and over calm seas.
Charter sponsor Maui Jim sent along a gift bag which held a certificate for a pair of Maui Jim Sunglasses, valued at $250, and a slew of accessories that was awarded to the angler with the heaviest fish of the day.
The large and comfortable bunks allowed a rest for anglers below decks while others opted for the opportunity to enjoy the sunrise reflecting on the glassy water. The four-hour journey gave everyone a chance to get rested, rigged up, and ready for action.
A variety of techniques were put to use to entice lingcod, larger-model reds , and rockfish, making up a complete arsenal that used properly almost always gets fish to bite in these fertile waters.
Kevrette "KJ" Johnson brought along samples of his Magnum Swimbaits designed just for this type of fishing and passed them out to any angler that might want to give the unique glow tube lures a try.
A popular rig is the "lingcod special" using a large 5-0 sized hook snelled above a treble hook, some 6" behind as a stinger. A whole frozen mackerel or large sardine is pinned through the nose onto the single hook, and the treble hook worked into the underside of the bait. The whole rig is fished on a reverse dropper loop with 8 to 16-ounces of weight run out to the bottom, some 200 feet below.
Of course, the common and successful use of the double dropper loop is a go-to for many anglers fishing squid strips or whole squid.
Frequent WON charter anglers Bret and Lori Blaydes traveled down from Springville, California, near Porterville, and had a few tricks of their own.
"I'd read up on some old-school methods and made a combination jig and weight set-up using three-quarter inch diameter, 16-inch long copper pipe filled with lead and a couple of hooks attached," explained Brett, as fishing got underway. The angler added some loose BB shot within the rig to make some noise in the deep waters.
Captain Bud Birchfiel set up the first drift just after 9:00 a.m. and the fishing got underway. A slow bite on reds with no lingcod showing left Capt. Birchfiel to make a move, taking Black Pearl to deeper waters.
Right off the first drop, some sizable reds found their way into the sacks.
Angler Brandon Johnson found several reds and a couple of ling during the trip but his girl, Korina Hernandez, bagged the big red for the morning.
Regular charter guys, Wade Wells, Bruce Jochums, Mark Ginchereau, along with Ryan and Dale Carlton managed to find fish throughout the day, filling sacks and having fun.
Another move, this time northward to a spot above Cape San Martin, showed promise when Bakersfield resident Dennis Turner found the right combination to fool a hefty ling. The beast, estimated at over 15 pounds, was the biggest fish of the trip and gave Turner the top prize of the Maui Jim Sunglass gift pack.
Each week the largest lingcod taken at Virg's Landing gives the lucky angler an entry into the annual John Rowley's Biggest-Baddest Ling Cod Competition 2020.
This December, the Black Pearl will host the final day of competition for the annual lingcod championship held by Virg's over the course of the rockfish season. Prize money of $10,000 will be up for grabs in the one-day shoot-out. At day's end it looked as if Turner's big bucket-head might give the angler a spot in the competition.
Up in the bow, KJ Johnson and his group of diehard Magnum Swimbait fans scored on rockfish and an occasional lingcod. Along the rail angler Dennis Martin nailed a double on reds with the Magnum double trouble combination, using a green Magnum 16 as weight and bottom jig, and a smaller red tube above.
Despite the lack of a strong bite on lingcod the rockfish counts made the day a success. Two families from Clovis fished the WON-Back Pearl charter and took home limits of rockfish for all. Glenn Estes and his son, Peyton, fished with neighbor kids Annalouise, Jude, AJ, and their dad, Adam Sheppard.
Making a few last-ditch drifts at the northern limits of the area, Capt. Birchfiel found a few more reds and a ling or two to finish out the day.
Totals for 25 anglers on this extended day 14-hour charter: 5 lingcod, 115 rockfish, 14 copper rockfish, 4 bocaccio (up to 8.1 pounds), 71 vermilion rockfish.