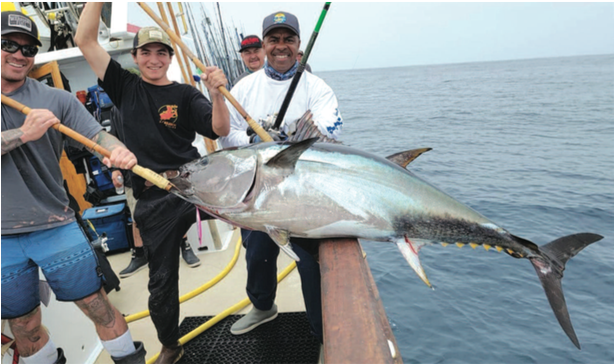 BY MERIT MCCREA
SAN DIEGO/OCEANSIDE — This past week saw weather over the outer waters calm and with it the fleet sampled areas on both sides of the border, finding big bluefin above and outside the line as well as below.
The gist was mixed fish, including triple-digit models south of San Clemente Island, some inside there too, plus limit-style bites below the border in to within 30 miles of Point Loma.
There were epic night bites for limits all around for more than half the fleet, yet a few others fished all day pnly to never find a biting bunch.
Yet, the right kelp could load the boat with nice yellows instead.
The Red Rooster III was one of several long rangers offering early season 1.5- to 3-day open party opportunities. Sunday they were back to the dock with 30 very happy anglers.
They'd completely limited on bluefin tuna, reporting, "The first of our three weekend trips just docked this morning. The trip had a slow start and an explosive finish that earned them limits of bluefin tuna. Nice grade of fish up to 69 pounds that took the jackpot."
"We have a little more maintenance this week and back on the fishing grounds on Friday." The trip had fished west of San Diego.
But there were bluefin in several areas, including just a few miles west of the Coronado Islands, easily in full-day range.
The Malihini had fished a full-day with 40 bonito and a bluefin, while the Liberty fished as close as 20 miles south of the Point and turned in 43 bluefin from 20 to 70 pounds for 36 anglers Saturday.
Others ran all the way south finding fish off the Lower 500 again.
The Legend scored limits of bluefin for 18 anglers Friday, up to 60 pounds, along with 3 yellows. Earlier in the week the 25 on the Top Gun 80 didn't find the hot night bite on the iron and sinker rigs as others did, but instead loaded on 250 yellowtail on their 2.5-day.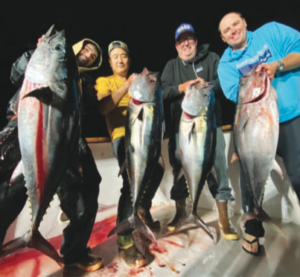 Sunday morning Captain Mike Loust called in with an update from the Tomahawk. "We had limits of bluefin tuna. We are heading back out tonight on another trip. We have space available. Hope to see you there! Happy Mother's Day to all the moms out there!"
The count was 54 tuna to 100 pounds. The Searcher also had limits on day one of their 2.5 dayer – 30 for 15 folks so far. The Condor with 29 anglers on Sunday scored 22 bluefin plus 82 yellowtail. Wednesday they'd run with just 11 folks, limiting out on the yellows. The Pacific Queen, American Angler, Polaris Supreme each scored bluefin limits during the week.
The San Diego got 50 for 28 anglers on a full-day trip. Reports coming in included bites where it was all on live sardines mostly, big fish and biting no heavier than 50- pound, resulting in very few fish actually landed.
Others connected in the dark on the iron and sinker rigs fished deep and put the wood to those fish. Still, a few others watched school after school sink out and move away with few if any takers on anything all day and night until it was time to head in.
On average, most offshore trips scored though. Bring it all, from 30- to 100-pound class tackle.
Local trips saw the first signs of warming waters and a bass bite, particularly off La Jolla. The New Seaforth had an afternoon run for 56 calico for 38 anglers. The morning run deferred to bottom grabbers.
Looking up the coast to Oceanside, it was all about local half-day trips picking at some bass and rockfish while enjoying a relaxing day on the water. Highlights centered up on runs with just a few anglers aboard.
Out of the Oceanside SEA Center, the Southern Cal fished wit just 6 anglers Sunday and took 45 rockfish with 35 reds, a sand bass, 3 whitefish and 5 sculpin.
From Helgren's Oceanside Sportfishing, they didn't post catches over the weekend but the Sea Trek fished a couple of half-day runs midweek for modest catches of bottom grabbers one trip and a few bass released on another.