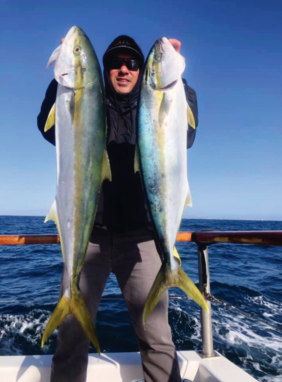 BY MERIT McCREA
SAN DIEGO/OCEANSIDE — Gamefish action ramped up over the weekend. First was the 100-plus yellowtail aboard the boat San Diego on Friday. The bite had been steady through the week. Capt. Ryan Bostian reported skipping from school to school throughout the day to put together the first over-the-hump score on gamefish for the season. The forks again ranged from 12 to 20 pounds and it was primarily a yo-yo iron bite.
A solid 2-speed reel loaded with 65-pound braid and a short 40-pound mono leader, or straight 40-pound mono, is a big plus. No long rod needed for this kind of jigging and classics like the Tady 4/0 heavy or Salas 6X in scrambled egg or blue and white are standard issue.
Over the weekend, the traffic chasing the fish really ramped up. There were still plenty of opportunities, however, and it was pretty clear the fish had solidly arrived.
The American Angler's 1.5-day offshore trip from Point Loma Sportfishing ran this past weekend with calm weather overtaking the outer waters starting Friday. What Capt. Ray found was bluefin, big ones.
The report posted was, "We just returned from our 1.5 (day) this morning and angler Lee had the jackpot with a 180(-pound) bluefin. There is opportunity for everyone to hook a fish, but we highly recommend that you show up with the right size tackle for these fish due to their size – 60- to 80-pound minimum…. these fish are big. We have more 1.5's and a couple of 3-day trips on the schedule."
The second big tuna boated weighed in at 97 pounds. They put on 27 yellowtail for good measure.
Remote sensing data shows good, clean water starting at the Upper Hidden Bank and extending south to about the 238. Just below there a gyre of green separated a second pocket of clean water off Colonet, extending west for many miles at that point. Sea surface temps held in the low 60s in the clean water, which if it holds, is right for those long-missing albacore.
At the local level, most half-day trips were focused on the rockfish and did fairly well. The Premier out of H&M Landing put on 147 rockfish for 29 anglers, about half-limits. The Daily Double had a couple of big whitefish scores earlier in the week with 170 for 21 anglers Monday.
Out of Oceanside, Helgren's Sportfishing only had a couple counts posted for the week, both from the Sea Trek on 3/4-day runs. A mixture of bottom biters showed – no huge numbers but a great variety including lingcod, a few rockfish including reds, a triggerfish, some whitefish and a few 'dabs.
At the Oceanside Sea Center, it looked a bit busier with both the Sea Star and Chubasco II trading off half-day scores. The Pronto was also in the mix and did run a 3/4-day, as did the Blue Horizon. In addition to a similar mixture of rockfish and such, the trip also included a couple of sculpin scores – one with 70 devils for 15 anglers, very close to limits.