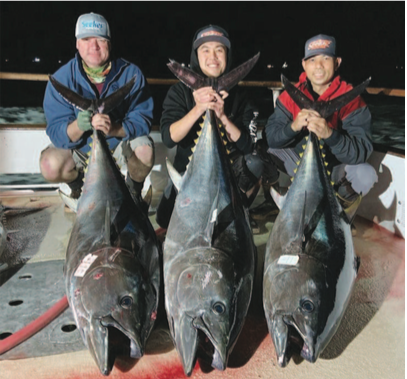 BY DANIEL LABARBERA
SAN DIEGO/OCEANSIDE — This past week, calming winds and fair seas have made it easier to get out on the bluefin grounds. The bluefin moved up the line on the ridge below San Clemente Island and both the private boat and sport fleet have had shots on this mixed grade of fish. Yellowtail continue to fill in voids on kelp, while large numbers of bonito have also moved in as far north as Oceanside.
Seaforth Landing reported Saturday the Polaris Supreme landed their limit by sun up fishing slow pitch-style jigs and sinker rigs. Captain Aliyar reported, "Good fishing, mixed grade from 40 to 120 pounds. The set-ups of choice are 80-pound for the Flat-Fall, 60- pound for sinkers rig, and have a 30- to 50-pound fly-line rig with smallest circle hooks you can get away with." They reported 48 fish, limiting out for their 24 anglers Sunday. The Pacifica's 29 anglers put 58 bluefin on the boat, limiting for their 1.5-day trip on Sunday. Again, those fish biting in the dark on jigs and changing to bait fish later in the morning.
The Aztec called in with 43 bluefin for their 26 anglers. When limits aren't made in the dark, having the gear ready to fish sinker or fly-line baits is key. Coming prepared for everything will help anglers and crews be efficient. When the bite is on, listening to crew members and asking questions will result in more fish on the boat.
Midweek, the Mission Belle reported consistent counts of 10 to 15 bluefin on each of their full-day trips, but as the weekend approached many boats started to see an uptick in catches early in the morning.
Saturday out of H&M Landing the Sea Adventure 80 had their first trip of the season. They reported 18 bluefin from 50 to 150 pounds caught in the dark and then fun fishing throughout the day with solid yellowtail on kelps. The Daiwa Pacific reported 19 anglers landing 31 bluefin on a day and a half, while the Legend had 24 anglers, 22 bluefin and 62 yellowtail for theirs. We saw a trend of bluefin counts increasing throughout the week, ramping up over the weekend.
Out of Point Loma the Mission Belle ran full day trips with a few shots at bluefin and yellowtail, reporting midweek to have 10 to 15 bluefin landed on all offshore trips and a high count on yellowtail on Friday with 23 anglers bagging 95 yellowtail. The Point Loma ran a full-day trip over the weekend that resulted in 58 yellowtail and 2 bluefin. The American Angler landed 58 bluefin tuna for their 29 anglers, reporting fish up to 113 pounds.
North to Oceanside, the half- and 3⁄4-day trips were bottomfish oriented with sign of calico bass moving up in the kelp. The Oceanside 95 had a 1.5-day trip catching 24 bluefin for their 24 passengers while fishing out at San Clemente Island.