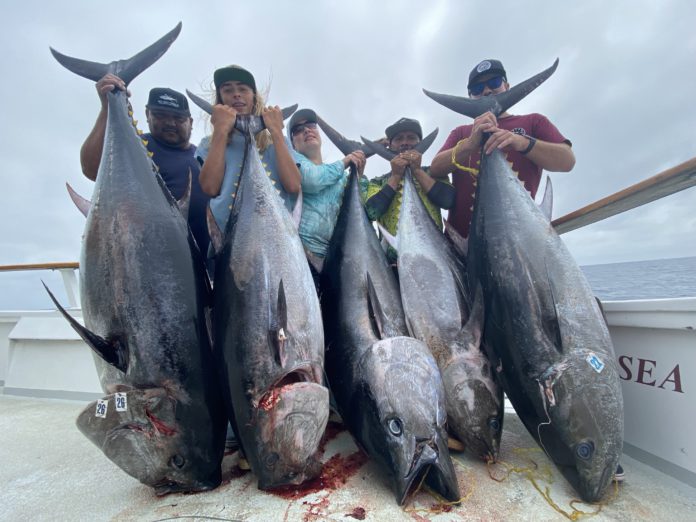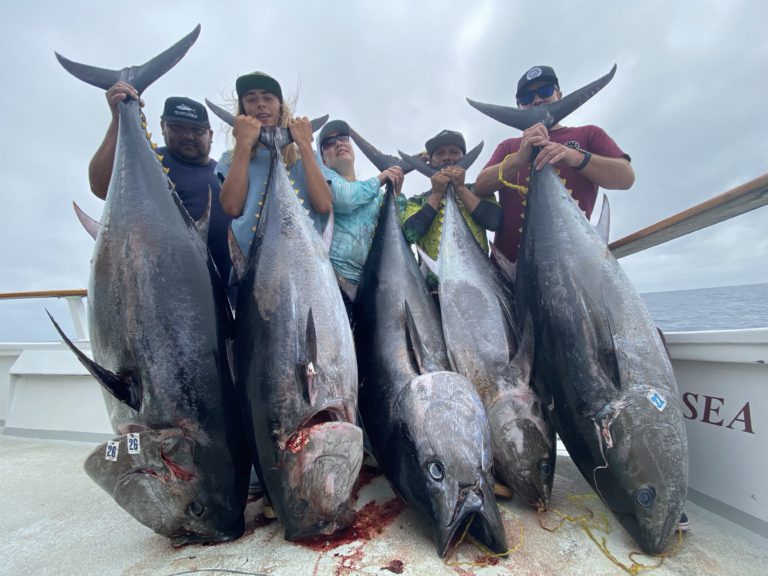 BY MERIT McCREA
OCEANSIDE/SAN DIEGO — Over the past week bluefin tuna schools fanned into U.S. waters, with some schools finding abundant bait schools within a handful of miles of the coast between Oceanside and Newport. One of the hottest zones was just a couple of miles off Dana Point midweek.
By Sunday the charter fleet was working areas from just outside the Nine-Mile Bank west of Point Loma, up into the Catalina Gulf with a focus in the region about 15 miles east of San Clemente Island.
The best coastal flash was Wednesday before much of the private boater fleet got on the fish. The first signs were actually a week ago Sunday, with the Chubasco II making a crew-trip dash for local limits Monday just north of Oceanside.
In just three days there were reports of bluefin all the way up to the gap between Santa Cruz and Anacapa Islands. To say these fish were on the move was an understatement, and it remained to be seen where they might ultimately settle in.
However, best bets were all the usual suspects, places that have held in the past few seasons. Typical sightings mirrored what had been reported below the border in recent weeks, spots of fish from 30 pounders to 150 and 200 pounders.
However, it was mostly a daytime event with smaller fish being landed, that is 20 to 60 pounds. Recent tackle tips leaned much lighter than in recent weeks, suggestions including a 20- to 30-pound live bait outfit with smaller circle hooks as the light setup.
This was in addition to the full complement of heavier gear – 40 or 50, 60 to 80, and 100 or 130.
Those on trips which included a opportunity to fish in the dark tackled the monsters on the heavy tackle.
Sunday morning the Sea Adventure 80 called in with an early report saying of the 10 bluefin they already had on deck, 3 were cows at 200-plus pounds, 2 were between 100 and 200 and they had 5 more between 18 and 40. It was determined stop by stop what an angler's best gear choice was.
There were a few yellowfin in the mix too as surface temps moved over 70 degrees. The Excalibur turned in 30 bluefin and 6 yellowfin for their 1.5-day Saturday.
Other highlights included the Legend's midweek 1.75-day with 61 bluefin, 5 yellowfin and a yellowtail. The Top Gun 80 scored 70 blues on their 2.5-day.
The Mission Belle managed full limits for 22 on a full-day run – 44 bluefin, and 9 yellowfin. The New Lo-An put 37 blues on deck with 25 anglers on a 1.5-dayer.
Capt. Mike Loust of the Tomahawk reported to Fisherman's Landing, "Today we had an incredible sign of 150 to 250 pounders. We didn't get to the zone till about 2:30 p.m. We hooked one on the kite that weighed in around 230 pounds. The second one we fought for 3 hours, it was hooked on 60-pound test and a light rod. We ended up getting it and weighed in at 145 pounds. We started to focus on the smaller ones to get some fish on the boat. We are at 15 or 16 fish and will give it 'til 2 a.m. and call it a trip."
The Pegasus was back from a 2.5-day with 18 anglers besting 60 bluefin, including a cow at 200, 3 more triple-digit fish at 140 and a yellowfin. The Condor's catch included a 185 and a 197.
At Seaforth Sportfishing the Polaris Supreme pulled in from their 3-dayer with 110 bluefin and a pair of yellowfin. The Pacific Voyager had 68 blues for 17 on a 2-day and the Voyager had 9 anglers with limits on a 1.5-day. The Aztec loaded up 76 bluefin – 2-day limits for 19 fishing, plus 8 more yellowfin.
Coronado Islands fishing was good with barracuda and yellowtail on tap. The Liberty had 108 calico bass, 73 yellowtail, 15 barracuda and 7 bluefin for 23 full-day anglers.
The Point Loma put 15 anglers on 75 barracuda (limits), 36 calicos and 33 yellows. The Vendetta had 48 calicos and 32 yellows for 12 folks Thursday.
Half-day fishing was good too, with Mission Bay-based New Seaforth getting calicos and barracuda locally. On Sunday 30 anglers took 70 keeper calico.
From San Diego Bay the Premier put 49 on 68 sand bass Saturday afternoon, while the a.m. run had produced 62 keepers for 45 folks. Monday that boat put a 10-year-old slinging a surface iron onto a hog yellow too, at 41 pounds!
Out of Oceanside, the Oceanside 95 was on the bluefin and had plenty of openings for anglers. They had 8 of their 24 fish into the triple digits. With San Diego proper-based boats running at capacity, the O'95 may be the opportunity anglers need to book as the focus moves to areas actually closer to O'side Harbor than just about any other.
At the SEA Center, the newly re-commissioned Southern Cal put one of those bluefin on deck on a half-day trip Friday, the perfect complement to local calico bass also in their catch that morning.
Most of the local effort was surface oriented, with lots of calico caught and released. But the Chubasco II kept the tuna schools in sight while out fishing rockfish on 3/4-day.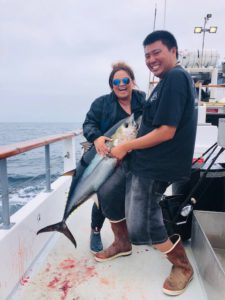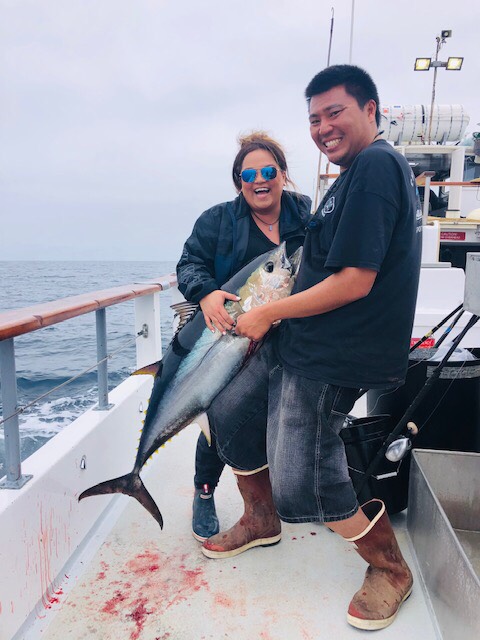 The Pronto also put a pair of half-day bluefin in the box Tuesday.
Most of the very local bluefin action was on the basis of running on breaking fish and quickly putting an iron or popper in their midst before they moved on.