BY BILL SCHAEFER
California has some of the greatest bass fishing in the country. We have largemouth that make up the bulk of the top 20 largemouth (ever caught) list, giant spotted bass with plenty of records in their own right — including the world record at 11 pounds, 4 ounces — and smallmouth bass that are so close to the world record, it could come any season now. California anglers have a chance to go fishing for record-size bass of all three species in one day. But, if big smallmouth is what you're after, the farther north you travel in California, the better your chances are of scoring giants.
The world's largest smallmouth came from Tennessee's Dale Hollow Reservoir and weighed a whopping 11 pounds, 15 ounces. In California, we are now knocking on the door at 9.82 pounds, the California state record from Pardee Reservoir. Anglers are regularly catching fish in the 8- to 10-pound range, and it's only a matter of time before a fish is taken that will challenge the world record. The best part about hunting smallmouth is they tend to school up, so if you catch one, you usually catch a bunch.
Smallmouth, also known as greenies, golden bass or bronzebacks, will fight harder than any other bass. They are all muscle and fight like little freight trains. A mainstay of their diet is crawdads, and jigs are a good place to start when fishing for them. If you query the lake staff to find out the color of the lake's crawdads, then you will be way ahead of the game. They do eat shad and/or shiners as well, so don't leave all your other lures at home, but there's nothing like the way they strike a jig to kill it.
As I mentioned, there are a lot of lakes that hold smallmouth and the farther north you venture the better. I'm going to leap way to the north and go over a few of my favorites. You can make these destinations a vacation or fishing adventure. There are deer, bear and all kinds of wildlife roaming the shores of some of these lakes and the mountains covered with redwoods make the scenery worth the trip beyond the fishing.
Lake Shasta is nestled in the mountains with spectacular scenery, and one could make quite the family trip to that lake. Bring the entire family and rent a houseboat, towing your bass boat behind. A giant of a lake, you will have no
problem finding quiet areas to fish. Winter rains and snow run off will dictate the lake level, but you should be good at almost any level.
The smallmouth tend to move to the gravely banks in the late winter to early spring, depending on water temperatures. This Army Corps of Engineers built lake has a ton of tree stumps and roots along all shorelines, along with rocky points the smallmouth gravitate to. Once the smallies are in feeding mode, almost nothing will stop them. It's normal to catch a lot of fish at this lake, but there are larger fish here as well. Every year, bass in the 3- to 5-pound range are caught and spring is the time to catch them.
In the spring and summer, various jigs and crawdad-type creature baits will do well here, along with drop-shotted or split-shotted plastics in both crawdad and shad colors. This lake does have trout and sometimes the smallmouth will eat smaller swimbaits. Summer and fall can bring topwater action, but the smallmouth will be competing with the spotted and largemouth bass. Slow rolling spinnerbaits across points can score as well as running crawdad-colored cranks down rocky points. Local fishing guide, Randall Doyle, gave me some tips on locations to fish at the lake. He said, "I feel one of the best areas is the Pit Arm area for good action and probably some larger smallmouth."
Let's look now at Trinity Lake, an impoundment that once held the California state record for smallmouth with a 9.10 pounder, and it currently holds a strong population of bronzebacks. Many locals feel it could regain this status and maybe even beat the world record. The lake is at about 50 percent of capacity and at 72 percent of its average with the snowmelt runoff yet to come. This lake has miles of shoreline, so there's not much pressure here.
In the late winter and into early spring at this lake, water temperatures can get the smallmouth moving and searching for their spawning areas. You may have to fish a tad deeper during this pre-spawn time. Look to sandy, gravel-bottomed shorelines and fish adjacent rocky points with jigs. Remember, these fish love crawdads more than anything and a good assortment of jigs will work through into the spring. They will score the larger smallmouth this lake is known for. It is fairly common to catch 3 to 5 pounders here and you have that chance of a trophy bronzeback.
Spring going into summer brings drop-shot or split-shot action on a variety of plastics — creature baits to emulate the crawdads or shad-type baits on a drop-shot rig to emulate shad or other fishes fry. To help you cover ground and locate fish, you can use a crankbait in crawdad patterns. Make sure you reel it all the way to the bottom, bouncing off rocks and brush to attract strikes. Once you find the smallmouth, fish that area hard. Spinnerbaits will work well in the spring, summer and into fall. Early morning topwater for smallmouth, in the early low-light morning or evening hours, can be a blast.
"Trinity Center and the North End Flats are always a couple great areas for smallmouth at Trinity," said Doyle. "This is a lake where your electronics can help. Look for old creek channels holding fish. The smallmouth love to hang around the channels, sliding up and down to feed. Once you find an area with fish, give it some time. Once they bite, you should do well."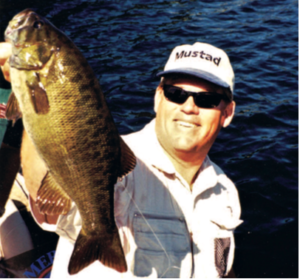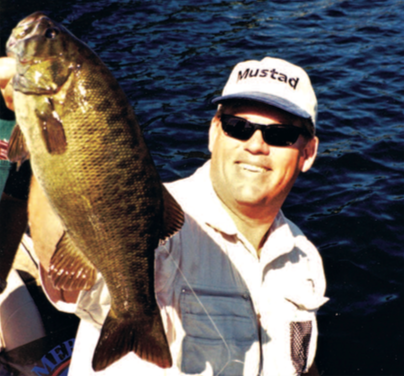 Next, I asked Doyle for a sleeper lake, one that is a bit off the radar. His answer was Lake Almanor. He went on to say, "You need to make every effort to travel to and fish this lake. It has numbers of fish and you never know when you might pull up on a point and catch a 5-pound smallmouth. The Airport area is a great place to start out."
This lake has a reputation of producing a lot of bass—1 to 3 pounders keep you busy, with the occasional 4 to 6 pounder thrown in. The lake has plenty of room to fish smallmouth, as few anglers target them here.
As usual, jigs catch nicer fish here, but you can always play the numbers game with split-shot and drop-shot worms almost all season long. Topwater action in the summer and fall until the weather changes and hard and soft jerkbaits will also produce. Main lake points, gravely shorelines and submerged brush all hold bass. The wind can come up at a moment's notice at this lake, so at the first sign of it head for home if you're far across the lake.
And, to close things out on the tour, the state record holder, Pardee Lake, is our next destination. This lake does close from November 1 to February 11, so double check the opening date before booking a vacation here. This lake has 40 miles of shoreline and local anglers believe the smallmouth world record could be taken here. There are a lot of giants caught here, but many of the big smallmouth hunters are tight lipped about those catches, with maybe only a boasting picture on Facebook here and there.
Springtime will bring numerous males running the banks for the pre-spawn. Jigs do well this time of year as the fish want crawdads to bulk up for the spawn. The Mokelumne River Arm seems to do the best first, and it can be good all year long when other areas fail. Spring, summer, or fall, split-shot or drop-shot plastic baits will do well in crawdad or shad colors. Creature baits will also emulate crawdads well and may attract larger fish on a Carolina rig. Late summer and fall will bring some fish to the surface for topwater action. Soft and hard jerkbaits also take fish this time of year.
Now, I know there are other great smallmouth lakes out there, and hopefully we'll bring you some more getaways to visit in coming issues. All the lakes, along with the campgrounds around them, have websites. Double check everything you plan to do there first, including the launch ramp conditions. As I mentioned, make a family vacation out of it. If there are a few lakes nearby, then try others out on the same trip. It's all up to you now.