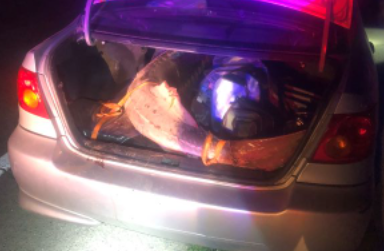 BY DAVE HURLEY
SACRAMENTO – White sturgeon are already under assault from the relative ease of capture provided by new electronic technology, the effectiveness of cured salmon roe, and sharing of information within a network of expert anglers. On top of this, the effects of several years of drought and the lack of a hatchery program added to intense fishing pressure continue to threaten the viability of the survival of the white sturgeon.
But within all of threats to California's white sturgeon population, there are those willing to break the law by illegally capturing, possessing, and selling this valuable species. We have been reporting about the poaching that has been occurring on the Sacramento River near the metropolitan airport, and wildlife officers arrested eight men on suspicion of poaching white sturgeon from valley waterways.
According to the press release from the CDFW, "The men face multiple charges, including intention to sell the fish and their products on the illegal market. At least two of the individuals are known repeat offenders. A ninth man was arrested on suspicion of selling Dungeness crab and red abalone on the illegal market. Wildlife officers were initially investigating two separate poaching cases when they discovered a connection between the suspects, leading them to merge the two cases into one."
David Bess, CDFW Deputy Director and Chief of the Law Enforcement Division said, "Wildlife trafficking, coupled with suspected narcotics trafficking discovered in this investigation, is motivated by greed and personal profit. We take it seriously when poachers commercialize our wildlife, and we will continue to do everything we can to bring these individuals to justice."
The case dates back to May 2021 when wildlife officers were investigating two Oakland residents for allegedly catching sturgeon and removing their eggs to sell to a family in San Francisco who processed the roe into caviar to sell on the illegal wildlife market.
The same two Oakland residents were in the process of investigation in January, and one of them was found in possession of an 85.5-inch white sturgeon stuffed into the truck of his vehicle on March 14th. The fish was still alive, and it was successfully returned to the water after evidence was processed. The individual was arrested on additional charges of conspiring to poach sturgeon and possession of an oversized sturgeon.
According to the press release, "During the investigation of the Knight's Landing case, officers found a link connecting the two original suspects to another simultaneous investigation involving multiple sturgeon poaching suspects. Wildlife officers spent a considerable amount of time conducting surveillance on the additional suspects and believe the suspects caught a combined total of at least 36 sturgeon throughout the investigation. The suspects were also observed catching and using juvenile salmon as bait for the sturgeon, another unlawful act. Independent of the sturgeon poaching investigation, some of the suspects are also suspected of poaching and selling abalone and sport-harvested crabs on the illegal market. Abalone are now a protected species and may not be recreationally harvested.
On March 30, wildlife officers served eight search warrants with charges including conspiracy to poach sturgeon and multiple violations related to sturgeon fishing, such as unlawful possession of sturgeon, possession of oversized and/or undersized sturgeon, sturgeon tagging violations and the unlawful sale of sturgeon caviar and meat. Wildlife officers also discovered at least five unlawfully possessed deer (the total number will be determined after genetic analysis is complete), abalone, five illegal firearms including a full-auto handgun, a "ghost gun" with no serial number and an unlawfully possessed AR-15 assault rifle.
Officers also found illegal narcotics intended for sale, including more than 1,000 pounds of illegal cannabis, and more than $57,000 in cash and counterfeit currency. During surveillance of the suspects while they were fishing, wildlife officers observed dozens of counts of littering, as the suspects routinely discarded their beverage containers and food wrappers into the river. Their observations of litter will be included among the violations presented to the District Attorney for potential prosecution."
White sturgeon are facing enough challenges without being the object of exploitation for sale on the illegal market, and any violation of Fish and Game regulations ultimately affect all sportsmen.