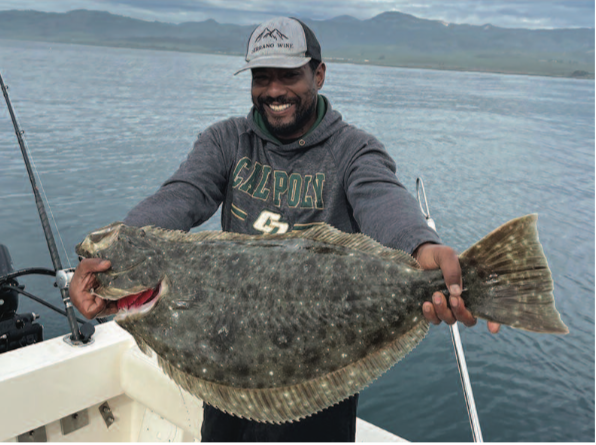 BY MERIT McCREA
MORRO BAY/AVILA — At least a couple of private boaters got out from Port San Luis Saturday and ended up on some great bounce-ball halibut fishing. Daniel Nevarez posted that his boat hooked 11, got 6 keepers and 2 shorts, dumping 3 fish.
Raymond Angel posted he'd launched at 7:30 a.m. and was back by 11:00 a.m., having boated 6 keepers and hooking 7.
The basic technique calls for slow trolling a 2- or 3-pound ball near bottom with a salmon trolling rig behind it. It's all artificials up along the Central Coast and usually hoochies are the "bait" of choice for halibut.
Up in the boat yard, Capt. Sal Rocha had the Starfire hauled out for a few days of seasonal boat work.
No runs fished from Patriot Sportfishng Avila Beach or Morro Bay Landing. With northeast winds heavy along the coast Friday Morning, crab and 'dab was a no-go.
Virg's Landing was closed for a 10-day period until the end of the month.
Along the coast anglers have been pulling some various rockfish, leopard shark and such from rocky coasts, while the huge barred surfperch along this coast were a sure bet on the tops of the tides.
Carolina-rigged Gulp! Sandworms were a sure bet, however, anglers here tend to double down on the sand crabs old-school style. Others toss bigger baits like the Lucky Craft 110 and perch eat it so long as you can sling it into the wind.