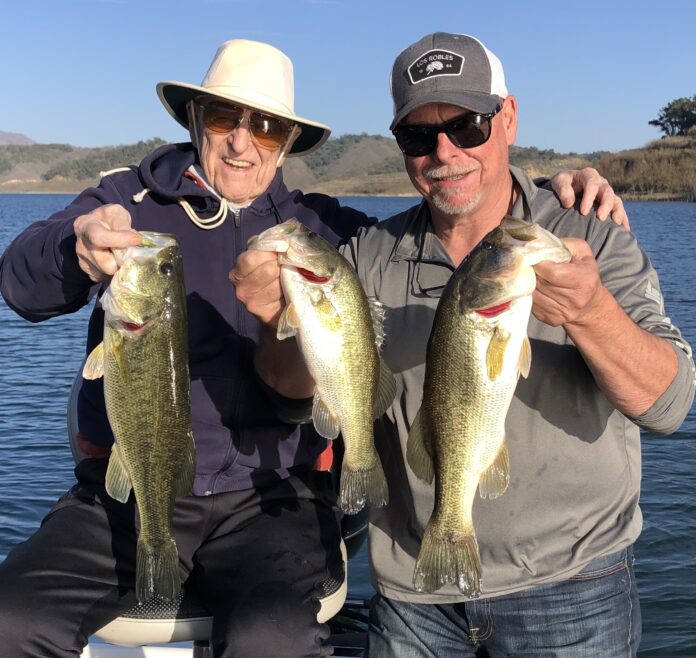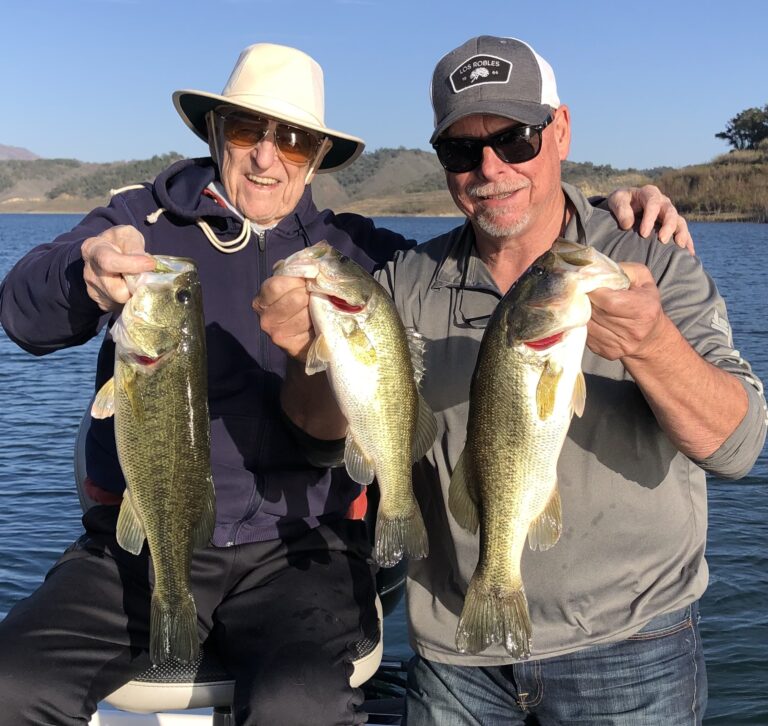 BY GREG STUMP
If you've ever caught a fish on a Roboworm, you can thank my father, Harvey Stump. Dad passed away peacefully on December 28, 2021 at the age of 93. The fishing community knew him as the co-founder of Roboworm Inc., a fishing fanatic, lure designer, and an incredibly smart guy.
If you had ever spent any amount of time with him, you would've quickly learned that he was a true gentleman. He didn't say much, but when he did, you would've walked away having learned a thing or two. All my life I'd hear people say over and over again: "Thanks, Harvey." He had a knack to give some good advice, or calming words of wisdom.
Harvey caught a lot of fish in his lifetime. He was a hardcore fisherman ever since childhood, catching fish to help feed his family during the Great Depression. Around the time I was young, we would go fishing together on his ocean boat.
But it wasn't until his early retirement in the '80s that he began competitive bass fishing. WON BASS Tournament director Ron Cervenka's running joke was that Harvey caught the first bass — not the first of the tournament, but the first bass ever!
One day in 1988, Dad asked me to quit my first job out of college and move back home to start a business making plastic fishing worms with him. Sounds crazy, right? No way, it was one of the easiest decisions I've ever made. I knew I would learn more working with my father than I would working for anyone else; it was my dream job, whether this new company succeeded or failed.
You see, what the fishing community doesn't know is that Harvey was a brilliant man, a certified genius. I found the documentation when I was a teenager: Mensa Society Member, Harvey Stump. "What's this?" I asked. He explained what IQ tests were and what the score meant.
Then he told me to forget what I just saw, because according to him, "It's just a number and doesn't mean much, you don't need to mention this to anyone." That was when I began to understand how smart and talented my father really was.
As an only son growing up during the Depression in Fort Wayne, Indiana, Harvey had to start working at a young age to help his parents. He learned to hunt and fish to put food on the table.
He developed an interest in radios, and was building his own crystal radios even as a young boy. This drove him to want to learn about electronics, but the only way forward was to join the Navy and go to college on the G.I. Bill. He graduated from Purdue University with a degree in electrical engineering.
After marrying his wife Elizabeth (née Jehl), they drove to California with their life savings of $500. Mom and Dad both worked at Hughes Aircraft Company while Dad earned his master's degree in electrical engineering from UCLA. He used his gift to become one of the top semiconductor engineers around, creating new and unique products that helped revolutionize the electronics industry.
In 1959, he borrowed enough money to start Semtech Corporation, where he created state of the art electronics for NASA and the military. Semtech went public in 1962. He was involved in the Apollo Moon Shot missions, and some of the parts he created are still on the surface of the moon! His company won Subcontractor of the Year and he was given an award at the White House by President Gerald Ford. And those are just a few of his many accomplishments.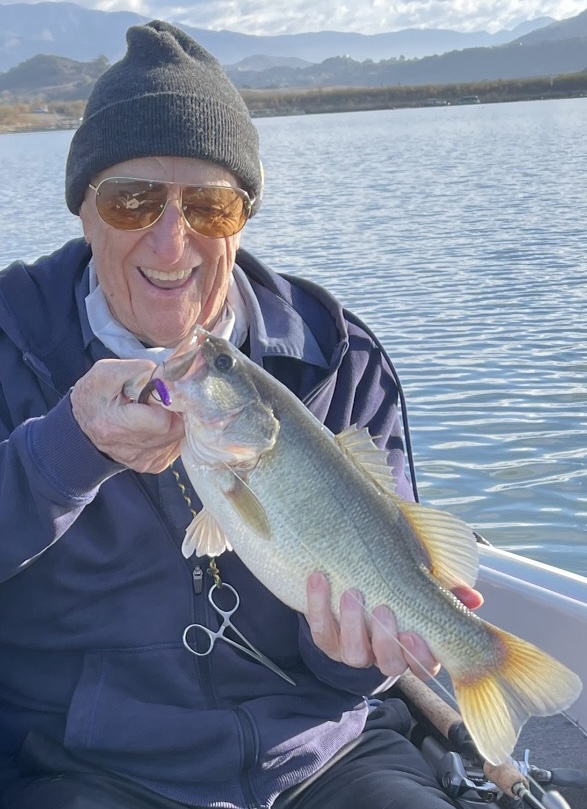 While enjoying his early retirement and fishing bass tournaments in the '80s, Harvey saw an opportunity. He was constantly frustrated that he was unable to find his favorite fishing worms. The stores were always sold out of these multi-colored wonders called "hand poured" worms. They were very difficult to make, and the guys who figured it out were selling all they could: Smitty Worms, JB Worms, Merlo Worms, Limit Worms, Zank Worms, Iovino Worms, Anglers Choice, just to name a few.
If you weren't close buddies with these worm makers, you had to wait. By the time your order came in, the fish had moved on to the next hot color combo and the frustration cycle started all over again. One day Dad came to me with a bag of used "hand poured" worms and said, "Son, if someone can build a machine to make these, they would have themselves a business!" He somehow knew I would take his comment as a challenge.
Growing up with my father in the '60s and '70s, in the heyday of Semtech Corp., he always found time for me. I was his shadow, his mini-me, and I watched him build everything from radios and televisions to boats and furniture. He taught me everything I wanted to learn. If I had an idea for a skateboard, he would say, "Let's build one and see if it works!"
He never missed a baseball game, nor an opportunity to take me fishing. More importantly, he taught me to not be afraid to learn new things, try new ideas, and to not be afraid of failure. You try, you fail, you learn, and you try again. I knew at a young age I was going to be an engineer like him.
In 1988, I did just that. I had become an engineer and happened to be working my first job at Hughes Aircraft Company, the same place he'd started. It took me about a year of tinkering in my garage, but I came up with a crude prototype of a worm machine that had potential. I called him up and said, "I think I figured out how to make your worms!"
After seeing the machine, he immediately convinced me to quit my job and go into business with him. We each put in $15,000 (all I had at the time) and started Roboworm Inc. He designed the worms and made the molds, and I designed and built the robotic machines.
The first five years of Roboworm was a struggle. The machines and molds were much harder to make than we thought. No money was coming in, and I wanted to give up many times, as the one thing Dad could never teach me was patience. "Hang on," he would tell me. "We are on the right track, it will come!" Deep down, I knew I had to believe his words, so I kept going.
Soon, the machines started working, and although they worked very slowly, they were consistently making good worms. In order to sell our product, my father and I had to vigorously (and successfully) compete in fishing tournaments and give thousands of bags of worms away for free, and eventually we started to sell Roboworm products. We hired a professional fisherman, Mike Brakebill, to create new colors and run the production line, forming the basis for Roboworm's future success.
Harvey got to fully retire in the late '90s, enjoying his last years fishing and golfing. To date, Roboworm has manufactured hundreds of millions of fishing worms.
During his final years, we would talk and agree that working together and creating Roboworm was a dream come true. I am so grateful I got to spend time working with my father, my idol, my best friend.
He guided me, taught me so many skills, and gave me the confidence to challenge life. He encouraged me to take big steps, sometimes knowing I would fail, taught me how to learn from my mistakes, and to never give up. For that, I say "Thanks Harvey, Thanks Dad!"