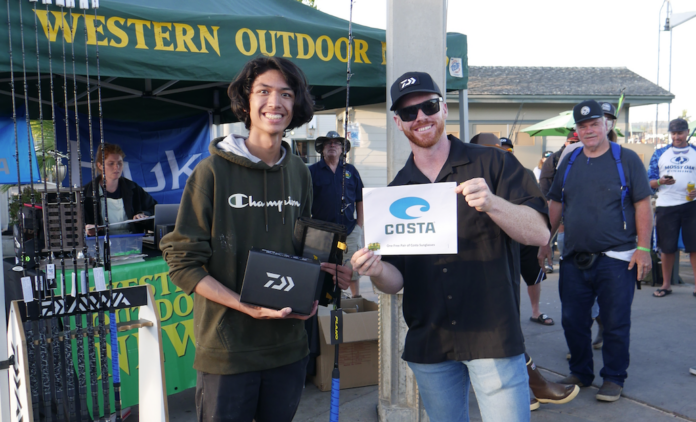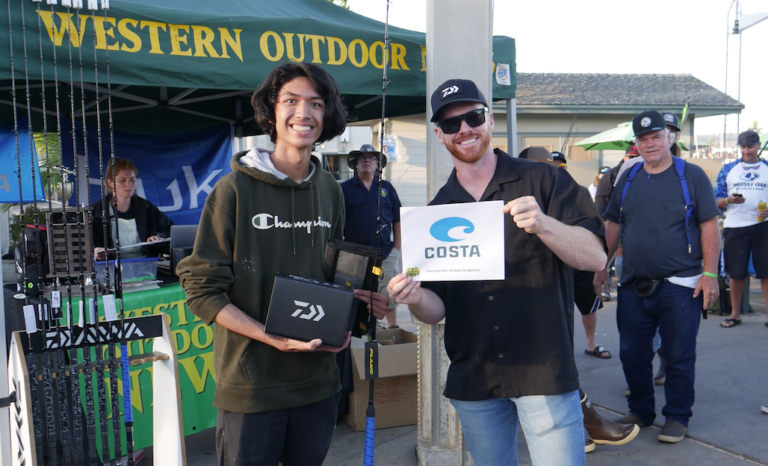 Trophy returned to Fisherman's Landing
BY MIKE STEVENS
POINT LOMA – The eighth-annual WON San Diego Offshore Jackpot (SDOJ) is in the books, and the 2022 installment of the event saw one boat sweep the entire event with the top three tuna caught and reclaiming the perpetual trophy in the process. The Condor was the vessel that came out on top of this one by putting three of her passengers "in the money" and bringing the trophy back to Fisherman's Landing.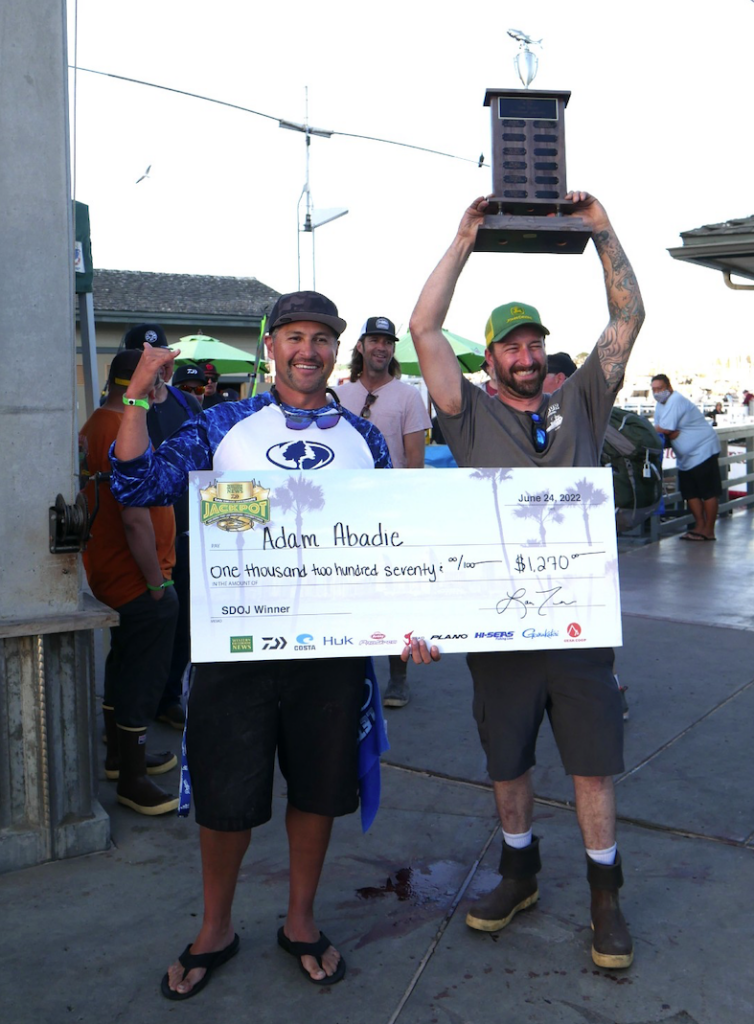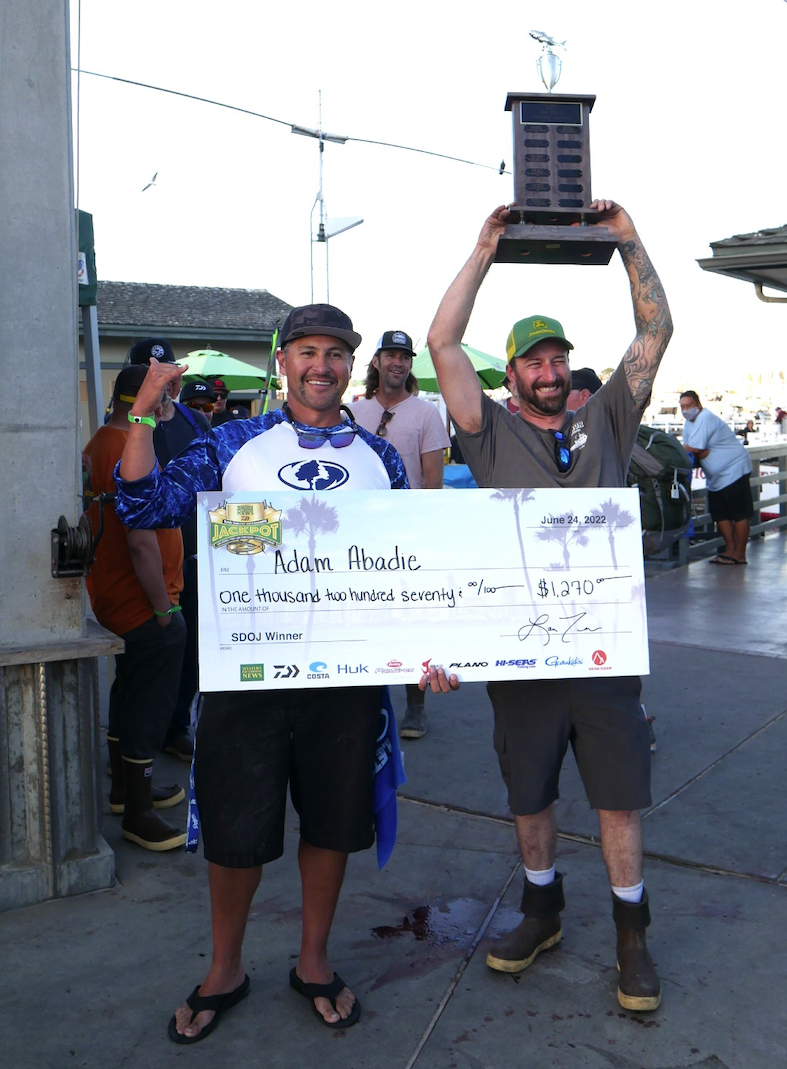 In a day that would be a challenging one fleet-wide on the offshore stage, the early chatter back at SDOJ headquarters near the scale at H&M Landing was the Condor out of Fisherman's Landing had 10 bluefin on board. The Condor was the first participating boat to weigh in, and the first fish to be weighed turned out to be the heaviest of the sportboat tournament, a 93-pound bluefin tuna hauled in by Adam Abadie. Fred Bowen finished second with an 89.2 pounder and WON saltwater-event regular "Sinker Rig Shane" Wrightson finished third with a 56.4-pound bluefin.
As the top finishers, Abadie picked up a check for $1,270, Bowen claimed $870 and Wrightston pocketed $380 for third. But those are just the cash payouts. The angler who caught the biggest fish on each participating boat (Condor, Pacific Islander, Producer, Old Glory and T-Bird) would also score high-end rod-and-reel combos from long-time SDOJ sponsor Daiwa (Proteus rods matched with Saltiga 2-speed reels). They also each picked up a pair of Costa sunglasses and $500 credit for Huk Performance Fishing apparel.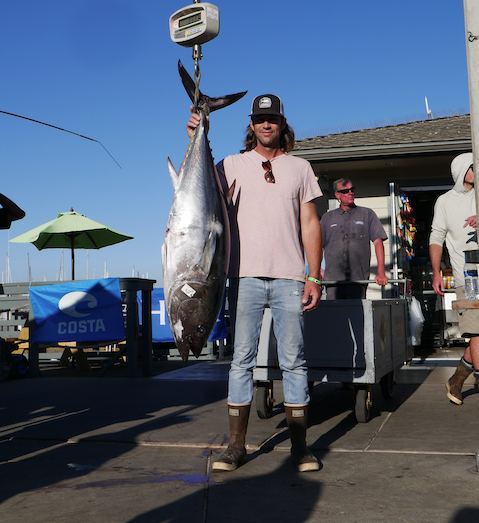 Wrightson always seems to find ways to score above and beyond what he gets for being a top finisher – be it via alternate-species optionals in WON's private boater events or otherwise – and the 2022 was no different for him in that respect. Along with that third-place check, he was also the top-finisher who met the qualifications of the popular "Fish Daiwa and Win" contingency program. Wrightson qualified by providing a receipt at check-in for and fishing with Daiwa J-Fluoro (J-Braid also works as does Proteus rods or Saltiga reels) in the SDOJ, and he gets a $500 Daiwa shopping spree for knowing how the game is played, maximizing his take-home and further proving it pays to fish with Daiwa in the SDOJ.
A few other notable fish that came to scale included a bluefin of 48.6, 45.8 and 43.4 pounds from H&M's Old Glory, a 44.6-pound fly-line victim off the Producer out of H&M, and tuna of 37.4, 28 and 27.6 pounds on the Pacific Islander which operates out of Point Loma Sportfishing.
As in all WON events, sponsor support is felt well beyond the anglers who had the best day on the water. In fact, all SDOJ participants received a giveaway bag containing HI-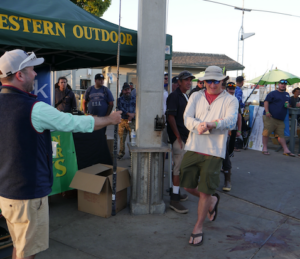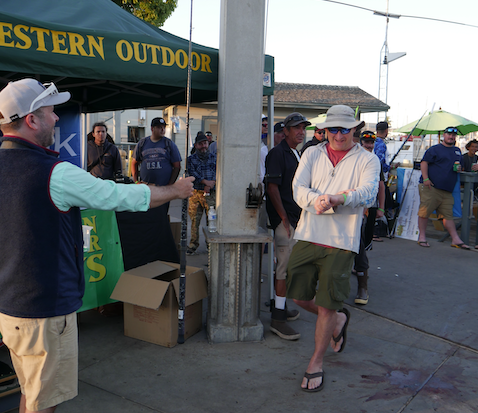 SEAS Fluorocarbon, Gamakatsu tackle boxes and Costa sunglass retainers upon registration. They were also all automatically entered into a raffle that took place after weigh-in, and that found new owners for more Daiwa Proteus rods and Saltiga reels and Costa sunglasses, Plano Z-Series Lure Wraps, spools of Berkley ProSpec line, various prizes donated by Gear Coop highlighted and a Daiwa tackle bag with a pair of Costas stuffed in it. That all started with a bunch of Daiwa hats getting raffled off just to get the crowd of about 200 fired up as they patiently waited for anglers from the final SDOJ boat to arrive so its passengers can participate.
Clearly a competition between boats, crews, captains and landings, Point Loma Sportfishing had to hand off the trophy to Fisherman's Landing who they took it from in 2021. The winning landing, boat, angler and fish will be inscribed on the trophy with all previous winners until the next time its fought for next summer.
For recaps of some recent San Diego Offshore Jackpots and details of exactly how it works, visit WONews.com and enter "offshore jackpot" in the search field so you're ready for it in 2023!