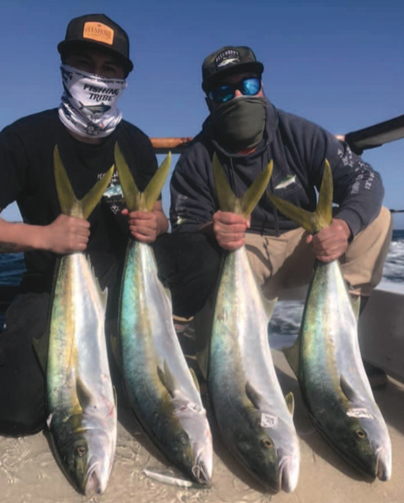 BY MERIT MCCREA
SAN DIEGO/OCEANSIDE — In the past few days, the yellowtail bite has heated up out at the Coronado Islands, and of course, that continues to be solidly backed up by plentiful bottom biters.
Aboard the San Diego, Seaforth Sportfishing, between Friday and Sunday the yellow catches ramped each day. Sunday saw a total of 33 of the forktails boated by 34 anglers. They still had time in between to boat 170 rockfish, too.
Unlike previous deep-water bites on the yo-yo and dropper loop, Sunday saw the big fish hit the surface after the chum at least twice, and anglers took the opportunity to catch the season's first surface iron fish.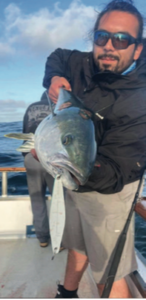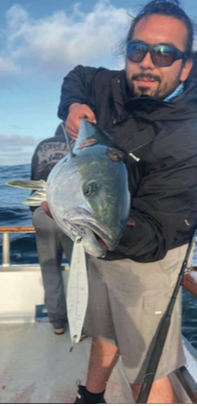 On the Legend out of H&M Landing, their 30 anglers did even better on the bottom,
bagging a total of 250 rockfish. The 'tails, however, proved a bit less eager and just 5 were ultimately put aboard.
As for the 1.5-day boats bound down coast or offshore, the weekend's windy weather farther afield put an end to that option as trips scratched.
Closer to home, the half-day fleet saw whitefish take the top spot from rockfish. Sunday the Premier's 39 fishers found 97.
Aboard the Daily Double out of Point Loma Sportfishing, 20 anglers had 141 whites with 8 sheephead, a sand bass and 11 other bottom types Saturday morning.
The New Seaforth accounted for 120 whitefish along with 22 other bottom fish for 42 that morning. At Fisherman's Landing, the 39 a.m. anglers aboard the Dolphin had a more rockfish-centric approach and ended up with 142.
Up the coast at Oceanside Harbor, Capt. Ernie Prieto was putting the final touches on the Southern Cal. After three years of refurbishment and upgrades, the boat was nearing readiness for sailing. As the Southern Cal neared her Oceanside SEA Center debut, the Chubasco II was headed for haul-out and inspection.
But that's not before finding some local half-day rockfish last week. Thursday morning 17 anglers nabbed 119 cods and a sculpin too.
At Helgren's Oceanside Sea Center, the Electra fished 4 days. Sunday their 38 fishers took home 24 scorpionfish, 10 whitefish and 40 rockfish, including 8 reds.