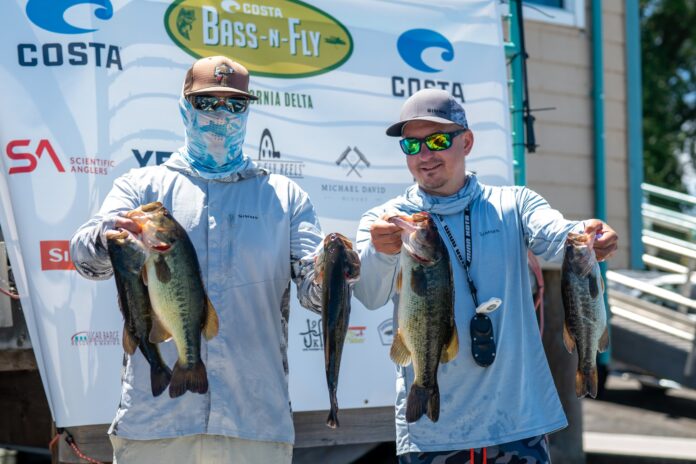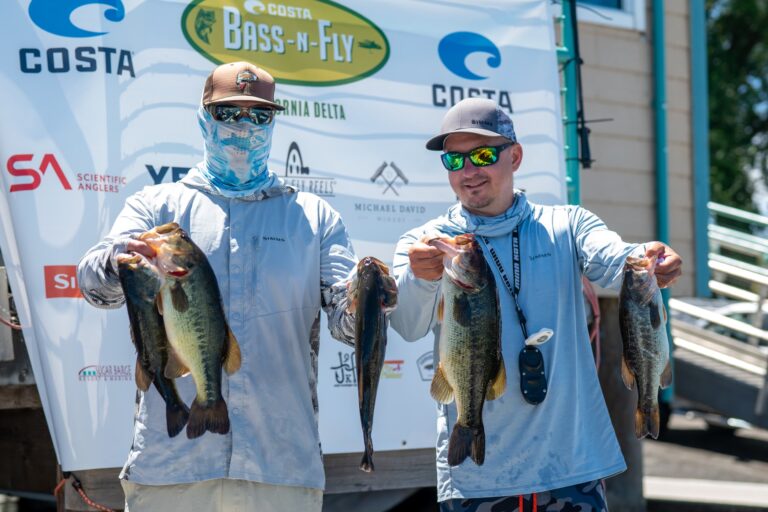 BY CLARA RICABAL
BETHEL ISLAND – After a two-year hiatus, the highly anticipated Costa Bass N'Fly was back where it belongs out of Sugar Barge Marina on the California Delta, drawing serious fly fishermen from throughout the United States. In spite of the brutal triple-digit temperatures, the winning weights from the 40 teams were similar to those in 2019 – John Sherman and Ric Rudgers taking first with a two-day total of 22.37 pounds, and Brian Pultz and Greg Holland taking second with 20.01 pounds.
Sherman said, "We covered a ton of water in the both the central and south Delta as I've learned from pros like Bobby Barrack. Similar to conventional bass fishing, you need to have as many arrows in your quiver with the flies. We fished many different techniques to put our bags together, but the hot techniques were topwater flies in heavy cover. However, we also fished crawdad-pattern in open water and lost a giant on a 9-inch Game Changer Pattern."
Pultz of Delta Bass Bugs added, "We traveled to the middle and south Delta for both days of the competition; mainly looking for the longer outgoing tide. I had found in practice that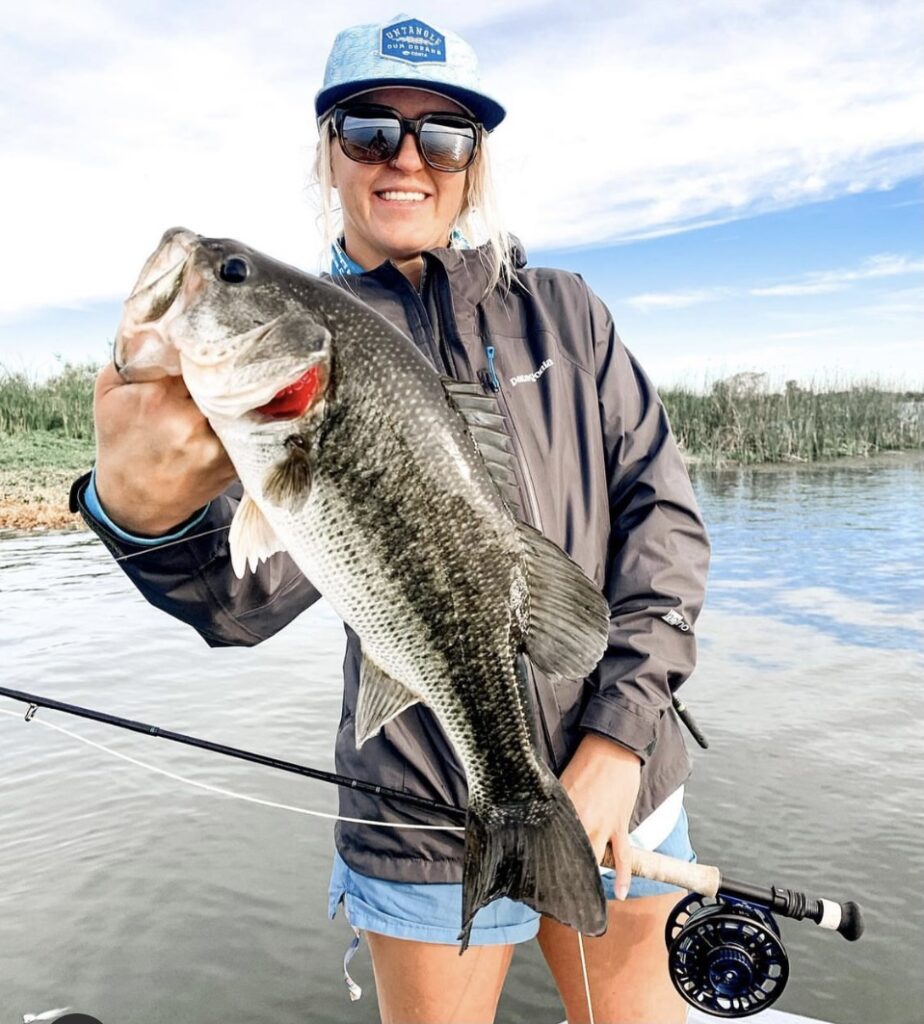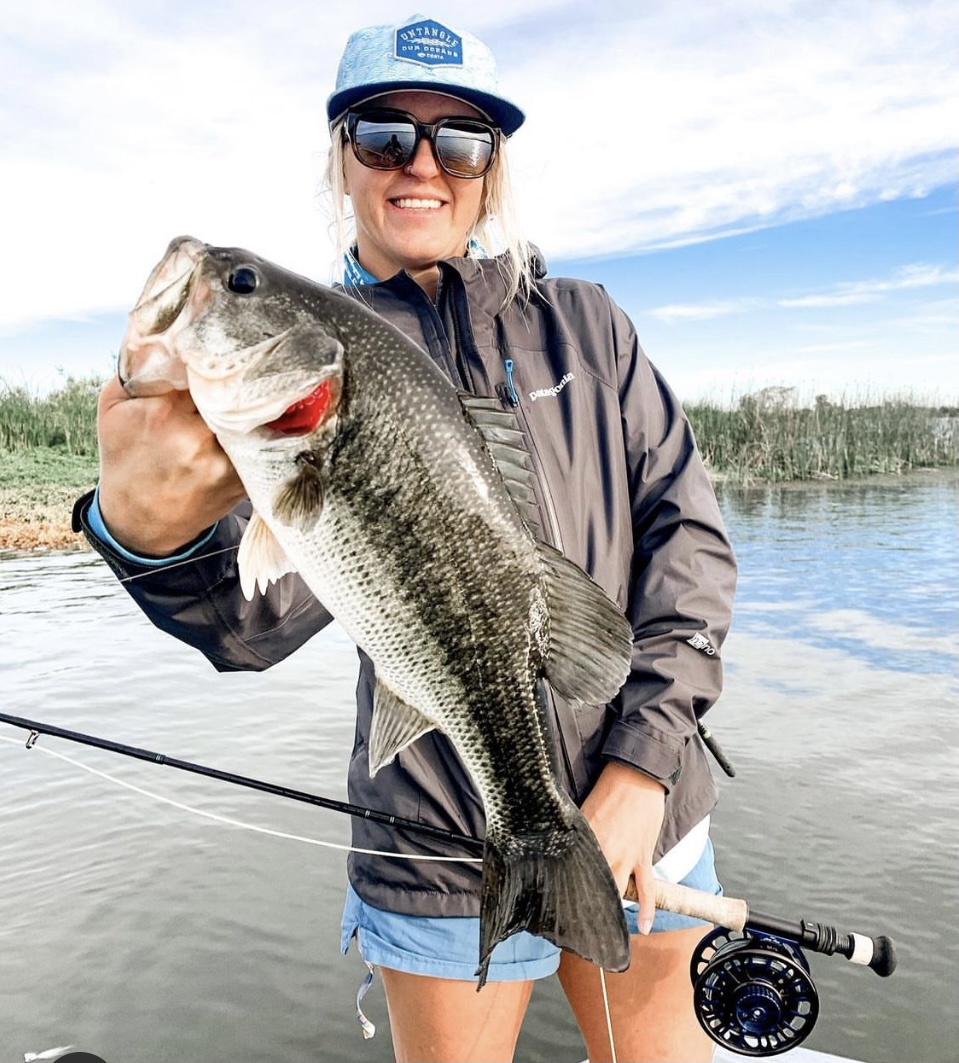 the bite was better on the outgoing tide and the high outgoing was even better yet. During the first day, about half the fish caught were on a shallow Delta Bass Bug's purple/chartreuse Creeper float n' fly rig. The rest of the fish came on a red/white Delta Bass Bug's Softcore Rat as the tide dropped out by early afternoon as held the first-place Day 1 total of 13.54 pounds.
"The second day of competition started out promising with three blow ups on the Softcore rat on our first stop for two keepers. Then we proceeded to go the rest of the morning without another keeper. We managed to pick up two more fish on the purple Creeper float n'fly just before we had to head back in for the day. It hurt a bit ending day two with only 4 fish for only 6.47 pounds, but that is tournament fishing on the California Delta. I believe the real difference between day one and day two was water clarity; the water cleared up overnight giving us another 1 to 2 foot of visibility that we were not expecting. Anybody that knows the Delta, knows sudden changes and water clarity can shut down the bite, and it did that for sure."
Vince Borges of Vince Borges Outdoors teamed with Alex Sanchez in 2019 for fourth at 20.50 pounds, but 2022 was a much different story. He said, "Out of the 40 teams, only two teams were able to weigh in five-fish limits as the bass were hunkered down in the heavy grass with the 100-degree plus heat. The frog-imitation flies were too light to get through the heavy cover, the bass were busting through the mats, but we couldn't get them to stick."
The event is organized by Costa representative and fly-fishing guides Captain Maury Hatch and Captain Noah de Guzman, and is supported by a wide variety of sponsors, including local sponsors The Bank of Stockton, Sonora Fly Company, and Micheal-David Winery of Lodi. National sponsors include Simms, Grundens, Yeti, Fly Fishing Specialists, Scientific Anglers, and Pacifico with their aptly named Clara.
Captain Maury Hatch had spoken to me about this event during the Fly Fishing show I attended in Pleasanton earlier this year. Unbeknownst to many, I had started my fishing adventures in early 2015 with a fly rod. Receiving lessons from Central Coast Fly Fishing shop owner, Geoff Malloway, who even took me to the Merced River to soak in my first pair of Simms waders.
Now, as a nurse, I am known to mend many things at work, but mending a line on the river took more practice than I was willing to put in, and for that I put down the fly rod and stuck with conventional fishing. This year, having joined the St. Croix family, I decided to place an order for a 9-foot saltwater fly rod, as the ones collecting dust at home are for freshwater.
A few weeks prior to the event, Captain Maury contacted me asking if I could hold off on registering as a kayaker, and instead bring my Nitro Z18 bass boat to take a Costa representative who would be flying out from Florida to fish the Delta for the first time and whom had never caught a largemouth bass.
My team partner, a fly fishing guide from Alaska, Nick Jones was ecstatic to partake on this adventure with me. Maury set him up with his personal collection of fly rods and tackle. I brought a few generic frog poppers and crayfish patterned jigs. Not having any time to fish prior to the event, I went to my go-to spots as if I were fishing one of my regular bass tournaments. It was fun trying to convince Nick that in fact, the big ones DO live underneath the heavy cover. I am proud to say that I was able to put him on his first largemouth ever, although far from a Delta double digit.
We both got to guide each other that day. He thought the areas of the Delta in which I took him to were beautiful, and I was in awe of the beauty in his skills with a fly rod.
I look forward to placing the Costa Bass n Fly on my tournament calendar for 2023. Now I just need to visit the local fly shops and start collecting more rods and tackle for my latest adventure… I'm in trouble!