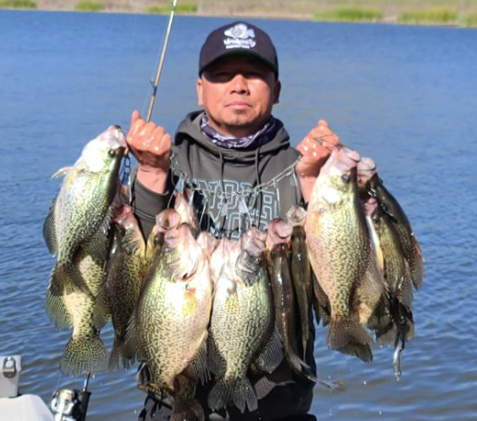 BY MIKE STEVENS
ESCONDIDO – In some fishing circles, the season opener at Lake Hodges is a borderline national – certainly local – holiday, but despite its highlighted status on the calendar, the bass don't always bite like fish that have been left alone for several months. That was definitely the case for the 2022 opener (Wednesday and the weekend), for the bass guys anyway, but that's not to say there was not some productive fishing to be had on Hodges.
"Oh man, it was the busiest opening day ever," said Lake Hodges concession manager, Laina Ruiz-Doan. "A ton of guys caught crappie, but a good amount didn't, and the wind picked up in the afternoon so a lot of people left early."
Escondido angler Clement Miner is not only among the regular-est of Lake Hodges regulars, but he also touches base with Western Outdoor News after each trip. He didn't make it out on Day 1 of the 2022 season, but he was in touch of his network of buddies who were on the lake.
"The reports I received were not good," said Miner. "The usual sticks got zero, one and one fish, so I guess it was real tough. The lake level is very low."
WON Field Reporter Brady Garrett hit Hodges first thing Saturday in a rental boat  with his usual counterpart, "Mexico Joe" Meyers, and it sounded like more of the same for the weekend, but they did manage to boat a couple green ones.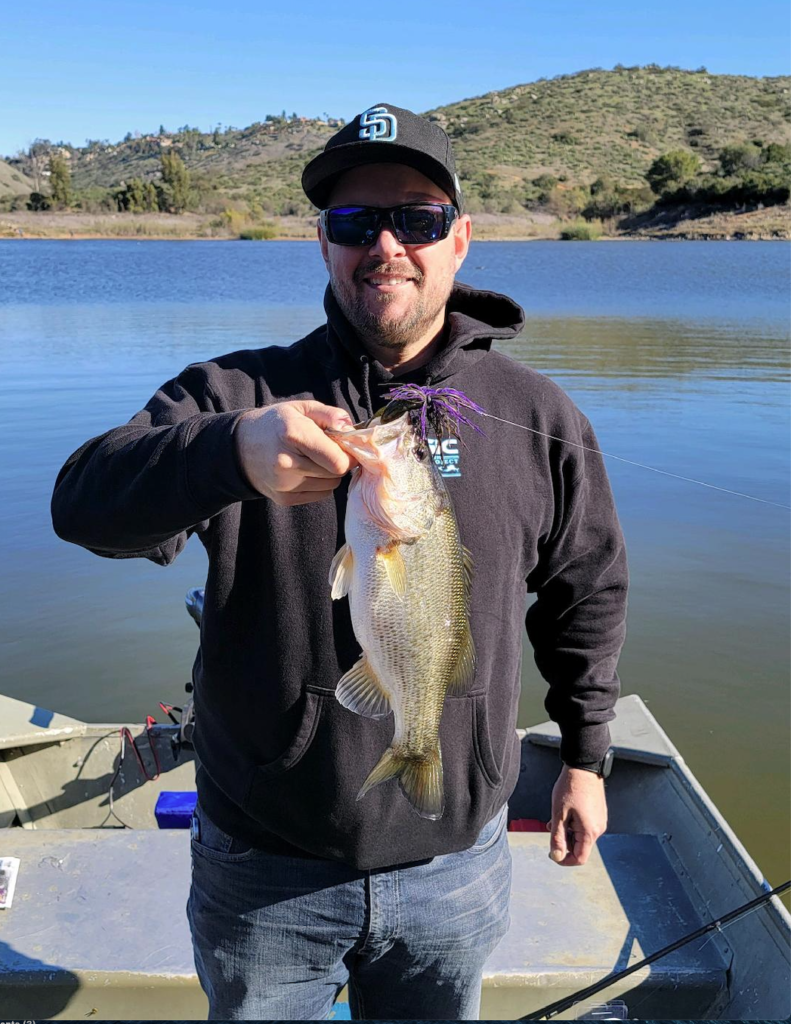 "Ninety percent of the boats and kayaks out here are crappie guys, and their bite is good," said Garrett. "Joe got two on his own J&S Jigs. It's very cold water, and fish are holding in 15 to 25 feet."
Garrett also said it was 33 degrees in the early morning, and he happened to run into Miner who hadn't caught a bass yet. A handful of bass anglers grumbled about how many boats were on the water, while others said unless you had tunnel vision on fishing the Narrows, it wasn't a problem. Garrett had his own theory, suggesting the visual of all the crappie-targeting boats, kayaks and tubes was discouraging enough to keep the bass guys out of the Narrows. However, they were all in open water zeroing in on offshore structure and suspending fish, there was plenty of room to work closer to the banks which is exactly how he and Meyers got after it. Winds picked up again on Saturday afternoon, and that signaled the end of it for them, too.
Despite Santa Ana conditions that are bringing the wind in the afternoons and elevating the daytime temperatures, overnight and early-morning lows have been frigid, and that's what's throwing a wrench in the works at Hodges. It was the same deal last season, but even when numbers were down, the quality started to show up very early and the numbers were back up when spring sprung.
Lofty numbers and slab-status quality was more common on the panfish stage at Lake Hodges on opening week.
"The crappie bite is very good," said Riverside angler Kei Vang. "The fish are scattered, but you can find them (via electronics), you can pick them off one by one and get a nice stringer or a limit. Our fish were nice sized, many between 2.5 and 3 pounds, and most came off jigging with Notorious Custom Jigs. Some anglers caught some while trolling a Rapala."
Vang made the cover of WON last year with a clutch of Hodges crappie, and he works out of a kayak with other 'yak fishermen.
"In a week or two, fish should be school up and the bite should be wide open," said Vang.