New TATULA 300 offers discerning anglers premium performance for fishing big baits
CYPRESS – Just when you thought the in-demand Tatula reel family couldn't get any better, Daiwa unleashes the new Tatula 300, a true 300-size reel for throwing big bass baits. Daiwa's progressive product development team redesigned the new Tatula to bring anglers a slightly larger option perfect for a variety of applications including outsized, deep-diving crankbaits, swimbaits, A rigs, and more. In short, it's the perfect option for anglers fishing large presentations for even larger fish…
What really makes the Daiwa Tatula 300 so special is the inclusion of the T-Wing System level-wind. When you take the reel out of gear it allows for less resistance on the line, allowing the line to cast further. Daiwa's spool lets anglers finely tune the spool tension while the T-Wing System level-wind opens up line feed, working together to cast longer, more accurately, and provide stress-free control when chunking into the wind, skipping baits or casting large lures. The T-Wing System is also very efficient at reducing backlashes on the 300-size reel with large spool. It does this by reducing the angle of the line coming off the spool and spool speed, providing efficient operation unlike anything on the market in this reel class.
The new Tatula 300 also features Daiwa's patented Magforce Z magnetic casting system which is located on the exterior of the reel making adjustments easy to make depending on wind conditions, the rods you're fishing, and overall aerodynamics of the baits you're throwing.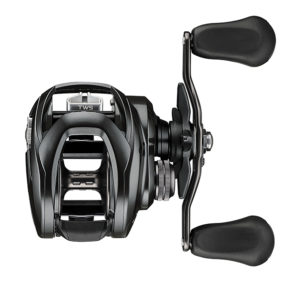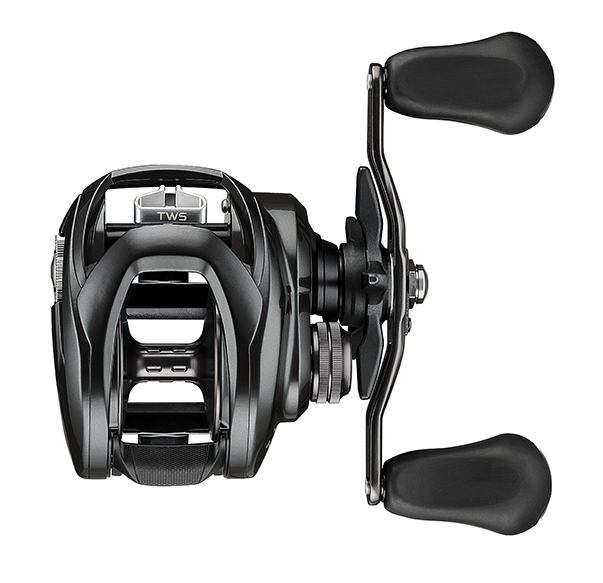 Internally, the reel has much bigger gears for handing big baits and fish, necessitated by the aluminum frame which allows space for the larger gears in precise alignment, and subsequently, much more power and torque. Besides the aluminum frame, the Tatula 300 also features an aluminum side plate. The non-handle side is graphite to reduce the overall weight of the reel.
On the drag side of things, anglers will be impressed with the Ultimate Tournament Drag (UTD™), which offers a truly exceptional amount of maximum drag at 28.7 lbs. Most competitive 300-size low profile reels max out at about 22 lbs.
Comfort is enhanced with Soft Touch handle knobs and a large 110mm heavy cranking power handle which provides a steady grip for all fishing scenarios.
The reel also features a 43mm aluminum deep spool that easily accommodates a full spool of heavy monofilament or braid.
Anglers will also notice how smooth the reel operates, thanks to two corrosion-resistant ball bearings, five regular shielded ball bearings, and one anti-reverse bearing.
The 300 size Tatula is available in Standard (6.3:1), High Speed (7.1:1) and Hyper Speed (8.1:1). And all gear ratios come in both left- and right-hand models.
When you're considering a slightly larger palmable baitcaster, look no further than Daiwa's new TATULA 300…a reel that is set to bring a whole new level of efficiency to fishing large baits for big fish.
TATULA 300 Features:
Aluminum Frame for strength, rigidity and smooth performance
T-Wing System (TWS)
43mm Aluminum Deep Spool
Ultimate Tournament Drag (UTD)
110mm Heavy Cranking Power Handle
Jet Black Finish with Daiwa logo
Available Gear Ratios (6.3:1) (7.1:1) (8.1:1)
MSRP $269.99
For Daiwa's latest color catalog and/or information on Daiwa dealers in your area, call Daiwa's Customer Service Department at 562-375-6800 or e-mail inquiries to: info@daiwa.com. The URL for Daiwa's web site is daiwa.com/us