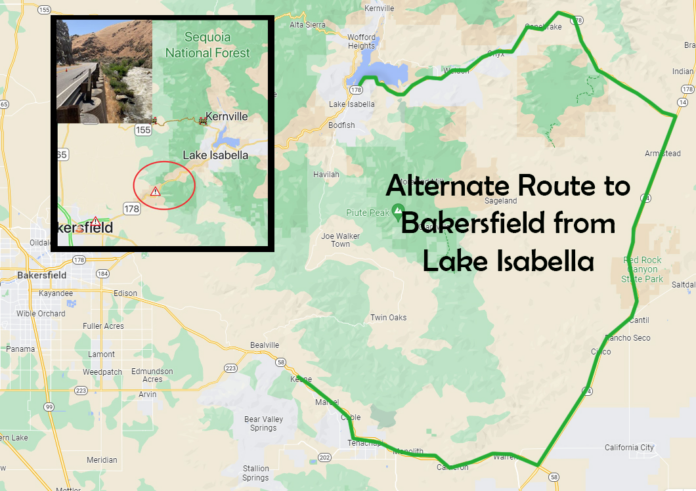 JUNE 4 UPDATE: One lane on Highway 178 opened at mile marker 21. Travelers are advised to allow plenty of time to get through there, or to consider the alternate route. 
BY MIKE STEVENS
LAKE ISABELLA – The California Highway Patrol (CHP) closed Highway 178 last weekend due to damage to the roadway caused by high flows in the Kern River, and there is no timetable for the road to reopen. At the time of the closure, flows in that section of the Kern measured 7,300 cubic feet per second, and those flows will remain elevated as runoff from the record-setting (snowpack) winter blasts down from the high country.
Caltrans engineers are evaluating the situation, and at this point it's unknown as to when this route through the canyon open back up. They are saying it will be "quite some time" and said the best alternate route for drivers heading east is to take Highway 58 east, then north on Highway 14, then west on Highway 178.
Most of the significant damage is in two areas of the westbound lane where large cracks have emerged as a result of the river eroding the earth near the highway.
Lake Isabella has spiked to over 72 percent of capacity, and there are legitimate fishing opportunities for anglers that do make their way up there. The Annual Isabella Lake Trout Derby is going on, and good numbers and quality are showing up for anglers using PowerBait or trolling Needlefish and Berkley Flicker Shads. Bass anglers are finally finding better numbers of fish up shallow where they haven't been too picky on what plastics, jigs or reaction baits they're willing to eat.
Crappie fishing is only fair, but catfish action has been pretty consistent on dip baits, frozen shad and shrimp.