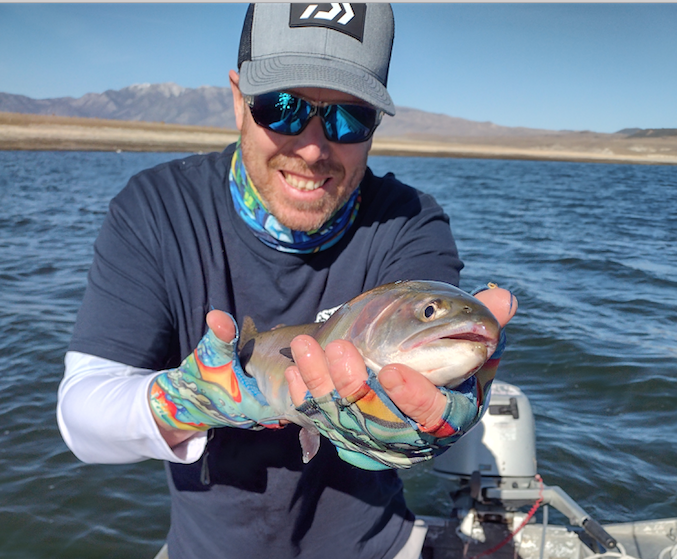 BY MIKE STEVENS
MAMMOTH LAKES – The first winter-type storm of the fall blanketed the Eastern Sierra in a respectable batch of snow to get the first of the final two weeks of the general trout season started. The weather resulted in temporary closures of a few key areas including but not limited to the Mammoth Lakes Basin and Tioga Pass, but they opened back up as conditions cleared up midweek and into the weekend, leaving trout anglers with plenty of options.
            In the Mammoth Lakes Basin, Lake George seemed to be the most productive location with a good number of anglers reporting solid fishing for quality rainbows. Among them was Estevan McDonald of Golden State Fishing (custom baits) who reached out to Western Outdoor News after an impressive showing at George highlighted by a 6.2-pound rainbow he stuck on a Golden State Fishing minijig. Not to be outdone, his girlfriend Jessica Furring stuck a 5.1 pounder on the same bait.
Lake Mary takes the silver this week as far as the lakes in Mammoth. You don't see many anglers setting the world on fire numbers wise, but the quality as very much there. Rick Flamson of Rick's Sportcenter in Mammoth Lakes had a customer pick up some nightcrawlers only to return from Mary a half hour later with a trout that tipped the scale in front of the shop at 5 pounds even. There's been a flurry of trout reported from there on up, and turns out, it's for good reason.
"The Mammoth Lakes Basin was stocked with a ton of 3- to 8-pound trout, and Mary got the most of this last big stocking of the year," said Don Barrett of Lake Mary Marina. "There's still plenty of water, and fly fishing has been excellent with golden Hornberg streamers with a beaded Copper John trailing. Slow retrieves with small jerks at the beginning."
Barrett said Powerbait is also working well around the inlets and outlet and brook trout are also showing up, which is another bonus that comes with Sierra fishing in the fall months. Water levels in the Mammoth Lakes Basin are still decent, but at Twin Lakes it's low enough to where a lot of the lake's weeds are matted on the surface making fishing difficult most spots, but that's typical for this time of year.
Crowley Lake was at risk of having to shut down the launch ramp as the LADWP continues to draw the lake level down, but it remained manageable enough for the crew at Crowley Lake Fish Camp to make the call to keep it open for the remained for the season. The ramp is barely reaching the water, so private boaters should still be careful when launching.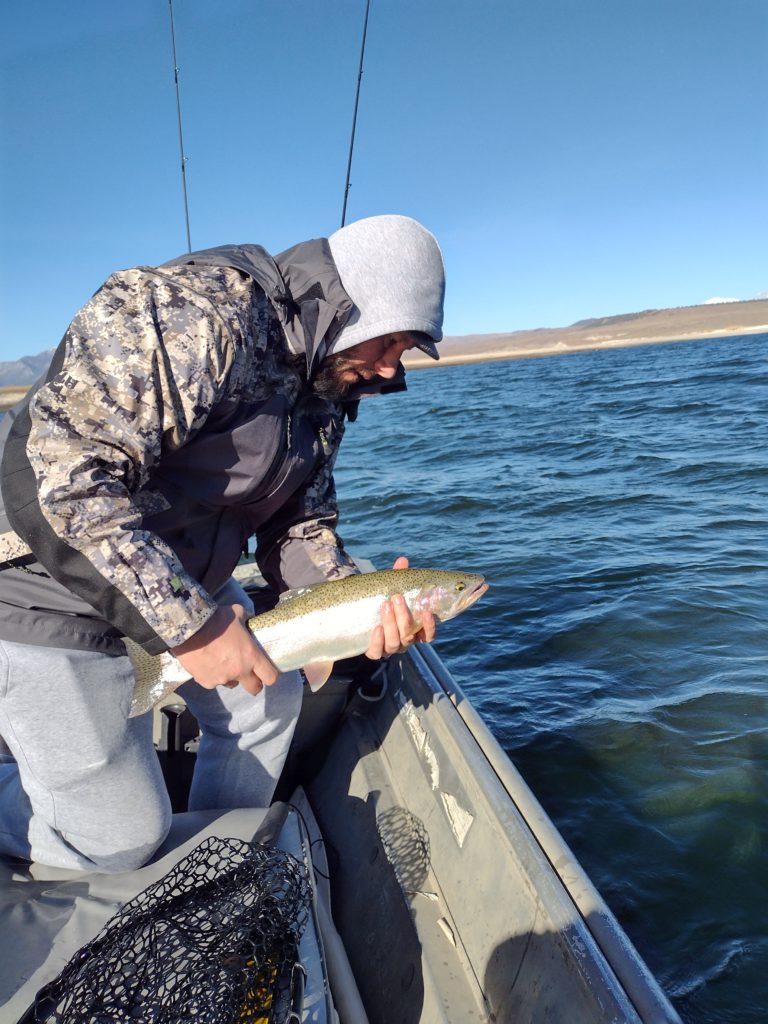 Bonsall angler David Clay told WON he and his buddies trolled their way to 24 trout to 23 inches spanning Friday afternoon and all day Saturday. He was top-line and leadcore trolling with Thomas Buoyants, Panther Martins, Rapalas and Tasmanian Devils, and their catch consisted almost entirely of cutthroat trout other than a small brown and a pair of rainbows.
I was out there on a rental boat all day Saturday with Taylor Miller of San Marcos, and we caught a couple quality rainbows (they were the biggest of the day) to go along with a handful of quality cutts and a 14-inch brown. Sticking to my lifetime refusal of trolling (despite it's incredible effectiveness at Crowley in particular), we stuck to chucking heavy metal like we did last October and grinded it out for about a fish an hour. This year, Thomas Buoyants in frog and a variety of the WON-exclusive colors (red/gold/yellow, yellow/green, red/yellow/green) that anglers get their hands on at WON trout events, and Miller got a couple on his go-to 1/4-ounce Krocodile.
Most of our fish came from the North Arm offshore of North Landing, Six Bays and Alligator Point which we had essentially to ourselves from 8 a.m. until the whole trout navy showed up when it warmed up a bit after 9. At one point, no less than 40 boats and as many float tubes and kayaks worked the North Arm, and about 90 percent of them were piled up off of Six Bays. Our final flurry of biters consisting of both rainbows and Crowley cutts came in the final hour of the day in Hilton Bay.
Crowley shuts down to boating and even driving past the gate on Halloween, but anglers can still walk in and fish from shore until when the general trout season closes on Nov. 15.
WON had contacts that fished Rock Creek Lake multiple times toward the end of the week, and they said fishing was slow with only a couple small DFW rainbows to speak of, but it they did find decent brook trout fishing in the creek itself. Convict Lake was a little better overall, but still only fair at best although the weather did keep fishing pressure very light for a few days. Convict does a lot of its own stocking of quality fish, and it typically finishes the season strong so it's still worth a visit between now and the end of the season.
Down in Bishop Creek Canyon, South Lake is extremely low but fishing remains dependable. Brian Stevens of Escondido and Dave Robinson of Temecula reported above average fishing for rainbows that were willing to eat Thomas Buoyants thrown from shore from Boiler Cove to around the back of the lake which is now a much shorter walk than in most years due to the low water levels. Both forks of Bishop Creek have been producing stocker rainbows, small brown and brook trout for fly fishermen and ultralight anglers alike. Local guide Fred Rowe said the South Fork is kicking out all three species on dry flies and nymphs with "perfect fall colors" providing a stunning backdrop.
Rounding out the "Rowe Report," he also said fish from Crowley Lake are staging a the mouth of the Upper Owens River in preparation for their upriver spawn migration, and some of those fish are already being found in deep holes or runs between there and the "Fishing Monument" making this an ideal stretch for targeting trophy trout.
Above Benton Crossing in the fly-fishing-only section, fishing for the bigger trout has been tough according to Rowe, but he expects it to improve as more of those Crowley fish move upstream. Right now, he recommends a meat-and-potatoes approach with egg or worm patterns along with a variety of classic nymphs weighted and fished close to the bottom.
In Hot Creek, bug slingers can sleep in as the better bite starts at 9 or even 10 a.m. when it warms up a bit, then it's trico, gray caddis and blue-winged olive hatches between then and 2 p.m. Some anglers are getting grabs on flies drifted in the narrow slots of open water between the weed beds.
The June Lake Loop remains wide open to fishing until the general season closer, and quality and quantity is available throughout the zone according to Jeremy Ross at Ernie's Tackle in June Lake.
He told WON fishing has really taken off at June Lake for trollers, casters and bait dunkers with garlic Berkley Pinched Crawlers, white Mice Tails and nightcrawlers all working for the latter.
Ross said limits are common at Gull Lake which also kicked out a 9.2 pounder for a lucky angler. He didn't hear what the biggie ate, but he said salmon peach and orange PowerBait has been working well there along with white Mice Tails and Woolly Buggers for long-rodders or on a fly-and-bubble rig.
Sunday was the last day for boats on Gull, Silver and Grant Lakes, but fishing is decent at all three. "Anything garlic" is fooling trout at Silver Lake along with Rapalas, Panther Martins, Woolly Buggers and red-gill Matukas according to Ross.
At Grant Lake, silver Rapalas, Kastmasters, Copper Johns, Pheasant Tails and Hornbergs are getting the job done. This is all intel from Ernie's Tackle, and stopping by the shop to get the scoop is a good idea any time of year for an angler fishing the June Lake Loop.
Moving up the hill, Tioga Pass opened up early in the week, and WON staffer Ernie Cowan able to pick off some Tioga Lake brook trout with his fly rod. Beyond that, it's been slow at Tioga, Saddlebag and Ellery Lakes, but some nicer rainbows are coming out of Lee Vining Creek in the valley at the bottom of the pass.
Facilities have shut down for the season at Virginia Lakes, but there is still fair fishing to be had. Float tubers, waders and kayak fishermen on Little Virginia are getting into 1 to 3 pounders on minjigs and streamers. On Big Virginia, the bite is slow for the most part, but Brian Stevens stuck a nice rainbow on a Rapala thrown from the back side of the lake, and some quality (but not numerous) brook trout picked up jigs crawled along the bottom through the boulders offshore of the bank just past the inlet.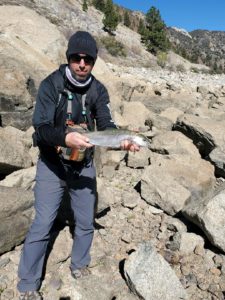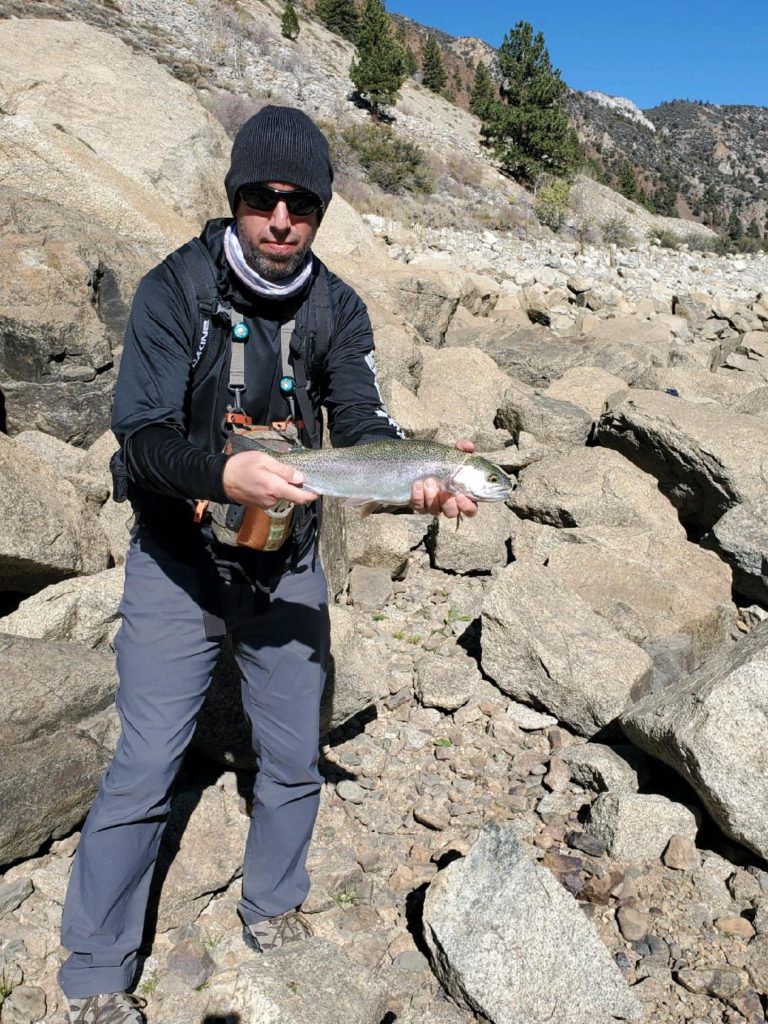 Nearby Lundy is very low and receiving little angling pressure, but Stevens was able to stick an above-average rainbow there along with some smaller models on a Thomas Buoyant while other anglers in his group got a couple each on PowerBait, a Panther Martin, Tasmanian Devil and a brown on a Sierra Slammers minijig in the Grasshopper color.
Over the hill in Bridgeport, Twin Lakes is kicking out troll fish on Rapalas, spoons and Tasmanian Devils while bait fishermen are doing well on Mice Tails and Pinched Crawlers. Bridgeport Reservoir has been good from boat and shore according to staffers at Ken's Sporting Goods. Trolling with Rapalas and Speedy Shiners and anchoring up with the same bait options along with live nightcrawlers is getting the job done on the reservoir.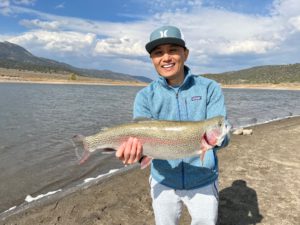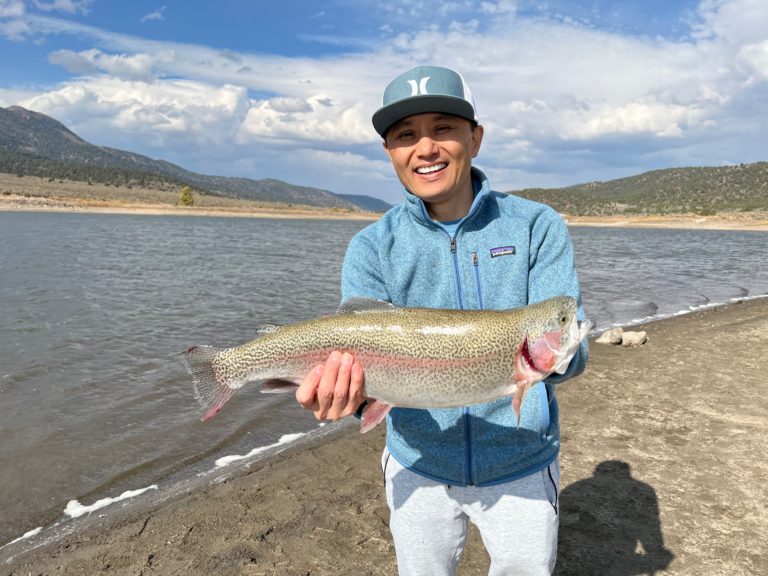 The guys at Ken's said, "The East Walker is running at about 29 cfs right now, and the fishing has been pretty good, mostly nymphing and a little bit of streamer action. With the colder weather it's no longer necessary to get down there really early and you can certainly fish throughout the day without any worries about water that's too warm."
They recommended the following patterns for an East Walker River fly arsenal: Sculpzilla, Dead Drift Crayfish, Ziwi, Zuddler, Double Bunny, WD-40, Perdigon Nymph, Zebra Midge, Silver Streak, Rainbow Warrior and Pheasant Tail.
The storm that temporarily limited access to the drive-up lakes shut down a lot of the backcountry access even within day-hike range. For example, on the Duk Pass Trail out of Lake Mary, anglers could hike to Arrowhead Lake, some struggled in deep snow to get to Skelton Lake and heading up from there was futile. Just something late-season trouters should keep in mind if hike-in fishing is on the radar.
EDITOR'S NOTE: The arrival of fall in the Eastern Sierra also means the migration of fall-color photographers is full speed. You know those electronic signs on trailers on the way up reminding us when the deer migration is going on and to watch for them crossing the road? Well, based on what I saw up there between Bishop and Bridgeport over the weekend, I think those signs should also warn drivers of photographers crossing the road. You can count on it. If you're driving a stretch of road leading to a lake or otherwise with fall colors blowing up all around you, there are going to be photographers along, crossing or even standing in the middle of the road. Keep an eye out for them, as running into one would put a damper on your fishing trip.