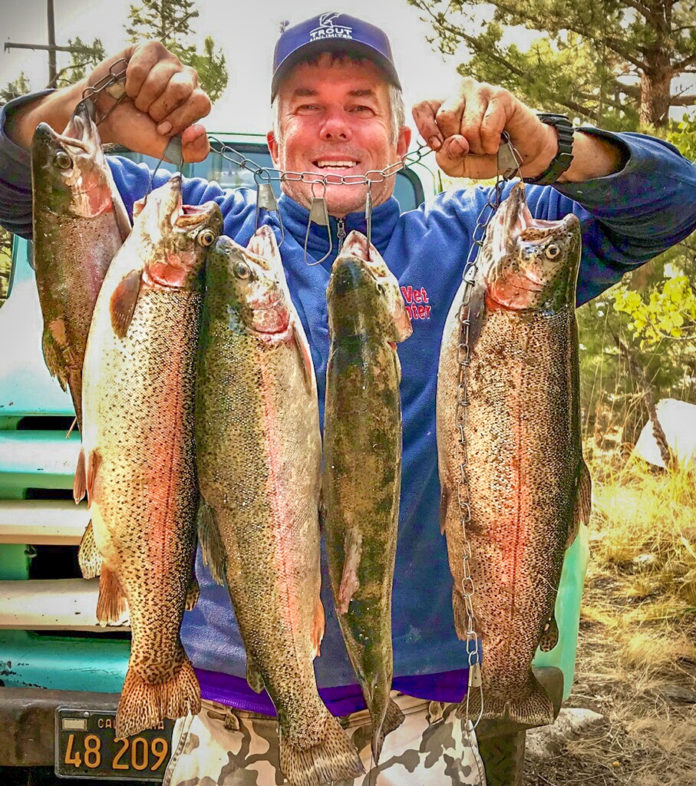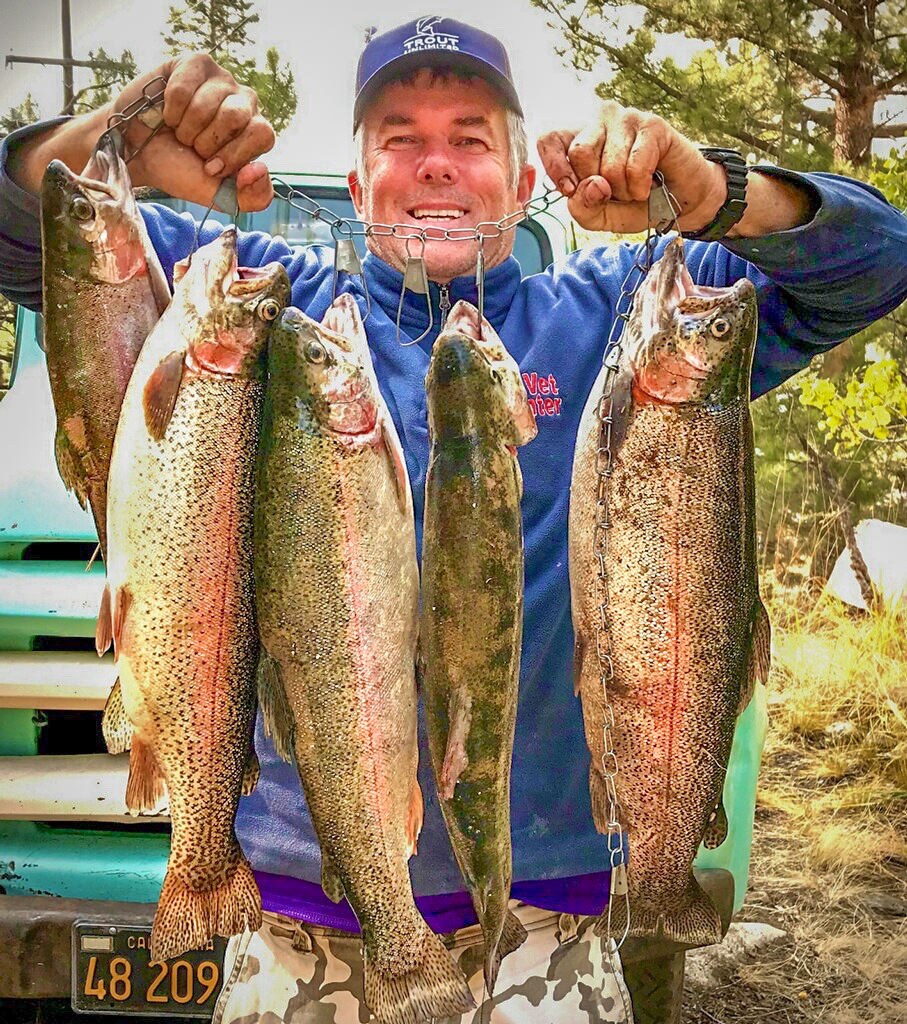 BY ERNIE COWAN
MAMMOTH LAKES — With the lack of storms, few anglers and Sierra waters stocked to the brim with trophy rainbows, the final week of trout season promises to be spectacular as big fish dominate the bite.
The only thing better would be for the monster browns to start biting before the clock on the 2020 season runs out. So far, that has not happened.
As everyone knows, 2020 is a year most of us would like to just write off, but for trout hunters, the negatives have produced some positive outcomes.
Early in the season, disease struck state hatcheries and things looked bad for Sierra trout fishing when it was announced that three million fish would be destroyed, essentially ending stocking for the season.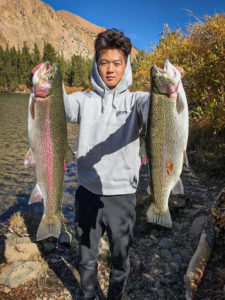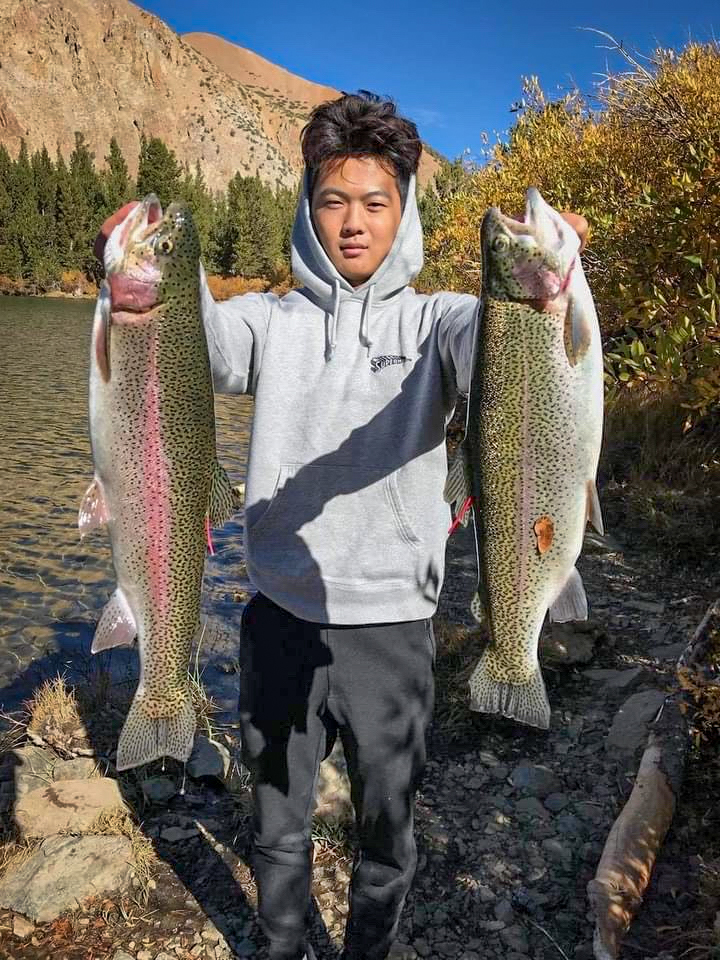 But that was not acceptable and the landings, lake operators, local merchants, trout foundations and Inyo and Mono counties rallied to purchase a steady stream of 3- to 10-pound rainbows from Idaho and Oregon to be stocked throughout the Sierra.
Yes, 2020 was different. The lack of pan-sized stockers required anglers to change their tactics. The bigger rainbows were going deep because this was also one of the warmest summers in recent years, and that required different tactics and finding the right spots to connect.
The arrival of fall weather, however, has flipped the switch. The bigs came up from the cooler depths and are feeding aggressively as they prepared for the coming winter.
Robert McClure from Fallbrook down in the San Diego area certainly took advantage of the conditions this year.
He fished Lower Twin Lake in Bridgeport last week and came in with an amazing stringer of five fish totaling 36 pounds and included three hawgs over 8 pounds, a 7-plus and a tiny 4-pound rainbow.
The story was the same from Bishop to Bridgeport.  While most landings are now closed, waters remain open and accessible to anglers because there has been no significant snowfall so far this season.
If that pattern holds this coming week, anglers should continue to find those bigs on the chew.
Access to waters in the Mammoth Lakes Basin is still good, and the big fish are as active there as anywhere. Lake Mary has been an incredible hot spot, but Lake George is not far behind, and Twin Lakes has been producing some larger brook trout.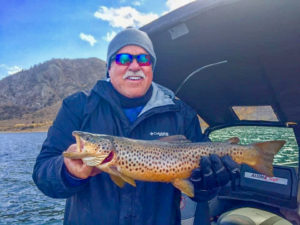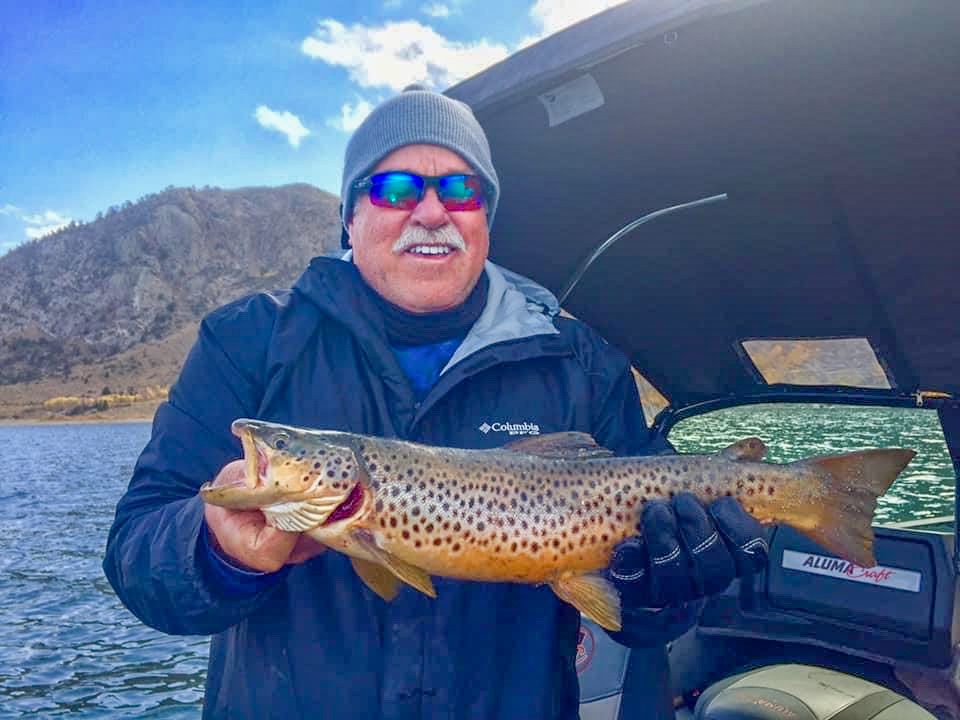 One issue to be aware of in Mammoth is the bears. They are looking for easy meals as winter approaches and several anglers have reported having to grab fish and run as the marauding bruins wander the shorelines looking for fish.
That's not a big deal if you have a stringer of pan-sized rainbows, but with the bigs being caught now, anglers are a bit more intent on keeping their catch.
The guys at Rick's Sports Center say the basin bite has been spectacular, with 6- to 7-pound fish almost a daily thing. Check in with Rick's for the latest info on what lures/bait is working.
All services are now closed in Bishop Canyon, Rock Creek, Crowley Lake, but waters are open to fishing as long as storms don't hamper access.
Before closing for the season, Jared Smith as South Lake Landing said anglers willing to make the short hike to the back of the lake can expect to connect with some monster rainbows.
"We've been well stocked with rainbows to 10 pounds and many of them are now staged just offshore at the inlets where food washes in," he said.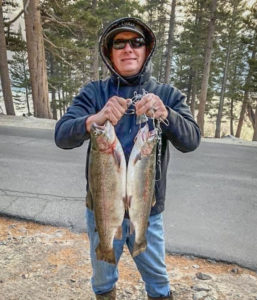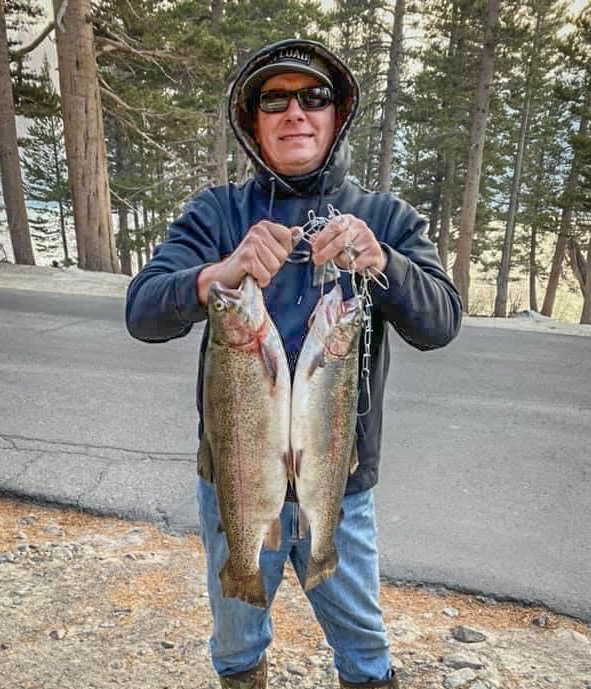 That's likely a similar story at Lake Sabrina when most of the last season trophy rainbows that were stocked have yet to be caught.
Rock Creek, Rock Creek Lake and the wild lakes beyond road's end should all be wide open right now as fish feed eagerly.
Convict Lake remains open until Nov. 15, and the story there is similar with lots of big fish now feeding.
The final week of the season often sees some monster browns showing up in the June Lake Loop. While most services in the loop are closed, there is plenty of water open to fishing, including, the outlet from Silver Lake into Rush Creek, Rush Creek and Grant Lake, all areas holding some nice browns.
Guide Dan Lengning said the bite from browns to 22-inches has been excellent as cooler waters stimulate the action. Trolling a Rapala, Needlefish or nightcrawler is a good bet.
Jeremy Ross at Ernie's Tackle and Ski said creek waters are still a bit warm, and that has delayed the move of brown upstream from Grant. If colder weather hits this week, there could be another double-digit brown pulled from the creek.
June Lake is not only stocked with Idaho and Oregon rainbows, but trophies raised in pens right at the lake.  Along with the big cutthroat that the lake is known for, there could be some exciting action this next week.
Bridgeport Reservoir promises to end the season with a bang. Jim Reid at Ken's Sporting Goods said some larger browns are being caught, along with big rainbows and even a few big perch.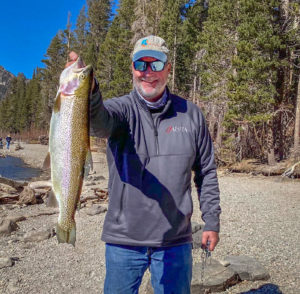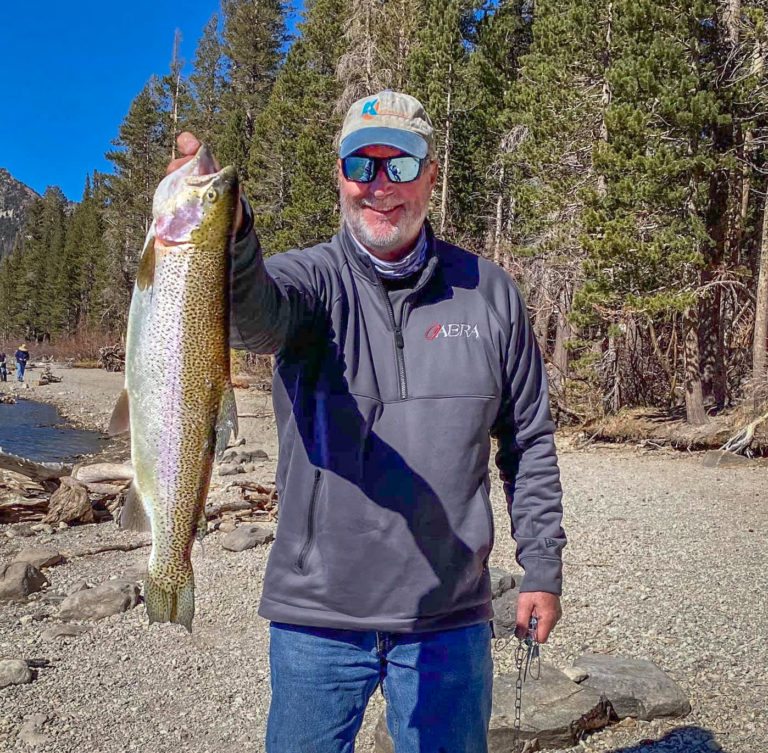 "Trolling has been the best method lately with Speedy Shiners, Thomas Buoyants, Rapalas and crawlers all doing well," Reid said.
Services at Upper Twin Lake are now closed, but Twin Lakes Resort at Lower Twin remains open until the season ends on Nov. 15.
As mentioned earlier, the bite has been spectacular there, and even those "Brown Baggers" who specialize in fishing for monster browns are lurking in hopes that the fall bite will trigger before the season runs out.