BY DYLAN DEPRES

The June 17 WON Charter aboard the Fury was our second trip of the year aboard the boat. This one, timed late spring, was destined to connect with white seabass, yellowtail, and summer-style fly-line fishing for miscellaneous surface fish. Anglers boarded and were given WON Supply packs; Froggtoggs Waterproof drawstring bags, Gamakatsu hooks, Hi-Seas leader and terminal tackle, and coupons for 50% off a 1-year subscription to WON.
We started our day early fishing the squid beds. Capt. Bailey suggested a short dropper loop with a 6-ounce sinker and 3/0 hook, with loop approximately 24" above sinker and 6" in length. In the dark, we were greeted with a pick at all legal barracuda. A dozen or so made it over the rail, with just as many swallowing hooks deep and breaking lines with their sharp teeth.
After a dark-to-greylight soak in the deeper water we pushed shallower for the remainder of our early morning. Almost immediately after the move, angler Steven Odisho boats his first-ever yellowtail – a nice 20-pound model on the short dropper loop and live squid. Anglers worked hard, trying for more yellowtail or hopefully a white seabass.
Then, in the bow, WON charter regular Javier Cortez Sr. hooked up and made short order of a nice 15-pound white seabass! As 20 or so minutes passed on the shallower spot, some surrounding smaller boats caught yellowtail and white seabass. We'd give it a little while longer and without any more action we push on to the area where more yellowtail and surface critters could be caught.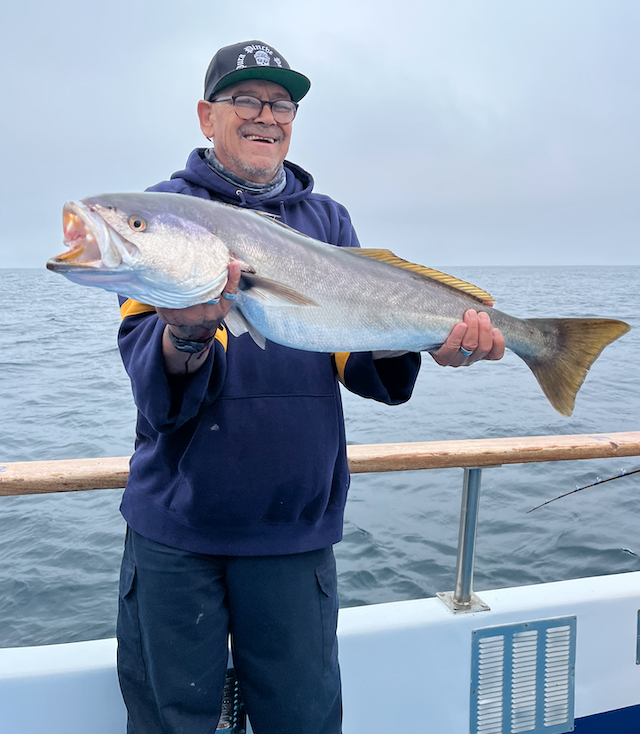 "A stack of fish just swam under the boat," said captain Marcus Bailey over the PA. And as if on cue, bendo in the stern! Angler Nathan Barba was connected with a gamefish running high in the column, characteristic of the elusive white seabass. Taking his time and gaining ground, he works his fish in. Gaff! It's a beautiful 25-pound grade ghost. Nathan's trip from AZ to Dana Point was worth it and some!
Mid-morning crept on and Capt. Bailey instructed us to re-rig to fish the surface. "The yellowtail we caught yesterday were all on fly-line sardine," he says, "however, a surface or yo-yo iron is a good bet, too." Further, 30-pound test line with fluorocarbon and a larger 2/0 hook was the suggested rig. A couple of early kelpline spots were pretty dry on the surface biters, but anglers found willing sheephead on the bottom. Third stop in, summertime fishing began.
Bonito boils way on the outside, and soon, they latched onto the long-casted jigs! Bounce. As morning pressed on, fish became more willing to jump around closer to the boat and we started to pick at calicos and bonito on flyline baits. The ratio for keeper bass was about 50/50 and the bonito ranged from 2 to 6 pounds with plenty of biggies.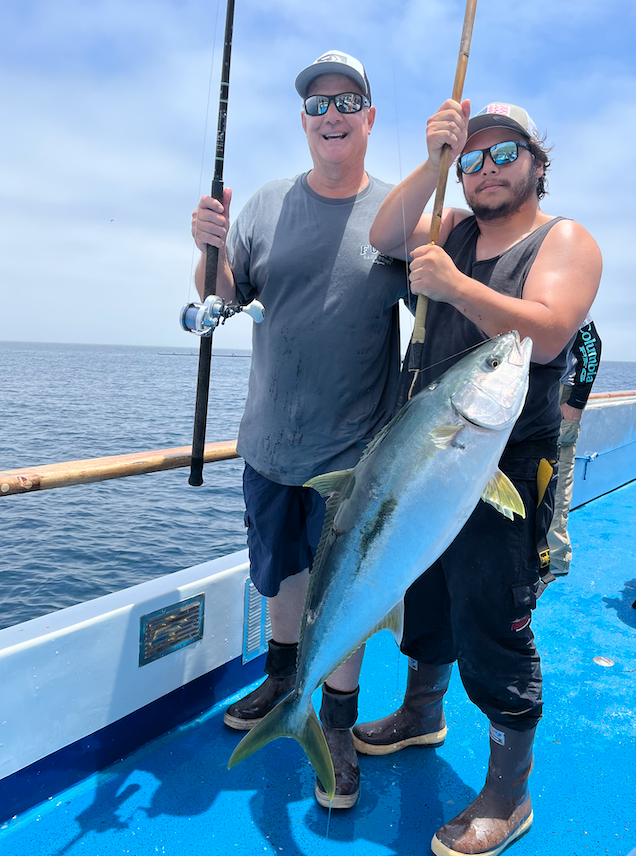 The fishing busted wide open, 3 or 4 stops in, with no sea lions on us at all. We had 30 minutes of a bite-a-cast fishing, with more bass, bonito, and now short barracuda. If a sardine in the water didn't hook a fish, it at least came back to the boat shredded or crushed.
Then, angler Don Miller hooks up to the right kind! An experienced angler, he follows his fish and works it under other anglers' lines. Deckhand Tony Andraca lands a headshot gaff on a beautiful 25-pound class yellowtail.
Anglers throwing surface irons and little shiny jigs had nonstop action on mixed-size bonito and bass. Flyline baits hooked the occasional yellowtail. On the hot and heavy stop we landed another yellowtail, a little 5-pound cutie. We'd tag and bag a bunch of fish here from late morning through lunchtime before Captain Bailey moved up the island to search for more yellowtail.
It was our last leg of the trip, and the conditions to get our bite going seemed to be improving. The next spot offered more of the same – bonito crashing all over and soon, more yellowtail were hooked! These were midsize island fish (10 to 15 pounds), all being hooked on flyline sardine. The jig guys kept the fish honest and gave it a strong effort, for not much in terms of yellowtail.
Boiling and biting fish and great weather kept our group well entertained for the afternoon. Plenty of willing biters jumped on hooks and were tagged up. Those who didn't catch a trophy were still rewarded with great fun surface fishing and many asked about next year's trip aboard the Fury, but until then this adventure was concluded.