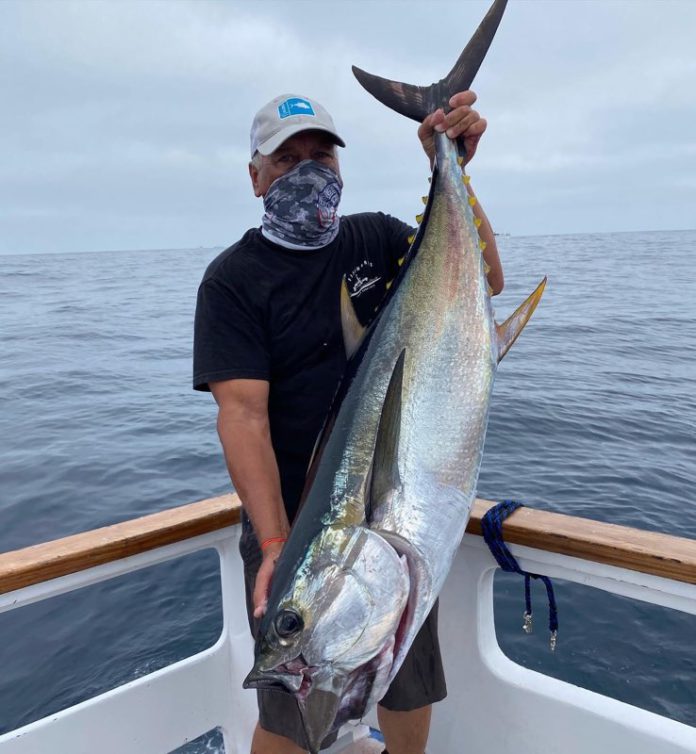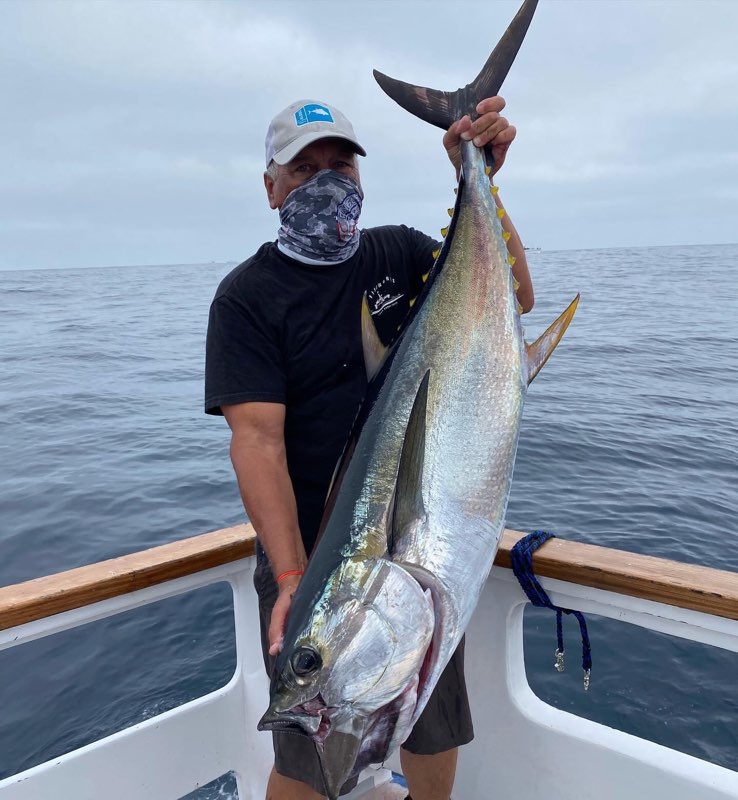 BY ROBERT TRESSLER
Lori Heath and I went on a 2.5 day charter with the SoCal Sportfishing club recently. To say the least, it was a great trip for all aboard!
We arrived at Seaforth Landing Friday evening to check in and were wondering what the game plan would be for us. We knew fishing for bluefin tuna was the preferred agenda, but information at the time was a bit slim, as most of the sportboat focus had been on the outstanding dorado and yellowfin tuna bite going on down south/west.
We had our briefing meeting with Captain Andrew Viola, and the plan he mapped out was to head to San Clemente Island Saturday where bluefin had been seen for the past several days in hopes they would bite and then target the dorado and yellowfin tuna on Sunday since the bluefin zone would be closed by the Navy that day.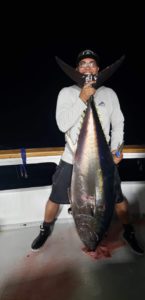 The recommendation was to rig up a variety of setups for the bluefin, including a 20- to 30-pound fly-line set-up since much of the tuna being caught was the smaller grade, ranging from 15 to 25 pounds, and have some heavier setups of 40 to 80 pounds just in case we ran into bigger fish.
Saturday morning dawned with mild conditions. We marked a couple of schools, and when chum was thrown the tuna boiled up around the boat and the whoops of anglers hooking up on fly-lined bait were heard. There were some casualties because the fish were bigger, running from 35 to 50 pounds, and anglers using 20-pound topshots had a difficult time with some losses.
I used 25 -or 30-pound fly-line setups with a 1/0 or 2/0 circle hooks on most of the trip for my fly-line setup, although at one point when it went wide open I got bit on 40-pound. As always, if you had a hot sardine that swam away from the boat, you got bit.  In short order Lori and I were hooked up and this continued throughout the morning for the group, decking bluefin in the 35- to 50-pound class as well as some 40- to 60-pound class yellowfin tuna.
I have to say, there's nothing like lobbing out a hot sardine and feeling that "tuna thump" when you're bit and line starts racing off your reel! The boat was constantly hooked up with one to four fish and the fights and landing of the fish went smoothly, a real credit to the anglers aboard and the alert crew.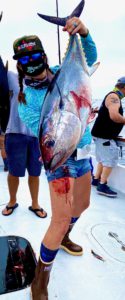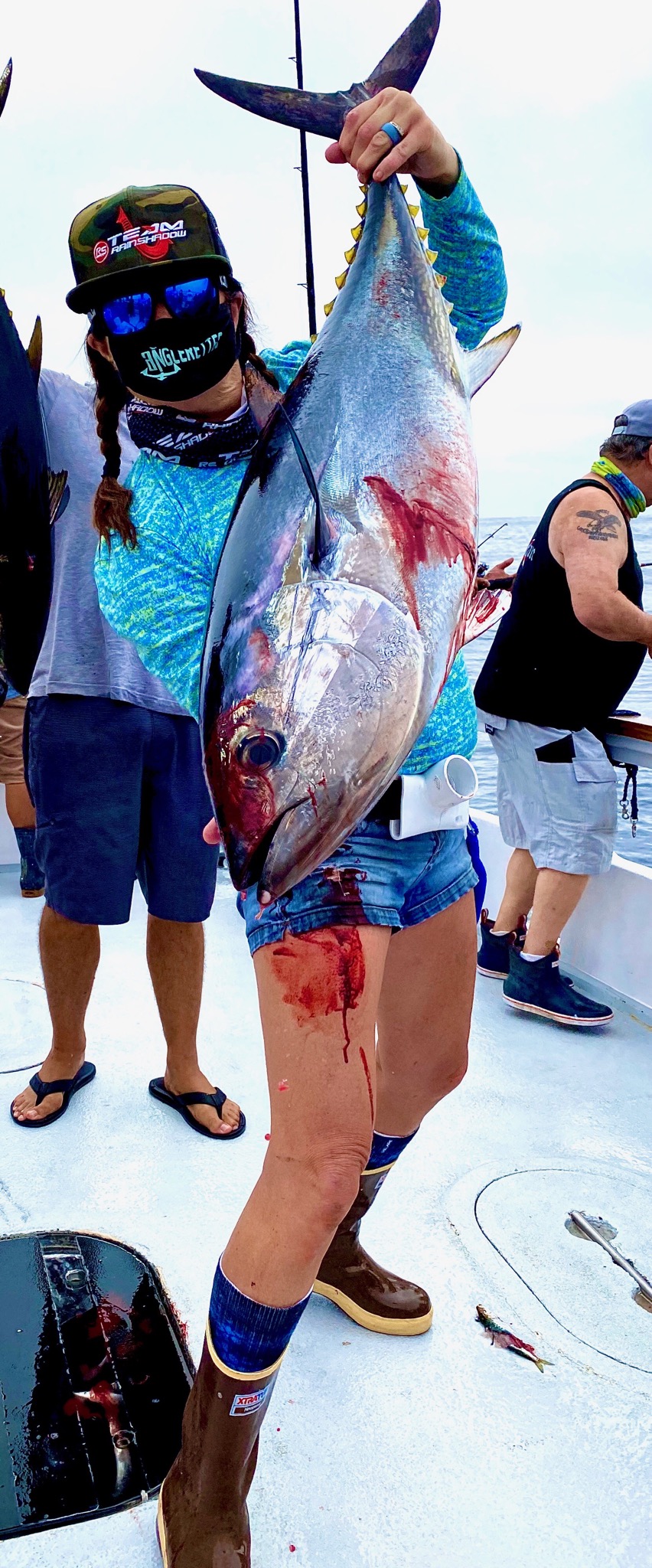 While there were casualties, everyone was happy and enjoying the fishing. We settled into a long drift as schools swam through on a plunker bite for a couple of hours. It was just the right pace, not so slow you couldn't expect a bite, but not so hot that mayhem ensued. Easy first day bluefin limits were reached with a couple of nicer grade yellowfin tuna in the mix. I was fortunate enough to land a yellowfin that weighed 55.7 pounds on digital scales on a 30-pound fly-line setup and suffice to say it was a real workout.
Around 2:00 p.m. we got the notification from Andrew that the Navy had ordered us to vacate the area, so it was decided to check out a new zone to the northwest. After motoring for a couple of hours, we started marking fish again and the bite slowly picked up to a steady plunker again for us with a similar grade of fish. Whenever the bite slowed, our captain would say he was going to give it 5 to 10 more minutes and then we'd have to go. For the duration of the trip, every time he said this, within 5 minutes someone was bit and the bite was off and running again!  Too funny!
We started marking fish deeper, with no luck on the fly-line, so I put out a 40-pound sinker rig and within two minutes was bit! Others quickly changed over and we had a steady sinker bite going with some fly-line action starting up as well. By evening, folks were starting to relax to enjoy dinner, and Andrew was driving around looking for some larger fish. When he said he was marking fish at 240 to 300 feet, I dropped a 350-gram Flat-Fall on my 100-pound rig, and on the third drop got hammered hard. This was a better fish. Andrew estimated it at 100 to 130 pounds, but the hook pulled at color with two gaffs waiting. That's fishing!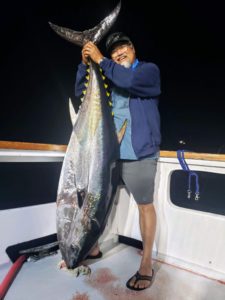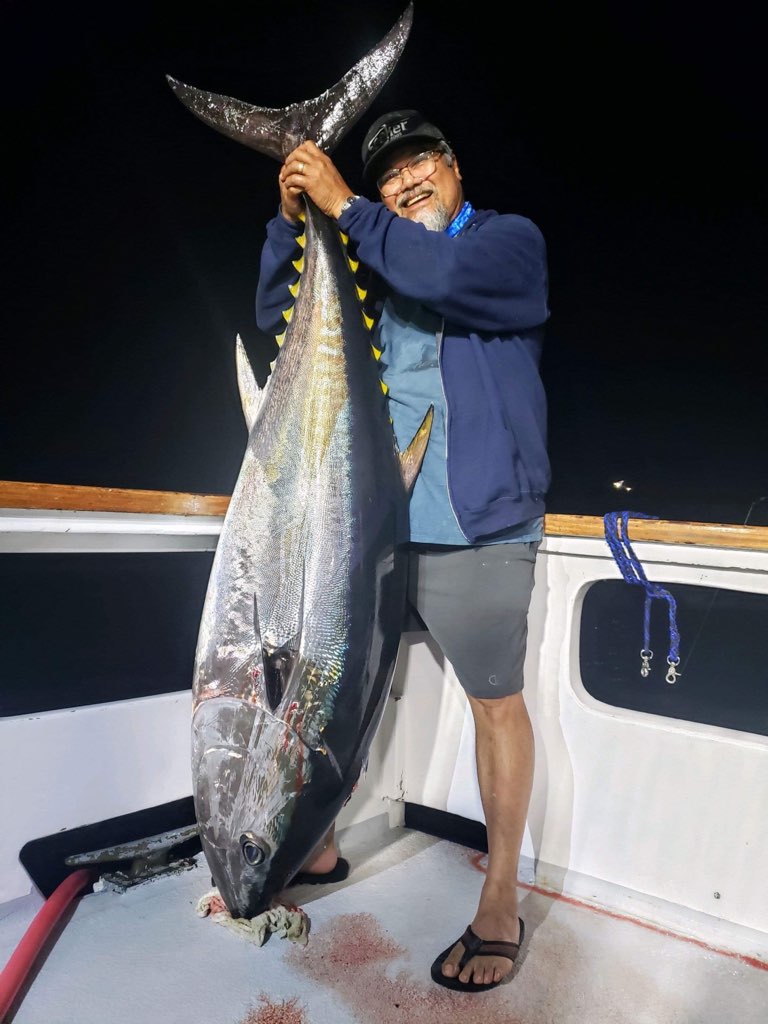 However, this was a good foreshadowing of things to come the next evening. It was decided stay in the area and not chase the dorado and smaller yellowfin further south. That ended up being a great call. Sunday morning we drove around looking and the ocean turned to sheet glass. Bright sunshine, crystal clear water and fish all around us. Near noon we had an OMG moment. Breezers of tuna were popping up in all directions around the boat. We pulled up on the first two but no luck, as they sunk out and we could not get them to bite. The third one was the charm though, exploding on the chum which resulted in quick hookups for multiple anglers. These were the smaller grade fish, ranging from 15 to 25 pounds, so folks started using 20- to 25-pound fluoro fly-lined baits.
Losses started to happen, as there were larger 40-plus-pound bluefin and yellowfin mixed in. Lori and I were doing hook and hands and hoping for yellowfin to bite our set-ups. I was fortunate to hook and land another yellowfin in the 40-plus-pound class. Even the crew and captain got in on the action, hooking and releasing tuna while we all watched and commented on their skills!
We decided to not complete the boat 2-day bluefin limit on this school since Andrew had some information that larger fish were starting to bite and we decided to save some room to hunt for the bigger fish. It was a good call!
That evening we marked multiple deep schools of the larger grade, and had multiple hookups, resulting in four nice 120- to 150-pound class fish being caught on jigs – way to go Nollie, who got his personal best! We flew a kite and had some hits, but none stuck.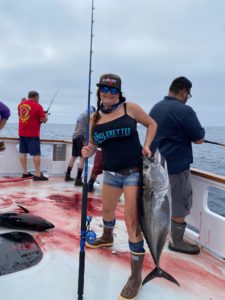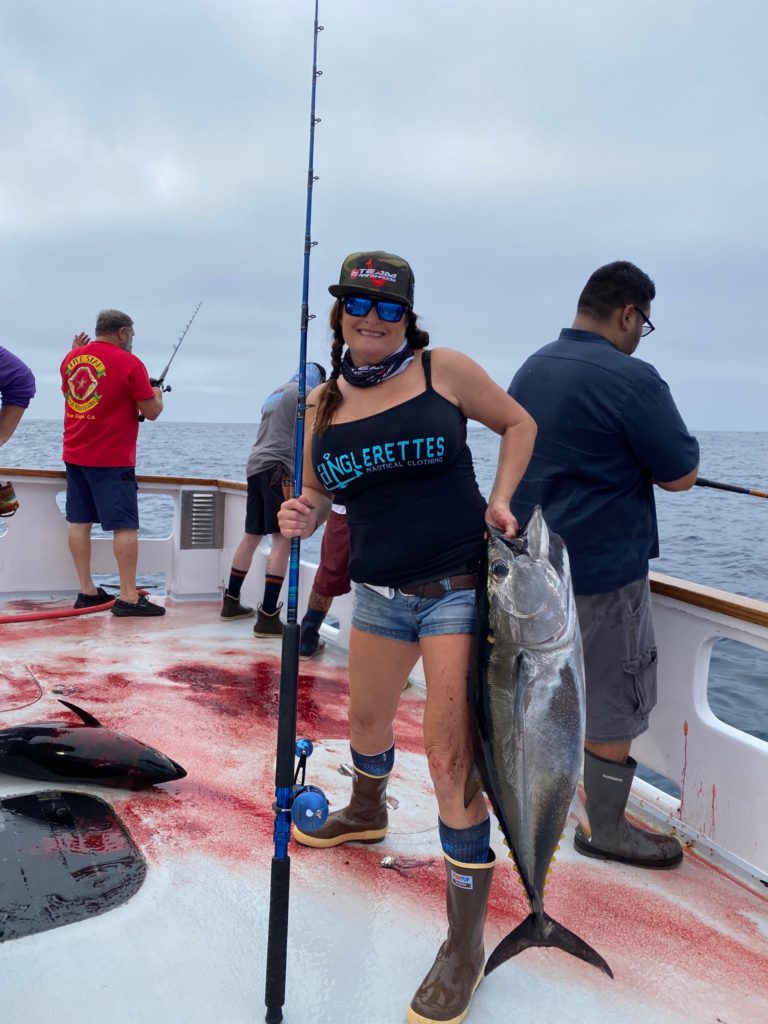 The general breakdown as far as what worked was as follows: For the schools of that 35- to 40-pound class, 25- to 40-pound fly-line setups with 1/0-2/0 circle hooks did most of the damage. As the schools sank out, switching to a 4-ounce sinker rig was the ticket.
The evening/night bite on the deep fish was with 140- to 350-gram SK and Flat-Fall jigs. One other big one was caught on a knife jig. The key here was to drop the jig below the schools and wind up through them. You didn't have to wind fast, just bring it up at a regular pace, and I'm guessing the rocking of the boat as you wound imparted enough action to get bit. On the jig bite several fish were lost when anglers used lighter 40-pound line. At least 65-pound was safer.  I used 100-pound and was bit the first night. My view is at those depths at dark the fish are not that leader shy, so heavier is the way to go.
Some new things I learned were as follows: When there was a solid group of tuna near the boat, it was difficult at times to get the bait to swim out away from the boat – most would sprint under the boat, no surprise there. However, if you had a longer rod, you could cast your bait farther out and it was more likely to swim away, resulting in a bite. Another observation was when I used a lighter wire circle hook I lost multiple fish due to hook failure. By that meaning that the hook would spring open enough under pressure to allow the fish to escape. The hook wasn't broken or actually straightened out, just flexible enough to spring open and allow the fish to escape. I changed to a slightly larger 2/0 hook and had a much better landing rate. All in all, as Captain Andrew said, it was about as good as it gets, with lots of fish, a great group of anglers and crew, with chances to hook the big boys on tap as well. Literally everyone on the boat caught fish, and that makes for a truly memorable trip anytime.