Colorado River Chain Fish Report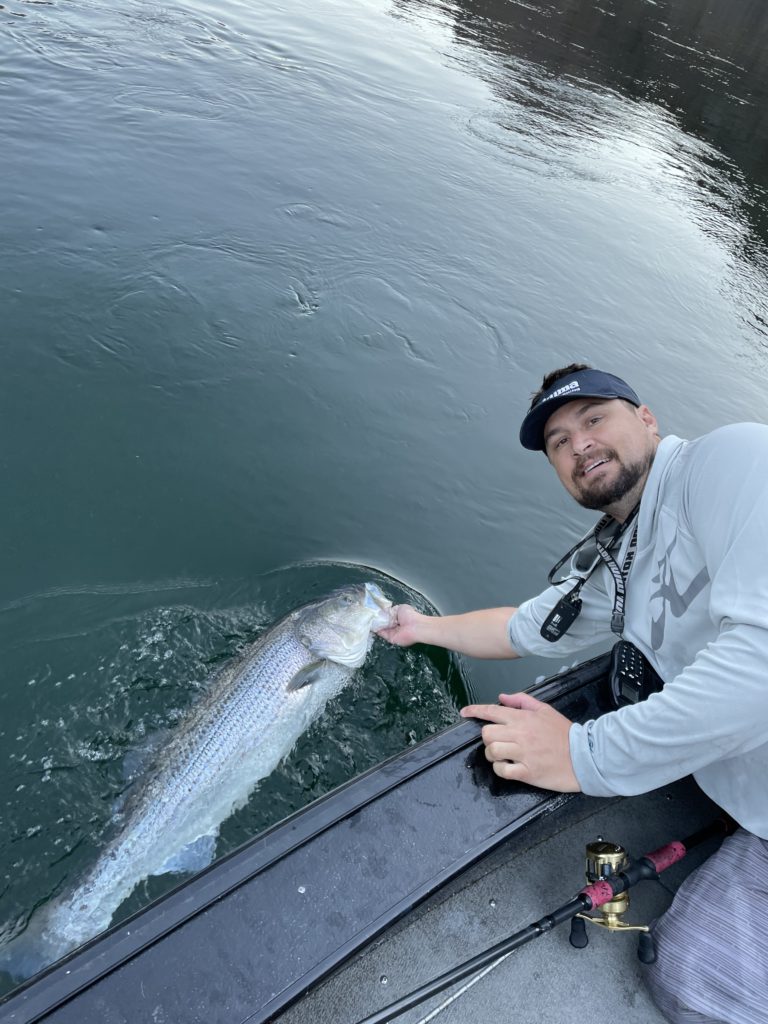 Updated June 18, 2021 
COLORADO RIVER
COLORADO RIVER (BELOW DAVIS DAM) – According to Rusty Braun at Riviera Marina, a big striper finally hit the scale, this one a 24.02 pounder that ate an artificial thrown by an angler fishing from shore near Community Park. A bunch of 2 pounders are picking up anchovies from shore around Davis Camp, Rotary Park and the casino area. Most of those are in the 1- to 4-pound range.
LAKE HAVASU –       Early June bass fishing is very good here for overall numbers and the occasional big fish. Fishing the tules from the river mouth down to Bill Williams has been the deal, with frogs, poppers, Senkos, drop-shots and Texas rigs all getting the job done. Shore anglers are also doing well on a mix of topwater, blade baits and drop-shots around docks and accessible coves. Striped bass are fair to good and coming on a mix of cut anchovy, trolled deep-divers and white Rat-L-Traps and the occasional swimbait or topwater bait tossed into an isolated boil early and late. A handful of quality redear continue to show for anglers drop-shotting nightcrawlers or rigging them on a jighead along with various artificials worked over spawning flats. Channel catfish are fair to good on cut baits and a monster 46.9-pound flathead was caught over the weekend on a live bluegill offering.
LAKE MEAD – The dropping water level has finally taken its toll here, reported John Wood at Angler's Edge Guide Service. Boulder Harbor's ramp is now closed and Hemmenway was temporarily before reopening Friday with two-hour waits to launch. Echo Bay has also had long lines to launch and Callville is down to one available ramp, Wood said. Anglers getting out are finding hit-and-miss fishing overall. Some bass guys are getting on the fish pretty good despite the dropping level with a mix of topwater, spinnerbaits and soft plastics, while others are just scratching out decent limits. Striper wise there have been some days with decent surface action early but it's been windy and just fair fishing most days this past week. Anglers targeting catfish are finding plenty of biters on shrimp in the back of the wash.
LAKE MOHAVE – Fishing for post-spawn largemouth and smallmouth bass remains solid from just north of Katherine Landing through the points and coves and down to Davis Dam. Jigs, worms, stickbaits and crankbaits can be put in play for both with the largemouth biting in coves and the smallies active around rocky points, areas offshore of the entrance to coves and dropoffs. Striped bass are popping up between the Power Lines and Davis Dam, but not many are reported as caught yet.
WILLOW BEACH – Former 2-time WON Lake Havasu Striper Derby champ Bryan Simons nailed a 36.83 striped bass out of Willow Beach. That fish ate a 12-inch Nate's Bait. Other than that, fishing has been sporadic for the bigger stripers. A similarly-sized striper was caigjt in the same area in the last week of May, and you can expect some were caught and not reported. Smaller models are biting cut baits right at the Marina itself along with some rainbow trout that get stocked weekly.