Colorado River Chain Fish Report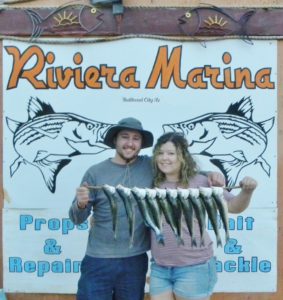 Updated November 23, 2020
COLORADO RIVER (below Davis Dam) – According to Rusty Braun at Riviera Marina, trout are being stocked weekly and they are currently the best bite. The hot area of late has been in the Rotary Park area which is one of the three main stocking locations.  Berkley Atomic Teasers, spinners and PowerBait have all been producing according to Braun. Community Park is another good area for trout. Striped bass remain slow, especially in the Casino area that usually produces biggies this time of year. Some smaller models are eating anchovies closer to the dam and throughout the Big Bend area to some degree.
LAKE HAVASU – Largemouth are still schooling up, so covering water is the name of the game. Smallmouth are being caught in rocky areas off points, ands striped bass are boiling in open water areas all over the lake, but those are smaller fish for the most part. This is a time of year in which bigger stripers show up and picking one up on the troll or while dropping cut baits is well within the realm of possibility especially when inclement weather is moving through. Panfish including bluegill and big redear are still deep and scattered, so those with electronics have the best shot at locating biters.
LAKE MEAD – Striped bass have been up and down for the past week or so, said John Wood at Angler's Edge Guide Service. Some mornings are offering up a shallow-water bite at first light if you find yourself in the right spot with swimbaits, but the fish are constantly moving around. The most consistent action continues to be in the main channel past Sand Island on jigging spoons. Bass guys are still struggling to put real good days together. The bite's still scratchy with the best bet being the Echo Bay area with finesse stuff. A few catfish are being taken in the back of the Wash on cut baits but that bite's been spotty too.
MOHAVE LAKE – Telephone Cove and various points and coves along the Arizona side are seeing some striped bass boils. That's good news because 'tis the season, but as far as anglers connecting to them, there hasn't been many reports. Smallmoth bass fishing remains solid with good numbers of football-sized bronzebacks being caught in rocky areas off points and outside of coves. Some largemouth are biting in the coves, but that fishing is not as consistent.
WILLOW BEACH – The WON radar is still turning up several bigger swimbait-eating striped bass caught by boats taking off from Willow Beach Marina and hitting coves and points to the south. Keeping in mind most anglers in this area are tight lipped, assume there are more being caught. Small models and a few catfish are eating anchovies around the marina where trout anglers are getting into productive fishing for stockers that get delivered every week.