North Freshwater Fish Report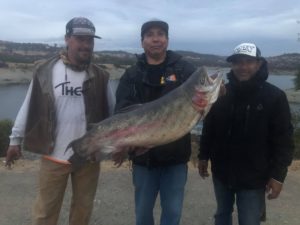 Updated November 23, 2020
ALMANOR LAKE — John Crotty of Quail Lake Lodge reported good trolling for trout throughout the lake. He recommended slow-trolling Gulps or Artic Fox Trolling Flies along the west side of the Peninsula at 10 to 15 feet deep. Hardware is also producing, and he likes red/gold for fast trolling, as well as red dot frog, cop car, smelt and brown trout patterns. Cove fishing from shore has been a bit tough, with fly anglers outcatching gear anglers. Hamilton Branch is the best bet.
AMADOR LAKE — For the second week in a row, a new lake-record trout was landed from the banks, and in addition to last week's 20.12-pound cutbow, Jeremy Silvas of Sacramento caught a rainbow trout weighing 19.30 pounds on a gold/red Kastmaster from the bank near the dam. A plant of 1000 pounds of cutbows along with a few large Amagolds (Lightning Trout) were released into the lake this week with half of the load at the dam and the other half past the spillway. The water temperature has dropped to 60 degrees, and the lake is relatively clear at 4 feet of visibility. Kastmasters, Panther Martins, white crappie jigs tipped with a piece of crawler under a bubble, inflated nightcrawlers, Woolley Buggers, or trout dough bait are all working from the banks.
AMERICAN RIVER — Steelhead season opens Jan. 1 above Ancil Hoffman Park. A few half-pounders are being caught in the area open downstream. Salmon fishing is slow.
LAKE BERRYESSA — Don Paganelli of Paganelli's Bass Fishing Experience reported all species in the lake are feeding on shad, and he said, "You have to move around and check the main lake points and coves or the schools of shad. Once you find them, you can stay on top of them for a while. Blade Runner Spoons are matching the hatch, and we are picking up king salmon, largemouth bass, rainbow trout, and crappie all in the shad schools. Alex Tran of Coyote Bait and Tackle landed thirty bass/trout on thirty casts into the shad schools at 15 feet in depth on a crankbait on a fast retrieve this week. He said, "It was epic." He also found a crappie school in the northern end of the lake with spoons as large as 8 inches. Craig Newton of Will Fish Tackle in Auburn said the lake is still fishing well for landlocked king salmon and rainbows. The Markley Cove and Capell launch ramps are open as fire clean-up and remediation continues.
BULLARDS BAR — Craig Newton of Will Fish Tackle in Auburn reported anglers who put in at the dam caught second year kokanee at Garden Point. It's a bit early – most anglers wait until at least Jan. to try – and the fish are small.
CAMANCHE LAKE — Another 3,600 pounds of Mt. Lassen Hatchery rainbow trout were released into the lake split between the North and South Shore Marina and the South Pond. Robbie Dunham of Koke Machine Guide Service has been running Speedy Shiners in the top 10 feet of the surface in the main lake for limits. He said, "The trout are there, you just have to go find them." The water is low, and caution is necessary to launch at the South Shore Marina The water temperature has dropped to 59/60 degrees with 5 feet of visibility. Camanche Recreation Company is offering a free night of camping for one paid night with a food donation until December 15. Tent camping is 3 cans or non-perishable food per night; RV's require 5 cans or boxes; Cottages – 20 cans or boxes.
CARSON RIVER, East — The general trout season closed Nov. 15. Now that the season is closed, anglers can turn their attention 9 miles of year-round water that runs from Hangman's Bridge to the Nevada border. This special regulations section is catch and release, flies and lures only, single hook barbless only.
LAKE CHABOT — Mt. Lassen Trout Farms planted 1,000 pounds of rainbows this week.
CHETCO RIVER, Brookings, Ore. – Salmon season opened last Tuesday, but action has been slow riverwide. Many of the salmon have already moved upriver to spawn. Flows went from 8,000 cfs on Wednesday to 1,980 cfs on Sunday. The river was crowded over the weekend.
CLEAR LAKE — In his season ending message last week, Bob Myskey of Bassin' with Bob reported the lake is lower than it has been in a few years. Boaters should exercise caution when motoring close to shore. The lake badly needs rain. Bass fishing is tough, and he expects it to be so through Dec. and into Jan.
COLLINS LAKE — Craig Newton of Will Fish Tackle in Auburn reported slower trout fishing but the quality is outstanding. He further said Cal Kellogg caught a 12-pound trout, which would be the heaviest fish reported during the fall season.
CONTRA LOMA — The lake was planted with 1,000 pounds of rainbows from Mt. Lassen Trout Farms and 1,000 pounds from DFW last week.
DAVIS LAKE — Eight inches of snow fell mid-week, and by the weekend it was down to a 4-inch base. The launch ramp at Camp 5 is reportedly iced over, and Honker Cove is still behind a locked gate, leaving few options for boaters. There's still no ice on the majority of the lake, and due to sun exposure, shore fishing is possible in the Mallard Cove area. It was said to be hit or miss by Jeanne Graham of J&J's Grizzly Store.
LAKE DEL VALLE — More than 3,500 pounds of trout from Mt. Lassen and DFW were planted earlier this month. Rainbows to 8 pounds are being caught in Swallow Bay. Striper fishing is good near the dam.
DON PEDRO — A huge plant of 9000 pounds from the Department of Fish and Wildlife was released at the launch ramps at Fleming Meadows and Blue Oaks, and Ryan Cook of Ryan Cook's Fishing found tremendous action for the planters with a 1/4th-ounce Kastmaster. The The introduction of the rainbows will get the swimbait bass going in the coming weeks. Cook reported a steady improvement on the bass bite with ½-ounce G-Money jigs in green pumpkin with a twin-tail trailer along with tubes over 45-degree gravel banks or secondary points at depths from 5 to 45 feet. The suspended bass have been more difficult to get to bite. The lake held at 68 percent.
ELK RIVER, Port Orford, Ore. – After a few days of very good salmon fishing last week, low water has slowed effort.
FEATHER RIVER — Steelhead fishing is good wherever anglers can find access from the Outlet Hole down to Gridley. A few kings are being caught below the Live Oak Diversion Dam, where pressure remains light. Stripers are occasionally biting on the lower river.
FOLSOM LAKE — The lake elevation remains 393 feet, unchanged from the last week. The speed limit is now 5 mph, as the lake has dropped below 400 feet of elevation. The Hobie Cove ramp at Browns Ravine is open along with the Granite Bay lower water launch. Landlocked salmon fishing is fair. Catfish are a solid bet.
FRENCH MEADOWS — Craig Newton of Will Fish Tackle in Auburn said this lake is still fishing "okay" and is still be accessible. Anglers aren't catching a lot of fish, but the quality is good. The water is getting pretty low, but it is still launchable. Be aware, there's a lot of logging activity currently on the access roads that might make for a white-knuckled drive.
HELL HOLE RESERVOIR — According to Craig Newton of Will Fish Tackle in Auburn, the water is off the launch ramp now, meaning if you'd like to boat you'd better bring a small one or as he said, be adventurous. Trout and browns are the main attraction, and there are Mackinaw here as well. Watch out, he said, there have been a lot of trucks hauling logs on the access roads.
KLAMATH RIVER, Hornbrook — Steelhead fishing remains good on the Upper Klamath, with fish to 6 pounds biting bait behind divers, plugs and beads. Releases from Iron Gate Dam remain just over 1,000 cfs.
KLAMATH RIVER, Happy Camp — With flows remaining low, near 1,200 cfs, steelhead fishing is still good near Happy Camp. Roe, MagLip plugs and flies are all tricking halfpounder and adult steelhead to 8 pounds. Fishing pressure is light.
KLAMATH RIVER, Klamath Glen — Flows have dropped from 5,600 cfs to 4,400 cfs. Fishing is slow, with little effort.
LOS VAQUEROS RESERVOIR — Trout fishing is good now that Mt. Lassen and CDFW have planted rainbows. Stripers are biting anchovies near the marina.
McCLURE LAKE — The bass action has toughened up, and the winning limits have been in the 11-pound range as the bite has been off. Ryan Cook of Ryan Cook's Fishing said, "The key is to downsize and fish very slow. Instead of using a 5- to 7-inch worm, I have dropped down to 2 to 3 inches along with small profile G-Money jigs on a 1/4th ounce jig head. 8000 pounds of catchable rainbow trout were released into the lake, and the Barrett's Cove launch ramp is the best place to target them from the banks. The swimbait bite should pick up in the coming weeks. The lake held at 38 percent. The Bagby, Horseshoe Bend, and McClure Point North launch ramps are closed due to water levels.
NEW MELONES — A recent trout plant of catchable rainbows brought numerous 10/11-inch rainbows into the lake, and they have moved out into the coves near Glory Hole as well as the spillway. Trolling small Optimizer Jr. Spoons on a long set back of 150 feet has been effective for multiple hook ups. Glory Hole Sports in Angels Camp reported an improved bass bite in the coves and creek arms around the shad schools. Shad-imitation spoons, plastics on the drop-shot, or small swimbaits are all working. The Glory Hole and Tuttletown boat launches are open at the middle ramp, but the Angels Cove launch ramp is closed. The lake rose slightly to 63 percent. The New Melones Lake Marina store is closed for the season including boat rentals.
NORTH BAY LAKES — Bon Tempe was planted by CDFW with trout last month. Walk-in fishing is allowed at Lagunitas Creek, Alpine Lakes, Kent Lake, Bon Tempe Reservoir, and Nicasio Reservoir, all managed by the Marin Municipal Water District. The parking lots are closed.
LAKE OROVILLE — According to Jamey Sorensen of North Valley Tackle, fishing for spotted bass has been excellent this week, with not much pressure. He and a friend had fast action at 25 feet on dragged Roboworms and drop-shotted 4-inch cross tail Shad in purple smoke color. The fish were uniformly at that depth everywhere they fished, and they covered a lot of water, from the North Fork point clear down into the main body. They were on all different kinds of structure.
PARDEE LAKE — The lake closed November 1, and it will remain closed until February 11, 2021. Heavy trout plants will be released prior to the 2021 opening day.
PYRAMID LAKE —According to Robert Hagerty of Pyramid Fly Co., shore fishing from the deeper beaches such as Blockhouse, Wino, Sand Hole, Warrior and Popcorn has picked up and there's very little pressure. It's less a numbers game and more about impressive quality Lahontans. Those fish are fixated on Tui chub patterns in white and olive. Hagerty passed along a rumor of a great fish, a 26.8 pounder caught by a lake regular from shore, but it could not be confirmed and no photos have emerged. Hagerty said it's plausible.
QUARRY LAKES — Mt. Lassen Trout Farms planted 1,000 pounds of rainbows two weeks ago. Another 1,000 pounds from DFW arrived last week.
ROGUE RIVER, Gold Beach, Ore. – Salmon fishing is over for the year. A few steelhead are being caught in the Agness area.
SACRAMENTO RIVER, Dunsmuir — Flows hit 500 cfs last week and were down to 209 cfs over the weekend. Trout fishing is slow.
SACRAMENTO RIVER, Redding to Red Bluff — Flows at Keswick Dam dropped from 5,090 cfs to 4,300 cfs. Trout fishing is very good. Salmon fishing has slowed at the Barge Hole, with a few fish being caught. Steehead fishing is fair.
SACRAMENTO RIVER, Red Bluff to Colusa — Low water is making launching jet boats difficult at many ramps. Trout fishing has improved below Red Bluff because of the low water. Salmon fishing remains slow.
SACRAMENTO RIVER, Verona to Colusa — Salmon fishing has been slow. Some anglers are hunting for trophy stripers.
SACRAMENTO RIVER, Sacramento — Very few salmon are being caught on spinners or plugs near Miller Park and Garcia Bend.
SAN PABLO RESERVOIR — The lake closed for the season Nov. 9.
SHADOW CLIFFS RESERVOIR — The lake received 1,000 pounds of rainbows from Mt. Lassen Trout Farms last week, along with 1,000 pounds two weeks ago from CDFW.
LAKE SHASTA — John Boitano of Phil's Propeller said it's big bait time at the lake. The bass are chomping in a race with Old Man Winter. Big swimbaits such as Hudds and Ospreys are producing big bites. S-Wavers and glide baits are also drawing strikes, as is the A-rig. If there's wind ruffling the water, try crankbaits and blades, and there's also a bit of a ripbait bite then. Finesse plastics will work of course. Trout fishing is excellent, the fish are in the top 20 feet, and biting for trollers and shore casters. Flies are working best down at the dam, as are wooly buggers. Optmizers are a trout trolling mainstay here.
SMITH RIVER – Salmon fishing was good a week ago but has slowed with dropping flows. A few fish are being caught daily at the Forks, near Jed Smith and below Ruby. Flows at Jed Smith went from 12,000 cfs to 1,370 cfs. Forecasts show the Smith remaining above 600 cfs all week.
SOUTH BAY LAKES — Fishing has been slow at Coyote, Chesbro, Uvas and Calero because of very low water.
LAKE TAHOE — Zach Gordon of Tahoe Sportfishing said anglers should prepare for cold weather, but when trips can get out on days that aren't too windy, they are producing Mackinaw limits on the South Shore.
THERMALITO AFTERBAY — According to Jamey Sorensen of North Valley Tackle, this shallow impoundment is very cold, causing the largemouth here to be lethargic and hard to catch. Sorensen added that there have been a lot of duck hunters here as well.
TRINITY RESERVOIR — John Boitano of Phil's Propeller said so long as anglers can handle the cold, there's still a decent bass bite. A week ago it was better. The bass have gone deep, so break out the plastics and work them slowly. Small swimbaits slowly rolled on the bottom will also pick off a few bass.
TRINITY RIVER — Steelhead fishing is best from Junction City to Lewiston. Plugs and roe below bobbers is working in the low, clear water. Flows at Lewiston remain very low at 296 cfs, while flows at Junction City are 345 cfs. Expect more steelhead to move in from the Klamath after the next rain.
TRUCKEE RIVER — According to Tony Marotta of Mountain Hardware and Sports, the river has been flowing nice and stable. The general trout season ended Nov. 15. A year-round, special regulations section runs from the confluence of Trout Creek to the Nevada border, where it's barbless, artificials, catch and release only. The Little Truckee is also open to barbless, artificials only. The half mile stretch from Boca Reservoir to the Truckee River is closed, and Marotta says a lot of people make the mistake of fishing there to their legal peril.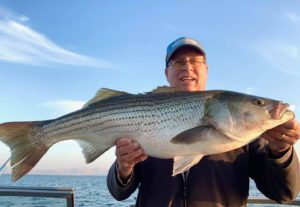 Cencal Lakes
BASS LAKE — The lake is sporting the only reaction bite in the region with ripbaits such as Megabass Max Shad Plus One along with plastics on a Neko-rig as anglers are reporting up to 30 bass per outing. The private areas of the lake are open, but the Sierra Forest controlled areas remained closed until at least November 24th. The Sheriff's boat is still operational, and boaters must possess the Motor Permit. Trout trolling is fair with Wedding Rings tipped with a nightcrawler behind a dodger or blade/'crawler combinations. The lake dropped to 64 percent.
 CALIFORNIA AQUEDUCT NORTHERN SECTION  – The northern section of the aqueduct from Lose Banos to Kettleman City remains excellent for those tossing Duo Realis 120's in Ivory Halo, Prism Smelt, or Ghost Minnows as Neo Pearl has been very difficult to find. Flukes on a scrounger head along with topwater lures are also effective at times as the stripers have been boiling on the surface.
COURTRIGHT/WISHON RESERVOIRS — Road access on the McKinley Grove Road to Wishon and Courtright is available for residents only during specific times with a permit. The Sierra National Forest restricted per a temporary closure order from the Sierra National Forest which has been extended to November 24. The Creek Incident Fire is 98 percent contained as of press time, and it has consumed nearly 380,000 acres. Updated information is available at www.fs.usda.gov/sierra.
EASTMAN — The algae bloom is thick, and combined with the lake at 7 percent of capacity, most bass fishermen are finding other options.
HENSLEY — Similar to Eastman, an algae blooms is present, but Jake Figgs of Valley Rod and Gun finally found some action for largemouth bass to 1.5 pounds with 6-inch Senkos over a shallow rockpile. Carp are all over the shallows, and various dough baits will pluck the carp out of the lake. The lake rose to 18 percent.
HUNTINGTON/SHAVER — Road access to Huntington Lake and Camp Sierra is available for residents only during specific times with a permit. All access to Shaver Lake remains restricted per order of the Southern California Edison. The Sierra National Forest restricted per a temporary closure order from the Sierra National Forest which has been extended to November 24th. The Creek Incident Fire is 95 percent contained as of press time, and it has consumed nearly 380,000 acres. Updated information is available at www.fs.usda.gov/sierra. Shaver is at 73 with Huntington at 70 percent.
MILLERTON — The bass bite remains tough with the best action on the bottom with tubes or small profile jigs in green pumpkin on a 1/4th to 3/8th-ounce jig head. The reaction bite remains non-existent. The lake rose slightly to 34 percent.
O'NEILL FOREBAY — Undersized striped bass continue to dominate action with jerkbaits such as Lucky Craft Pointer 100's along with topwater lures. The ratio of shakers to keepers remains around 5:1. A few anglers are soaking bait near the Highway 33 Bridge or the Medeiros boat ramp or Highway 33 with pile worms or anchovies.
PINE FLAT — Prior to the front moving through at the start of the week, there were limits to 13 pounds landed as far up the river arm as possible with weightless flukes or plastics on a wacky-rig, but the deep bite in the main lake has been limited. There is some action with 4.5-inch plastics on the drop-shot near Deer Creek. There are also some crappie found near the docks at Deer Creek. Trout trollers are starting to show up with the lack of high country options. The lake held at 21 percent.  In the lower Kings, the flows remain consistent with the lake stabilizing. Panther Martins or trout dough bait is working for the holdovers from the recent plants.
SAN LUIS — Roger George of Roger George Guide Service reported a very slow troll bite with the best action in 40 to 75 feet of water for stripers to 20 inches. He said, "The numbers and size are both the lowest that I have had in quite a while." There is a topwater and glidebait bite along with flukes on a ½- to 3/8th scrounger head in Portuguese Cove and near the Trash Racks. Jumbo minnows continue to be a popular choice for those drifting bait. The lake rose slightly to 46 percent.