North Freshwater Fish Report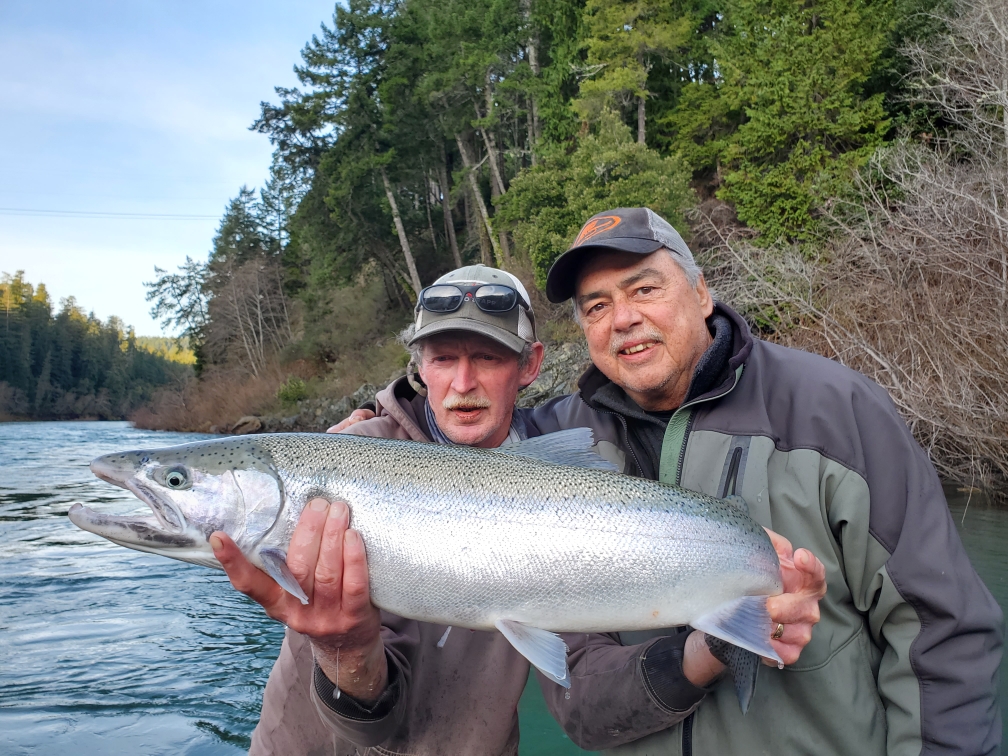 Updated January 18, 2021
ALMANOR LAKE — John Crotty of Quail Lake Lodge said, "The water level continues to rise slowly, and the water temperatures hold between 39 and 41 degrees with a visibility between 6 and 10 feet. Hamilton Branch remains your best shot at catching mature fish from shore we are still not seeing many large fish in the coves around the dam. Power bait, crawlers and jigs are the preferred baits. Trollers have caught an even mix of browns and rainbows this past week with the majority of the boat pressure on the south end of the lake. If you can find bait you will catch fish and all methods will work. We caught fish slow trolling gulps and crawlers at one mph, while I had friends catch fish fast trolling hardware and pulling flies. Hardware at 2.5-3 mph and flies at 1.5-2 mph with Wonder Bread Speedy Shiners and Arctic Fox pond smelt patterns have been the most productive in the top 15 feet in the morning before moving deeper as the sun rises."
AMADOR LAKE — 500 pounds of cutbows along with 500 pounds of Amagolds (Lightning trout) were released this week with another 25 of the trout tagged for the annual derby. Half of the load was released at the dam with the remainder at the spillway. Robbie Dunham of Koke Machine Guide Service said, "It is important to get out early and land your fish before the boat traffic starts on the main lake. Speedy Shiners along with 3-inch grubs are working best within the top 8 feet of the surface, but the spoons have a much higher hook up ratio." Bank anglers continue to score near the dam or Spillway with trout dough bait or crappie jigs tipped with a nightcrawler under a bobber. The annual Lake Amador Trout Derby lasts until mid-March. The lake is 39 feet from spilling with one ramp open.
AMERICAN RIVER/Sacramento —Craig Newton of Will Fish Tackle in Auburn reported continued slow action for most anglers working below the Nimbus Dam to the mouth with some trying three times for nothing while others landed up to 3 steelhead for five grabs on copper-bladed spoons. Flows Sunday at Fair Oaks remained low, dropping to 1207 cfs.
AMERICAN RIVER/Above Folsom— The river is extremely clear from the lack of precipitation, and the holdover rainbows and browns are spooky. The river is catch and release barbless hooks only above Folsom.
LAKE BERRYESSA — Luke Lipinovich of Sweeney's Sports in Napa reported good action for smallmouth along with spotted and largemouth bass with plastics on the drop-shot or nail-weighted Senkos at depths from 5 to 40 feet. Spoons over the bait balls have also been effective in Skier's Cove. Trollers are finding rainbow trout and salmon from 25 to 40 feet anywhere a bait ball is located. White hoochies or spinners are working best. The lake held at 72 percent.
BOCA/PROSSER — Tony Marotta of Mountain Sports Hardware in Truckee reported both lakes are low, but fishermen are working the ice around the dams at both lakes for trout with nightcrawlers, trout dough bait, or jigs. Boca is more accessible than Prosser which is only accessible by 4XD.
BULLARDS BAR — Rob Reimers of Rustic Rob's Guide Service continues to find limits of kokanee at depths from 35 to 55 feet with Brad's Cut plugs in Lady 'Em or Pink Magic behind a Pro Troll 360 silver/blue dodger. The kokanee are plentiful, and limits in the 8 to 11-inch range are the rule. Spotted bass will be loading up on the kokanee in preparation for a trophy spring bite. The lake held at 54 percent.
CAMANCHE LAKE —3600 pounds of Mt. Lassen Hatchery rainbows were split between the North and South Shore Marinas along with the South Pond, and Leah Larson of the Camanche Recreation Company reported bank fishing has been solid with trout dough bait along the North Shore Day Use area. Trolling has been hampered by the lack of wind and the excessive amount of grass loading up on the lines. Boat traffic remains high in the Narrows in the early mornings. With the dropping water level, bass fishing has been challenging with the best action on plastics or small swimbaits on the drop-shot around ledges from 10 to 15 feet. Pond anglers have been using a 1- to 1.5-inch piece of a 5-inch Senko on a 1/32nd jig head on 4 to 6-pound test line. The resort reopened for dry camping, cabin, tent cabin and resort rentals.
CARSON RIVER, East — The general trout season closed Nov. 15. Now that the season is closed, anglers can turn their attention 9 miles of year-round water that runs from Hangman's Bridge to the Nevada border. The special regulations section is catch and release, flies and lures only, single hook barbless only.
LAKE CHABOT — Trout fishing is fair to good near Racoon Point. The lake was planted with 2,400 pounds of Mt. Lassen trout in December. Another 2,000 pounds of Mt. Lassen trout arrive in January.
CHETCO RIVER, Brookings, Ore. – The Chetco hit 40,000 cfs, a 16-foot rise, but was down to 4,000 cfs on Sunday and starting to fish well for steelhead. Plunkers have been catching fish with Spin-N-Glos, while drift boaters struggled because of a slide on the South Fork. The river was clearing up late Sunday.
CLEAR LAKE — Crappie fishing remains very good with light 1/16 ounce jigs in open water in the northern end of the lake near Rattlesnake. Good electronics are very helpful in keeping track of the schools as they are moving constantly. Jumbo minnows have been in short supply, and the extra-large minnows are less desirable for largemouths as they have less movement and crappie will also eat this size of minnow. Bass fishing is best around the bait balls with jigs, 2.8-inch Keitech swimbaits, or swimbaits on an umbrella rig. The lake will host a number of tournaments in the coming months including the 3-day American Bass event from January 29-31.
COLLINS LAKE – Rainbow trout have been taken from the shorelines around the dam or the Open Area. The lake is 48 feet from spilling, but launching a boat is not a problem. Trout plants will reoccur starting around President's Day weekend in February.
CONTRA LOMA — Contra Loma Lake was heavily planted by Mt. Lassen Trout Farms in December and has been fishing well for rainbows. Another 2,750 pounds of trout will be planted this month.
DAVIS LAKE —Jeanne Graham of J&J's Grizzly Store reported the ice is trying to melt, but there is still ice near the dam area where the majority of fishermen are congregating through the ice for rainbow and brown trout with nightcrawlers or jigs. There is no open water with the daytime temperatures in the low 50's and the evenings in the high 20's, but the big wind early this week could change the conditions. Ice thickness and safety are not officially reported or monitored at Davis so entering an iced over area is potentially extremely dangerous.
DONNER — Shaun Rainsbarger of Shaun's Guide Service put his client onto another trophy mackinaw at over 10 pounds trolling in the shallows. The action is hit or miss for the big mackinaw, and extreme patience is necessary. The launch ramp may or may not be icy depending upon the temperature, and caution is necessary at all times.
DON PEDRO — The Best Bass Tournaments held the second of two consecutive weekends with 104 teams competing with the winning weight over 15 pounds. Mike Gomez of Berserk Baits participated in the tournament, and he reported a very tough bite with all action found at depths from 45 to 65 feet with an orange/brown jigs with a 330 Hula Grub trailer. Catching bass wasn't a problem, but finding anything over 2.5 pounds was the challenge. Even though the bass were hitting crawdad patterns, they were spitting up shad. Trout trolling has been quiet, but the key to success remains locating the bait schools and running shad-patterned spoons through the schools. The lake held at 67 percent.
ELK RIVER, Port Orford, Ore. – The Elk reached 11.5 feet last Wednesday, spilling over it banks. It was down to 4 feet on Sunday and fishing fairly well for steelhead.
ENGLEBRIGHT — Craig Newton of Will Fish and Tackle in Auburn reported good action for holdover rainbows in the back of the lake with Rapalas. A trout plant occurred last week from the Department of Fish and Wildlife, and the planters should be plentiful.
FEATHER RIVER — Striper fishing is slow. Feather River Hatchery usually releases smolts at Boyd's Pump in February, which triggers an early striper bite before the main spring run. Sturgeon fishing is slow near the mouth of the Bear River.
FOLSOM LAKE — With the lake at 28 percent, a 5 MPH speed is enforced throughout the lake. Jerry Lampkin of TNG Motorsports Guide Service has been finding great action for king salmon to 20 inches pulling GVF Spinner Bugs in Pina Colada behind a nickel glow Crush dodger at depths from 30 to 50 feet in the North Fork while running at 1.5 mph. Rainbows are taken near the surface with nightcrawlers behind a Sep's Sidekick dodger. With the lake so low, it is easy to get your downrigger hung up so Lampkin trolls slow and stays in the main river channel. With the 5 MPH speed limit, few bass fishermen are targeting the lake, but spotted bass can be taken on either jigs or small swimbaits along the bluff edges or exposed channel edges. The Hobie Cove ramp at Browns Ravine is open along with the Granite Bay lower water launch.
KLAMATH RIVER, Hornbrook — Iron Gate Dam is keeping the Upper Klamath in good shape for steelhead. Flows are 998 cfs. The river has little pressure, but drift boaters floating down from the hatchery are catching steelhead on divers and bait and plugs.
KLAMATH RIVER, Happy Camp — Fishing pressure is light. Flows at Happy Camp are 2,290 cfs. Snow could fall this weekend.
KLAMATH RIVER, Klamath Glen — The water is high and muddy after last week's rains.
LAKE DEL VALLE — Trout fishing is best in the Lower Narrows, while stripers are biting anchovies in the Narrows and near the dam. Mt. Lassen Trout Farms and CDFW have planted 5,000 pounds of trout the past month. Another 4,500 pounds of trout will be stocked this month.
LOS VAQUEROS RESERVOIR — December's trout plants topped 6,000 pounds, with 4,000 pounds in late December. Trout fishing is best at South Cove and Howden Cove. Stripers are biting cut anchovies near the marina. More trout will be planted this month.
McCLURE LAKE — The bass bite remains very tough, and John Liechty of Xperience Fishing Guide Service participated in Saturday's American Bass Association for second place at 8.40 pounds, 0.02 pounds below the 8.42-pound winning weight. He said, "It was slow, tedious fishing with plastics on the dart head, Ned-rig, Carolina-rig, or jigs anywhere from 15 to 55 feet. Catching fish wasn't a problem, but the bass are long and thin with big heads and no size on the body." The lake is full of planted rainbow trout, and trollers are finding easy limits within a short period of time running Speedy Shiners near the surface. Barrett's Cove Marina is closed for the winter, and the Bagby, Horseshoe Bend, and McClure Point North launch ramps are closed due to water levels. The lake dropped slightly to 36 percent.
NEW MELONES — The largemouth and spotted bass are healthy, and the action is the best of the Mother Lode lakes. John Liechty of Xperience Fishing Guide Service has been finding numbers of 2.5- to 3-pound bass on plastics on the shakey head or drop-shot along with jigs. The swimbait action has been very hit or miss, but he said, "You can head down a certain bank and go through a number of chunky bass with plastics as they are in shallower water." For rainbow trout, Kyle Wise of Head Hunter Guide Service continues to score easy limits of planted rainbows to 15 inches with the occasional holdover to 3 pounds. Trinidad Tackle's Popeye Spoons are working on a fast-troll, but he had to slow down to 2.5 MPH on Sunday with Uncle Larry's spinners tipped with a nightcrawler as the rainbows didn't want the fast presentation. The Glory Hole and Tuttletown boat launches are open at the middle ramp, but the Angels Cove launch ramp is closed. The New Melones Lake Marina store is closed for the season including boat rentals. The lake held at 65 percent.
NORTH BAY LAKES — Walk-in fishing is allowed at Lagunitas Creek, Alpine Lakes, Kent Lake, Bon Tempe Reservoir, and Nicasio Reservoir, all managed by the Marin Municipal Water District.
LAKE OROVILLE — Rob Reimers of Rustic Rob's Guide Service reported a hit or miss bite for king salmon to 6 pounds with Brad's Cut Plugs in Hot Melon, Christine Special KCP, and Fatal Attraction behind a Pro Troll 360 dodger at depths from 40 to 60 feet. The salmon are scattered, and he said, "You have to be persistent since we went through several locations that held fish last week without results." Small spotted bass are taken on jigs along ledges. The Bidwell Canyon launch ramp is open on Saturday and Sunday with the Spillway open seven days per week. Updated information available at 530-538-2200. The lake held at 35 percent.
LAKE PARDEE — The lake will reopen on February 13, and heavy trout plants will occur just prior to the opening day.
ROGUE RIVER, Gold Beach, Ore. – Steelhead fishing is good for shore anglers plunking Spin-N-Glos and boaters anchoring and fishing 3.5 MagLip plugs. Lots of hatchery fish are showing up.
PYRAMID LAKE — Trolling continues to be outstanding for the Lahonton cutthroat trout with J.D. Richey of Richey Sport Fishing scoring cutthroat in excess of 10 pounds trolling MagLips, Flutter Spoons, and Rapalas in 15 to 40 feet of water. Captain Robert Hagerty of the Pyramid Fly Shop in Reno said, "We have been focusing on the low light hours as with the high sun and 50-degree plus weather, the fish have been feeding best while the sun is low on the horizon allowing the fish to feel more comfortable and push in the shallows to feed.  The Lahontan's are caught at every single beach, and flies in the usual natural greens, browns, whites and blacks are great for stripping and hanging leeches under the bobber.  Water temp is still 46 degrees at 6 feet on main lake. And as we slide further into January and closer to February, our favorite Pilot Peak-strain Lahontan's are going to frequent the shallows more often in numbers to fatten up before the slide into spawn."
QUARRY LAKES — Quarry Lakes was planted with more than 3,000 pounds of trout in December and expects 2,750 pounds of rainbows this month.
SACRAMENTO RIVER, Dunsmuir — Flows are 372 cfs on the Sacramento River below Dunsmuir. The river is fishable for trout but pressure is light.
SACRAMENTO RIVER, Redding to Red Bluff —Flows at Keswick Dam are stable at 3,200 cfs. Roe, beads, crickets and egg patterns are tricking wild rainbows from 14 to 22 inches in the Redding and Anderson areas. Drift boaters are making the most of the low flows and finding good success fly fishing and using conventional gear. Salmon season is closed.
SACRAMENTO RIVER, Red Bluff to Colusa — Fishing pressure is light. A few trophy stripers are being caught in the low-flow conditions on the Sacramento River. Sturgeon haven't moved upriver yet because of low flows. A few anglers are targeting rainbows and steelhead closer to Red Bluff.
SACRAMENTO RIVER, Verona to Colusa — A few oversize sturgeon have been reported at First Beach and Second Beach in Knights Landing. Fishing is slow, but a few early fish have arrived. Expect better fishing after winter rains raise flows. Striper fishing is slow.
SACRAMENTO RIVER, Sacramento — Stripers to 12 pounds have been reported at the Port of Sacramento, where action is hit-and-miss. When bait moved in from the Deep Water channel, fishing can be good. Slow striper and sturgeon fishing is being reported at Discovery Park and Miller Park. Big rains are needed to bring in sturgeon from the bay.
SAN PABLO RESERVOIR — The lake closed for the season Nov. 9. It re-opens in February.
SHADOW CLIFFS RESERVOIR — Shadow Cliffs has been planted with 5,000 pounds of trout in the past month. Another 3,750 pounds of trout will be planted this month.
LAKE SHASTA – The Wild West Bass Trail Pro/Am held a modified tournament this past weekend due to required changes from the Shasta-Trinity National Forest and health department, and the best bass action was found on plastics over muddy banks in the Sacramento Arm where more bait was concentrated. 6-inch worms or Senkos are most effective, and the reaction bite has been limited although a few large fish were taken on swimbaits during the tournament. The Phil's Propellers tournament scheduled for this weekend is still up in the air as is the FLW Major League Fishing event scheduled for January 29/31. The public docks of Centimudi, Sugar Loaf, Jones Valley, and Packer's Bay are open. The lake rose slightly to 46 percent.
SMITH RIVER – The Smith rose to 80,000 cfs, its highest level in more than a year, but was fishing for plunkers the next day. Drift boaters began catching steelhead in good numbers on Sunday. Prime conditions are expected all week.
SOUTH BAY LAKES — Fishing has been slow at Coyote, Chesbro, Uvas and Calero because of very low water.
LAKE TAHOE — Mackinaw action remains outstanding with the springlike weather, and Zach Gordon of Tahoe Sport Fishing reported limits of mackinaw to 17.3 pounds along with rainbows have been taken along the shelves at 120 feet with tui chubs with a flasher. J.D. Richey of Richey Sport Fishing reported easy limits of mackinaw in the 5/6-pound range trolling in 120 to 200 feet of water with green or pearl Flatfish along the south end.
TRINITY RIVER — The best steelhead fishing of the season is happening now, as rains have drawn in fresh wild and hatchery steelhead. Snow is possible this weekend and could make access tough. The Lewiston-to-Junction-City area is fishing best. Flows at Lewiston are 316 cfs, while flows at Douglas City are 392 cfs and 411 cfs at Junction City. Near Willow Creek, the flow is estimated at 1,600 cfs, and at Hoopa is 3,443 cfs.
TRUCKEE RIVER — The general trout season ended Nov. 15th, and the river is barbless, artificial, and catch-and-release only. Tony Marotta of Mountain Hardware in Truckee reported this is a good time for Blue Wing Olives, and the dark green stones are coming on with the Squalla hatch anticipated shortly. The flows are far lower than normal on both the Truckee and Little Truckee with the most water movement near Tahoe City or Truckee. The river is barbless, artificial, catch and release only.
Cencal Lakes
BASS LAKE — The recent trout plant has spurred action for bank anglers as well as trollers, and bass fishermen are also hooking up on the planted rainbows on ripbaits. The bank action is best around the Sheriff's Tower with nightcrawlers or trout dough bait. Trolling is best with blade/'crawler combinations or Wedding Rings tipped with a nightcrawler behind a gold dodger at depths to 20 feet. The Sheriff's boat is still operational, and boaters must possess the Motor Permit. The lake held at 48 percent. The Sierra National Forest extended the closure in certain regions until February 3. Information – https://www.fs.usda.gov/sierra/.
COURTRIGHT/WISHON/HUNTINGTON RESERVOIRS — Road access on the McKinley Grove Road to Wishon and Courtright is available for residents only during specific times with a permit. Road access to Huntington Lake and Camp Sierra is available for residents only during specific times with a permit. The Sierra National Forest has certain areas restricted until February 3rd. The Sierra National Forest extended the closure in certain regions until February 3. Information – https://www.fs.usda.gov/sierra/.
EASTMAN — Trout plants during the past week spurred on the swimbait bite, and there have been some quality largemouth bass taken on Huddleston swimbaits in rainbow trout patterns. The lake rose slightly to 8 percent.
MILLERTON — Finesse techniques for small spotted bass is the story here with the best bite in the river arm with 4.5-inch plastics in light shad, green pumpkin, or watermelon seed on the drop-shot or dart head. The lake dropped slightly to 33 percent.
O'NEILL FOREBAY — Mickey Clements of Coyote Bait and Tackle reported the best action has been near the Medieros launch ramp near the Twin Islands with ripbaits, flukes, or small swimbaits on an underspin for both bank and boat anglers. The heavy interest near Highway 33 has subsided this week as less cars are parked along the highway on the weekend.
PINE FLAT/LOWER KINGS — Planted rainbow trout are hard to keep off of small spinners or spoons near Windy Gap from the surface to 20 feet. The bass bite is a grind with finesse techniques with plastics on a Ned-rig, Neko rig, or drop-shot along with jigs remaining the best option near Trimmer. The lake held at 22 percent. The lower Kings River continues to be excellent for planted rainbow trout with nightcrawlers, trout dough bait, or Panther Martins, but a number of rainbows were released into the catch-and-release section. The harvest zone is between the dam and Alta (Cobbles) Weir, and between Alta Weir and Highway 180 is a catch-and-release zone with a zero limit.
SAN LUIS — Roger George of Roger's Guide Service reported the overall fishing has improved to a moderate level for trollers, saying, "The fish continue to be spread out in the water column and finding them in an active bite window is the trick. I scouted on Saturday, and there were a number of boats on the lake. I managed to released 14 school-sized striped bass to 26.5 inches working at depths from 50 to 80 feet over points and drop-offs. Topwater action reports have been scarce, but I'm sure there are some action at low-light. Bait and minnow fishermen continue to congregate around the Trash Racks for limits of school fish, but some boats are encroaching in the No Entry Zone within 500 feet. The water visibility is very clear and warm at 57 degrees." The lake rose to slightly to 49 percent. Jumbo minnows have been scarce in northern California bait shops.
SHAVER LAKE — Trolling action has slowed down a tad, but experienced trollers continue to score multiple limits of kokanee/trout. Jay Irvine of Visalia and Jim Fargo of Fresno posted limits over two days trolling from Dorabella Cove to the point at depths from 36 to 57 feet on the downriggers, but they found better action on the side poles from 15 to 30 feet with Dick's Scout Trout Busters behind a Dick's Mountain Flasher at a setback of 90 feet. Also productive were pink Mountain Hoochies behind a purple/green/silver Mountain dodger and Paulina Peak's green/orange spinner behind a High Mountain Panther Martin dodger. Brown and golden trout from plants over the past couple years are at catchable or larger size and have been found near the buoys in Dorabela Cove. As the winter fishing progresses into spring, most trollers will find better action in the top 35 feet of water. The lake held at 73 percent.