North Freshwater Fish Report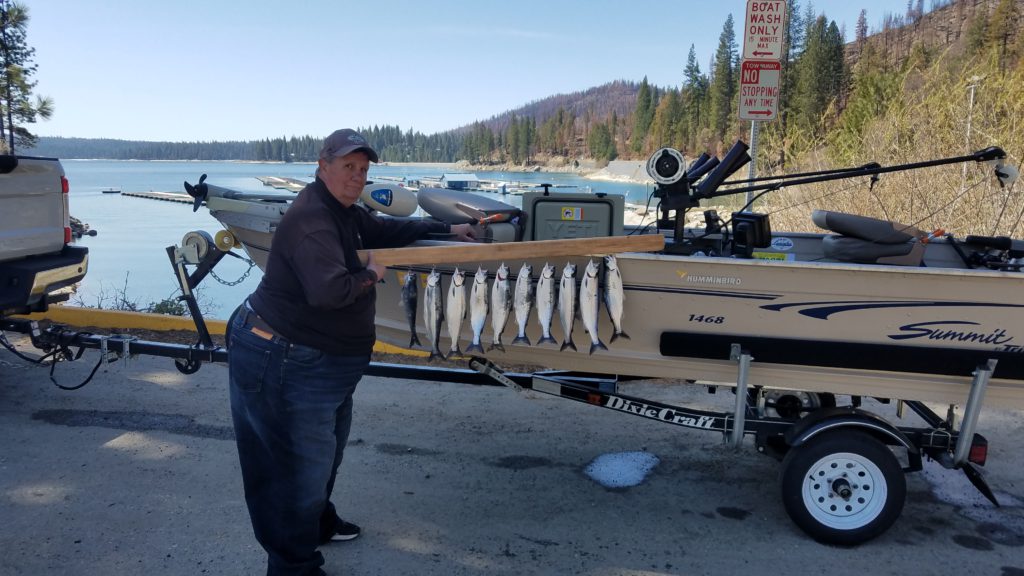 Updated April 12, 2021
ALMANOR LAKE — John Crotty of Quail Lake Lodge said, "The lake level continues to rise slows, and it is 12 feet from full and the lowest levelsl at this time of year in the past 10 years. The warmer weather is raising the water temperatures into the low 50's and the visibility is between 8 and 12 feet. Canyon Dam remains the only public boat ramp, and parking (especially on weekends) has been a mess. There was a thirty-boat bass tournament on Saturday. and there are tournaments scheduled for at least the next two weekends. It is unclear when the USFS ramp at Prattville will open, so in the meantime, be prepared for long lines at Canyon Dam. The bass are moving up into the shallows, and the bite has improved. Trout trollers continue to catch quality fish, and we are starting to see more rainbows and salmon in the mix. Huge insect hatches are going off, and fish are enjoying the dietary change. The fish are in great shape and hard fighting. As the fish migrate to the northwest portion of the lake in search of insects, the fast action should continue to improve as flies, hardware, crawlers and gulps will all catch fish. Arctic Fox trolling flies in hot orange and white trolled at 1.7 mph with or without a wiggle disc, speedy shiners at 2.5-3 (red/gold, red dot frog, and wonder bread) and of course crawlers and gulps at 1 mph are top choices. Bank fisherman continue to catch fish at Hamilton Branch, we are still 6-8 weeks away from the Hex Hatch. Most businesses are open and/or will open in the next few weeks, campgrounds remain closed and there are no major road construction projects currently underway on 32, 70/89 or highway 36."
AMADOR LAKE — A total of 1500 pounds split between 750 pounds of rainbows and 750 pounds of Amagolds (Lightning) trout were planted this week, and the fish were released near the dam by the Blue Dock and along the north shoreline. Robbie Dunham of Koke Machine Guide Service found near limits of 9 cutbows by noon before the group decided they had enough fish. He was trolling Speedy Shiners at 3 mph from 15 to 25 feet, and the trout continue to drop in the water column. Trout dough bait in the deeper areas along the shoreline are producing a few trout, and bass and crappie are holding along main lake points at 8 to 30 feet. The lake rose to 22 feet from spilling. The summer gate hours of 5:00 a.m. to 7:00 p.m. Monday through Thursday, 5 to 10 on Friday, and 5 to 9 on Saturday are now in effect.
AMERICAN RIVER/Sacramento — Minimal change on the American River below Nimbus Dam as steelhead action has slowed to a crawl. American shad are moving into the Sacramento River, but they haven't made their way up the American as of yet. The flows remain low, but they increased from 1681 to 2081 cfs at Fair Oaks this week.
AMERICAN RIVER/Above Folsom — The river is catch and release barbless hooks artificial- only above Folsom in Placer, El Dorado, Amador, and Alpine counties, and the river isn't open for the take of trout until the Saturday preceding Memorial Day through September 30th. Trout plants are scheduled in the South Fork at Coloma and Chili Bar during the week of April 11th.
LAKE BERRYESSA — The wind played havoc on the lake this week, and the kokanee and king salmon scattered out after being previously concentrated in the northern portion of the lake. The lake has produced the largest kokanee in California so far this year with at least one fish to 19 inches reported along with a number in the 16.5-inch range. This should be a tremendous summer of kokanee fishing. Cole Kipsey of Sweeney's Sports in Napa reported the bass have pushed into the shallows, and reaction baits such as chatterbaits, spinnerbaits, swimbaits, and jerkbaits are all working in a 'typical springtime bite.' Crappie is a matter of quality over quantity with some large slabs taken near the bridges in the northern part of the lake along with a few spots in the southern portion. King salmon action has slowed as the fish have scattered with the shad schools dissipating. The lake dropped slightly to 71 percent.
BOCA/PROSSER — Both lakes are now accessible as the snow and ice has melted, and shore fishing is good for holdover rainbow trout with nightcrawlers or spoons such as Kastmasters. Once the lakes are planted, trout dough bait will also be in play. Boca, in particular, is anticipated to experience heavy trolling pressure this spring/summer as the kokanee at nearby Stampede are anticipated to be extremely small with the largest in the area found at Boca.
BULLARDS BAR — Craig Newton of Will Fish Tackle in Auburn was on the lake during the week, and he reported easy limits of kokanee from 10 to 12.5 inches running pink hoochies behind a dodger from the surface to 25 feet, and he hooked one fish before the line was placed into the downrigger clip. There haven't been any bass reports, but Newton had something violently yank a hooked kokanee off of a line, and he predicted it was a large spot. The spotted bass are holding off of points in 35 feet of water. The kokanee limit is 10 per day to remove as many of the fish as possible. The lake rose slightly to 61 percent.
CAMANCHE LAKE — 3600 lbs. of Mt. Lassen Hatchery trout were split between the North and South Shore Marinas this week along with the South Shore Pond, and 370 pounds were trophy-sized rainbows. Leah Larson of the Camanche Recreation Company said, "There have been some big largemouth bass at 9.33 and 8.35 pounds reported this week out of the northern portion of the lake. Trollers have been scoring with various colors of Speedy Shiners or similar at depths to 40 feet, and bank fishermen are doing best with nightcrawlers, mealworms, and chartreuse/pink trout dough bait or Mice Tails in the pond within few days after the plant. Bass fishermen are working rockpiles or ledges with plastics on the drop-shot or similar finesse techniques at depths to 40 feet. The lake dropped to 57 percent with a surface temperature at 59 degrees.
LAKE CHABOT — Bass will soon be on the beds spawning. The lake was planted with 3,000 pounds of trout in March, and will get another 2,500 pounds from Mt. Lassen Trout Farms in April.
CHETCO RIVER, Brookings, Ore. — The river is closed until late May, when it re-opens for sea-run cutthroat trout. Perch are being caught along the jetties. Anchovies have arrived in the harbor.
CLEAR LAKE —The lake got a bit of a reprieve from big tournaments this weekend, but a number of anglers were out on the lake prefishing for the upcoming Western Outdoor News California Open from Wednesday through Friday. This tournament is expected to draw close or over 250 boats, and this will be followed by Saturday's Best Bass Tournament event which will attract a number of the same anglers. The low lake level is a concern, and it is quite possible that the launch ramps will be out of the water sometime in June. Boaters are advised to be cautious with the low water exposing unmarked underwater hazards. Bass fishing is best with plastics on the drop-shot or Ned-rig while underspins and jerkbaits are also effective. There are a number of bass already on beds in the shallow lake. Crappie are moving into the shallow in order to spawn, and the best action has been in the late afternoons from 5 to 8 p.m. with minnows or small Keitech swimbaitsSeveral launch ramps are closed, and boaters need to get on the lake early to find a parking spot at the available ramps at Lakeport, Red Bud, and the Oaks.
COLLINS LAKE — Regular trout plants have spurred on the trout bite, and with the lake 33 feet down, trollers have the upper hand in the main river channel and toward the dam. Boat traffic has been heavy on the weekends. 36 boat trailers were in the parking lot by 9:30 a.m. on Saturday. The low water levels may require the postponement or cancellation of the fall planting schedule, but the springtime plants will continue through mid-May. Speedy Shiners or similar spoons are effective for trollers at depths from 10 to 20 feet, and a few trout are taken on trout dough bait in the deeper water near the dam. The bass are scattered in pre-spawn mode along the gravel flats and several bass have also been landed on trout dough bait. Both launch ramps are in the water. The Nor Cal Trout Angler's Challenge arrives at the lake on April 24th.
CONTRA LOMA — Mt. Lassen Trout Farms will be planting 1,500 pounds of rainbows this month. It released 2,500 pounds in March, while CDFW planted 1,000 pounds.
DAVIS LAKE —Jeanne Graham of J&J's Grizzly Store said the lake is completely iced out, but the boat ramps are still inaccessible. There is 6 to 8 inches of snow on the Honker Bay ramp and the road along the west side to Camp 5 remains inaccessible due to snow. Bank fishermen are scoring with trout dough bait or nightcrawlers while fly fishermen are mainly finding success with midges. No launch ramps are available currently, and the Lightning Tree boat launch will most likely not be open with docks as the lake rose slightly to 63 percent while 74 percent of capacity is necessary for these docks to be installed.
DONNER — Shaun Rainsbarger of Shaun's Guide Service trolled big kokanee-patterned swimbaits for three mackinaw in excess of 10 pounds this week as the kokanee are rising in the water column to the 70 to 85-foot loading up on kokanee. Rainsbarger was able to release two of the three large mackinaw, and he releases everything over 10 pounds. The action has been better for trollers as the water is warming. Bank fishing for trout has been slow with the lack of plants. \The lake rose to 40 percent. The launch ramp is clear with the recent warm weather.
DON PEDRO — Ryan Cook of Ryan Cook's Fishing said, "Bass fishing has improved considerably, and we are scoring with ripbaits or spinnerbaits first thing in the morning before switching over to Baby Brush Hogs on a Texas-rig or Ned -rig along with Senkos on a wacky-rig or weighted wacky-rig at depths from 3 to 15 feet. There are plenty of bass on the beds, and the south end of the lake is best for spotted bass bedding around steep canyon walls. Cook and a Fish and Game employee rescued a bald eagle with a broken wing and leg from along a creek arm on Saturday. Planted rainbow trout are abundant with kokanee gear at depths around 35 feet, and a few small kokanee in the 13/14-inch range are showing up in the Upper Bay.
EEL RIVER (main stem) — As of Sunday, the main Eel dipped under 2,000 cfs on the Scotia gauge. The river is clear, and the fish will be holding in the deeper slots. There should be quite a few steelhead making their way downriver, though the fishing pressure has been light. The main stem Eel to the South Fork is open all year. Only artificial lures with barbless hooks may be used from Apr. 1 through Sept. 30.
EEL RIVER (South Fork) — Reminder: The South Fork Eel, Van Duzen, Mattole, Mad, Redwood Creek, and the Chetco all closed to fishing on March 31.
ELK RIVER, Port Orford, Ore. – The river closed to fishing March 31 and re-opens to trout in late May.
ENGLEBRIGHT — Limits of rainbows in the 13/14-inch range are taken near the houseboats with small spoons or Wedding Rings tipped with a piece of nightcrawler behind a small dodger. Planer boards continue to be effective as the trout are near the surface along with downriggers set to 10 feet. The lake is at 95 percent.
FEATHER RIVER —The flows dropped back down to 1930 cfs after rising to 2400 cfs to assist the plant of 1,000, 000 salmon smolts to make their journey down the river into the main Sacramento from their release point at Boyd's Pump. The low flows are keeping all but the most experienced boaters with jet engines off of the river. The best striped bass fishing remains from Verona to East Nicolaus with trout-patterned glide baits, wake baits, or swimbaits. The majority of striped bass are small males.
FOLSOM LAKE — Craig Newton of Will Fish Tackle in Auburn reported similar action for king salmon to 21 inches with pearl hoochies behind a dodger at depths from 40 to 50 feet in the North Fork. The Granite Bay launch ramp is in between levels, and it is a longer run at 5 MPH from the ramp at Brown's Ravine. He said, "There is a pile of salmon in front of the ramp one-quarter mile from the restrooms." The El Dorado Water District is keeping the lake at 37 percent in order to complete a maintenance project. Currently, launching out of Brown's Ravine is best as the lake is on top of the Granite Bay low water ramp, but below the 5 MPH ramp. Bass fishing is best from the banks around Rattlesnake with small plastics on a Ned-rig or drop-shot.
KLAMATH RIVER, Klamath Glen — The lower Klamath remains open and is in excellent shape. The boat pressure has slowed as the interest in winter steelhead is pretty much over. Very few boats are still fishing the lower river, but there should be some fresh fish still making their way upriver and plenty of kelts moving down. Increased flows coming down the Trinity next Friday should hit the lower Klamath sometime mid next week. River flows on Sunday were 10,600 cfs at the mouth of the Klamath, 6,000 cfs at Orleans, and 2,275 cfs further upstream in the Seiad Valley.
LAKE DEL VALLE — Striper fishing is good in the Lower Narrows, while trout fishing also has been good. Mt. Lassen Trout Farms planted 2,750 pounds of rainbows in March while CDFW stocked 1,000 pounds. Another 2,750 pounds of Mt. Lassen trout arrive in April.
LOS VAQUEROS RESERVOIR — Shaker-size and small keeper stripers are biting anchovies near the marina. Trout fishing has been good in South Cove.
MAD RIVER —The river is closed to fishing.
McCLURE LAKE — The Best Bass Tournament held a 65-boat tournament on Saturday, and the team of Chad and Graham Leon took first place with a limit of 14.89 pounds with a 7.82-pound big fish. Tournament director, Kevin Cheek, said, "Slow and shallow was the rule with a few reaction fish found in the mud lines." Ryan Cook of Ryan Cook's Fishing reported a 'wide open' bass bite for numbers with small plastics on a Neko-rig, tubes, or jigs worked very slowly in the shallows. There is an early or late topwater bite along with a ripbait bite with the shad finishing their spawn. Barrett's Cove Marina will be opening within the month, and the Bagby, Horseshoe Bend, and McClure Point North launch ramps are closed due to water levels. The lake rose slightly to 40 percent.
NEW MELONES — Bass fishing remains excellent with spotted bass to 4 pounds and largemouth bass to 6 pounds found this week with bed fish throughout the lake. Spotted bass are holding off of secondary points and over submerged island. Various baits are working including baits, spinnerbaits, weighted 5-inch Senkos on a Neko-rig or a wacky-rig. Kyle Wise of Head Hunter Guide Service found easy limits of kokanee to 14.25 inches running Apex or J-Pex lures at depths from 10 feet early to as deep as 43 feet. Limits of rainbow trout are taken on Shiners or similar spoons to 30 feet. Crappie fishing has improved with crappie lights at night near submerged structure or creek arms at depths to 35 feet with Beetle Spins or crappie jigs in black/chartreuse along with small to medium minnows. Glory Hole and Tuttletown boat launches are open at the middle ramp, but the Angels Cove launch ramp is closed. Bass tournaments have been placed on hold for the next few months. The lake dropped slightly to 63 percent.
NORTH BAY LAKES — Walk-in fishing is allowed at Lagunitas Creek, Alpine Lakes, Kent Lake, Bon Tempe Reservoir, and Nicasio Reservoir, all managed by the Marin Municipal Water District.
LAKE OROVILLE — The king salmon action at Oroville has slowed slightly, but experienced trollers continue to find up to four quality kings at depths from 60 to 80 feet with white hoochies behind a green Topcoat Flasher. There is a concern about the king salmon population since there have been few small salmon landed this year. With the limit at five salmon per day, a number of smaller salmon were kept last year. There are those wishing the limit was two or three per day. Numbers of spotted bass in the 1.5- to 2.5-pound range are unlimited on plastics on a slow presentation near the shorelines. Angler's Press will hold the next large bass tournament on April 17th. The Bidwell Canyon, the Spillway, and Lime Saddle ramps are open with Loafer Creek remaining closed. Updated information available at 530-538-2200. The lake held at 41 percent.
LAKE PARDEE — 1000 pounds of Mt. Lassen Hatchery rainbows were released into the lake this week, and bank anglers score up to limits with small Kastmasters, trout dough bait, or nightcrawlers within a day of the plant. The lake is gearing up for the first kokanee tournament in 18 months with at least 125 boats and most likely more participating in this coming Saturday's Kokanee Power Derby. The kokanee are larger at this time of year at 14 inches than last year in August, and despite the water temperature in the low 60's, the kokanee remain within the top 25 feet of the surface. The new hours for the Pardee Marina will be 7 A.M to 6 P.M., and the Café is now open from 7:00 a.m. to 2:00 p.m.
PYRAMID LAKE — The cutthroat trout are in the midst of their spawn, and the action has slowed to some degree, but it will improve again after the fish start feeding once again. J.D. Richey of Richey Sport Fishing continues to average around 15 cutthroat per trip trolling flutter spoons, FlatFish, Yakima's Mag Lips, G-Ratt's Sneaky Pete glide baits, and although the numbers were down, the size was up with several cutthroat over 10 pounds this week. From the shorelines, stripping a wide variety of streamers has been a good way to entice the fish with everything from buggers and beetles to larger articulated sculpin or trout patterns. Indicator fishing has mostly fallen off although some fish are still being taken on smaller number 10 to 12 midges. The action is expected to pick back up on a few weeks once they finish the spawn.
QUARRY LAKES — Mt. Lassen Trout Farms will plant 2,500 pounds of rainbows in April, following 2,000 pounds released in March. CDFW also planted 1,000 pounds of trout in March.
ROGUE RIVER, Gold Beach, Ore. — Spring salmon fishing continues to be slow. The start of the springer season has been the slowest in recent memory, with very few hatchery fish. Steelhead fishing also is slow. The bay fishery usually doesn't pick up until late June.
RUSSIAN RIVER — Scott Heemstre at King's Sport and Tackle in Guerneville said, "It is transition season on the Russian, and with the low flows and warm temperatures, the water is warming up and the bass fishery is starting to produce.  Look for structure and cover along the deep edges of the river and target these areas.  As for the steelhead fisherman, there are reports of small groups of new fish still heading up river, but mostly downstreamers and with the low warm water they are not in real good shape.  No reports yet of American shad being caught. The low flow is cancelled as of April 1st, and bait season is closed.
SACRAMENTO RIVER, Redding to Red Bluff — The river flows came up from 4397 to 5089 cfs at Keswick. Kirk Portocarrero of SacRiverGuide.com said, "Trout fishing is really good as we are catching and releasing 25 to 30 wild rainbows per trip by bouncing roe or soft BNR beads on light spinning gear. Small spoons like Dick Nite's are also productive."
SACRAMENTO RIVER, Red Bluff to Colusa — The Nor-Cal Guides and Sportsmen's Association is holding a two-day striped bass target-length derby this coming weekend with a first-place prize of $10,000 at Colusa Public Launch Ramp. Striped bass action has improved with black rubber worms at night for schoolies ot 22 inches. Sturgeon fishing has been fair in this section of the river as the diamondbacks are making their move back down the river. The launch ramp at Colusa is open, and although the flows are low, but the river is navigable. The flows have risen from 5051 to 5545 cfs at the Colusa Bridge this week.
SACRAMENTO RIVER, Verona to Colusa — Striped bass continue to make their push up into the river system, and there are piles of stripers above and below Tisdale. Drifting live minnows or casting glide baits, wake baits, or topwater lures in low light conditions are producing mostly male striped bass. The section of river around Verona remains very crowded with boat traffic, particularly on the weekends. The sturgeon are on their way back down into the bay/Delta, and the action for the diamondbacks has slowed. The flows at Verona increased from 6934 to 7284 cfs this week.
SACRAMENTO RIVER, Sacramento — American shad have arrived from Hood to Discover Park, and small pink glitter grubs on a light 1/32nd-ounce pink head is working best in slow water while a 1.5-inch chartreuse grub on a green head is best in areas with more flow. Striped bass action has slowed as the linesides are pushing up quickly into the upper river, but there are more on the way. Sturgeon fishing is best under the I Street Bridge on the Yolo County side or the Highway 80 Bridge in town with ghost shrimp or pile worms. Similar to other sections of the upper river, the flows have risen slightly from 13,167 to 13, 498 cfs at Freeport.
SAN PABLO RESERVOIR — Trout fishing was good over the weekend after 1,200 pounds of trout were planted by Mt. Lassen Trout Farms. Scow Canyon, the Main Rec and the tower are all hot spots.
SHADOW CLIFFS RESERVOIR — CDFW planted 1,000 pounds of trout in March, while Mt. Lassen Trout Farms released 2,250 pounds. Another 2,000 pounds of Mt. Lassen rainbows arrive in April.
LAKE SHASTA — Kokanee made their first appearance of the season, and after several years without a viable kokanee population, Shasta is back in place with early-season kokanee to 14 inches in the top 25 feet with a variety of spinners in various colors in the Dry Creek Arm. Jeff Goodwin of Jeff Goodwin's Guide Service has been targeting big browns mainly, and they will be around through summer, and the rainbows will show in bigger numbers in May. John Boitano of JB Guide Service reported solid bass action for fish to 3 pounds working down baits, but the larger bass are moving into the shallows and making beds in the backs of coves. Small topwater lures or plastics are plucking the fish out of their beds as the purpose of these lures is to upset the bass. The public docks of Centimudi, Sugar Loaf, Jones Valley, and Packer's Bay are open. The lake held at 53 percent.
SMITH RIVER — The Smith was right around 1,500 cfs on the Jed Smith gauge on Sunday. Fishing reports have been hard to come by as most anglers have moved on for the season. There should be some downers around with a few fresh ones still making their way upriver.
LAKE SONOMA — The Water temperatures are just climbing over 60 degrees back in the coves, and the largemouth bass are responding well to Senkos, rubber worms, and Brush Hogs. One angler bragged to Brad at Outdoor Pro Shop that he caught 20 bass last week.   Steelhead are slow in front of the dam.
SOUTH BAY LAKES — Chesbro has been the best bet for crappie, especially in the evening. Bass fishing, along with crappie action, has improved at Coyote, and while still fairly slow, fish to 3 pounds are being caught. Anderson Lake is closed. Calero is open to boating, and is fishing well for bass. Uvas is slow for bass and crappie because of low, muddy water.
STAMPEDE RESERVOIR — The snow is melting, and anglers are already starting to launch small boats off of the side of the lake. The ramp could be accessible as early as this coming week as boaters are anxious to be the first on this reservoir.
LAKE TAHOE — Zach Gordon of Tahoe Sport Fishing reported limits of mackinaw with several in the 4/5-pound range were found in relatively shallow water from 80 to 100 feet along the South Shore over the weekend. He said, "The trout are moving up into the shallows, and we should be able to troll up some rainbow and brown trout now." J.D. Richey of Richey Sport Fishing has been finding limits of mackinaw to 5 pounds trolling at depths from 110 to 220 feet with G-Ratt's Pistol Pete glide baits or white/silver flutter spoons. The surface temperature is 45 to 46 degrees as it is warming up.
TRINITY RIVER, Willow Creek — The lower Trinity is green with flows holding steady at around 2,700 cfs on the Hoopa gauge. Like the Klamath, fishing pressure has been extremely light. Reportedly, boats drifting from the South Fork to Willow Creek are finding a handful of adult downers and an equal number of half-pounders per trip. Flow releases are expected to increase from 300 cfs to 1,200 cfs beginning Friday, April 16 as part of the spring restoration release schedule. The CA Department of Water Resources has declared 2021 a "Critically Dry" water year. More information and the complete flow schedule can be found at www.usbr.gov/newsroom/#/news-release/3809
TRUCKEE RIVER — Tony Morotta of Mountain Hardware reported the river is rising as snow is melting in the watershed, but the water remains clear. Skwala dry flies are working on a dropper combination with a Blue Wing Olive nymph or Zebra midge fished from 1 to 3 feet below along with midges are working, and there will be a caddis hatch on the warmer afternoons. Streamer fishing is best for the opportunity for a big brown, but they have been scarce so far. The fish are found in a variety of water types from deep buckets to medium-fast riffles or in the slower glides and tail outs. The river is running at 740 cfs at Farad.
VAN DUZEN — The river is now closed to fishing.
Cencal Lakes
BASS LAKE —The Bass Lake Chamber of Commerce Fishing Derby is back on for May 1st/2nd. The Grand Prize tagged trout is worth $25,000 with two more at $10,000, one at $5000, eight tagged fish worth $500 which are new this year thanks to local sponsors, one hundred-fifty worth $100, and 847 at $20. Registration closed at 9:00 a.m. on Saturday, May 1st with registration and information available at https://www.basslakechamber.com/fishing-derby. Todd Wittwer of Kokaneenet.Com Guide Service said, "We have been averaging from 6 to 10 fish per trip, and the majority of these are trout running purple/pink Rocky Mountain Tackle Signature Squids behind a matching dodger are working best, anywhere from the surface to 26 feet. One day, the trout were close to the surface and the next day, they were between 18 and 26 feet.The Sheriff's Motor Fee remains in effect. The Sierra National Forest has extended closures for select recreational sites, roads, and trails until April 21st. Information – https://www.fs.usda.gov/sierra/. The lake rose to 62 percent, making launching a large boat at the public dock more doable.
COURTRIGHT/WISHON RESERVOIRS — The McKinley Grove Road is closed at Dinkey Creek, ending access to the two lakes on the upper Kings River watershed. The road to Wishon should open by the end of the month, and a trout plant is scheduled at Wishon this week. The Sierra National Forest has extended closures for select recreational sites, roads, and trails until April 21st. Information – https://www.fs.usda.gov/sierra/.
EASTMAN — The bass bite remains extremely slow with only one or two bass being a possibility with the lake still a 'mud puddle' at 11 percent. Catfishing is the best option near the launch ramp in the evenings with cut baits, chicken livers, or nightcrawlers.
HENSLEY — Small crappie are attracting a few anglers to the lake with minijigs around structure, but most area crappie fishermen are heading south to Isabella or Kaweah. The bass bite remains slow with anglers having the opportunity for a few fish to 3 to 4 pounds with squarebill crankbaits or plastics such as Senko's, Zoom Z-Craws, or Strike King's Structure Bugs in the shallows up the river arm. The lake held at 23 percent.
HUNTINGTON — A trout plant occurred two weeks ago, and a few planters are taken from the shorelines near the mouth of Rancheria Creek with trout dough bait or nightcrawlers. The lake rose slightly to 46percent, leaving the boat launch is out of the water and only hand-carried boats are able to be launched.
MILLERTON — Cody Greer of Valley Rod and Gun in Clovis reported good action for spotted bass as the fish are locking into beds. There have been a few largemouth bass to 4 pounds landed, and the reaction bite is picking up with crankbaits while plastics on a Texas-rig, Senkos, or jigs are the best for numbers. The lake rose held at 35 percent.
O'NEILL FOREBAY — The pumps have been running regularly at the forebay, and striped bass fishing is best in the moving water around Check 13 with pile worms or anchovies for the opportunity for a legal limit after culling through numerous undersized linesides. The Highway 33 side of the impoundment has been the most productive, and parking on this side is limited as the lot fills up and vehicles have to park alongside the highway far from the lake.
PINE FLAT/LOWER KINGS — Cody Greer of Valley Rod in Gun in Clovis said, "The bass are on beds, and flukes, jerkbaits, or similar reaction baits are working. The bait is starting to form." The Cen Cal Elite Bass Tournaments held at 35-boat derby this Saturday, and the team of Ralph Encizo and Denny Bowlin came in first with 18.55 pounds with an 8.37-pound kicker. The limits dropped precipitously after first place, but each of the top three teams was able to land a bass over 4 pounds. A few crappie are taken at night close to the docks in the Deer Creek Marina or the trees around Trimmer with small to medium minnows under lights. Trout trolling has been slow despite the recent trout plants, and most trollers are heading to Shaver Lake The lake rose from 27 to 29 percent. The lower Kings River is scheduled for a trout plant this week. Trout fishing remains solid for the recently planted rainbows with Panther Martins or Mepp's spinners are working best where the water is moving close to an eddy of slower water. Salmon eggs, nightcrawlers, or trout dough bait is also effective.The harvest zone is between the dam and Alta (Cobbles) Weir, and between Alta Weir and Highway 180 is a catch-and-release zone with a zero limit.
SAN LUIS — The wind has been an issue as the lake will close with high winds creating dangerous conditions, but Roger George of Roger's Guide Service took out father Martin and 14-year old Logan Dieck of Palo Alto after waiting until noon for the lake to open. They caught and released 10 schoolies along with Logan's personal-best at 12 pounds before the bite shut off trolling Lucky Craft Pointers in shad patterns. He said, "The bite is tough overall, and the water temperature is nearing 60 degrees, and they males are already milting." Boaters are drifting extra-large minnows or anchovy fillets for limited success while bank anglers are casting Rat-L-Traps, topwater lures, or jerkbaits in the early mornings. The lake dropped slightly to 53 percent.
SHAVER LAKE — Shaver is the sleeper on the California kokanee scene, and there have been kokanee to 17 inches reported already in this early season. Pink or orange spinners tipped with scented corn behind Mag Tackle's gold dodgers or Dick's Mountain dodgers in watermelon at 21 to 45 feet on the downrigger from the Point to the Island are regularly producing limits to 15 inches. Trout trolling is best from the surface to 20 feet near Roads 1 and 2 or the dam with blade/'crawler combinations or Dick's Trout Busters tipped with a nightcrawler. Two plants of rainbows to 9 pounds from the Shaver Lake Trophy Trout Project will occur within the next two months. The lake rose slightly to 76 percent. Launch conditions can be seen via webcam at http://www.sierramarina.com/camera.html.