South Freshwater Fish Report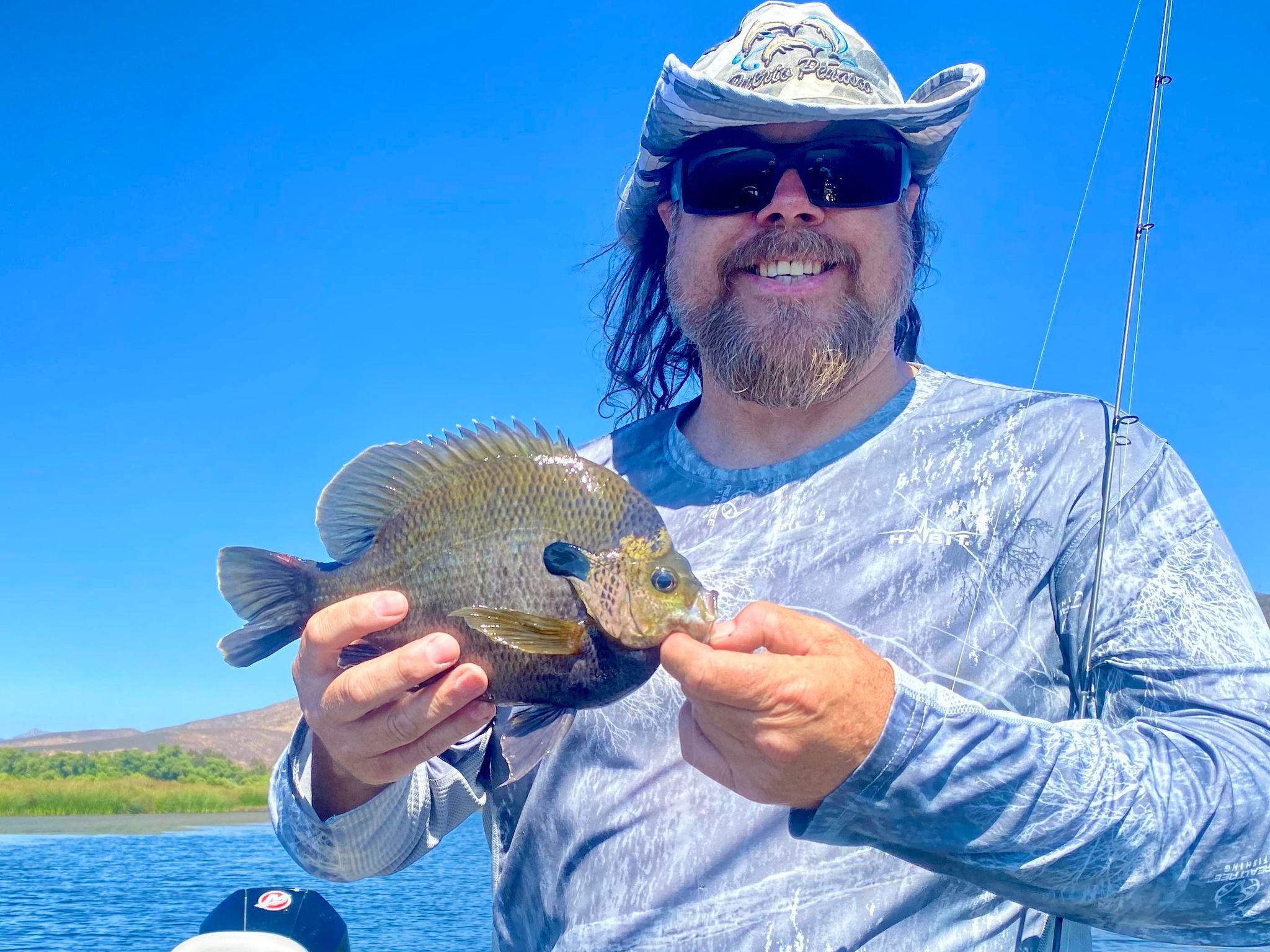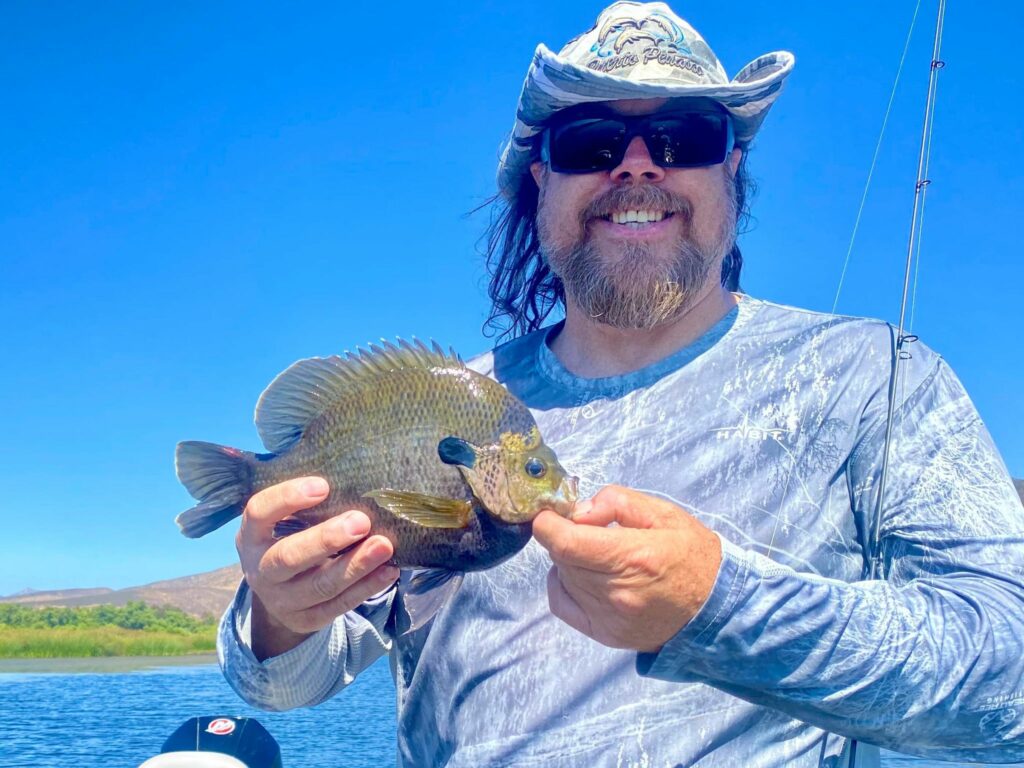 Updated July 4, 2021
AQUEDUCT (NEAR BAKERSFIELD) – Striped bass continue to bite fairly steadily over the last couple weeks for anglers covering water with small swimbaits, soft jerkbaits and cut baits. Anglers finding spots where white water meets calm water are finding the best results. Cut baits soaking on the bottom are still producing an occasional catfish.
BARRETT RESERVOIR – Lower numbers (than the gaudy, triple-digit video-game numbers of years past) but better quality remain the rule this season. A good day numbers wise is 15 to 40 fish, and a great day is hitting 50. Better fish are around 4 and 5 pounds, but the lake did give up a 10 pounder a month ago. Air temps are north of 100 by noon, and that's when a lot of anglers shut it down. Topwater, chatterbaits, swimjigs and the occasional frog are among the fun stuff that's getting bit. And you can almost always get fish on worms, jigs and creatures.
BIG BEAR LAKE – Rainbow trout continue to bite pretty consistently here for both boaters and shoreline anglers with boaters getting the recent edge as temperatures creep upward. Trollers continue to find success with Flicker Shads and various Rapalas, with pink, red and chartreuse spoons and wedding rings also doing the trick. Drifting nightcrawlers has also been an effective tactic in recent weeks. Shore anglers are also doing well enough soaking PowerBait, Power Eggs, Mice Tails and nightcrawlers on longer leadered Carolina rigs and slip bobber rigs — there have been some nice 5-plus pounders in the mix lately. The west half of the lake has the bulk of the rainbows holding and catches are being made in anywhere from 5 to 20 feet with good oxygen content levels. Anglers targeting catfish continue to find willing biters, mostly soaking either shrimp or mackerel.
BUENA VISTA LAKES – No report available.
CACHUMA LAKE – The crappie bite has really picked up here of late around cove mouths and submerged structure, reported lake staffers. Minijigs and mealworms have been doing the bulk of the damage on the slabs, along with an occasional small shad imitation either cast or trolled. Trout remain fairly consistent, with the best bet being trolling in the 6- to 18-foot zone. On the bass front, buzzbaits, walking baits, poppers and weightless soft jerkbaits are getting some play in the mornings, while drop-shot plastics, Ned rigs and Senkos are producing most consistently during the day. Anchovies and mackerel are accounting for a fair share of catfish bites.
CAHUILLA LAKE – The catfish bite remains solid for holdover fish from the heavy stocking that went on before the derby a couple weeks ago. Dip baits, nightcrawlers and shrimp are all working well. The bass bite is good-not-great with a couple slow days in the mix. Plastic worms, chatterbaits, smaller jigs and Ned rigs should all be in the mix.
CASITAS LAKE – The bass fishing here remains steady. Largemouth are keyed on shad, making a variety of threadfin imitations effective weapons, particularly Damiki Armor Shad underspins, Basstrix Flashtrix and Keitechs, reported local guide Fred Klinshaw. Topwater is also getting a fair share of play here. Guys using live shad are also scoring very well as the shad are plentiful at the moment. When things slow down a bit, Ned rigs and smaller shad colored soft plastics are getting some play. The panfish bite is good for anglers soaking live worms while the occasional catfish is taking cut mackerel. Water temps are in the mid-70s with lots of grass now growing in the lake.
CASTAIC LAKE – Despite a falling lake level that has tended to fall at least a few feet each week, the bass bite remains pretty good overall. The water drop has the majority of fish drawn out of the coves and holding on main and secondary points and bluffs, said local guide Jim Taibi. There is a decent topwater bite early and on windy afternoons with poppers, buzzbaits and weightless Flukes. In between, it's still about either 4- and 5-inch wacky-rigged Senkos tossed off bluff walls or finesse soft plastics on drop-shot or Carolina rigs worked slowly in 10 to 20 feet of water getting the job done. Drop-shot plastics and green pumpkin Ned rigs have also been effective. Striped bass have been hit or miss of late. Best bet in recent days has been wind-blown cove mouths soaking cut baits in 10 to 50 feet, with a few stripers coming on the troll. There have also been occasional boils that are producing mostly schoolie fish on small swimbaits, while a few larger linesides are coming out of the boils on larger topwater offerings.
CUYAMACA LAKE – Trout are just fair overall for patient anglers biding their time for bites. That said, heavy stockings late this spring are still giving anglers a fair share of opportunity at a few rainbows to add to the stringer. It's mostly bait soakers getting the best of it lately with temps inching upward – go with green garlic, salmon peach, chartreuse or rainbow PowerBait or inflated 'crawlers along with Mice Tails soaked out in a little deeper water. A few nice bass are showing for shore pounders hitting the right spots with swimbaits and creature baits. Small live worm offerings are getting a fair share of panfish.
DIAMOND VALLEY LAKE – More quality bass are being caught on a variety of bigger swimbaits with a fair amount of those showing up on bluegill imitations. The rest are trout imitations in the 6- to 8-inch range. Drop-shots are still getting the deeper largemouth hanging out 15- to 20 feet of water. Some walking bait largemouth are also showing up. It's been quiet for striped bass and big catfish, both of which perked up a week ago.
DIXON LAKE – Night fishing will begin on July 8 to kick off catfish season. That will happen on Thursday and Friday nights between 5 p.m. and 12 a.m. through August. Some bass are being caught by the few bass targeting them. There are actually still a few bass being found on beds, but even those are hard to get to go. Big worms seem to be getting the best of the bass bite.
EL CAPITAN RESERVOIR – Fair bass fishing on drop-shots with Roboworms in Margarita Mutilator showing up a lot in some of the better reports. Slow and low with worms, creatures, craws and jigs still seems like the best way to get after it. It's been quality over quantity
ELSINORE LAKE – The catfish bite remains fairly decent in the evenings and early mornings around weed lines, with mackerel dipped in Bite-On Cajun scent staying on top as the top cat bait with shrimp also working for some bites. Bass fishing is just fair overall, with drop-shots, jigs, Ikas and Senkos being best. There are now some opportunities for topwater early and late, however.
GREGORY LAKE – Lake staffers told WON Gregory is still getting trout plants from the DFW. One was a couple weeks ago, and another is scheduled for next week. Jeff Cottini of Mountain Top Anglers said these are the most frequent DFW stocks he's seen since he moved to the area. The bite has been good for the bait-and-wait guys in Trout Cove and the South Shore by the parking lot. The San Moritz area has been decent in the mornings.
HEMET LAKE – Panfish, catfish and even bass will be the best species to target as summer takes hold. The occasional trout will show up for anglers dunking floating baits.
HENSHAW LAKE – No report available.
HESPERIA LAKE –  On Thursday, 2,000 pounds of catfish were stocked including some tagged fish good for swapping for merch at the park store. North Shore, Sandy Point and Finger Cove have been the top fishing areas. Worms, shrimp and anchovies are all working well.
HODGES LAKE – The lake is now closed for the season to all recreation. The plan is for it to be open by the standard spring opener in 2023.
IRVINE LAKE – Catfish have slowed here some, but a few cats are still finding their way to the net. Fresh mackerel dipped in Bite-On Cajun thrown tight to the thick stuff remains the hot ticket for bites. Bass are also taking baits on occasion, mostly on weedless soft plastics or the occasional paddle tail swimbait.No fishing license is required and the lake is open Fridays, Saturdays and Sundays — parking is $5 per vehicle.
ISABELLA LAKE – Bass are in summer mode and are showing up on a wide range of baits including plastics, jigs, chatterbaits, tubes and topwater. Most biters are being found from right up against the bank to 15 feet of water just offshore, and many are keying in on post-spawn shad. Panfish action is fair with hit-0r-miss crappie fishing on jigs or minnows over structure spots. The annual Isabella Lake (trout) Fishing Derby came to an end July 4.
JENNINGS LAKE – Catfish continue to show well here after regular stockings. Night fishing is now on tap until midnight every Friday and Saturday night through the season from here out — entry gates close at 10 p.m. and lanterns are required after sundown. The lake will be planted again with 1,000 pounds this week. Bass are on a fair bite on a mix of reaction stuff early and late — including a bit of topwater — and soft plastics and Brush Hogs dragged along the bottom through the day. Bluegill and redear have been biting very well on waxworms and nightcrawlers, with good numbers showing along with some larger models to 2 pounds, particularly in Hermit and Siesta coves in the late afternoons and evenings. Water temps are hovering in the mid 70s.
JESS RANCH LAKES – "The lakes will be closed until fall 2022" per JessRanchLakesNews.com.
KERN RIVER – Flows in the upper river around Kernville are fluctuating between 330 and 190 cfs. The higher end of that range is likely going to be as high as it gets until the next rainy season. Various hatches are coming off resulting in decent dry-fly fishing, but it's always a good idea to stop by Kern River Fly Shop in Kernville for the latest patterns and conditions. Sections 4, 5 and 6 were recently stocked.
LOPEZ LAKE – Bass fishing is decent here despite the public launch ramp being closed. Shore pounders, kayakers and rental boaters are picking away with mostly soft plastics along with some topwater and reaction stuff early and late in the day, but a lot of the bites are still coming on finesse jigs and drop-shot worms in anywhere between 3 and 15 feet of water. The panfish bite is on for fisherfolk soaking live worms from either boat or shore for a nice mix of redear and bluegill with an occasional crappie. Anglers can view a live webcam of the lake at 805webcams.com.
LOWER OTAY RESERVOIR – On the bass side of things, it's very much the heart of summer in 75-degree water. Topwater has been solid early, late and even mid-day around shady, tule-lined banks. Some are being caught in open water on soft jerkbaits and small swimbaits as they push shad to the surface. Some Texas-rig, drop-shot and stickbait bass are also being caught. The bluegill bite is good in most coves on most small worms, but most of those fish are all smaller models.
MIRAMAR LAKE – Shore fishing for bass has improved on reaction baits toss from shore, especially square-billed cranks. Largemouth to just under 4 pounds have been reported. Most are being caught on finesse plastics and are in the 1- to 2.5-pound range. The water level is still several feet from reaching the ramp. The launch area is fenced off, but word is the lake level is rising a couple feet per day.
MORENA LAKE – No report available.
MURRAY LAKE – It's getting hot out here and most bass anglers are on the water early and off it by noon. There have been some decent catches to around 5 pounds on fun stuff like wakebaits and topwater. Some Texas-rig and drop-shot biters are being picked up in deeper water. No big numbers but most biters are at least 3-pound chunks.
NACIMIENTO LAKE – Bass fishing continues to be very good for a mix of spotted and white bass. The reaction bite is going pretty good and there's been some good topwater action available at times with Whopper Ploppers, poppers, weightless Flukes and walking baits, along with lipless and squarebill cranks and underspins also working on the reaction front for spots up to around 3 pounds. There has also been a wide-open bite at times on drop-shot plastics when bites come early and often. Some fish are also being picked up with spoons worked over meter marks of schools. Anglers are also connecting with white bass on the troll with inline spinners, lipless crankbaits and Kastmasters. Anglers can view a live webcam of the lake at 805webcams.com.
PERRIS LAKE – It's been getting busy as far as boat traffic, and obviously the holiday weekend was a zoo. The summer-mode bite has been decent in 25 feet of water where they are feeding on baitfish or bass fry. Poppers and walking baits are working early around the island. Largemouth should move into open water within the next couple weeks, and the expectation is that trophy summer bass will start perking up.
PIRU LAKE – No report available.
POWAY LAKE – Very light fishing pressure as local anglers wait for the first round of catfish stocks, and lake management has yet to announce when plants will start up this season. Holdover catfish can always be caught here, and most of them will show up around the Log Boom on cut mackerel.
PUDDINGSTONE LAKE – No report available.
PYRAMID LAKE – Bass fishing is pretty good here at the moment, particularly for smallmouth. There's been some decent topwater opportunities early along with a handful of crankbait fish before the most consistent action through the day has been coming on 4- and 5-inch Senkos in green pumpkin along with green pumpkin Ned rigs and 4½-inch Robos on the drop-shot. A handful of trout are still showing in deeper water near Posey, Bear Trap, Spanish Point and around the marina on spoons, nightcrawlers and PowerBait, according to lake staffers.
SAN ANTONIO LAKE – Catfish remain the top attraction here. Anglers soaking cut baits – mackerel dipped in garlic scent in particular – have been getting a fair share of play. The bass bite has actually slightly picked up as well in recent days, with most showing on soft plastics. Smaller bluegill and redear continue to chew well on live worms. Boat launching remains Friday through Sunday, but despite the slower fishing it is much lighter boat pressure here than at nearby Nacimiento.
SANTA ANA RIVER LAKES – Just more of the same here as weekly catfish plants continue to keep rods bent heading into July – whiskerfish are planted each and every Thursday at SARL (which is closed on stock days). A variety of cut baits along with shrimp are already doing most of the damage and adding scent to your offerings isn't a bad idea. The best bite continues to be on casts not all too far from the banks, maybe 15 to 30 feet or so.
SANTA MARGARITA LAKE – Bass fishing remains a bit scratchy at the moment but a few more largemouth are starting to play. Anglers are picking away for a few bites including the occasional larger model bass, but numbers are still moderate overall. The panfish bite here, however, is going strong on a mix of mealworms, redworms and nightcrawlers soaked at various depths, particularly around the White Oak area. Trout continue to chew well for anglers soaking bait from shore or on the troll — limits have been common for those targeting the well-stocked rainbows. An occasional catfish continues to pop up here and there after eating a chunk of mackerel. Anglers can view a live webcam of the lake at 805webcams.com.
SANTEE LAKES – Catfish continue to be on a steady chew and the most recent night fishing sessions have produced particularly well — the next night fishing session is July 7. Mackerel, shrimp, garlic nightcrawlers and stink baits are all working fairly well for bites and another 1,000 pounds were split between Lakes 2, 3, 6 and 7 late last week. Bass fishing remains consistent with a little topwater action early and late along with paddle tail swimbaits and hard and soft jerkbaits working well enough, particularly when there's a little breeze, otherwise it's been your standard soft plastics getting bit. Park hours are 8 a.m. to 5 p.m. Monday through Thursday and 6 a.m. to 5 p.m. Friday through Sunday. Night fishing is on tap on select days through the summer, with the next session scheduled after this Thursday (July 7) set for July 21.
SAN VICENTE RESERVOIR – Walking baits and Flukes are working well early in the morning, then switching to a 6-inch Roboworm in Morning Dawn or Orange Crusher for drop-shotting or Texas rigs for the rest of the day is a good way to pile them up. Those worm fish are being caught in 20 to 30 feet of water according to guide Rusty Brown (RustyBassHook.com).
SILVERWOOD LAKE – There's still a decent striped bass bite going on for smaller fish. Anchovies and lugworms are doing most of the damage. Catfish are picking up chicken livers around the Marina Dock where big bluegill are also eating live worms. Largemouth bass fishing has slowed, but looking at the last month overall it's been above average on finesse baits.
SKINNER LAKE – Catfish stocking is underway, but the bite was already decent on holdover fish before they arrived. Chicken livers around Ramp 2, the dam and inlet and various coves is working well, and the stocking certainly doesn't hurt. Stripers are still being caught by the dam/inlet on cut anchovies with little or no weight in 50 to 70 feet of water from a boat.
SUTHERLAND RESERVOIR – The bass bite has slowed a bit, but the bite is still fair with a good day here and there on worms, cranks and jigs. Catfish are still showing up both on mackerel and chicken livers and on crankbaits and the occasional swimbait intended for bass. Crappie fishing is okay around the trees for anglers using grubs or small shiners.
WOHLFORD LAKE – In the final week of June, 1,000 pounds of catfish were scheduled to be stocked in addition to the 750 pounds that went in the week of June 12-18. Then there are four trout plants slated for July. The bite has been good regardless of stock status on chicken liver, shrimp and mackerel. Crappie fishing is fair on minijigs or small shiners drifted on boats or pitched around cover.