South Freshwater Fish Report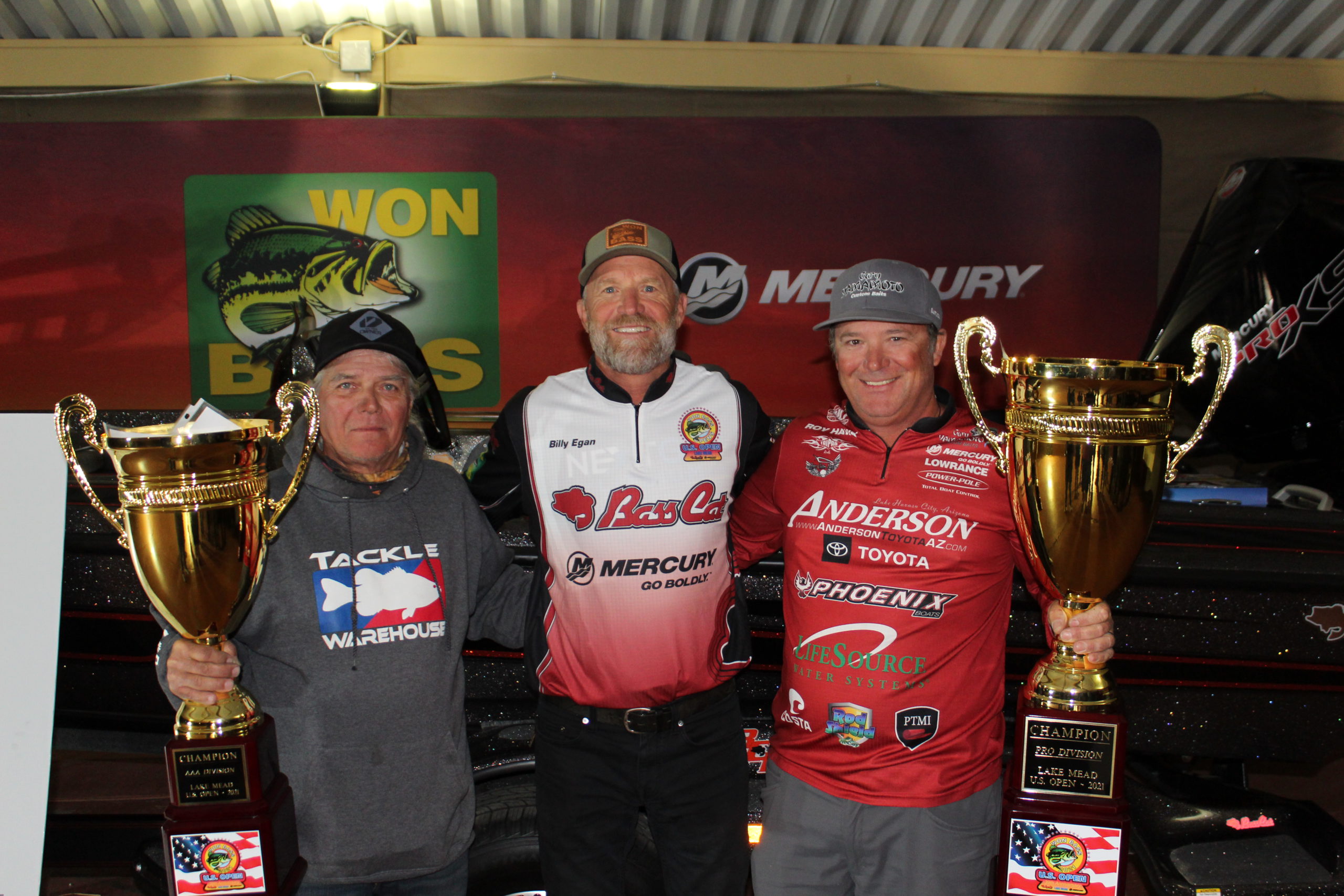 Updated October 18, 2021
AQUEDUCT (NEAR BAKERSFIELD) – Striped bass have been biting pretty steadily over the last couple weeks for anglers covering water with small swimbaits, soft jerkbaits and cut baits. Cut baits soaking on the bottom are also producing some catfish.
BARRETT RESERVOIR – Tubes, grubs, jigs, stickbaits and Texas rigs are still producing the best numbers. There are still some topwater bass (frogs, Berkley Choppo, poppers) being caught along with crankbait fish. When low pressure systems move through, the bite is definitely better later in the morning when things warm up. A good day is now 20-plus bass. Big bluegill and crappie are also showing up.
BIG BEAR LAKE – Trout continue to bite pretty well here after a trio of big stockings last month ahead of the annual WON Troutfest held Oct. 2-3. Trolling remains the top tactic here, with Flicker Shads, various Rapalas and Needlefish, and nightcrawlers on wedding rings all being good options. Shore anglers are doing best near the Red House and the dam with 'crawlers and dough baits on slip bobber or Carolina rigs. With cooler water temps, trout are now being caught throughout the lake and not just near the dam where they had been congregated most of the summer. The East Launch Ramp is closed but the West Launch Ramp and the lake's marinas remain open for business.
BUENA VISTA LAKES – Continued light fishing pressure here and the catfish have been slower going with no recent stocks this summer. The handful of anglers who are getting out are reporting fair bass fishing on a mix of reaction baits early and late and soft plastics during the daytime. The trout derby this year is set for Nov. 20, with a good stocking scheduled just ahead of the event.
CACHUMA LAKE – The bass bite is still rolling right along as largemouth are schooling up and keying on shad and pushing them to the banks. Anglers are capitalizing on the early fall feeding frenzy by throwing underspins, lipless cranks, shallow crankbaits in shad patterns and a variety of soft plastics. Anglers targeting crappie with minijigs are scoring steady numbers in the 10- to 18-foot zone around stickups with occasional largemouth catches mixing in. Catfish are showing in numerous coves on anchovy, sardine, mackerel and nightcrawlers.
CAHUILLA LAKE – Good multi-species bite going on here in the shoulder season between catfish and trout stocking. Drop-shots are picking up bass on both sides of the jetty. Catfish have been stocked by the county, and they're being caught on garlic scented chicken or shrimp.
CASITAS LAKE – Bass fishing is still somewhat on the slower side here, but there have been some small windows of opportunity that are producing decently enough here and there. A weekend team tournament was won with 17½ pounds with a handful of 4-plus pounders being checked in. Occasional shots at buzzbait biters first thing in the morning in isolated areas along with a few aggressive takers hitting soft jerkbaits. Otherwise it's pretty much been all about either flipping weightless Senkos in shallower grassy areas or drop-shot worms out a little deeper to find bites. Anglers soaking nightcrawlers from the banks are getting a decent mix of redear, bluegill and the occasional bass. Catfish are showing occasionally with most preferring mackerel.
CASTAIC LAKE – The water level remains extremely low here but there's still been some decent bass fishing to be had. However, high winds this past week led to lake closures and threw somewhat of a wrench into the bite, both in terms of quantity and quality, according to local guide Jim Taibi. Senkos and soft plastics on drop-shot or Carolina rigs are producing best with the better bites of late coming in the afternoons. Points and bluffs in the Ski Arm have been the best areas to target in recent days. Smaller stripers are still biting fairly well on trolled flies and umbrella rigs with the occasional larger model falling victim to swimbaits and glide baits here and there.
CUYAMACA LAKE – The large trout stocking from the annual O.P. Ball "Fishin' in the Pines" free kids derby continues to pay dividends for area anglers. Trout numbers are still up from the dog days of summer and there have been a handful of nice rainbows in the mix. All the usual tactics are working ranging from minijigs and tube baits to PowerBait, Mice Tails and inflated 'crawlers. Not much word on other species, however.
DIAMOND VALLEY LAKE – The good news is, respectable numbers of largemouth bass are not only being caught, but they're eating reaction stuff. The "bad" news is, they're mostly rat-sized fish. According to Art Hill (ArtHillFishing.com), jerkbaits and underspins are working well. He prefers the ima Flit for his jerk work, and he also said there are some topwater fish being caught when they're up near the surface chasing bait. WON is connected with lake management and will be waiting for them to announce when trout stocking is set to begin for the season.
DIXON LAKE – Schools of micro (talking fingernail size) shad have popped up all over the lake, and bass are found under some of those schools. Bass anglers finding themsevels in the right place at the right time can hookup on shad-colored crappie jigs (matching the hatch!) on ultralight gear and the occasional underspin, Alabama rig or weightless stickbait. According to the City of Escondido, trout season will kick off with a 3,000-pound plant on Nov. 16. The last two catfish plants consisted of 1,000 pounds each on August 6 and 13.
EL CAPITAN RESERVOIR – Weather and water continue to cool, but based on the fishing alone, El Cap is still hanging on to summer. In water over 72 degrees on average, a lot of surface fish are still being caught on topwater and smaller (2- to 3-inch) swimbaits. There are some spoon bass being caught in deeper 30 to 40 foot depths. Crankbaits are also picking up a fair amount of El Cap largemouth.
ELSINORE LAKE – The catfish bite is still going strong in the evenings and early mornings, though a lot of the fish being caught are still running on the smaller side. Mackerel dipped in Bite-On Cajun scent has been the hot whiskerfish bait in recent days. Bass fishing remains decent for anglers mostly fishing various soft plastics. Wipers are still being caught on nightcrawlers and cut baits along with a few being taken on the troll, though the majority of them continue to be under the 18-inch size limit. Look for more legals to start trickling in later this year.
GREGORY LAKE – Big news was a 3.3-pound holdover lightning trout that ate a jig tossed by WON field rep, Andrew Mack. The lake was stocked with 1,500 pounds of rainbow trout on Oct. 5, and that was its second plant of the 2021-22 season. Fishing has been good early and late on minijigs, plastic minnows on a drop-shot rig and PowerBait. It's been solid for both quality and limits. The fishing continues to improve as the weather and water continues to cool, so if stocking is even semi-regular, this could emerge as an excellent trout spot moving forward in the 2020-21 season.
HEMET LAKE – There is some chatter suggesting the next trout plant will show up in Thanksgiving but that is far from confirmed. All the same, holdover trout are very much part of the picture up here, and they can always be targeted with nightcrawlers or PowerBait. Limits are not really realistic this far from a stock, but putting a couple on a stringer is possible with shorelines around the campgrounds tending give anglers their best shot.
HENSHAW LAKE – Angler pressure remains low, but the fishing is fair for both catfish and bass. Look for catfish along the shore between the dock and dam. Shrimp, mackerel, chicken livers or Magic Bait can all produce. Bass will pick up tubes or stickbaits pitched in and around shoreline vegetation.
HESPERIA LAKE – The lake was stocked with catfish on Oct. 14. The previous catfish plant was 1,000 pounds on Sept. 30. Nightcrawlers, garlic marshmallows (or both of those together), chicken livers and cut mackerel are all getting the job done. Hot spots include the east and north shores along with Sandy Point. Catfish action should be very good until trout stocking commences in November.
IRVINE LAKE – Still not much going on here as of late. The stocking is done with catfish and the next plant will likely be in mid-November when the water cools down so the trout can come in. For the time being, it's just been the occasional catfish on cut baits, while a few bass anglers are finding a bite here and there on soft plastics. The lake is open Friday, Saturday, and Sundays and it's still only 5 bucks per vehicle to enter.
ISABELLA LAKE – Chunky bass to 7 pounds are being reported as anglers continue to do well on largemouth in very low water. Reaction baits and finesse plastics are both working. Catfish are also a consistent bite throughout French Gulch. The crappie bite has been wavering a bit, bit some bigger models are in the mix. Live minnows are the best way to go right now.
JENNINGS LAKE – Catfish were stocked (1,000 pounds) two weeks back and that has helped the bite. The final plant of the season is slated for next week. Chicken livers, shrimp and mackerel remain the top whiskerfish baits along with nightcrawlers, and the late afternoons and evenings continue to produce best. Night fishing is still on tap Friday and Saturday nights. Bluegill have been biting best around Cactus Patch and Eagle Cove on mealworms and smaller nightcrawlers. Trout season is expected to kick off in mid to late November (lake temps dependent).
JESS RANCH LAKES – "The lakes will be closed until further notice" per JessRanchLakesNews.com.
KERN RIVER – After missing some prime fishing time due to smoke from the Windy Fire, trout anglers are getting back after it in the upper river (20 Mile Section). Attractor dries and nymphs (or a combo of both) are getting the job done for long rodders. Conventional anglers are having a tougher go at it due to the lack of stocking in recent weeks, but it's always worth as shot because it was stocked regularly for weeks prior. The lower Kern River is still kicking out bass and catfish.
LOPEZ LAKE – Bass fishing is just fair, with a steady pick bite being the norm in recent days. That said, anglers grinding it out are putting together some decent limits with the occasional kicker largemouth. It appears the bass are starting to school up more, as anglers are reporting finding particular zones holding lots of fish. Spinnerbaits worked in 4 to 8 feet have been a good bet on the reaction front, while it's Senkos, drop-shots and jigs also getting bit. Shore anglers are connecting with some redear and bluegill fishing live worms. For the time being the launch ramp remains open for business, though boaters are advised to use caution when launching and navigating the lake with the low level conditions.
LOWER OTAY RESERVOIR – The water is still unseasonably warm, and the bass are still biting like it's summer. Topwater has been off and on in the mornings followed by consistent fishing along shoreline vegetation for the rest of the day. They aren't too picky, and plastics rigged in a wide range of ways along with jigs are getting most of them. Huge schools of shad are popping up, mainly in the Harvey Arm and by the dam. Bluegill fishing is good for both numbers and size.
MIRAMAR LAKE – Catfish are the best bite with biters being found on cut mackerel. Only a few bass showing up by dedicated anglers who grind it out with the smallest finesse items. Skinny Senkos might pick up some aggressive bass hanging around tules, but more are being caught on drop-shots and Neko rigs. Use low-profile, 3-inch baits like Strike King Half Shells or C3 Baits Ice Picks.
MORENA LAKE – No report available.
MOUNTAIN LAKES – The lakes continue to get 500 pounds of catfish apiece on a weekly basis and the bite continues to be fairly consistent for most. Cut baits have been the top bait offerings with a few fish also being reported on M&M combos and nightcrawlers. The cats have been hanging around the aerators and docks following stocks. The first trout plant of the season is expected this week at 1,000 pounds, according to lake staff.
MURRAY LAKE – According to lake staffers, a lot of bass have shallowed up after spending several weeks as deep as 45 feet down. Tule-lined shores are now the primary target for bass anglers, and most biters are being found on drop-shots, stickbaits, jigs and Texas rigs. Swimbaits including the Megabass Dark Sleeper are also getting some grabs, and those tend to be bigger bass. Crappie and bluegill fishing has been limit-style for weeks and there's no sign of it slowing down. Crickets, mealworms and redworms are working for both.
NACIMIENTO LAKE – The bass bite here has gotten tougher the last couple weeks and topwater opportunities have been more limited than they were in late summer and in recent years at this time on the calendar. However, things started to perk up a bit over the weekend. Anglers are finding more biters staring to come on spoons, both worked vertically and on a cast and retrieve. The spoons are also producing some occasional white bass along with the spots. Drop-shot worms are another go-to in the current bite. The water level remains low at just 12 percent and navigating the lake is a little dicier with more islands and sandbars cropping up, so boaters should remain vigilant even though launching is still good for now.
PERRIS LAKE – Good fishing for bass in various levels of the water column. The largemouth biting closer to the surface are still being found under bird schools where they are feeding on shad and inland silversides. Reaction baits including topwater are back into the equation, and cold nights continue to bring the water temperature down.
PIRU LAKE – No report available.
POWAY LAKE – Bass continue to prowl the shoreline, and the few anglers getting after them are connecting to a few on finesse plastic and the occasional small swimbait.   Catfish were stocked on September 3, and that was a 1,200-pound delivery. Lake Poway was a stocked five times this summer with between that amount on up to 1,300 pounds going in on July 9 and 23, August 6 and 20 and that last one on Sept. 3. Boats are still not being rented due to damage sustained by the dock during a spring windstorm. The lake is open Wednesday-Sunday 6 a.m. to 6:30 p.m. No fishing license required, just the daily fishing permit sold at the lake.
PUDDINGSTONE LAKE – Few reports from here of late other than the fact that moderate numbers of bass and bluegill are showing – not much word on the catfish front for most of the summer. Dough baits are getting some bites from carp, though just a couple anglers are targeting them here.
PYRAMID LAKE – Striped bass are being caught in fair-to-good numbers and the best way to get after them of late has been with sardines fished on long leaders with ¾- to 1-ounce weights. Occasional linesides are also hitting topwater, jerkbaits or swimbaits here and there. Catfish are biting well around the lake on cut baits, particularly in deeper coves and around sandy banks. The bass bite has been solid early up against the banks for anglers throwing topwater, cranks and spinnerbaits first thing in the morning, before shifting gears to Senkos, jigs, creatures and weedless worms throughout the day.
SAN ANTONIO LAKE – The lake level remains low and now sits at just 7% of capacity. That said, launching remains good to go and the bass bite is showing some signs of life over the last week or two. Anglers are reporting a handful of largemouth limits along with a few quality fish going 3½ pounds and better. Most of the biters are being found in 10 to 16 feet on worms, deep-divers and lipless cranks, though a few fish are being taken tighter to the banks on blade baits early and late. Bank anglers continue to catch catfish at a decent clip on scented cut baits and the occasional bass lure, while panfish have been fair on a mix of jigs and live worms.
SANTA ANA RIVER LAKES – Trout are expected to be stocked either the first or second week of November depending on water temps, but for now SARL continues to be stocked with whiskerfish every Thursday and has overnight fishing/camping sessions available on Fridays and Saturdays. Mackerel and shrimp remain tops for catfish bait. Boat rentals are available and float tubes are allowed here.
SANTA MARGARITA LAKE – The bass bite has seen a slight improvement in recent weeks but anglers are still having to work to stack up a solid limit. It's pretty much a junk fishing game at the moment, with crankbaits and Flukes being best on the reaction front to go with worms, Senkos and creature baits dragged along the bottom. Redear and bluegill have perked up some over the same time frame, with mealworms and small crappie jigs getting the best of it lately. The catfish bite has been slower going lately.
SANTEE LAKES – The final catfish stocking of the season went in ahead of the Oct. 2-3 Stockzilla event and it was a good one at 3,500 pounds. Those cats continue to provide steady action, with the best bite being in the late afternoons on mackerel or shrimp. Lakes 2 and 4 are producing most consistently. Soft plastics have been tops for largemouth this past week along with the occasional crankbait early and late. Waxworms and redworms are producing well for bluegill. Trout season is expected to kick off Nov. 6-7. New park hours as of Oct. 1 are 8 a.m. to 6 p.m. Monday through Thursday, and 6 a.m. to 6 p.m. Friday through Sunday.
SAN VICENTE RESERVOIR – The bass bite finally went scratchy, but anglers willing to grind it out still put up decent numbers. Finesse plastics in 25 to 35 feet of water was the recipe, and that was all over the lake. So far, the largemouth are not consistently schooling up and attacking baitfish. There was a biggie though, a 9.1 pounder that ate a flike fpr San Diego angler Mark Alcado.
SILVERWOOD LAKE – The Marina Dock is still the hot spot for panfish including crappie and bluegill for anglers using mealworms and small jigs. Plastic worms are working for largemouth bass throughout Miller Canyon and over by the dam. Striped bass and catfish are biting in the general area of the Marina, and the top baits are nightcrawlers and anchovies. A few stripers are also being caught near the Gazebo. The cut bait bite has been wide open on striped bass at times for anglers fishing into the night. One angler put up double-digit numbers on school-size stripers while throwing Flukes and jerkbaits at Vista Point from sunset into the dark and working them with a slow retrieve.
SKINNER LAKE – Smaller striped bass are biting chicken livers deployed around the inlet and dam, and the best bite is early and late. Fishing for largemouth bass is on and off from one day to the next, but when it's on, it's been really on for anglers using finesse plastics, small swimbaits and even some topwater. Catfish are falling for chicken livers and mackerel dent down around Ramp 2. Bluegill are picking up mealworms and crickets all over the lake. Some stripers are being caught on jerkbaits or small swimbaits when they boil.
WOHLFORD LAKE – As of Labor Day, the lake is closed on weekdays as it is every year, but it will re-open to the 7-day schedule when trout season kicks off in mid December. Closing time is now 6:30 p.m. and boats are due back in at 6.