South Freshwater Fish Report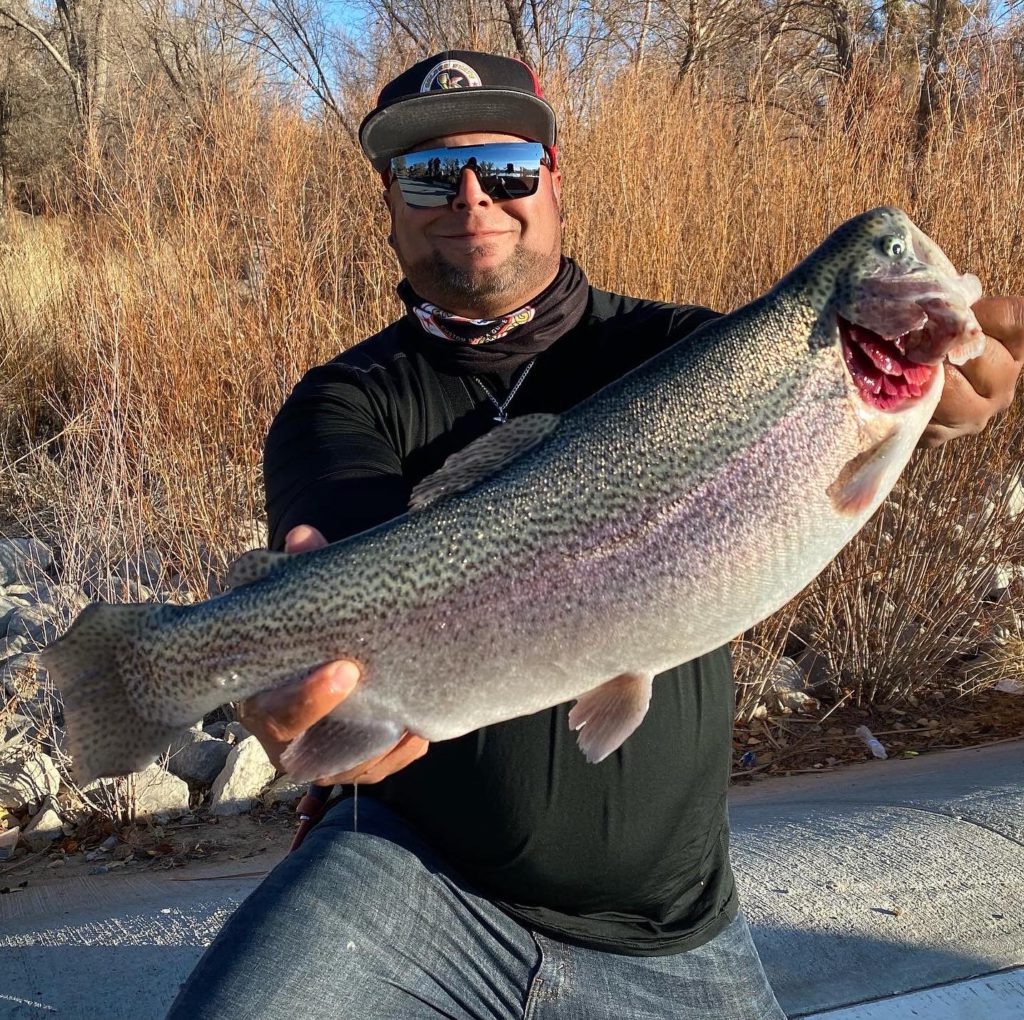 Updated January 10, 2021
AQUEDUCT (NEAR BAKERSFIELD) – Striped bass have been biting pretty steadily over the last couple weeks for anglers covering water with small swimbaits, soft jerkbaits and cut baits. Anglers finding spots where white water meets calm water are finding the best results. Cut baits soaking on the bottom are still producing some catfish.
BARRETT RESERVOIR – The lake is now closed to fishing until spring 2022.
BIG BEAR LAKE – Trout continue to bite well enough here after the lake was very well stocked in the fall. Despite snow on the ground, shore anglers continue to do best along the north shore near the Red House and the by dam with 'crawlers and dough baits on 2- to 3-foot leaders cast not all too far from the banks, and Power Worms are also getting some attention. Minijigs and small spinners are also working early and late in the day. The launch ramps and marinas are closed for the winter but shore fishing is available year-round.
BUENA VISTA LAKES – Continued light fishing pressure here and the catfish have been slower going with no recent stocks of late. The handful of anglers who are getting out are reporting fair bass fishing on a mix of reaction baits early and late and soft plastics during the daytime.
CACHUMA LAKE – Trout are showing in just moderate numbers after the last major stocking about a month ago, but a good share of those fish have been larger model rainbows in the 5- to 10-pound class. Trollers are getting the majority of bites, primarily with Needlefish and deep-diving plugs. Bass are pretty slow going at the moment, with most recent catches running 1 to 3 pounds and hitting jigs and drop-shot plastics in the 20-foot zone.
CAHUILLA LAKE – The lake was stocked with trout Dec. 4, and that delivery had decent numbers of 2 to 5 pounders according to Julian Rangel of Yellowmart in Indio who also reminds anglers to be sure to bring unopened Powerbait or unused nightcrawlers with a receipt when entering Lake Cahuilla because any used baits will not be allowed to enter the park. Some bass are picking up floating-nightcrawler rigs intended for trout. The 2nd-annual Mark Aldama Memorial Trout Derby presented by Desert Valley Outdoors goes down Feb. 5. It's a 100% payout derby for both Adults and Youth. Call (760) 698-5256 for more information.
CASITAS LAKE – The lake received its first trout plant in some time prior to the weekend, much to the enjoyment of local anglers. Anglers were scoring rainbows on trolled Needlefish while shore anglers are getting bit on PowerBait and inflated 'crawlers. Bass fishing has been just slow to fair of late but with a good grade of fish averaging 2 to 3-plus pounds. Ned rigs, drop-shot and jigs in the 20-foot zone has been the deal lately. Chunk mackerel is accounting for the occasional catfish.
CASTAIC LAKE – Lots of mud and debris continue to plague boat launching at the main ramp and the marina and many coves are completely choked with the stuff, and there have been few recent reports as a result. Look for this week's set of Santa Ana winds to help clear some of the debris and get the lake more fishable again. Prior to the debris, stripers had been showing on trout imitations and trolled umbrella rigs, while bass were fishing best in 18 to 30 feet with finesse plastics.
CUYAMACA LAKE – The few anglers getting out here are scratching away at an occasional solid rainbow with dough baits and 'crawlers following a big plant just over a month ago — a smaller DFW stock went in during Christmas week. A handful of larger model rainbows from 3 to 6 pounds — along with some smaller stocker trout — were checked in this past week on PowerBait and Mice Tails.
DIAMOND VALLEY LAKE – Two tons of rainbow and lightning trout went into the lake on Jan 4. Fishing was hot right off the bat and remains solid. Minijigs are working well for schooling trout working the shorelines on either side of the marina. The bass bite has been slow, but some are showing on jigs or worms worked very slow in 25 to 40 feet of water.
DIXON LAKE – The lake was stocked with trout on Dec. 28 (1,500 pounds) and the next load of that size went in this week. Fishing for those rainbows has been consistent on minijigs when schools can be located, and stillfishing with PowerBait. Boat Dock Cove and Trout Cove have been best. n another note, despite suggesting stock days would no longer be published (only the week of a trout plant rather than the specific day) that does not seem to be the case at Dixon so truck chasers are still hammering fish on stock day.
EL CAPITAN RESERVOIR – no report available
ELSINORE LAKE – The catfish bite is still fairly decent in the evenings and early mornings around weed lines, though a lot of the fish being caught are still running on the smaller side. Mackerel dipped in Bite-On Cajun scent has been the hot whiskerfish bait with shrimp also working. Bass fishing is just slow to fair, with drop-shots, jigs, Ikas and Senkos being best bets for bites.
GREGORY LAKE – Fishing is fair at best for trout. There hasn't been a stock in a couple months, but trout are still popping up on PowerBait or jigs when a school is located. Stocking is not expected to resume until March.
HEMET LAKE – It's been cold but the lake is ice free (almost always is, but people were asking) and a trout plant if slated for this week (Jan. 12) and about a month later. Shoreline fishing is open daily from 7 to 5, and rental boats are available Thursday through Monday from 8 to 4. The next round of trout stocking is expected in late January.
HENSHAW LAKE – Water level is very low and angling pressure is incredibly light as it's not the greatest time of year to get the most out of fishing this particular lake. It's always better in the warmer months, but if you find yourself up there and in a position to fish, catfish is your best option. Target them with shrimp, chicken livers or dip baits along the shore between the dock and dam.
HESPERIA LAKE – WON had multiple contacts on the spot who did well and confirmed the fishing is still very consistent. Weekly stocks consisting of 1,000 pounds of rainbow trout continue to keep rods bent. Powerbait and garlic nightcrawlers are doing it for bait dunkers, while the top lure are still plastic minnows on a drop-shot rig and minijigs. Most biters are 1.5 to 2.5 pounds, but there are some 4 to 7 pounders in every stock. No double-digit trophies have been reported yet, but this is definitely a lake that kicks them out.
HODGES LAKE – The lake is now closed until spring of 2022.
IRVINE LAKE – The lake is expecting a trout plant sometime this week. The fishing is still on the slower side but a few rainbows were checked in over the weekend along with a solid holdover lightning trout. No fishing license is required and the lake is open Fridays, Saturdays and Sundays.
ISABELLA LAKE – Even with all the rain and runoff, the lake is still under 10 percent of capacity, so they must be letting it out as fast as it goes in. Bass fishing remains slow across the board, but it seems like the few winter-pattern biters that show up ar quality models. Crappie are scattered but catchable once located, and most of that is going on over offshore structure in deeper water. Trout have slowed without a plant in about a month. French Gulch is the only operating launch ramp.
JENNINGS LAKE – The trout fishing remains pretty consistent and should only get better with another 1,500-pound plant slated for this week. It's been your typical winter arsenal of minijigs in brighter colors, PowerBait and inflated nightcrawlers getting most of the bites. Bass have been slower going but soft plastics are getting a fair share of bites, mostly Ikas and Senkos, with the occasional reaction bait fish early and late. Not much word on catfish recently. The lake will be open on MLK Day Monday, Jan. 17 from 8 a.m. to 5 p.m.
JESS RANCH LAKES – "The lakes will be closed until fall 2022" per JessRanchLakesNews.com.
KERN RIVER – Anglers are benefitting from some recent stocking throuhout the 20 Mile Section (upper Kern River), but the water is still very chilly and trout (especially wussy stockers) are sluggish. They'll bite when you find them, you just need to hit them right in the nose with something scented (if you're using spin gear). The good news is, they're usually not far from any of the easily accessed spots throughout that stretch.
LOPEZ LAKE – Bass fishing remains hit and miss but overall it has shown some improvement in recent days. Most of the recent winter catch is coming on plastics, Ned rigs and jigs in and around the 20-foot zone. The lake level came up a little more over the past week and a half but boaters are still advised to use caution when launching and navigating the lake with the low-level conditions. No word on future trout plants as of press time.
LOWER OTAY RESERVOIR – The worm bite is much improved and bass are shallower than one might think for this time of year, and a lot of the biters are coming out of Harvey Arm. There is an algae bloom expected to hang around for a couple weeks, but visibility is still decent. Crappie are showing upin Otay Arm, North Point and Bushlow's Cove, and bluegill are hanging between 10 and 20 feet deep.
MIRAMAR LAKE – Warmer winter weather helped improve fishing across the board. The best bite has been trout which are being caught on PowerBait, spoons and nightcrawlers. Bass are slow, but some are being picked up on drop-shots and Senkos. Catfish are on a fair bite and prefer shrimp or mackerel.
MORENA LAKE – No report available.
MOUNTAIN LAKES – There was 500 pounds that went into each lake last week and those fish came out chomping right out of the truck. White worms and jigs have been leading the charge as of late, with a decent number of fish also chewing your standard PowerBait and 'crawler offerings as well.
MURRAY LAKE –
NACIMIENTO LAKE – Recent storms have been bringing lots of water in through the rivers, and the lake level is now up about 35 feet since early December, but navigating the lake is more dangerous with even more floating debris now in the water, so be advised if you're heading out. Very few reports this past week but those coming in have been somewhat dismal, with event a limit of smaller spotted bass tougher to put together. Most of the fish are holding in the 10- to 20-foot zone with finesse plastics being a best bet. White bass have been sporadic in recent weeks and panfish have also been slow.
PERRIS LAKE – Fishing for largemouth bass has been an absolute grind, but the guys getting one or two bites per day are connecting to some real footballs. Dragging plastics or jigs agonizingly slow over offshore rockpiles has been the way to get bass. Other species have also been slow in the 56 to 58 degree water.
PIRU LAKE – No report available.
POWAY LAKE – The lake was stocked with 1,500 pounds of trout on Dec. 30, and it's slated to get another load of that size on Jan. 13. The bite has been good for mostly-small fish. The shorelines adjacent to the boat dock have been productive for bait dunkers. Trout are pretty well circulated now, with limits being put together everywhere from the Fishing Pier all the way around to Hidden Bay.The annual kids derby will be held Feb. 5. Good numbers of catfish are also being caught. The lake is open Wednesday-Sunday 6 a.m. to 6:30 p.m. No fishing license required, just the daily fishing permit sold at the lake.
PUDDINGSTONE LAKE – Few reports from here of late other than the fact that moderate numbers of bass and bluegill are showing – not much word on the catfish front for most of the summer. Dough baits are getting some bites from carp, though just a couple anglers are targeting them here.
PYRAMID LAKE – Two trout plants this past week have helped produce good numbers of limits from numerous spots around the lake. Much of the catch has been coming on PowerBait and nightcrawlers but anglers are also connecting with Kastmasters, small spinners and minijigs the first few hours of the morning. Trout imitation swimbaits and glide baits are producing a few larger striped bass, while trollers are also getting a few on the tow. Lugworms and sardines have been tops for stripers on the bait front. Bass fishing is fair with deep-diving and lipless cranks producing in the early morning while jigs and Senkos are working best during the day.
SAN ANTONIO LAKE – The lake level has come up about 15 feet since early December but fishing is very slow and the water's pretty muddied up at the moment. Bass fishing has been very slow for the last month, according to multiple angler reports. Bank anglers continue to catch catfish at a halfway decent clip on scented cut baits and the occasional bass lure — mackerel dipped in Bite-On has been hot, while panfish have been fair on a mix of jigs and live worms.
SANTA ANA RIVER LAKES – Trout fishing is slow to fair in recent days and the water remains pretty murky from all the recent rainfall. Look for the bite to pick up some later this week after Santa Ana winds roll through the region. A few big holdover tilapia are also showing on nightcrawlers and jigs, while catfish continue to show in moderate numbers on nightcrawlers each week. SARL stocks every Thursday through the trout season and still has overnight fishing/camping sessions available on Fridays and Saturdays. Boat rentals are available and float tubes are allowed here.
SANTA MARGARITA LAKE – The bass bite is still a little scratchy at the moment but anglers reported improved action this past week. Largemouth to 4 pounds are showing on crankbaits and plastic swimbaits along with jigs, drop-shot worms and Ikas. An occasional catfish is taking chunk mackerel soaked with little to no weight.
SANTEE LAKES – The big news here is the annual Trout Season Re-Opener is slated for this coming weekend, Jan. 15-16, where Lakes 2, 3 and 4 are going to be splitting 2,500 pounds for the event. Chartreuse and rainbow PowerBait have been very effective lately along with minijigs and spoons. A few nicer largemouth are taking slow-rolled paddletail swimbaits and trout imitations, while Senkos and drop-shots are also getting a decent share of bites. Park hours are 8 a.m. to 5 p.m. Monday through Thursday and 6 a.m. to 5 p.m. Friday through Sunday.
SAN VICENTE RESERVOIR – No report available
SILVERWOOD LAKE – Small spoons and PowerBait are working well for trout around most popular shoreline fishing areas, and a stock on Jan. 4 boosted a bite that was already pretty good. Some anglers are putting together mixed bag hauls of rainbows and school-sized striped bass in Clegohorn Canyon. The stripers are picking up cut anchovies or nightcrawlers. Miller Canyon and the coves off the Main Channel are also producing some linesides. One angler caught five stripers to 5 pounds in Cleghorn.
SKINNER LAKE – Striped bass fishing bounced back as the inlet is back to gradually refilling the lake. That is expected to soon emerge as the hot spot. Largemouth bass are on a fair but steady pick for anglers using finesse plastics and smaller jigs. Catfish remain slow, but a few are being caught by Ramp 2. Trout were stocked on Jan. 4 and will continue to go in every other week.
SUTHERLAND RESERVOIR – Currently closed.
WOHLFORD LAKE – The trout bite remains consistent thanks to 1,500-pound plants in the final days of 2021 and in the first half of this week. Oakvale Cove and Willow Cove are the hotspots, but Boat Dock Cove should join the fray this week following the stock. Mice Tails and minijigs are both working well for trout. Offseason catfish are still biting well with limits coming out of the area around the West Buoy Line. Shrimp, mackerel and chicken livers are all working for those channel cats. A 24.8-pound blue cat was caught on a mackerel and released in that area as well.