South Freshwater Fish Report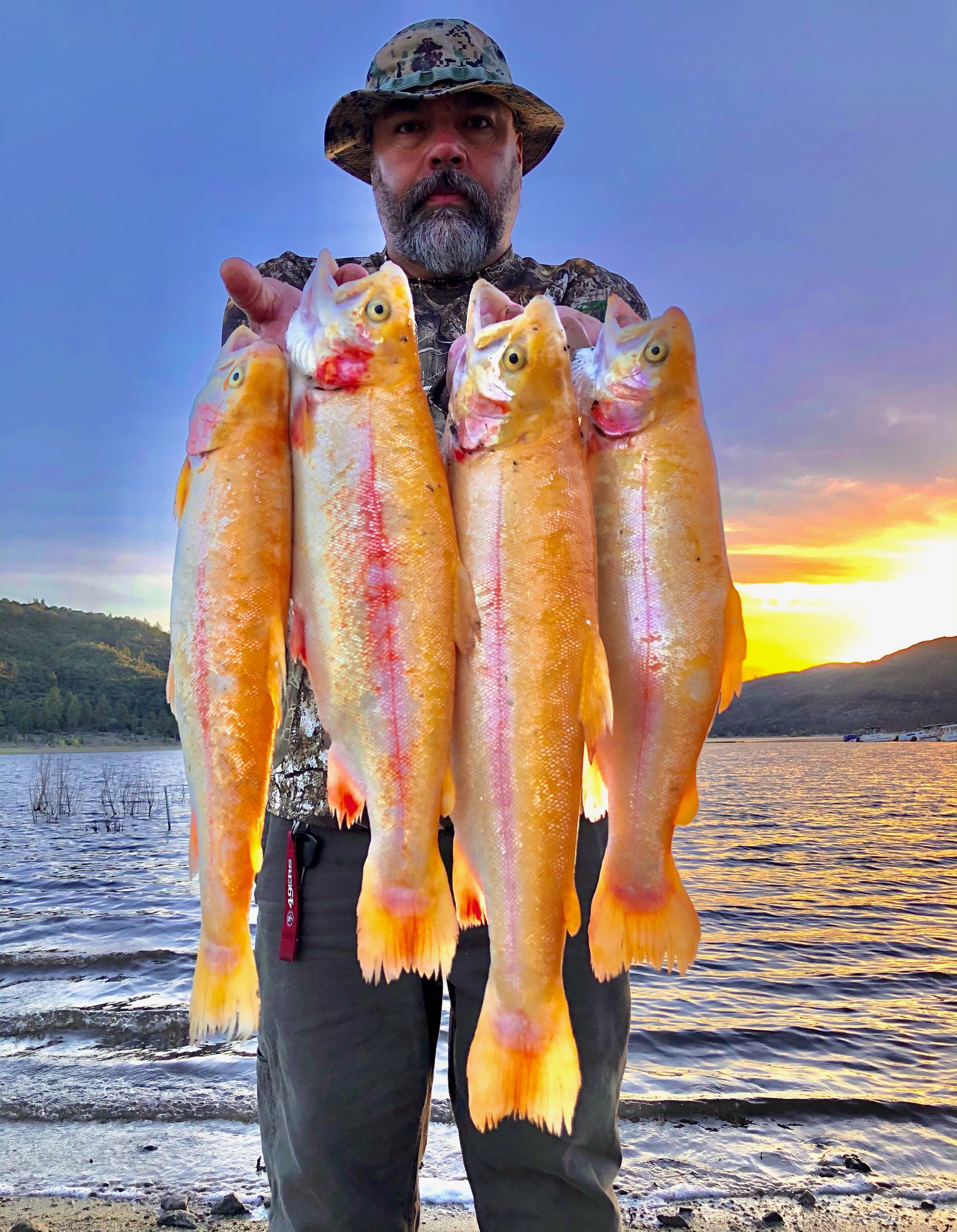 Updated May 11, 2021
SoCal FRESH FORMCHARTS
AQUEDUCT (NEAR BAKERSFIELD) – Stripers are biting a lot better lately for anglers targeting them. Small swimbaits are still getting the most action again. White Fluke-style baits are also getting some action.  Cut baits have been getting some catfish also. A few carp are showing here and there as well. Some anglers are seeing them spawn and cruise in the upper water column. A few bass showing up for anglers throwing plastics.
BARRETT RESERVOIR – Fishing remains excellent on a wide range of stuff with recent reports showing a hot pick on tubes, Strike King Ochos, creature baits, craws, and jigs. Other anglers are getting them on frogs, spinnerbaits, chatterbaits and underspins. Big bluegill and crappie are biting off the docks.
BIG BEAR LAKE – The bite continues to be very productive for anglers moving around the lake trolling. Top spots have been outside Boulder Bay and around the observatory. Leadcore maybe 2 colors out with small Rapalas in Fire Tirger have been getting bit. Also, anglers drifting a nightcrawler mid lake are getting bit. In June, there should be a trout stock for the derby. The trout action has been slower from shore, but some anglers did very well soaking bait around the observatory with longer leaders Juniper Point and Windy Point have also been producing. Bass have also been cruising around boat docks and getting caught on chatter baits and cranks, but they're a little slower this week. The WON Troutfest is set for early October.
BUENA VISTA LAKES – No reports on trout lately. They will be stocking catfish toward the end of this month. A few bass are being caught around structure from anglers on boats.
CACHUMA LAKE – They had a trout stock three weeks ago with 4,000 pounds of fish. Trolling continues to be the way to go for trout with Rapalas or small spinners. Smallmouth and largemouth bass have been hanging outside of points or by structure. The majority of the crappie being caught have been in the back of the lake still in the same general area.
CAHUILLA LAKE – Fishing for pan-sized to 5-pound catfish has been fair to good for anglers using nightcrawlers or chicken livers. Adding garlic scent to either doesn't hurt. Some small bass and panfish are biting small worms close to shore for those targeting them.
CASITAS LAKE – Good bass fishing here with a lot of fish still inside of 10 feet of water and in all three stages of the spawn. Senkos and drop-shots along with Ned rigs are working consistently for bites with a decent reaction bite going early and late as well. Panfish are biting better as water temps inch upward, mostly on mealworms and nightcrawlers. Cut mackerel is a best bet for spring catfish bites.
CASTAIC LAKE – Bass fishing is very good right now with fish in all three stages of the spawn. By far the most effective approach has been working finesse techniques around rocky points and shoals leading into spawning areas — Ned rigs, drop-shots and light-line Carolina rigs have all been effective along with wacky-rigged Senkos first thing in the morning. More smallies are showing in the counts with most of the bronzebacks now post-spawn gorging. Stripers are still just so-so, with a few showing here and there on a combination of trolled flies, deeper soaked anchovies and nightcrawlers and the occasional swimbait. Trout fishing is fair to good for anglers going with dough baits, 'crawlers and the occasional spoon. Panfish are best on waxworms and redworms.
CUYAMACA LAKE – A handful more big trout made appearances again this past week after the most recent stock of 3,000 pounds from Mt. Lassen Trout Farms. A variety of offerings are getting the job done including minijigs, Hookup Baits, salmon peach and garlic PowerBait, Mice Tails, Pinched Crawlers and inflated nightcrawlers. Bass have been best on jigs and 6- and 7-inch worms.
DIAMOND VALLEY LAKE – Still big numbers of 4- to 9-pound largemouth bass being caught on a variety of jigs and plastics. Senkos around bushy points are connecting anglers to quality bass, and there are some jerkbait fish to be had around the Saddle Dam. The key depth wherever you are seems to be 5 to 15 feet. Striped bass fishing is fair on flies trolled on leadcore, and some cutbait anglers are picking up catfish from shore either side of the Marina.
DIXON LAKE – Most bass are in post-spawn, but there are still a handful still hanging around beds. Now's the time males will aggressively defend fry, and they can be caught on small swimbaits, drop-shots, Texas-rigs and stickbaits. The first catfish stock of the season has not been announced, but usually it gets in there by early June. The last trout stock of the season was on April 14, and a few holdovers are biting floating baits in the deeper water outside of Trout Cove or off the end of the pier by Jack Creek Cove.
EL CAPITAN RESERVOIR – Fishing for largemouth bass is still solid on a wide variety of baits. Topwater, swimbaits, underspins, soft jerkbaits and cranks are all in the mix along with a few blade fish. Finding shad schools has been key as well as getting out there first thing in the morning.
ELSINORE LAKE – Anglers targeting carp are still getting a lot of them. The rig of choice has been a Carolina rig with dough baits. Even a few caught again on anchovies as a bycatch for anglers targeting catfish. The carp are starting to spawn in a few places not much but they should be spawning in full force very soon in the shallows. Catfish are biting all over the lake with the most productive spot being around Launch Pointe Marina and also way in the back with the carp. Anchovies or mackerel are the top bait for cats lately. The panfish action is slowly improving, but it's a lot slower than what it should be. A few crappie have been caught around boat docks. The wiper bite is very good, but remember they are catch and release until they reach 18 inches with a limit of two per day. The Dream Extreme derby is scheduled for June 26. It has been changed to a one-day derby because of COVID restrictions. They will still have five fish categories and the normal 2-day jackpots will be combined into one.
GREGORY LAKE – Fishing was slow for holdover rainbows from the April 22 plant, but a recent round of stocking gave the trout scene a shot in the arm. Most are being caught on plastics and various lures, but the bait bite should pick up as those fish settle in. The Boat Dock area was especially productive in the days following the stock.
HEMET LAKE – Trout fishing is still solid for rainbow and lightning trout following last week's 4,000-pound plant. Camp 5,6 and the area around the Marina are the best spots for filling a stringer. Anglers using minijigs or PowerBait are getting an equal share of them for the second-straight week, but as that stock gets further in the rearview mirror, the bait guys are going to start getting the best of it. Trolling spoons or a nightcrawler or trout worm with a split shot slowly down the middle of the lake should also start producing as summer grows nearer.
HENSHAW LAKE – Bass fishing had been fair, but it's actually improving for anglers using spinnerbaits, crankbaits, Senkos and worms as the algae bloom clears up. Crappie fishing should also pick up, but it's been slow lately.
HESPERIA LAKE – Thousand-pound catfish plants going in every Thursday, so that means other than some repositioning of the top baits and locations, most of these reports are going to be similar all summer. While the bite is good, the water is still chilly so the best of the catfish season remains ahead. Mackerel and shrimp are the current top baits, and the Finger, North Shore and Sandy Point are standing out as hot spots for cats to just under 7 pounds.
HODGES RESERVOIR – Still kicking out crankbait fish to at least 7 pounds. Square bills or mid-level diving cranks are doing best along with some jerkbaits, underspins and spinnerbaits. Shad are schooled up tight to banks, so once located, largemouth are typically nearby.
IRVINE LAKE – They stocked catfish two weeks ago. The catfish bite was decent for the anglers targeting them. Bait of choice was live nightcrawlers, mac bites from bite on, and shrimp. The crappie bite slowed way down lately. They are open Friday, Saturday and Sundays and it's still only 5 bucks per vehicle to enter
ISABELLA LAKE – Crappie fishing has been a rollercoaster with some anglers really getting into them while others get skunked. It's just a matter of finding the right structure and hitting it with jigs, grubs or small minnows. Bass are shallow and more willing to fall for reaction baits of late, and catfish remain steady for anglers using dip baits, shad or shrimp. Trout are biting at a solid clip thanks to derby stocking, and anglers are getting them on floating baits, or spoons and plugs on the troll.
JENNINGS LAKE – Trout are still being caught in decent numbers, with the most recent hot spots being around the T-Dock and near the Hermit Cove buoy line. PowerBait, nightcrawlers and Mice Tails are accounting for much of the recent catch along with minijigs tossed early and late. Bass continue to bite well in a number of coves, with plastic worms, Ikas and Brush Hogs producing best. Mealworms and nightcrawlers are picking off solid counts of bluegill and redear in Hermit and Eagle coves and around Cactus Patch.
JESS RANCH LAKES – "The lakes will be closed until further notice" per JessRanchLakesNews.com.
KERN RIVER – Increased flows have not had a huge affect on fishing, fly anglers are now taking a meat-and-potatoes approach with attractor nymphs and worm patterns along with streamers either solo or ahead of a Kern Emerger. Targeting calm pockets and eddies are the way to go with fly or spin gear. Conventional anglers are probing with eggs, trout worms, spinners and jigs on a heavier leadhead. The upper river is well stocked, targeting them just requires some adjustments when flows are up.
LOPEZ LAKE – Trout slowed down some this past week but small crankbaits and spoons on the troll are still getting a few along with drifted nightcrawlers, and a few bites are being had by bankies with long casts from the banks with dough baits. Bass are fair with a decent mix of largemouth and smallmouth showing and still a considerable number of fish inside of 12 or so feet. Senkos, drop-shots and Texas rigs are seeing the best of it but there has been a decent bite on reaction stuff early and late, namely blade baits, chatterbaits and cranks. Panfish are picking up here for anglers soaking live worms.
LOWER OTAY RESERVOIR – Bass bite highlighted by a 15.2-pound largemouth that was caught on a Roboworm in Margarita Mutilator on a drop-shot rig and 6-pound test. That one was caught in Harvey's Arm. A 5-year-old angler also caught a 6.1 pounder on a crawdad. Bluegill fishing picked way up with good numbers being compiled in the shallows. Crappie have slowed. Water temp is around 71 degrees.
MIRAMAR LAKE – Very good bass fishing for cookie-cutter largemouth right around 2 pounds. Plastics are killing it, and the hot ones are Roboworms in Margarita Mutilator, Senkos, Ikas and Strike King Ochos. Most bass are tight to the banks or tules, and the north side of the lake seems to be the most productive. Bluegill are biting small worms under a bobber. Those fish are on the small side but the numbers are there.
MORENA LAKE – No report available.
MURRAY RESERVOIR – Excellent bass fishing in the 72-degree water. Most are in the 2-pound range and picking up Senkos, Texas rigs and drop-shots along tule-lined banks and on points. The early morning bite is by far the best of the day. Bluegill are activating as well with good numbers showing up on mealworms, redworms and crickets.
NACIMIENTO LAKE – A continued steady spring bite for spotted bass, though covering water is still essential to stacking up good numbers. Bass ranging mostly 1 to 3 pounds are hitting a variety of baits from drop-shot worms, leadhead grubs, smaller swimbaits and underspins, and the occasional topwater early and late. The 2- to 8-foot zone has been best, with some shallower, some deeper. White bass were a bit more elusive this past week but are still showing here and there with inline spinners, underspins and small shad swimbaits being top choices when finding a school. The water level continues to drop at over 300 cfs, so keep an eye out for submerged hazards.
PERRIS LAKE – After a good run on reaction baits, soft plastics are overwhelmingly back in the top spot. Stickbaits worked in 5 to 10 feet are a great way to go, especially around the East End ledges. Rock Climbers Cove and the Island are giving up some 6-inch (bait) drop-shot bass, and shaky heads worked along brush lines are putting up big numbers but only a few quality fish in the mix there. Toad bluegills are also being caught as they get ready to spawn.
PIRU LAKE – No report available.
POWAY LAKE – Normally it would be about that time to start drifting a nightcrawler or Berkley Trout Worm on a split-shot rig right down the middle of the lake for holdover trout, but boat rentals are still not available due to damage sustained during a windstorm well over a month ago. If you want to shoot for trout, launch a floating bait into the deepest water you can reach from shore. Otherwise, target catfish with mackerel at the Buoyline or any of the coves. Some bass are being picked up shallow on finesse plastics, but that fishing is fair at best.
PUDDINGSTONE LAKE – Bass fishing has been steady with fish hanging around the structure. Crankbaits and smaller swimbaits have connected to a few. No recent catfish action in awhile. Look for mid May to early June to get a catfish stock.
PYRAMID LAKE – Striped bass continue to bite decently here, though most of the recent catch remains schoolie models. Mackerel, lugworms and sardines are doing the job for the cut baits crowd, while swimbaits and jerkbaits are doing best on the artificial end. The Yellowbar, Serrano, and Spanish Point areas have been tops for both stripers and catfish, the latter of which are showing well on mackerel, chicken livers and anchovies. Bass wise, shad and crawdad cranks continue to get bit in the mornings, while drop-shots, Ned worms, creature baits and soft stickbaits are also working well enough. Jigs are also picking off an occasional larger model.
SAN ANTONIO LAKE – Catfish remain the best bet here and the cats are still chewing at a good clip for those targeting them with shrimp, chicken livers and cut mackerel, with a fair share of whiskerfish also aggressively taking lures intended for bass. Shad are now being seen with much more frequency throughout the lake but the bass bite remains just slow to fair with a handful of 1- to 3-plus pound fish taking mostly soft plastics. Panfish have picked up some for anglers soaking mealworms and redworms.
SANTA ANA RIVER LAKES – They stocked on Thursday with a full truckload of catfish.The bite was great all weekend. Many anglers that were soaking cut mackerel or shrimp were getting limits if not near limits. They allow overnight camping on Friday and Saturday nights. They also offer boat rentals. Float tubes are also allowed.
SANTA MARGARITA LAKE – The bass bite has been good for numbers though it's been a little tougher getting a bigger largemouth to bite lately. The bass are still shallow with good numbers of fish inside of 8 feet — lots of crappie, bluegill and redear up shallow now too. The largemouth are biting on a variety of soft plastics, along with some crankbait and chatterbait fish early and late. The panfish bite has picked up here for anglers soaking live mealworms, redworms and small to medium nightcrawlers. Trout are biting pretty well on trolled Rapalas and spoons for those targeting them, while the best bet for catfish remains chunk mackerel. The dropping water level is starting to make things a little tougher, however.
SANTEE LAKES – The next stock will be May 14 then May 28. The bite has been steady through the weekend. Top baits have been shrimp and mackerel. Bass fishing continues to be decent with slower presentation being the way to go.
SAN VICENTE RESERVOIR – Drop-shotting is still by far the best method on San V right now, but bass are starting to aggressively chase topwater and smaller glide baits only to hit the brakes for last-second angler heartbreak. Senkos and Ikas pitched around brushlines and trees are getting a few, too. Most drop-shot fish are biting in 10 to 20 feet of water. Toll Road, Barona and Kimball Arms all producing. Double-digit numbers of bass remain common at San V. Panfish action is fair.
SILVERWOOD LAKE – Back to overachieving in the mixed-bag department thanks in part to trout plants on three consecutive days at the end of April.Those fish are eating PowerBait and a variety of trout lure standards on the shore behind the Beach Store, throughout Miller Canyon and near the Gazebo. Striped bass are eating in those same areas, and they're falling for Kastmasters, sardines, anchovies and nightcrawlers. Fishing for largemouth bass has been fair around the dam and Gazebo with most biters falling for finesse plastics. Panfish and catfish are both on a fair pick around the Marina Dock.
SKINNER LAKE – Variable fishing for striped bass with a good cut bait bite on one day but not the next. The best of it is still showing up around the dam/inlet. Sardines, andchovies and nightcrawlers are all working when it's on. Catfish are slow, but they were stocked on May 7 and will again on May 21. Fishing for largemouth bass has been slow, but the more successful anglers are getting them on Ikas, Ned rigs and a lot of patience.
SUTHERLAND RESERVOIR – The bass bite is improving as water temps slowly climb. This spot is behind all the other San Diego City Lake as far as the spawn since its altitude keeps the water cooler further into spring. Crappie are still biting jigs or shiners. They're not easy to locate, but so far this spring it seems like they are hanging out in the warmest water on the lake.
WOHLFORD LAKE – Catfish planted (750 pound) on May 14. That is the first stock of the season, but catfish action has already been fair to good on holdovers for weeks. Cut mackerel or chicken livers are best, and the holdover fish have been biting best at the West Buoy Line, but they're really being caught all over the lake. Male bass are active all over the lake including in open water. The few anglers targeting them are getting them on worms, stickbaits and the occasional jerkbait. Boaters are getting the best of the crappie bite. They're either drifting along with the wind with jigs or small shiners out, or working those same baits in shaded areas.