South Freshwater Fish Report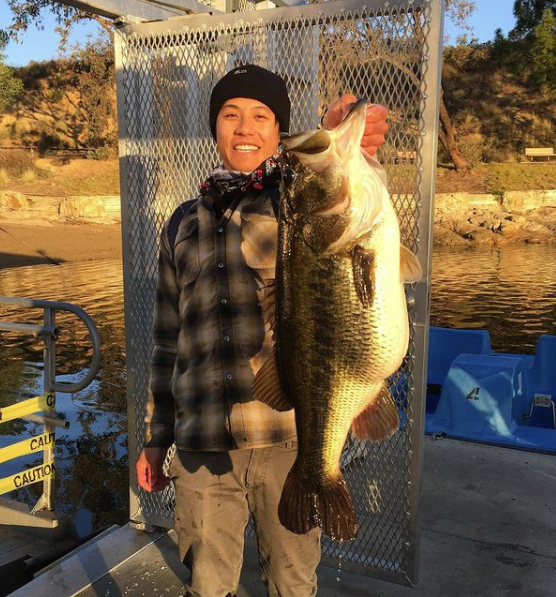 Updated February 22, 2021
AQUEDUCT (NEAR BAKERSFIELD) – Very few fish being reported here for a third straight week. Still a White Fluke-style bait or small swimbait continues to get the most action. Cut baits have also been getting some catfish and the occasional carp to bite as well.
BARRETT RESERVOIR – The lake is closed for its off-season and is expected to reopen to fishing in May.
BIG BEAR LAKE – Very few fishermen on the shoreline again this week with the traffic from the snow crowd making things slow getting up the mountain.  There were a few quality rainbows showing on minijigs although most catches are still coming via the bait-and-wait technique. Best areas are still the Red House, Windy Point and Juniper Point. Other species are slow in the cold, winter water.
BUENA VISTA LAKES – The last trout stock was three weeks ago now and since then the bite has slowed way down. Some anglers are still getting a few rainbows here and there, however. The best combo has been Mice Tails or a PowerBait plastic worm combo. Longer leaders up to 3 feet have helped get a few more bites.
CACHUMA LAKE – Crappie are on a solid chew at the moment with some groups of anglers reporting catching as many as 40 per outing. Minijigs, grubs and small underspins are doing most of the damage. Still some good winter bass fishing going in the 15 to 30 foot zone on Ned rigs, drop-shots and Senkos along with Ikas. Look for more fish to move up with this weekend's full moon. Trout trollers are still finding fair action on Rapalas and Needlefish.
CAHUILLA LAKE – Fishing has slowed since the 1,000-pound trout stock a few weeks ago, but there are still a few being caught on PowerBait and nightcrawlers. Catfish are also picking up 'crawlers at a fair clip. More trout stocks are on the way, and you'll see here when the dates become public.
CASITAS LAKE – The best bite continues to be on live shad for multiple species, particularly for shore anglers off the Santa Ana Pier. On the bass front, it's still mostly plastics getting it done but there have been some solid fish taken in the mornings on slow-rolled swimbaits, cranks and jerkbaits. The occasional catfish is showing on live mackerel but panfish have been slow other than some decent winter crappie fished on deeper structure with minijigs and grubs.
CASTAIC LAKE – Heavy winds again continued to be an issue this past week keeping boats off the water most days. On the fishable days the bass bite has been improving for a mix of largemouth and smallies, mostly on Neko rigs, green pumpkin Neds, drop-shot oxblood worms and watermelon/red flake Senkos. Finesse C3 Baits on drop-shot or Carolina rigs have also been effective. The prime zone of late has been 15 to 25 feet in Sharon's Rest, Hawk's Nest and Elizabeth Canyon. Stripers are showing occasionally on swimbaits but trolling or cut baits are still doing best for numbers.
CUYAMACA LAKE – Trout are surpisingly slower going after a Mt. Lassen plant two weeks back. That said, a few rainbows are being plucked from the Chambers Park and Lone Pine areas with your standard dough baits and inflated 'crawlers on Carolina rigs along with the occasional Mice Tail or Pinched Crawler. The first-ever WON Troutcast is slated for April 24-25 with lots of sponsor prizes up for grabs – sign up at WONews.com under the Events tab. Other species have been slow.
DIAMOND VALLEY LAKE – Largemouth bass are moving shallow, and the 15- to 25-foot depth zone is producing decent fish on jigs, Brush Hogs, Senkos and 7-inch Roboworms in Margarita Mutilator or Morning Dawn. Productive areas include the Quarry, Rawson Cove and the Saddle Dam. There are still school-sized striped bass that can be caught in good numbers, but it's almost entirely "flycoring" which is centered around trolling flies on leadcore line.Trout fishing is slow but floating baits are picking up a couple. Look for another stock in the first week of March.
DIXON LAKE – Trout were stocked on Feb. 17, and this time, anglers were not allowed to fish from Whisker Bay on stock day. Those familiar with the lake know this is where stock-truck chasers pile up easy limits and pick off huge numbers of recent stockees before they get a chance to circulate around the lake. This rule will no doubt improve the overall fishing at Dixon Lake because anglers will be able to effectively fish for trout all over the lake, and they no longer will need to get there within a couple days of the stock to get a limit. Boat Dock Cove has been a hot spot along with Trout Cove and Jack Creek. Throw minijigs if you can spot schools in the clear water. If not, fan casting with Thomas Buoyants has been working along with the standard arsenal of floating baits. Boat rentals are still not available due to maintenance issues.
EL CAPITAN RESERVOIR – Jigs, Texas-rigged worms, creature baits and crawdad-pattern crankbaits are all producing. Top locations include the Dam Arm and the Narrows, and the best depth window is 8 to 20 feet. A lot of quality tournament fish are being caught
ELSINORE LAKE – The bass bite is still staying fairly steady and fish are now starting to come into shallower water around structure. Carp fishing from a boat is still the most steady and reliable bite, however. No catfish have been reported lately. The few wipers being caught are still too small to keep, but the crappie action should be heating up any day now as water temps climb.
GREGORY LAKE – The next trout plant is slated for 1,550 pounds on March 11 followed by another one of the same size March 25. Fishing has been actually decent on holdovers (floating baits, jigs) since the last one way back on Nov. 25, but this is just the beginning of a fishing resurgence at Lake Gregory which prior to that November stock had no plants at all on the radar and no management running the lake. There's been good news on both fronts and hopefully that means Gregory is on it's way back to standing out as a popular year-round trout fishery.
HEMET LAKE – There are still holdovers to be caught from the 4,000-pound plant that went in on Jan. 26 (and from other stockings for that matter) but it's become more of a bait-and-wait deal. Camps 5 and 6 are still producing, but so are most of the popular fishing shorelines at some level. Floating baits like Gulp! Chunky Cheese, PowerBait, Mice Tails and Pinched Crawlers can all get the job done.
HENSHAW LAKE – Fishing remains slow across the board but this lake really stand out from the pack when it comes to the crappie bite, and it can start as early as March. While there isn't much of a catfish bite now, they (along with carp) are generally a species anglers can depend on, so if you're heading up there, a heavier setup for fishing nightcrawlers, shrimp, mackerel or chicken livers along with an ultralight setup for crappie jigs or small minnows would be the way to go.
HESPERIA LAKE – Excellent trout fishing with at least three rainbows over 10 pounds reported including a 10.5 that ate a jig at Finger Cove and another that went an even 10 that ate a garlic scented jig near the drain. The third was caught by a WON reader who sent in a pic but didn't include details of the catch. Plenty between 4 and 6 were caught, and the best baits have been black or white plastic minnows and PowerBait along with the minijigs.
HODGES RESERVOIR – Still slower going on the bass fishing front but the bite is slowly picking up and quality fish 3 pounds and up are being caught. A few largemouth are taking spinnerbaits here and there but the majority of recent catches continue to come on jigs, creatures and 6- and 7-inch Texas rig worms. Crappie continue on a fair-to-good bite for anglers working Road Runners, smaller underspins, grubs and minijigs in 10 to 20 feet.
IRVINE LAKE – The West Shore continues to be the hot area for trout fishing after regular weekly stockings. Long leaders soaking either PowerBait or Mice Tails in the brighter colors seem to be working the best – it also seems like they put some better size fish in this week up to 3 pounds. Crappie action was red hot last weekend for a few windows on underspins and grubs with 2 pounders but that bite slowed a little going into this weekend. This lake is open Fridays, Saturdays and Sundays cost of entry is only 5 dollars per vehicle.
ISABELLA LAKE – Crappie, catfish and bass are all slow with everything still in winter mode. Camping once back to open in the National Forest. The trout derby will run April 24 thru Sept. 6, clearly spreading things out to keep things safe under the circumstances. There will be 500 tagged trout in the lake worth $20 to $5,000. For more information and updates, visit KernRiverValley.com and follow facebook.com/lakeisabellafishingderby.
JENNINGS LAKE – Trout are on a fair bite with most reports having the rainbows down deeper in 15 to 20 feet, where they're currently preferring brighter colored PowerBait, inflated nightcrawlers, Mice Tails and Power Worms. Another 1,500-pound plant ought to set the stage for an improved bite this coming weekend. With water temps still in the high 50s the bass have yet to move up in earnest, which should change with the next full moon coming up. Finesse stuff is still accounting for most bass bites. Mackerel, dip baits and nightcrawlers are getting a few catfish to go. Night fishing is back on the menu every Friday from 3 p.m. to midnight.
JESS RANCH LAKES – "The lakes will be closed until further notice" per JessRanchLakeNews.com.
KERN RIVER – DFW stocking is happening on a weekly basis, and spin fishers are getting rainbows just downstream and the bridge in Kernville. Spinners, jigs and trout worms is what's working for these chilly-water stockers. A 20-plus inch wild rainbow was caught by a fly-rodder drifting a hand-tied Pheasant Tail in the general area of Johnsondale Bridge, and he told WON it wasn't the only one caught that day. The weather has been stable and decent numbers are being picked up by bug-slingers using attractor nymphs fo the most part
LOPEZ LAKE – Cool water temps are keeping the bass bite just fair with the bulk of fish still hunkering down and holding in the 18- to 25-foot zone. That said, a few fish are being caught up shallower on a mix of Neko rigs, drop-shot worms, jigs and Kastmasters. Trout anglers are connecting on the troll from the surface to 3 colors of leadcore, mostly on Needlefish and Rooster Tails. Dough baits dipped in Bite-On scent are scoring some trout bites as well.
LOWER OTAY RESERVOIR – Along with several other San Diego bass lakes, this one continues to trend in the right direction. Guide Rusty Brown is putting clients on biters using Phenix Vibrating Jigs in 1/2-ounce Watermelon Shad, and 6- and 7-inch Roboworms in Orange Crusher and MMIII both on a drop-shot or Texas rig. Both arms are producing largemouth as fish continue to move shallow.
MIRAMAR LAKE – The water is clear and just under 60 degrees. The best bite is still in 20 to 30 feet of water on finesse worms and plastic craws on a Texas rig. There was a decent winter finesse bite around tules before those storms blew through a couple weeks ago, but no one seems to be catching or spotting any shallowed up of late. Weightless stickbaits will be the way to go when males start patrolling shallower environs which could happen over the next couple weeks.
MORENA LAKE – Fishing is slower going overall but look for things to pick up, at least on the trout front, with a 2,000-pound stocking set for early March. Bass bites are scratchy at the moment but some quality largemouth are being taken on jigs and worms. Catfish are best on chunk mackerel or chicken livers.
MOUNTAIN LAKES – They stocked this past Thursday with 1,000 pounds of Mt. Lassen rainbows, 500 pounds going in each lake. Friday's bite was very good on the beach and the wall on the top lake and the bottom lake the fish were holding around the dock and moved down to the cove by the water outlet. Yellow/white minnows and white jigs are still producing the best but a few fish are also showing on standard jar baits as well.
MURRAY RESERVOIR – With water temps reaching 59 degrees in the afternoons, there has been a decent bite on finesse worms either on a drop-shot or Texas rig. It's been quality fish with numbers still very much in single digits, but some chunks are absolutely coming up. Those using electronics are getting some nice bass to 7 pounds working spoons through shad schools found deep.
NACIMIENTO LAKE – The late-winter bite is still somewhat tougher than usual but showing signs of improving. Spotted bass are slowly beginning to creep up the water column and there have been a few more bigger fish landed recently from 3 to 5 pounds – a weekend tourney was won with over 11 pounds for 5 fish. It's still mostly finesse plastics and jigs getting it done, although there have been a few more reaction fish reported in the dirty water, which is finally starting to clear up some – still lots of floating debris though, so be cautious. No word on white bass or other species just yet, but that should likely change in the weeks ahead.
PERRIS LAKE – Some big bass are being caught with fish still hanging between winter mode and prespawn, but plenty of largemouth are very much shallowing up. On the warmer, sunnier days, there are good numbers of bass hanging tight to brush piles, but the bigger females are still hanging back in 25 to 30 feet of water. The East End trees and rocks are also producing some worm, blade, Ika and Senko fish.
PIRU LAKE – No report available.
POWAY LAKE – Yet another double-digit largemouth was caught. This time, it was a 12-pound, 8-ounce largemouth caught from shore on a swimbait by Nicholas Va. That fish will stand as the new lake record for largemouth bass. The lake was slated to get stocked with 1,500 pounds of rainbow trout on Feb. 25. The bite has been steady all season on mostly pan-sized rainbows but in good numbers. Jigs and PowerBait have been the top baits. Catfish are still on a solid offseason bite around Jump Off Point, Boulder Bay and the Log Boom. Mackerel and nightcrawers are what gets them. Boating is still closed due to damage sustained during a windstorm.
PUDDINGSTONE LAKE – The trout bite was slow again this past week. The bass bite has been on the slow side also, but should be picking up as the fish move closer to the shallows for the coming spawn. Catfish action has been essentially non-existent. The crappie bite is starting to pick up this week again with a few fish being caught around structure in around 6 to 10 feet of water. Anglers who are targeting them with success are mostly throwing small plastic minnows. Sailboat Cove has been a good starting point to search for these fish.
PYRAMID LAKE – Bass wise there's been a little more of a reaction bite going with cranks and jerkbaits in both shad and crawdad patterns in the main channel and around Yellowbar and the island, with spinnerbaits also getting some grabs – mudlines and wind-blown banks have been the key to success for this bite.
SAN ANTONIO LAKE – Continued very slow fishing and light traffic here. Just a few fish are being reported, the occasional smaller bass on finesse plastics or a catfish here and there on cut baits. Water temps are around 55-56 degrees.
SANTA ANA RIVER LAKES – Stocked heavy again Thursday from Mt Lassen. It was a little on the warm side and the fish reacted accordingly to it for a tougher bite all around. Best action was early morning on PowerBait in the chartreuse or rainbow color with a foot and a half leader. Various jigs were also producing a steady number of fish by the boat dock and La Palma Beach, but the best producing area this weekend was Chris' pond. Even though they put many big fish in this week not a whole lot were caught, however, so quite a few bigs are still swimming around. They also now allow overnight camping again starting Thursday at 5 p.m. through Sunday.
SANTA MARGARITA LAKE – It's a quality-over-quantity bass bite at the moment, and a handful of larger models in the 6- to 9-plus pound range were checked in for the week. The bigger fish are mostly coming on jigs in 10 to 15 feet of water, but spinnerbaits and chatterbaits are also getting grabs along with finesse stuff like drop-shots, Neko and Ned rigs. Still challenging to put together a limit but the few bites anglers are getting are often good ones. Catfish are coming on with a number of anglers checking in limits on mackerel, and a few bigger cats over 10 pounds making occasional appearances.
SANTEE LAKES – The trout bite has slowed a bit but the rainbows are still showing at a decent clip with some still hitting jigs but trending more toward preferring dough baits and inflated 'crawlers. Lakes 3 and 4 are still best after being stocked in consecutive months. The trout bite will get another shot in the arm the second week of March with a healthy plant split between Lakes 2 and 4. Bass fishing is picking up slowly with the better catches coming on Senkos and Fat Ikas along with drop-shots and Neds getting some bites. Cut mackerel is enticing some catfish to eat.
SAN VICENTE RESERVOIR – The bass bite seems like it gets better every day, and it remains the best bass bite in San Diego county. Bass are shallowing up and eating Roboworms, Senkos and some are being caught on hard and soft jerkbaits. The best depth is only 10 to 25 feet, and the most productive areas are those with stickups and/or rocks. Toll Road, Kimball and Barona arms have all been producing.
SILVERWOOD LAKE – Trout were stocked on Feb. 17, and they are being caught in Miller and Cleghorn canyons by anglers using PowerBait followed by spinners and spoons. Largemouth bass are perking up around the Gazebo and throughout Miller Canyon, and they can be caught on finesse plastics or low-profile hardbaits. Striped bass are on a solid bite with most being caught on sardines, nightcrawlers, Sierra Slammers swimbaits and Kastmasters. The best striper fishing is being found around the dam and Marina Dock.
SKINNER LAKE – While it varies from one day to the next, the crankbait bite (largemouth bass) has been picking up with squarebills doing the most damage. This was welcomed by anglers who have been frustrated in the downgrade in largemouth fishing due primarily to significant drops in water levels.
SUTHERLAND RESERVOIR – The reservoir is now closed for the season and is expected to reopen to fishing in March.
WOHLFORD LAKE – Fishing has been excellent for trout since the season finally opened on Feb. 13 and received a 3,000-pound trout plant. Big fish including rainbows of 9.4, 9.1 and 6.3 pounds alohg with three over 5 pounds and a bunch in the 3- to 4-pound range. Top baits were minijigs, Mice tails, inflated nightcrawlers and PowerBait, and lake staffers said it seemed like the best fishing was coming out of "slightly deeper water." Bass perked up with all the trout in the water, too. An 11.1-pound largemouth ate a trout swimbait in Oakvale Cove. Big catfish were out, too. An angler using chicken liver near the East Buoys hauled in an 11 pounder.