South Freshwater Fish Report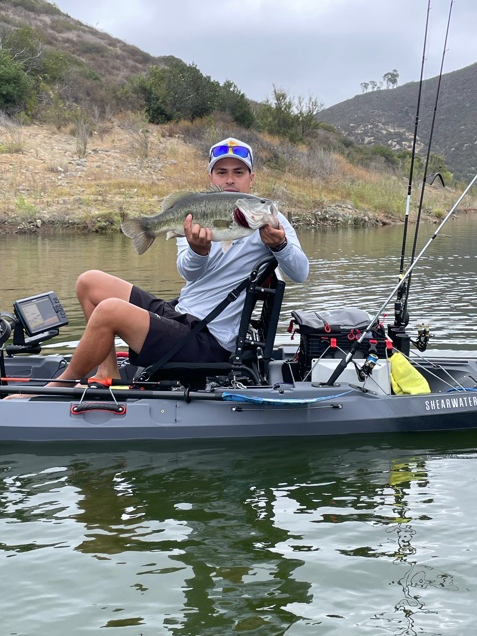 Updated July 26, 2021
AQUEDUCT (NEAR BAKERSFIELD) – Not a lot of bigger stripers being reported but fairly decent numbers of linesides to 3-plus pounds are showing. Early and late with Flukes or small swimbaits remains the best pattern to get a few bites. Anglers soaking cut baits are finding some willing catfish along with an occasional striped bass.
BARRETT LAKE – Fishing is still excellent, but it's less of a video game and more realistic. Most fish are now coming in on SoCal standards like wacky-rigged stickbaits and big worms on a Texas rig fished deeper. By all means bring the fun stuff, just be prepared to fish slow and low if you want to pile up 25 to 50 fish.
BIG BEAR LAKE – The trout bite remains very good for numbers and most of the action remains in relatively shallow water, particularly near the buoy line by the dam. It's been mostly smaller rainbows in the mix but they're biting just about anything bait and lure wise: dough baits and 'crawlers on slip bobber or Carolina rigs, Rooster Tails, Kastmasters and Mice Tails for shore anglers and wedding ring / 'crawler combos, Rapalas and Flicker Shads and pink or copper spoons for trollers. The few better-size trout showing are mostly coming from a little deeper water where overall numbers are lower. The catfish bite is peaking right now and the best bite has been in the late afternoons and evenings with shrimp, mackerel and nightcrawlers. Bass have been just fair, with 3.8 and 4.8 Keitechs working well along with deeper-running cranks near rocky structure on the reaction bait end and shakey head and drop-shot worms in green pumpkin or purple doing best for overall numbers.
BUENA VISTA LAKES – Very few anglers getting out here due to both recent heat wave and an overall slow bite. A few anglers are finding a couple bass bites early and late on soft plastics worked in 4 to 12 feet and the occasional taker on reaction baits first thing in the morning. Catfish remain few and far between, but anglers soaking dough baits from shore are finding some nice-size carp.
CACHUMA LAKE – The bass bite has slowed some from its torrid late-spring pace, but the action is still fair to good for numbers depending on the day. Some topwater bites are there to be had in isolated areas early along with a few fish being reported on soft jerkbaits and cranks, otherwise it's been mostly drop-shots, Texas rigs, shakey heads, Neds and Senkos getting most attention in 15 to 25 feet. Crappie are just slow to fair with a few being taken occasionally on the troll with deeper-diving Rapalas or minijigs worked on structure. Cut baits and nightcrawlers are enticing steady numbers of summer catfish and bluegill bites in various coves around the lake.
CAHUILLA LAKE – The lake is getting stocked twice per month, and fishing for catfish has been fair. The lake stays open for fishing until 9 p.m. on stock days. The bass bite has slowed but there are still some picking up drop-shots, topwater and Power Worms pitched around the Rock Jetty.
CASITAS LAKE – Bass fishing remains slow to fair overall but appears to be perking up a bit. There has been some decent topwater action early on various surface offerings in isolated areas around the lake, more so on overcast mornings. There's also been a few early takers on cranks and hard and soft jerkbaits, otherwise it's been your standard drop-shot and Senko game. Nightcrawlers fished from the banks are getting moderate numbers of panfish with a catfish showing here and there on cut baits, including a couple in the 10-pound range this past week.
CASTAIC LAKE – The water level continues to fall here but there continues to be an improving topwater bite the first hour or two of the day until the sun peeks out. Lots of fish are holding shallow on rocky points and bluffs near the main lake where most of the catch is coming on finesse plastics rigged drop-shot or Carolina style and wacky-rigged Senkos – green pumpkin has been a hot color as of late. The Lagoon continues to fish well for anglers going the finesse route as well, along with some action on frogs and Flukes worked around weed edges. Striped bass are just fair with a steady pick coming to trollers employing umbrella rigs and flycoring rigs. Anglers soaking sardines and anchovies are also getting lineside bites. The majority of stripers showing up top are smaller models lately. Catfish action has been improving on cut baits but the best bet for panfish remains in the lower lake.
CUYAMACA LAKE – A few rainbows are being caught here and there, with most coming on dough baits and 'crawlers or some combination of the two. A few bites are coming early on minijigs and Hookup Baits here and there as well. Bass fishing has been fair anglers working bigger worms, jigs and Ikas along with the occasional reaction bait thrown early and late in the day.
DIAMOND VALLEY LAKE – Quality is starting to move past quantity on the bass stage with nice chunks coming in on walking baits, 6- to 8-inch worms and some crankbait fish around the dams. The key depth is 15 to 25 feet. Numbers are down, it seems. A night tournament over the weekend featured very tough fishing. Some striped bass are being caught on trolled flies.
DIXON LAKE – No report available
EL CAPITAN RESERVOIR – Bass activity in areas with thick grass seem to be a recurring theme right now from one San Diego City Lake to the next, and El Cap is no exception. Ikas, Texas-rigged creature baits and craws, Senkos and Flukes are all working in or around these grassy areas depending on how deep into the salad you want to go, or if you're working the outside edges in deeper water.
ELSINORE LAKE – The catfish bite is very good for anglers soaking Mack Bites and mackerel along with the occasional nightcrawler around brush and boat docks. Bass fishing continues to improve with anglers targeting rockpiles and heavy structure with Texas-rigged worms and creature baits doing well. Ikas and Ned worms are also working at times. Wipers continue to bite well on nightcrawlers after another big delivery of smaller models a few weeks back, though the majority of those being caught are still under the 18-inch limit.
GREGORY LAKE – Very slow trout fishing without a plant in months, and while a stocking could happen this winter, there most likely will not be another one until spring of 2022.
HEMET LAKE – Slow fishing here in the heart of summer, for trout anyway. There are good numbers of bluegill and small bass showing up for anglers fishing from shore with small worms around flooded vegetation near the shoreline.
HENSHAW LAKE – Fishing has improved a little since the daytime temps fell back into the tolerable range. Catfish are still the best bite on shrimp, chicken livers or nightcrawlers between the dock and dam. Crappie fishing is slow and will likely remain so until spring, but the bass bite is fair on plastic worms or weightless Senkos flipped into thick shoreline cover.
HESPERIA LAKE – Catfish plants (usually 1,000 pound loads) are arriving every other week and keeping fishing consistent. The last two plants were on July 8 and 22. Lake staffers tabbed shrimp, garlic mackerel and nightcrawlers as the top baits, and the North Shore, Finger and Sandy Point as the hot spots.
HODGES LAKE – Bass fishing is a little off due in part to the full moon, but some anglers are putting up double-digit numbers, or just getting a couple but quality models. A 6.5 was caught on a 10-inch worm in 10 feet of water 20 yards off some tules in the Narrows, and smaller models were taken right out of the same tules on a black/blue Strike King Rage Craw rigged with a 3/8-ounce Woo! Tungsten Never Chip Flipping Weight. Others were caught on Carolina-rigged Brush Hogs and a few on crankbaits. Tubes and kayaks are getting the best of it, and angler pressure remains very light for yet another week.
IRVINE LAKE – The catfish bite remains fair in a few coves and flats that are accessible with shrimp or chunk mackerel getting bit best. There has been an occasional better-size cat showing here and there but overall numbers have just been so-so. A catfish stock is expected the second week of August. Bass wise it's just been occasional takers with soft plastics getting most of the attention. The few anglers targeting bluegill are finding some takers on live worms. The lake is open Fridays through Sundays and it's $5 per vehicle for entry.
ISABELLA LAKE – The largemouth bass bite remains solid on fish from 2 to 10 pounds. Big Texas-rigged worms, ribbon tails and Brush Hogs. Poppers and walking baits are also getting some. Crappie fishing is fair on jigs or minnows, and trout are still showing up, but most of that action is on the troll in deep water, or on floating bait rigs.
JENNINGS LAKE – Extended lake hours will continue through the rest of this week with the lake being open on Mondays from 6 a.m. to 5 p.m. and on Thursdays from 3 p.m. to midnight, along with night fishing 'til midnight on Fridays and Saturdays. Catfish were stocked prior to the weekend and good fishing has been the rule since for the cats. Shrimp, mackerel and 'crawlers are still getting the best of it and the best bite remains in the evening hours, so take advantage while you still can. Bluegill are biting well on waxworms and nightcrawlers around the T-Dock and Siesta Point. Bass have been fair on your standard summer arsenal of drop-shots, Senkos, Ned rigs and the occasional creature bait.
JESS RANCH LAKES – "The lakes will be closed until further notice" per JessRanchLakesNews.com.
KERN RIVER – Fishing in the upper river has been fair with flows down and crowds up. Spin guys can do okay drunking eggs, worms or crickets in deeper holes or runs. Fly fishermen are getting into better action in the upper reaches of the 20 Mile Section.
LOPEZ LAKE – Bass fishing remains steady and fair here and guys putting in their time are getting some respectable limits and a few fish in the 4- to 5-pound range. It's been kind of a junk fishing game with a little topwater first thing along with spinnerbaits, 3- to 4-inch swimbaits, jigs, drop-shots and Texas rigs. Mostly largemouth with a smallie cropping up here and there. Redear are chewing pretty well on mealworms when you find a school. The water level here continues to drop at around a foot or so a week and current predictions estimate the launch ramp may be out of service by as soon as the first week of August – call the marina ahead of time before heading out moving forward just to be sure.
LOWER OTAY RESERVOIR – Grass is still crazy thick out here, but that's where the bass are. The good news is, just about anything that could be rigged weedless and sent into the heavy salad is getting bit by good numbers of respectable chunks. Some Fluke fish showing up when bass blowing up schools of baitfish. An 8.14 pounder was caught, but details were thin on that one. Catfish are biting at a respectable clip.
MIRAMAR LAKE – Both shore and boat anglers are taking advantage of decent bass fishing. The best bite is between Natalie's point and the second dock according to lake staffers. Straight-tail worms and soft stickbaits are doing well in those areas. Bluegill are still on the chew and willingly picking up small worms under a bobber if not fly-lined.
MORENA LAKE – No report available.
MOUNTAIN LAKES – The lakes continue to get 500 pounds of catfish apiece on a weekly basis and the bite continues to be very good for most. Shrimp and mackerel remain top bait offerings with a few fish also being reported on M&M combos and nightcrawlers. The cats have been hanging around the aerators and docks following stocks. The beach on the upper lake is now closed to fishing for the summer.
MURRAY RESERVOIR – Fishing around points in 5 to 15 feet of water is producing decent numbers of Ned rig, drop-shot and Texas-rigged creature bait fish. Underspins are getting a few offshore of these areas. Getting deep into the sticks and grass with weedless plastics tight to shore is still an option after that bite blew up a week ago.
NACIMIENTO LAKE – Day temps continue to poke up into the triple digits and heavy summer boat traffic has been the norm of late, making getting out early or late imperative to fishing success. More of the same expected this week. A few topwater opportunities are there first thing in the morning but most of the spotted bass action is coming on slowly worked soft plastics in 8 to 17 feet. White bass are boiling occasionally in isolated areas when just about anything minnow/shad-imitation will get bit, and a few anglers are also hooking up on the troll. With the water level continuing to fall more and more sandbars and water hazards are coming into play, so stay vigilant.
PERRIS LAKE – Bass are still deep and some quality models are being caught on big worms, underspins and tailspins around deep (20 to 30 feet deep) structure ledges. Based on the intel WON is getting, it seems like it's pretty slow for more bass anglers, but the ones locating them sending out stuff like that are doing very well. Topwater fishing is fair in grassy areas with the island serving as the best locale for that. If birds are working, track them down and fire an A-rig under them as that has been solid, too.
PIRU LAKE – No report available.
POWAY LAKE – Open Wednesday-Sunday 6 a.m. to 6:30 p.m. No fishing license required, just the daily fishing permit sold at the lake. No word on when the first catfish plant is going to arrive, but there are some holdovers being caught on mackerel or chicken livers around the Log Boom, Fishing Pier and Half Moon Bay.
PUDDINGSTONE LAKE – Not a ton of reports this week overall but the few trickling in suggest a decent bass bite for guys working soft plastics with a very slow presentation. A few fish taking topwater and other reaction stuff early and late. A catfish plant is expected sometime in the next week or two but that bite has been slower going. The bluegill bite's been strong around docks and submerged structure with live worms and small jigs.
PYRAMID LAKE – Soaking fresh cut anchovies or sardines is getting anglers into steady limits of 1- to 2-pound stripers off main and secondary points throughout the lake with a few bigger ones occasionally mixing in. Drifted 'crawlers are also getting some grabs. Catfish are showing in steady numbers on similar baits in various coves around the lake. The summer bass bite is pretty solid with topwater an option first thing on a mix of buzzbaits, frogs, smaller walking baits and poppers around grassy points near the island, Yellowbar and the Serrano area. Otherwise it's been your standard soft plastic arsenal on drop-shots and Texas rigs anywhere from 10 to 25 feet through the meat of the day. Flukes are also getting some grabs.
SAN ANTONIO LAKE – The lake level continues to drop here and now sits at 8% of capacity. Crappie have been on a good chew lately, no huge fish but solid numbers and a few decent-size models that are mostly hitting crappie jigs. Catfish have slowed some but moderate numbers are still showing on cut baits and blood baits dipped in garlic scent and good counts of carp are falling for dough baits as well. Still slow on the bass fishing front with just a handful of biters eating soft plastics. The ramp doesn't open until 1 p.m. on Fridays (still 6 a.m. on weekends).
SANTA ANA RIVER LAKES – The catfish bite continues to be very good all around for numbers and a good number of limits are being compiled here with the regular weekly stockings keeping plenty of targets swimming around. Soaking either shrimp or mackerel dipped in garlic scent remains the best way to go for bites. SARL continues to be stocked with whiskerfish every Thursday and has overnight fishing/camping sessions available on Fridays and Saturdays.
SANTA MARGARITA LAKE – Pretty slow bass fishing here of late, and anglers who manage to scratch out a limit can consider that a good day at the moment. Just the occasional taker on topwater here and there, mostly on poppers and frogs, otherwise it's mostly been Texas-rigged Senkos and worms working best to stay out of the heavy weeds. Live redworms and 'crawlers are getting bit pretty well by panfish in isolated areas and a few catfish are taking chunk mackerel.
SANTEE LAKES – Catfish were stocked prior to the weekend and that gave the bite a shot in the arm. Lakes 2, 3 and 4 are all producing consistently, mostly on shrimp and chunk mackerel. A few bass continue to take whacks at topwater offerings like frogs, walking baits and wake baits early and at the end of the day, but green pumpkin Senkos and Ned rigs seem to be working most consistently for bites along with smaller worms on drop-shot rigs. Bluegill are biting well enough on waxworms and 'crawlers.
SAN VICENTE RESERVOIR – With the lake level still down a bit, working heavy grass is still the best way to get after the lake's largemouth bass. Bombing the grass with plastic worms with much heavier weights than you'd typically throw so it cuts through the salad is the game changer with some anglers doing nothing but that and getting well into double-digit numbers. Soft stickbaits are picking up a few along the edges of these grass areas. Some real footballs are in the mix, too, with bass to 7 pounds being reported along with plenty in the 4- and 5-pound range.
SILVERWOOD LAKE – Largemouth bass fishing has experienced an upgrade and they are now a legit player in the across-the-board multi-species bite going on right now. The bite has been best around the Marina Dock, but regardless of where anglers are targeting them, finesse plastics are what'd doing most of the damage. Catfish and striped bass action has shifted to the general area of the dam for anglers using sardines, chicken livers or mackerel. Miller Canyon is also kicking out a few linesides. Boat and entrance closures are still regularly happening on weekends when the park fills up.
SKINNER LAKE – Catfish action is excellent on quality fish with Ramp 2 standing out as the hot spot. A variety of cut baits are working, and the next stock is slated for July 30. Striped bass are also on a solid cut bait bite around the dam and inlet. There are some eating diving plugs as well. Largemouth bass fishing has been slow, but bluegill are picking up the slack for anglers using mealworms or circkets across from the Marina.
SUTHERLAND RESERVOIR – It's been the same deal for a few weeks up there. There are some bass coming out of 10 to 15 feet of water on Texas-rigged worms and the occasional drop-shot. It's been better with the break in the heat and with those monsoonal systems moving through. Crappie fishing has been slow, and that will likely remain the case until it cools a bit more in fall.
WOHLFORD LAKE – The sputtering bass bite has been showing signs of life lately with fish to 7.2 pounds reported. That big one ate a frog near Boat Dock Cove. Other largemouth are falling for big worms, creature baits and the occasional jerkbait. Some shore anglers working 3-inch swimbaits got a few but also had some slab crappie in the mix as a bonus catch. Catfish were stocked on July 2, July 16 and July 30 making three plants for the month of July.