South Freshwater Fish Report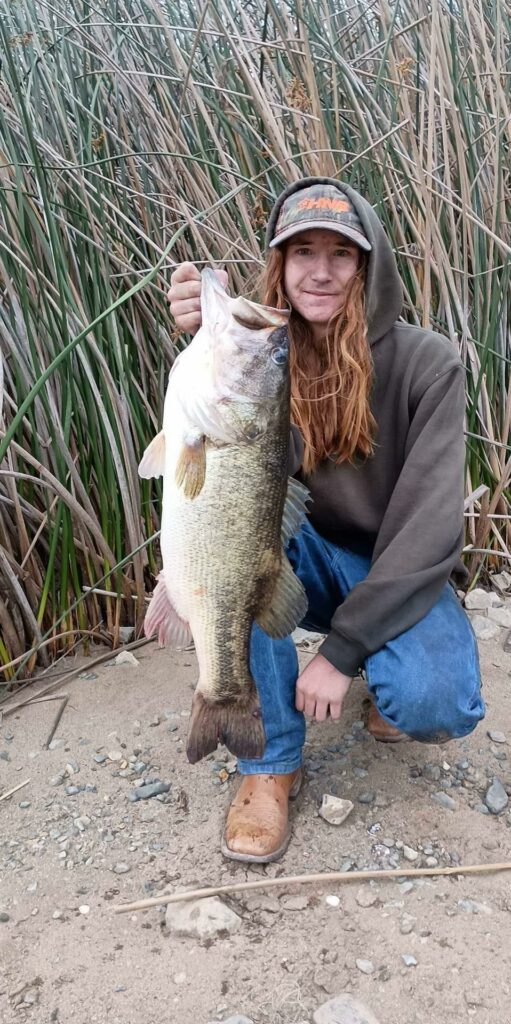 Updated June 6, 2023
AQUEDUCT (NEAR BAKERSFIELD) – Some guys are really piling up nice catfish when they get in the right spot with biters. Cut baits are best for the cats as well as striped bass which are also on a solid bite. Anchovies, sardines and chicken livers will work for both species, and the areas around check gates have been nest. Some bass are showing up on hard and soft jerkbaits and drop-shotted plastics.
BARRETT LAKE – Overall, numbers are down for Barrett. Reports picked up by WON are showing numbers in the 30s on the high of the spectrum with most anglers having to grind it out for 8 to 12. Some largemouth are boiling on shad close to shore, and those fish will pick up smaller swimbaits. Topwater is claiming a few, too. When that is not going on, creatures, stickbaits and shallow-running cranks worked shallow is accounting for a good amount of the biters. Access to Barrett Reservoir is by reservation only. Patrons are limited to two vehicles per reservation. Photo identification of reservation holder required, the entire group must enter the area at the same time and be escorted to the reservoir. Fishing days are Wednesday, Saturday and Sunday and the season runs May through September. The lake is closed on the first Wednesday of each month. Lake Barrett is at 90 percent of capacity.
BIG BEAR LAKE – Recently stocked with DFW trout, the bite is fair-to-good on PowerBait, Mice Tails and inflated nightcrawlers. Bowfishermen are piling up truckloads of carp that have been very easy targets of late. Conditions will be outstanding for WON Big Bear Troutfest in October. Visit wonews.com/product/troutfest2023/.
BUENA VISTA LAKES – Boat traffic has been steadily picking up, and while it peaked over Memorial Day weekend, this June gloom could hold it off compared to years past. Senkos, worms and craws are working for largemouth bass holding tight to shoreline vegetation. Pan-sized catfish are on a decent pick for anglers using shrimp or dip baits. The panfish bite is respectable on worms under a bobber.
CACHUMA LAKE – According to guide Rich Tauber (RichTauberFishing.com) bass fishing is steady for smaller fish, and the top tactic by far is working Senkos I about 15 fet of water. Some are showing up on spinnerbaits and topwater.
CAHUILLA LAKE – A 900-pound catfish stock went in on May 26, but it still sounds like fishing is only fair on the best days. Scented nightcrawlers are working best. Panfish and bass are biting at a slower clip.
CASITAS LAKE – Dramatically raised water levels (now over 95 percent full) and the first batch of warm season crowds have made fishing a challenge, but there are still some bass being caught. Finesse stuff including worms and Ned rigs are doing most of the damage. Striped bass fishing has also blown up for anglers using spoons, swimbaits and some topwater. No trophies in that department, but plenty of numbers. Catfish action is also decent on dip baits, garlic nightcrawlers, mackerel and chicken livers. Check out the area around the dam for that.
CASTAIC LAKE – According to guide Jim Taibi (661Fishing.com), bigger bass are active around bluff walls and rocky secondary points. Wacky rigged stickbaits are working best for smallmouth and largmeouth. Drop-shots with the hook about 18 inches above the weight are also working with Keitechs in shad colors. Those will also work (with a jighead) for striped bass when they show up around the surface. Cut baits are working for stripers in the Ski Arm. Trolling for them has not been effective of late. Surface temps are up above 70 degrees and visibility is 5 to 10 feet in some areas.
CUYAMACA LAKE – Memorial Day weekend kicked off with a 1,000-pound trout delivery. Most of those were pan-sized fish, but it did put the bite in gear for anglers using floating baits, jigs and spoons. The lake is now offering a "frequent fisher" program that awards a free fishing pass after you fish the lake nine times. Two full "frequent fisher" cards earn a free boat rental, and three are good for a fishing permit and a boat rental. The payback goes up from there topping off at two weekday nights in a cabin and a fishing permit, that's for six full cards.
DIXON LAKE –Water temp is 67 degrees at the surface and the water is very clear. Most bass are in post spawn and there are clouds of bass fry everywhere. The bite is only fair on weedless creature baits and tubes pitched around tules, and some bass are biting finesse worms worked over drop offs. There's no hard date for the start of catfish season, but it's confirmed that it will be July, and night fishing is slated to start after July 4, so that suggests it would be early in the month. The lake is open 7 days per week from 6 a.m. to 8 p.m.
DIAMOND VALLEY LAKE – Continued pedestrian bass numbers, but the quality is still making up for it in most cases. Standard Roboworms in 7 to 20 feet of water and Senkos around vegetation in shallower areas. Not much has been going on for those working reaction stuff. Striped bass fishing has been slow.
EL CAPITAN RESERVOIR – Now 44 percent full which is down a bit over the last couple weeks. Bladed baits, soft jerkbaits and drop-shots are working well for the lake's largemouth. There's some frog eaters showing up here and there but it's inconsistent. Same with walking baits. The biters are still mostly scrappy males, but the quality does seem to be improving overall.
ELSINORE LAKE – Cut mackerel on a Carolina rig, or with no weight and even under a bobber is working well for catfish. Some bass are being caught on smaller reaction baits. Panfish action has been slow.
GREGORY LAKE – This spot is keeping the SoCal trout dream alive well into June with another 3,000 pounds stocked on May 31  following a 3,000-pound delivery on May 16, and that amount also went in on May 3. The bite has been very good on PowerBait, Mice Tails and jigs.
HEMET LAKE – Trout fishing remains fair with some limits showing up along with plenty of 2- and 3-fish stringers. Bait-and-wait with Mice Tails, Gulp! Chunky Cheese and PowerBait is still the way to go. If another trout plant sneaks in there, minijigs should be at the ready. A DFW trout plant is slated for the week of June 18.
HENSHAW LAKE – Out of nowhere, crappie, catfish and carp are all biting, and the bass are becoming more active according to lake staffers. Daytime temps have been warm since Henshaw seems to be out of range of these marine layers. Night catfishing has begun on Friday and Saturday evenings until 10 p.m. from dock and shore only. The lake is as high as it has been in several years, with ideal structure available to protect fry. Anglers should expect improved fishing over the summer. Bait, tackle and licenses available at Lake Henshaw store. Pontoon and fishing boat rentals are available.
HESPERIA LAKE – Great fishing for catfish to 8.5 pounds. Most are 2 to 3 pounds but a lot of 5 to 7 pounders are in the mix. North Shore, Sandy Point and the Finger have been the hot spots for anglers using shrimp, nightcrawlers and mackerel. A 2,000-pound catfish plant went in on June 2 followed by 1,000 pounds slated for June 9. Tilapia fishing is fair at best at the moment, nightcrawlers are best for those guys. Night fishing runs May 5 – Sept. 9 from 2 to 11 p.m.
HODGES LAKE – Reopened to recreation on May 31. That day was busy, and all boats were rented out in the first half hour. A lot of kayak anglers and a fair amount of float tubers and shore pounders were out there, and just about everyone WON talked to had caught at least one bass. One angler caught 8 bass over 6 pounds each pitching wacky-rigged Senkos. Texas rigs and crankbaits also worked well, and a few showed up on chatterbaits. Good numbers of catfish and crappie were also caught. The water level is still well short of the launch ramp, and private boat launching is not an option. That will remain the case indefinitely.
IRVINE LAKE – Not a lot is going on here since trout stocking came to an end. There has been no indication that catfish will be stocked. Cats, panfish and bass are available, but there has not been a whole lot of activity since the cold season came to an end.
ISABELLA LAKE – The lake looks amazing at 78 percent of capacity. A year ago, that was inconceivable, but here we are. The 32nd-annual Lake Isabella Fishing Derby is underway as of May 20  and it runs through June 4. A total of 14,000 pounds of rainbow trout were stocked prior to that including 4,000 pounds of Mt. Lassen rainbows and no less than 400 pounds of "trophy" models.  The event features 500 tagged trout valued from $20 to $10,000 with $50,000 in tagged-fish-cash and prizes up for grabs. For more information, visit KernRiverValley.com. More crappie are being caught on structure spots throughout the South Fork. Bass fishing has been solid on a wide range of stuff including worms, cranks, jigs and swimbaits. Catfish remain dependable for angler dunking dip baits or frozen shad.
JENNINGS LAKE – The next catfish plant is slated for June 19, and that's going to be a 1,000-pound delivery. The catfish opener was Memorial Day things kicked off with 1,500 pounds of stocking. A total of 8,500 pounds will be stocked this season. Night fishing will be open starting on May 26 and will run on Fridays and Saturdays until midnight. Trout are still showing up here and there, even during night fishing.
JESS RANCH LAKES – The lake's website now says "the lakes are closed." WON will keep an eye on the status of these lakes like always, but it doesn't seem to be opening any time soon.
KAWEAH LAKE – Bass numbers remain consistent, but the quality is getting better for anglers using finesse worms and Senkos. Most of the biters are close to shore but some are showing up on structure spots in around 20 feet of water. Spotted bass are also in the mix with most of them showing up on the finesse stuff. Crappie are cooperating. The lake is at 57 percent of capacity and rising.
KERN RIVER – Flows are raging and fishing is not happening. It's a dangerous river to be around at the moment. Highway 178 out of Bakersfield is closed due to erosion and it won't reopen any time soon.
LOPEZ LAKE – Over 100 percent of capacity and trollers are getting one or two trout per angler on average.Trout plants are expected to continue into summer. Grassy areas are producing bass for anglers pitching lightly-weighted (or non weighted) stickbaits in around 10 feet of water. Anglers can view a live webcam of the lake at 805webcams.com/lopez-lake-webcam.
LOWER OTAY RESERVOIR – Now topping off at 98 percent full, the water is murky but fishing should really takeoff with conditions return to normal. Some bass are being caught on worms, soft jerkbaits and jigs. Grassy areas are still producing best. Panfish are still biting like crazy with both crappie and bluegill eating worms under bobbers.
MIRAMAR LAKE – Bass numbers are high with drop-shots fooling most of the biting fish (regardless of where on the lake) and even shore anglers are getting in on the action working around tules and from the docks. Double-digit numbers have been relatively common. The bluegill bite is solid on nightcrawlers, while catfish action is "decent" on mackerel. The boat ramp is open and the lake is 82 percent full.
MORENA LAKE – The Lower Boat Launch is open. All vessels must pass a Quagga Mussel Inspection (clean, drained, and dry) prior to launch. The lake is open from 6:30 a.m. to 5 p.m.
MURRAY LAKE – Smaller curl-tail worms in the 4-inch range are working for scrappy largemouth that are hanging tight to tules. Kayak anglers are getting the best shots at them. Sometimes the wind picks up and makes things difficult, but drop-shotting is the way to go right now.
NACIMIENTO LAKE – Very good fishing for bass on drop-shots, split-shotted reaper-type baits and smaller jigs worked from shore on out to 20 feet of water. Some topwater fish are showing up here and there. Crappie fishing is fair on jigs and minnows. White bass are active on spinners and spoons. The lake is still well above 90 percent of capacity. Anglers can view a live webcam of the lake at 805webcams.com. The lake level is still elevated at 93 percent of capacity.
PERRIS LAKE – There's a pretty ridiculous algae bloom going on right now, and it's to the point where lake regulars are giving it a shot only to decide to go home and wait for conditions to improve. One of those was James Montes who said the green stuff is 15 feet deep in some areas. There were some decent striped bass caught on trolled Producer Flies. Stripers aren't common at Perris, but the ones that show up tend to be quality models.
PIRU LAKE – No report available.
POWAY LAKE – More bass anglers are hitting this hole, but the bait has only been fair on drop-shots, Ned rigs and the occasional swimbait. Catfish remain on a decent pick all over the lake. Mackerel, chicken livers and dip baits are working best.  Trolling small spoons or drifing with a nightcrawler or a trout worm on a split shot rig right down the middle of the lake can bag trout here well into June.
PUDDINGSTONE LAKE – To put it in the words of our local contact, "dude, there's trout. Like tons." Good news for him because he's a bass guy who likes to throw big swimbaits at this lake in particular. He's getting suspended fish – all 4 pounds or under – on deep-running jerkbaits off of points. A few are biting underspins, but most fish are close to the bottom in 6 to 25 feet of water.
PYRAMID LAKE – Fishing has been excellent almost across the board since the water level stabilized at just over 90 percent of capacity and the water clarity improved. Senkos, big worms and Ned rigs are sticking largemouth up shallow and smallmouth in 15 to 30 feet of water. Striped bass have been active, and they can be caught on spoons, jerkbaits and walking baits when they are blowing up on shad schools Cut baits are also working for stripers
SANTA ANA RIVER LAKES – Top recent catch was a 46-pound blue catfish that was released. It was caught on shrimp at the Bubble Hole. For the most part, it's primarily pan-sizd catfish being caught but the numbers are good, and they aren't too picky of what type of classic catfish bait they'll eat.
SAN ANTONIO LAKE – The catfish bite has been excellent, and that was well timed because our source in the area said "the crappie bite fell off a cliff." Bass fishing has been tough, but it sounds like the ones that do connect are quality models. Other species are slow also, but cap guys are doing well. Pike minnows are showing up more often. Locals still think this place is going to blow up across the board once conditions bounce all the way back. The lake is at 70 percent of capacity.
SANTEE LAKES – Catfish are being regularly planted (Every other week) and the latest delivery was 1,000 ponds on June 2. The next stock of that size is due on June 16. Shrimp. Mackerel and nightcrawlers are the top baits for the cats. The "Stockzilla!"mega Catfish stock event is when 3,500 pounds of catfish will be stocked on Oct. 6 so mark your calendars, but there is plenty of good fishing to be had before then. Bass action continues to impress with good numbers and quality. Night fishing goes down on June 8 and 22, July 6 and 20 and August 3 and 17 from 5 to 11:30 p.m.
SAN VICENTE RESERVOIR – The bass bite has been good, and the shallow bite is excellent before a lot of boat traffic arrives. Senkos either wacky rigged or Texas rigged with no weight are working for the fish closer to the banks. Topwater and jerkbait action is fair, and the drop-shot bite out a little deeper has been dependable when things slow down up shallow. San V is closed on the second Friday of each month.
SANTA MARGARITA LAKE – This one did spill but it's down to 99 percent full. The reaction bite is picking up for experienced anglers familiar with the fishery. Plastics worked tight to the banks is also working for bass. A webcam of the lake is available at 805webcams.com/santa-margarita-lake-webcam-california.
SILVERWOOD LAKE –.Striped bass and catfish are both gobbling up nightcrawlers and sardines. Both species are also biting the same stuff around the Marina Dock. The rocky shoreline near the Marina Dock has been kicking out some largemouth bass for anglers working in 5 to 8 feet of water. Miller Canyon has also been producing largies.
SKINNER LAKE –  Largemouth bass bounced back after a lull and quality fish are now willing to go after an even mix of reaction baits and soft plastics. Good numbers of bass over five pounds are showing up, and guys are putting up very respectable "best fives," and most of that is going on close to shore along tule-lined banks. School-sized striped bass are still are biting well for anglers using cut anchovies, sardines and various hardbaits. Catfish and stripers are both on a fair pick on cut baits. Panfish action has been slow.
SUCCESS LAKE – Plastic craws, Ned Rigs and finesse worms deployed in 5 to 15 feet of water are working well for largemouth bass which are also picking up some reaction baits. Minnows and jigs are still fooling crappie while bluegill are snapping up worms under a bobber.
SUTHERLAND RESERVOIR – The lake is over 75 percent full which is 10 percent higher than it was a couple weeks ago. Sutherland is closed on the third Friday of each month. Open for fishing and boating on Saturdays and Sundays; shore fishing only on Fridays, March through September • Boating hours sunrise to sunset.
WOHLFORD LAKE – Catfish were stocked in the third week of May, and another 1,000 pounds are slated for delivery the week of June 11-17. Believe it or not, trout limits are still showing up for anglers dunking PowerBait, salmon eggs, nightcrawlers or jigs where water is flowing into the lake. Catfish are biting well on mackerel and chicken livers. Recently, a shock-survey was taken, and that revealed borderline absurd numbers of largemouth bass in the lake. They're on a decent bite for anglers using crankbaits, dark worms, craws and the occasional frog. The lake is open 7 days a week from 6 a.m. to 7 p.m.