South Freshwater Fish Report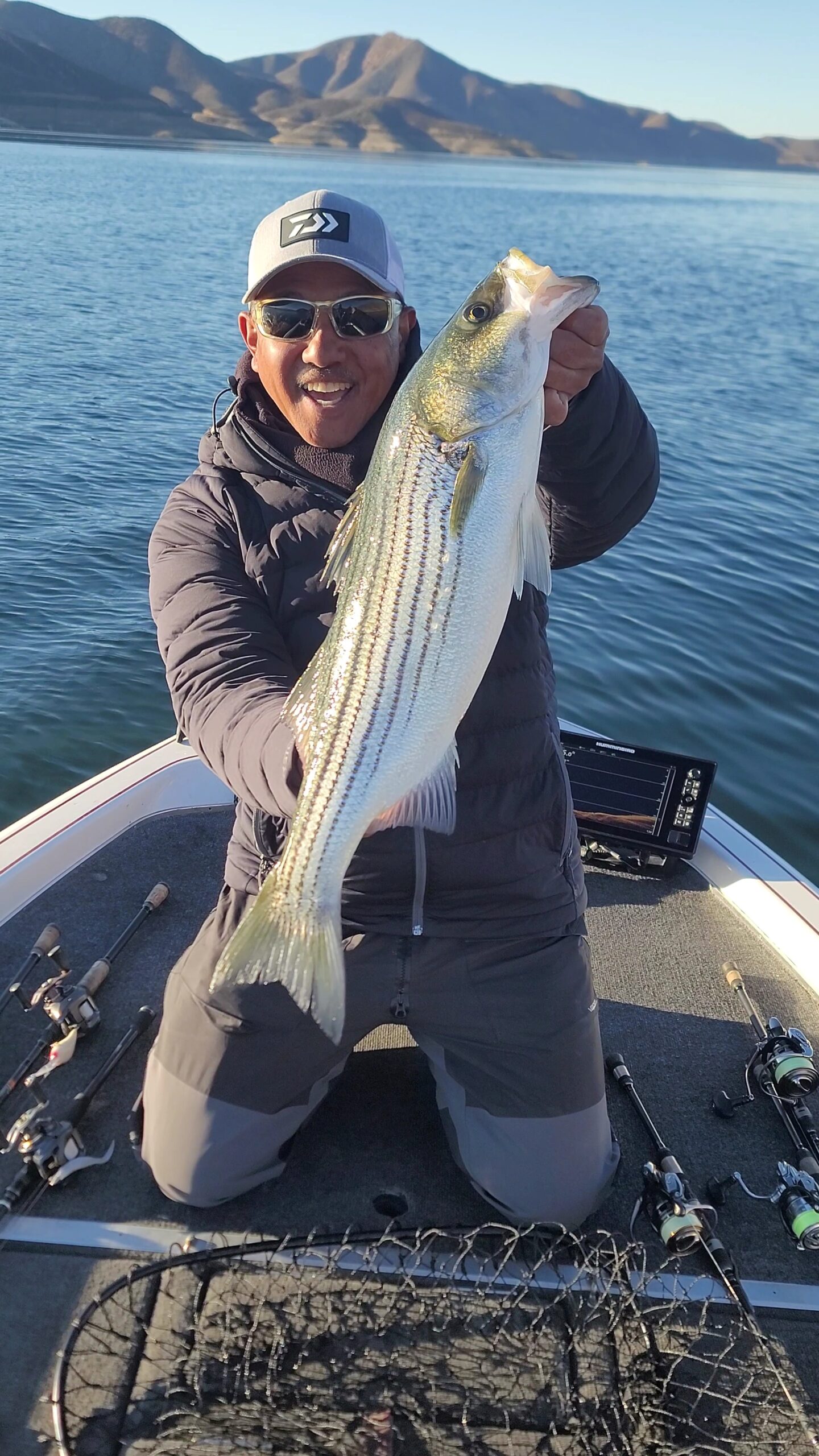 Updated November 28, 2021
AQUEDUCT (NEAR BAKERSFIELD) – Bouncing white soft jerkbaits on jigheads (particularly in white or lighter colors) remains a good way to get into a few striped bass, while cut baits are working in some areas for both stripers and a catfish here and there. The few anglers with live shad are also scoring some striper bites. The best fishing has been in areas where rushing water meets calmer water.
BARRETT LAKE – The lake is now closed to fishing until spring of 2023.
BIG BEAR LAKE – Much of the same report here as in recent weeks as the season winds down: the remaining boaters continue to score trout bites, particularly in the deeper waters toward the dam end of the lake. Drifting nightcrawlers, deploying wedding ring setups and trolling Rapalas or Flicker Shads have been the most effective tactics in recent weeks. Soaking PowerBait in the same area is also working for some bites. Shoreline anglers managing to find cleaner water along the north shore to the buoy line are doing well enough with dough baits, 'crawlers and Power Eggs on longer leaders. The Observatory has also been fairly productive for bankies.
BUENA VISTA LAKES – The all-around bite remains a challenge here with very light fishing pressure. However, trout season is expected to get going Dec. 17 with a stocking a few days prior to the opener.
CACHUMA LAKE – Trout fishing is solid and steady here after a 4,000-pound stocking from Mt. Lassen went in three weeks back. Trolled Berkley Flicker Shads and various Rapalas are working for pickups along with the occasional spoon or inline spinner. Bait dunkers are also doing well enough with your standard dough baits, 'crawlers and Mice Tails. The rainbows are pretty well spread out throughout the lake but anglers continue to find solid numbers of limits. The bass fishing has slowed down with recent dips in night temps but your standard finesse soft plastics are also working well enough here throughout the day. Catfish remain steady for anglers soaking mackerel in various coves, while a few crappie are showing on trolled Flicker Shads.
CAHUILLA LAKE – The first trout plant is expected sometime in late November or early December. The lake is now under winter hours: 6 a.m. to 5 p.m. Some catfish are  being caught on nightcrawlers and dip baits. Some bass are being caught on drop-shots early in the mornings, and small bluegill are also available.
CASITAS LAKE – The bass bite here is still slower going and very much hit and miss, said local guide Fred Klinshaw. That said, there are some windows when the bite does turn on for a bit before shutting back down altogether. Topwater and jerkbaits have been good during these windows with creature baits and small swimbaits filling in the gaps. Ned rigs and drop-shot worms are also getting some grabs when things get slow. The largemouth are currently in transition and can be found anywhere from 5 to 35 feet. The panfish bite is still holding up well enough for anglers dunking mealworms or small 'crawlers. There are also some fall crappie on tap for anglers working minijigs over submerged structure in the middle of coves. An occasional catfish, including a few larger ones, is still cropping up here and there with most bites coming on cut mackerel.
CASTAIC LAKE – Bass are still scattered anywhere from the banks to 30 feet deep but anglers moving around and putting in the time are still finding bites, mostly from finesse plastics on drop-shot or Carolina rigs along with Hula Grubs, Ikas, Ned rigs and finesse jigs. The Ski Arm continues to have the cleaner water of late and has been the better arm to target for largemouth and smallies – more smallies are starting to show with water temps dropping (65-68 degrees). The east end of the Fish Arm remains a good place to search for striper boils first thing in the morning – bigger topwater offerings are enticing the bigger biters but a number of baitfish imitations are working well enough, particularly jerkbaits and spoons. It's been a little hit and miss of late, but cut baiters are scoring mostly 1- to 3-pound linesides near the buoy line, where there's also some boils popping up early on occasion.
CUYAMACA LAKE – A decent but not terrific number of rainbows are still finding their way onto stringers at the lake, including a handful of larger models in the 3- to 6-pound class, and the bite is just fair overall. Occasional fish are being caught on minijigs and spoons slow bounced along the bottom but it's mostly a bait bite right now with rainbow, green garlic and chartreuse PowerBait along with nightcrawlers (or combos of the two) all accounting for a fair share of bites. Boaters drifting said baits are doing best and the stretch between Lone Pine and the Chambers Park dike continues to be best for shoreline anglers. Not much word on other species as of late. Waterfowl hunting at the lake is expected to start in early December. Visit lakecuyamaca.org for more info. There is also a new webcam of the lake available at lakecuyamaca.met/webcam.
DIXON LAKE – The date for the first trout plant is Nov. 15 when 3,000 pounds of rainbows are slated to be delivered. The Kiwanis Derby is slated for Dec. 3-4. The lake opens at 6 a.m.
EL CAPITAN RESERVOIR – Fewer bass are showing up on top busting on baitfish, and that's resulted in fewer fish caught as anglers tried to keep the dream alive for another week. Once they move into winter mode and go slow and low, things should bounce back. Some jerkbait bass are being caught along with some on drop-shots, Neko and Ned rigs, but most of those are under 2 pounds
ELSINORE LAKE – The lake is closed to fishing indefinitely due to significant algae in the water.
GREGORY LAKE – The cooler weather has resulted in an improve trout bite, but the numbers caught are still not reflecting the amount of fish in the lake following a pair of big plants of Mt. Lassen rainbows. Limits are showing up here and there, but most anglers are able to stringer 2 or 3. Bait anglers are doing best around San Moritz cove and along the South Shore.
HEMET LAKE – The start of trout season was delayed due to water quality (algae) issues and is now expected to start in December. A 4,000-pound plant of Mount Lassen rainbows was supposed to get the party started in the first week of November, so it's fair to assume that load will be what arrives next month. Registration is now open for the Lake Hemet Big Trout Campout .April 29-30. It sells out, which is why you can sign up this early. The first 200 registrants will receive a swag bag. NOTE: Registration into the event does not include camping, so please make your camping reservation now at golakehemet.com For derby rules, a full list of tournament prizes and sponsorship information, visit golakehemet.com/special-events.
HENSHAW LAKE – No report available.
HESPERIA LAKE – Trout season kicks off with a 1,000-pound stocking on Nov. 10. Reports suggest the bite was only fair considering it was a stock week, but there were plenty of full stringers leaving the lake through the weekend. Minijig tossers seemed to pile up the quickest limits, but there were plenty of bait-and-wait fish caught on PowerBait, Mice Tails and Trout Worms. Quality trout to 9 pounds were caught. Some rainbows were caught on drop-shot minnows.
HODGES LAKE – The lake is closed for the season to all recreation.
IRVINE LAKE – Trout stocking is expected to begin soon after Thanksgiving here. Catfish are still on the slow side with just one or two cropping up for the few anglers fishing in recent weeks. Fresh mackerel dipped in Bite-On Cajun thrown tight to the thickest stuff is most likely the best way to go for a possible bite or two, with shrimp also getting bit here and there. No fishing license is required here and the lake is open Fridays, Saturdays and Sundays.
ISABELLA LAKE – A wide range of baits and tactics are fooling bass including worms, cranks, jigs and blades, but the bite has been down overall. Catfish are a better option for anglers just looking to get bent, and they're picking up dip baits and shrimp. Crappie fishing is fair over structure with minnows.
JENNINGS LAKE – The trout season opener is set for this coming weekend, Nov. 18-20, with season supplier Wright's Rainbows in Idaho making a 2,500-pound delivery to kick things off. Catfish were planted for the final time of the season here back on Oct. 12, but they are still coming out fairly consistently with decent reports for overall numbers. Mackerel, shrimp and dip baits have been working best. Bluegill are on the chew and taking waxworms and smaller 'crawler pieces at a good clip, particularly in Hermit Cove. Bass, however, continue to be a little on the slow side the past few weeks. That said, various soft plastics are still getting bit decently enough. New lake hours as of Nov. 4 are 6 a.m. to 5 p.m. Friday through Sunday – the campground shoreline is available to fish seven days a week from 8 a.m. to 5 p.m.
JESS RANCH LAKES – "The lakes will be closed until fall 2022" per JessRanchLakesNews.com, but lake officials have yet to confirm when it could reopen for fishing.
KERN RIVER – The easiest fishing on the Kern is actually in the lower river below Lake Isabella where bass can be caught on grubs, spinners and small swimbaits, and catfish can be caught on worms and dip baits. Conditions on the upper are decent, and fly rodders are getting into good fishing for wild trout in the upper reaches of the 20 Mile Section, but it's been slowish in the easy-access stocked trout areas.
LOPEZ LAKE – The launch ramp remains out of commission here due to low water but anglers getting out on rentals and float tubes or shore pounding continue to find a few bass bites, with jigs producing best in the current bite along with your standard soft plastics. Anglers targeting panfish are still scoring well with mealworms, redworms and small nightcrawlers. Anglers can view a live webcam of the lake at 805webcams.com.
LOWER OTAY RESERVOIR – No report available
MIRAMAR LAKE – The bass bite remains tough with only a few anglers sticking some small ones. Most of them are holding deep, but there are some bluegill biting.The water temp is between 66 and 68 depending on the area and time of day. Water contact via boats, canoes, kayaks and float tubes is about to be shut down for construction of an underwater pipline. Shore fishing will remain available.
MORENA LAKE – Catfish and carp are still biting well enough throughout the lake, according to lake staffers. It's been mostly cut baits and 'crawlers for the cats and dough or corn concoctions for the carp getting it done. Reaction baits are working pretty well early and late for largemouth, along with the usual assortment of soft plastics throughout the day. The lake is open from 7 a.m. to 6 p.m.
MURRAY LAKE – The water temp is dropping steadily making the bass bite tough. There are occasional boiling fish showing up here and there, but the reaction bait bite has been slow. Even worms have been slow, but as winter draws closer, drop-shots and spoons out in deeper water will be the way to go here.
NACIMIENTO LAKE – The reaction bite continues to wane with recent night temps dipping into the 20s for a second straight week. That said, underspins slow rolled on the bottom and deep-diving cranks are still getting a few takers. It's mostly shifted gears to a bottom-contact game with drop-shot, split-shot or Neko-rigged worms, Ned rigs and jigs taking center stage heading into the colder months. Anglers trolling Rooster Tails or Dare Devils continue to find fairly steady numbers of white bass. Anglers can view a live webcam of the lake at 805webcams.com.
PALMDALE FIN AND FEATHER CLUB – The bass bite remains steady here with a good jig bite still going and spinnerbaits starting to get bit well along with squarebill cranks. Soft plastics are also getting a fair bit of play throughout the day. Catfish are still biting well and consistently with a good number of bigger cats in the 6- to 12-pound range making appearances. Catfish Charlie Dough Bait and hot dogs soaked in Kool-Aid are working well to go with your standard shrimp and cut bait offerings. Trout stocks are expected to begin the back half of December, with 20,000 pounds scheduled to be stocked for the season.
PERRIS LAKE – Streamers (flies, especially Producer Flies) trolled on leadcore is fooling largemouth bass again over offshore structure, and at least one striped bass fell for one, too, which is a big of a rarity for Perris. Shad-pattern crankbaits are being chased down by largemouth all over the lake's East End. Lipless cranks in the same colors are also getting some grabs. Beyond that, drop-shotting Roboworms in oxblood or purple has been consistent, especially in 15 to 25 feet of water near the dam.
PIRU LAKE – No report available.
POWAY LAKE – Lake staffers have yet to announce when trout season will start, but there are rumors they may do exactly that this week. We do know that Poway will be stocking Wright's Rainbows again. Catfish stocking has been done since Sept. 2 when 1,000 pounds were dumped in, but this has always been a lake where they can be caught year around, even through winter. Cut mackerel on light line with little or no weight is the way to get after it. The Log Boom is typically best all "offseason."
PUDDINGSTONE LAKE – Very little fishing pressure here and few reports. No trout stocking schedule has been announced as of yet.
PYRAMID LAKE – The lake received two loads of trout again last week. Anglers have been scoring rainbows in the marina area and in various coves with minijigs, Rooster Tails and Kastmasters while PowerBait is also working well along with split-shotted or drop-shotted Mice Tails. Catfish remain on a steady chew here for anglers soaking mackerel, sardines and chicken livers down deep in various coves. Cut baits fished near main and secondary points are also scoring striped bass bites. Stripers are also smashing the occasional trout imitation and are also starting to hit spoons better in the 30- to 60-foot zone. Chatterbaits and jerkbaits have been best for bass anglers on the reaction front (especially when there's some wind), otherwise it's been drop-shot Robos or Ned rigs getting it done.
SAN ANTONIO LAKE – Bass fishing is just slow to fair overall it's pretty much just a bottom-contact bait deal with purple or brown worms and Ned rigs getting most of the recent attention. Anglers targeting catfish continue to find a fair share of biters, mostly with cut mackerel dipped in Bite-On scent — a few larger models in the 10- to 15-pound range have been checked in recent weeks. The crappie have sunk out to deeper water in the 25- to 30-foot zone and have been considerably slower going the past couple weeks. With the low water level at just 8 percent of capacity there are low-water hazards and more exposed and extended shallow flats, so boaters are urged to use caution. New boating hours for the South Shore are 9 a.m. to 5 p.m. on Friday and 7 a.m. to 5 p.m. on Saturday and Sunday
SANTA ANA RIVER LAKES – Trout season will officially kick off this Friday, Nov. 18. SARL will remain closed until the 18th in preparation for the season opener and two hefty stockings of rainbows will be awaiting anglers for the opener. Despite catfish plants being done for the season, anglers had been connecting at a decent clip on chunk mackerel and shrimp prior the Nov. 10 closure. SARL continues to offer 24-hour fishing passes every Friday and Saturday and trout plants are expected to begin the second week of November (water temps dependent). The lake is open 6 days a week (closed on Thursdays for stocking) and offers rental boats. Float tubes are also permitted here.
SANTA MARGARITA LAKE – Bass fishing remains on the slower side with more cold night temps yet again this past week but most anglers are finding a few bites an outing and the occasional quality largemouth. There's been decent fishing with reaction baits early and when the wind is up a bit with spinnerbaits, chatterbaits and cranks, otherwise jigs have been good along with drop-shots and Ned rigs. The best bite has shifted to midday. Catfish are still biting here and there, with mackerel chunks working best. There's a good panfish bite with a solid mix of redear and bluegill biting on mealworms rigged on jigheads or small dropper loop rigs along with garlic nightcrawlers and redworms. Anglers can view a live webcam of the lake at 805webcams.com.
SANTEE LAKES – Trout season is going strong here after a 3,500-pound stocking was split between Lakes 2, 3, 4, 6 and 7 prior to the Nov. 4 opener. Minijigs, Kastmasters, drop-shot trout worms and Hookup Baits are all working well along with your usual arsenal of PowerBait, nightcrawlers and Mice Tails — salmon peach, green garlic, chartreuse and rainbow have been top PowerBait colors in the opening weeks. A good number of limits continue to be stringered and another plant is expected later this week. Although the last catfish plant was over a month back, the whiskerfish are still biting fairly well for anglers soaking mackerel, shrimp, nightcrawlers and stinkbaits. There's some reaction bites to be had on the bass front with cranks, jerkbaits and spinnerbaits, particularly when there's some breeze going, otherwise it's been your usual soft plastic arsenal getting most of the attention. Park hours are 7 a.m. to 7 p.m. Monday through Thursday and 6 a.m. to 7 p.m. Friday through Sunday.
SAN VICENTE RESERVOIR – The drop-shot bite is there and picking off quality bass, but there are also good numbers of largemouth still keying in on schools of small baitfish, so there are still opportunities to get fish on small swimbaits and jerkbaits. Reports suggest the best way to get after it is starting off drop-shotting and looking for surface activity. When you see boiling fish, move into casting range of 3-inch swimbaits and fire away, or make blind casts in areas where bass were up but sunk out. A lot of 3-pound fish are making up the numbers at San V.
SILVERWOOD LAKE – The trout bite remains solid on minijigs and PowerBait with most of the action going down in Cleghorn Canyon. Fishing for largemouth bass is improving for those going after them with swimbaits, jerkbaits and walking baits on top. There are also some decent striped bass being caught on walking baits by anglers working from shore.
SKINNER LAKE – Fishing for largemouth bass has been decent for smaller models, but the catfish action is an angler's best bet right now. Fish to 14 pounds (inlet, shrimp) are being caught on anchovies and mackerel all over the lake, mainly in coves. There was an 8-pound largemouth caught on a frog along some tules in the East Bay, but that topwater bite has not been consistent. Trout stocking is slated to start in November.
SUTHERLAND RESERVOIR –  Closed until February.
WOHLFORD LAKE –The fall catfish bite is still productive for anglers using cut mackerel or chicken livers. Trout season will begin with a 4,000-pound stocking on Dec. 10 at which point fishing will re-open to seven days per week. The lake is currently only open on weekends.