South Freshwater Fish Report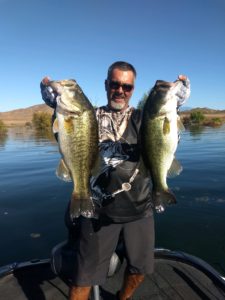 Updated November 23, 2020
AQUEDUCT (NEAR BAKERSFIELD) – Striped bass fishing has been excellent through this stretch and even at various points downstream into L.A. County for that matter. For lure fishermen, it's hard to beat larger (7-inch) Flukes on a leadhead and an aggressive retrieve. Moving water has been key. Sardines and anchovies are still working for the cut bait guys on smaller fish, and both are claiming the lives of quality catfish to 9 pounds along with dip baits.
BARRETT RESERVOIR – No report available.
BIG BEAR LAKE – It's time to get in last licks for boaters with the public ramp set to close Nov. 30. That said, trout fishing has been much improved over the last few weeks, with trollers picking off halfway decent numbers on Rapalas and the occasional spoon, while shore anglers have found more bites along the north shore and near the observatory on a mix of green garlic, salmon peach and chartreuse PowerBait, along with floating trout worms or Power Eggs on smaller mosquito hooks. Nightcrawlers on slip bobber rigs are also getting some grabs.
BUENA VISTA LAKES – Striped bass fishing has been excellent through this stretch and even at various points downstream into L.A. County for that matter. For lure fishermen, it's hard to beat larger (7-inch) Flukes on a leadhead and an aggressive retrieve. Moving water has been key. Sardines and anchovies are still working for the cut bait guys on smaller fish, and both are claiming the lives of quality catfish to 9 pounds along with dip baits.
CACHUMA LAKE – Trout continue to be caught at a steady clip here after 8,000 pounds of rainbows have gone in the lake the past month. The quality of the rainbows has been good too, with a considerable number of trout going 3 pounds and better. Trollers are scoring best with Rapalas and Flicker Shads along with various spoons, while bait dunkers are finding their quarry with Carolina-rigged dough baits and inflated 'crawlers along with the occasional Mice Tail. Fall bass fishing remains pretty decent with 20-fish days still in the cards for those putting in the time. Working drop-offs and ledges in 20 to 40 feet with drop-shot, shaky head and Texas rigged worms has been the deal for most – mostly smaller 1- to 2-pound fish with the occasional kicker mixing in.
CAHUILLA LAKE – A few small bass, catfish and panfish are being caught by nightcrawler dunkers looking for whatever's swimmin'. The lake will not be stocked with trout this season, in fact, local anglers are worried the lake might not be open for fishing at all starting in spring of 2021. WON is still monitoring the possibility the lake will be closed after the lease with the lease with Riverside County ends in March of 2021.
CASITAS LAKE – Slower fishing on the bass front as is typical this time of year at the lake. That said, there are still quite a few fish up in the shallows that can be picked off with drop-shots, Senkos and the occasional soft jerkbait or slow-rolled swimbait. Either that or work the deeper brush with similar baits and Texas-rigged worms or creatures. With cooler water temps more trout continue to pop up for the few anglers trolling spoons and for guys soaking nightcrawlers out a little deeper. Catfish are few and far between of late.
CASTAIC LAKE – The dropping water level, winds and colder conditions have made the bass bite tougher in recent days, with the baitfish pulling off the banks and heading to deeper water with the cooling conditions. Best bet has been working the 20- to 40-foot zone with either spoons or finesse plastics. Ice jigs are also garnering some bites down deeper when finding a school on the meter. Trolling for stripers has been decent in the first hour or two of the morning on spoons, umbrella rigs and leadcore-trolled flies. The linesides are getting more and more active, so look for the first trout stocks to really get 'em going and start a bit of a swimbait bite at the lake.
CUYAMACA LAKE – The trout bite is holding up decently enough and still producing decently, as the most consistent has been coming from Lone Pine and the Chamber's Park area, the former producing a couple 5- to 7-pound holdover rainbows last week. Carolina-rigged dough baits (rainbow, chartreuse and green garlic have been good) and nightcrawlers are doing much of the damage along with the occasional Mice Tail, while spoons are picking off a few rainbows early and late. The anticipation is building for the first-ever WON Winter Troutcast at the lake, set for Dec. 12-13. Visit WONews.com and click on the Events tab for more info or to sign up, or call (949) 366-0248 – online sign-up deadline is Dec. 4.
DIAMOND VALLEY LAKE – Trout fishing is fair with few limits but plenty of multi-fish stringer. PowerBait, trout worms and Mice Tails are doing almost all the damage in the coves around around the points on both sides of the Marina. Fishing for largemouth bass is also fair with mostly deeper fish being caught over rocky bottoms off points with drop-shots, Ned rigs and jigs the primary weapons with the odd Senko fish caught up shallow. Striped bass is back to most biters being found on trolled flies with the rest on cut baits. The date for the next trout plant has yet to be announced but expect it in early December.
DIXON LAKE – Trout season kicked off Nov. 19 after 3,000 pounds of rainbow trout were stocked. This despite the fact that the original stock truck caught on fire on the way down the day before (the plant that ultimately went in arrived at 3:30 a.m. on stock day). Fishing was excellent all over the lake in spots like the Buoy Line (boaters), Boat Dock Cove, Trout Cove and Jack Creek Cove. A lot of jig fish were caught including a 10-plus pounder (Jack Creek) and gobs in the 3- to 5-pound range to go along with some going 6 and 7. Fishing should remain a steady pick through the holiday weekend, but expect floating baits to take over the top spot by then and until the next stock.
EL CAPITAN RESERVOIR – No report available.
GREGORY LAKE – Scheduled to get a trout plant this week (Nov. 25) which will stand as the first plant in over a year.      That date is after when this paper was sent out, so there's not much to report on the fishing at this point. Typically at Gregory, fishing is solid for several weeks after a stock, so it is great news. Try jigs, Mice Tails, PowerBait and Gulp! Pinched Crawlers around the Ball Field, dock and dam. Chances are, that delivery is going to be it for a while – at least for 2020 – so Gregory trout fans should strike while the iron is hot.
HEMET LAKE – Trout were stocked Nov. 11  (3,000 pounds of rainbows and 500 pounds of trophy Lightning Trout). After a hot week 1, the bite has tapered off to the upper levels of a "steady pick" with limits still coming out and most are quality models 2 pounds and up. The Bass Camp 5 area has been producing along with the area around the marina and Camp 2a. Mice Tails, Gulp! Chunky Cheese and Pinched Crawlers are all working well.
HESPERIA LAKE – Trout season started and fishing was excellent, but the lake is now closed for two weeks as of Nov. 22 for COVID purposes. The bulk of the trout winding up on stringers before the shut down came on black or white plastic minnows on a drop-shot rig followed by trout worms and minijigs. There were decent numbers of floating-bait fish caught, too. While the trout plant slated for this week might not go in as a result of the closure, the lake is slated to get stocked every week (usually on Thursday) all season. Regardless, fishing should still be good when the lake reopens in early December.
HODGES RESERVOIR – The lake is currently closed for the season and expected to reopen to fishing in February.
IRVINE LAKE – No report available
ISABELLA LAKE – After a brief lull, bass fishing rebounded a bit. It's not so much a numbers deal right now as it is quality with good numbers of fish in the 5- to 9-pound range being nabbed. A few reaction fish are being caught, but the bigger models seem to be coming in on jigs, big worms and tubes, so they're looking for slow and low. Catfish action is consistent on dip baits, nightcrawlers and shrimp, and crappie are fair on small minnows.
JENNINGS LAKE – Trout season got rolling this past Friday, Nov. 20 after a solid 2,500-pound stock from Wright's Rainbows in Idaho, with a fair share of rainbows going 3 pounds and better included. Trout stocks are expected every other week through the season well into April. Catfish are still being caught, particularly later in the day and into the evenings, on mackerel, shrimp and chicken livers – a 36 pounder was caught Friday night. Bass have been best on Senkos and darker drop-shot plastics. The lake has shifted to its fall hours with Friday night fishing sessions now over for the season – expect Full Moon Fishing nights to be on the schedule soon, however. New fall hours are 6 a.m. to 3 p.m. Friday through Saturday. The lake is open on Thanksgiving Day from 6 a.m. to noon.
JESS RANCH LAKES  – Chasing bluegill with small worms around shoreline cover, or bass with stickbaits close to shore and weedy areas remains the top option until trout arrive.  The cooler temps could get things going any day now, so regardless of what you are up there to fish for, have a trout rig on deck.
KERN RIVER – According to staffers at Kern River Fly Fishing in Kernville, fishing for stockers throughout the 20 Mile Section is "excellent" thanks to DFW stocking last week. The delivery consisted of two truck loads from a hatchery in Fresno. A golden trout stocked this summer was caught in this area by one of the clients of that shop's guide service. Those guides are seeing hatches come off almost daily at 2 p.m. which is producing a nice late-season surface bite. Those guides are also saying the wild trout section is also fishing very well.
LOPEZ LAKE – Scratchy bass bite here at the moment but the few catches being made are generally good fish. Football and spider jigs are good bets for landing bigger fish but the bite has more shifted to finesse stuff with drop-shots and Neko rigs along with Ned worms. Decent numbers of panfish are still on tap for anglers soaking mealworms or smaller nightcrawlers.
LOWER OTAY RESERVOIR – The bass bite has been somewhat hit and miss and up and down. A few topwater fish being reported in isolated areas. The largemouth are chasing bait but not busting a whole lot, but Flukes, smaller jerkbaits and underspins have been effective. There's also been a decent spoon bite going for those pinning down schools of fish. A few quality models are also showing on the occasional football jig or bigger worm.
MIRAMAR RESERVOIR – The early bite has been best here for bass, according to lake staffers. It's been a pretty straight forward bite with darker drop-shot worms scoring best along with some biters taking slow-falling Senkos and Ned rigs. The bluegill bite is still solid for anglers soaking mealworms under a bobber with a 3-foot leader.
MORENA LAKE – No report available.
MURRAY RESERVOIR – The bass bite slowed a bit this past week but the lake is still giving up decent numbers of fish. Slow-rolled swimbaits are finding an occasional better-size fish but drop-shot and Texas-rigged Robos continue to work most consistently — the dam area's been best in recent days. Catfish picked up some with a handful of whiskerfish to 6 pounds in the mix for anglers soaking mackerel, while bluegill are on tap and eating waxworms and mealworms.
NACIMIENTO LAKE – The reaction bite here has all but dried up altogether, shifting the bite to mostly drop-shot and Neko-rigged soft plastics along with football and spider jigs. The most consistent bite has been farther offshore in the 14- to 22-foot zone and there have also been some fish hitting spoons down deeper down to 30-plus feet. The bite has been better in the afternoons with warmer conditions with water temps ranging from 60 to 65 degrees. White bass have been elusive as of late.
PERRIS LAKE – For a solid month, there have been football-sized largemouth biting in very good numbers for anglers looking for shad schools and targeting them with reaction baits.  There are some shallow fish to be caught on plastic worms, but they are almost all rat fish with the better models keying in on those shad schools. A lake regular who fishes Perris more than anyone says largemouth are trending toward winter mode and moving deep.
PIRU LAKE – The water level continues to drop at a decent clip but the fall bass bite is still holding up fairly good. Chatterbaits and shad colored cranks had been connecting with some decent fish early and late with drop-shot and shaky head worms and jigs picking off fairly steady numbers of bass to 6 pounds.
POWAY LAKE – Opening day of trout season iS Dec. 4. and lake staffers are still in the process of finalizing the rest of the stocking schedule. It has been confirmed the lake is getting Wright's Rainbows from Idaho with Chaulk Mound Trout Farm  (Nebraska Tailwalkers) moving it's business to focus on supplying restaurants. Fishing for holdover catfish remains above average in the meanwhile with the Log Boom and most coves still producing on cut mackerel. That should continue right through the start of trout season.
PUDDINGSTONE LAKE – Slow fishing is still the rule, but panfish woke back up giving shore anglers something to pull on. Redear and bluegill are both biting small worms under a bobber off most of the poplar bank fishing areas. Bass are still scattered and hard to pattern. A big, natural-colored worm on a Texas rig or a finesse bait on a drop-shot rig is the best way to get after it at this point until largemouth bunch back up and suspend in groups again.
PYRAMID LAKE – Bass fishing is fair to good with the most consistent action coming on drop-shot and Texas rig worms in orange crusher, morning dawn and margarita mutilator. Senoks are also getting some grabs as are craw imitations, while the best reaction bite has been early and late in the Yellowbar area with soft jerkbaits. The grass is dying off but finding the remaining grasslines has been key to putting a solid limit together. A few stripers are being taken on the troll but it's been a little spotty, with a few linesides also taking lugworms or cut baits. Catfish are biting pretty well on mackerel and chicken livers in various coves around the lake.
SAN ANTONIO LAKE – Still very few anglers getting out here recently. The last recent reports had decent numbers of panfish taking live worms and a few catfish to 4 pounds eating cut baits. Bass fishing remains very slow with just the occasional fish taken on finesse plastics or jigs. Launching hours at the Harris Creek ramp are Friday from noon until 5, and Saturdays and Sundays from 7 a.m. to 5 p.m.
SANTA ANA RIVER LAKES – Trout were stocked for the second consecutive week and catches were steady through the weekend. Green garlic and chartreuse PowerBait along with pink/white and orange/white Mice Tails have been tops, with minijigs also fooling some solid rainbows around the boat dock and the nets. Trout to 9 pounds were checked in this past week. Catfish are also still coming out for those targeting them, and one angler checked in a massive 88 pounder over the weekend. Mackerel, bonito and shrimp have been the top catfish baits. Overnight fishing/camping sessions are slated every Thursday through Saturday from 5 p.m. to 4 p.m. the following day.
SANTA MARGARITA LAKE – It's been slower going on the bass fishing front, with limits considerably tougher to come by of late. Not much of a reaction bite going at the moment with just the occasional fish hitting a crankbait or slow-rolled swimbait early, and most recent catches coming on either drop-shot plastics, Ned or Neko rigs. Creature baits and lizard-style baits are also getting picked up on occasion. Catfish are still showing here and there on mackerel, while a few panfish are still being taken with mealworms or redworms
SANTEE LAKES – Trout continue to bite pretty well after the initial stock two weeks back, with a pretty even share coming on both minijigs and PowerBait. Jigs have been working best in the early mornings with dough baits being more effective the later the day goes on. Rainbows are also being nabbed on nightcrawlers and the occasional spoon early and late in the day. The next trout plant is set for early December and it will likely include some lightning trout. Catfish are showing best on shrimp and garlic dough baits in Lakes 3 and 4.
SAN VICENTE RESERVOIR – That bite on largemouth bass schooled up and chasing inland silversides on the surface remained strong leading up to the weekend. Those fish were being caught on smaller swimbaits and Flukes, and many were in the 2- to 4-pound range. It seems to be finally and gradually tapering off as San V fish move into winter mode and head deep where it will be primarily a drop-shot and spoon bite until spring arrives. The good news is, that bite is generally solid all winter when compared to other SoCal bass lakes.
SILVERWOOD LAKE – Quality catfish and school-sized striped bass are the best bites, and they biting the same stuff in the same areas. The dam and Marina Dock are producing both species for anglers using anchovies or nightcrawers. Some largemouth are being caught around the Gazebo on finesse baits, but most are smaller rates with few reaching legal size being reported. No news on trout front, and it's looking grim for this season since Silverwood counts on state (DFW) plants and it's their hatcheries that are out of commission. The good news is, it's usually a solid multi-species option on a year-round basis.
SKINNER LAKE – Striped bass are still boiling in open water spots around the lake, and anglers finding themselves close to one when it pops up are able to get a couple on jerkbaits, swimbaits and umbrella rigs. However, the better bite is on anchovies fished around Ramp 2 and the Inlet. Catfish are biting in those same areas on cut baits and garlic nightcrawlers, and panfish have bounced back with quality bluegill biting crickets and small worms in deeper rocky areas and the zone across from the marina.
SUTHERLAND RESERVOIR – The reservoir is closed for the season and is expected to reopen to fishing in March.
WOHLFORD LAKE – While most eyes are looking toward the 4,000-pound trout plant that will kick off the season on Dec. 12, weekend anglers (the lake is only open on weekends until trout arrive) are still going bendo on decent numbers of offseason catfish. They can be caught all over the lake, and the best baits are shrimp, mackerel and chicken livers. Some crappie are biting early and late, but it's slow overall on that front. Bass have been slow to fair with scattered flip, crankbait and worm fish being caught here and there.