South Saltwater Fish Report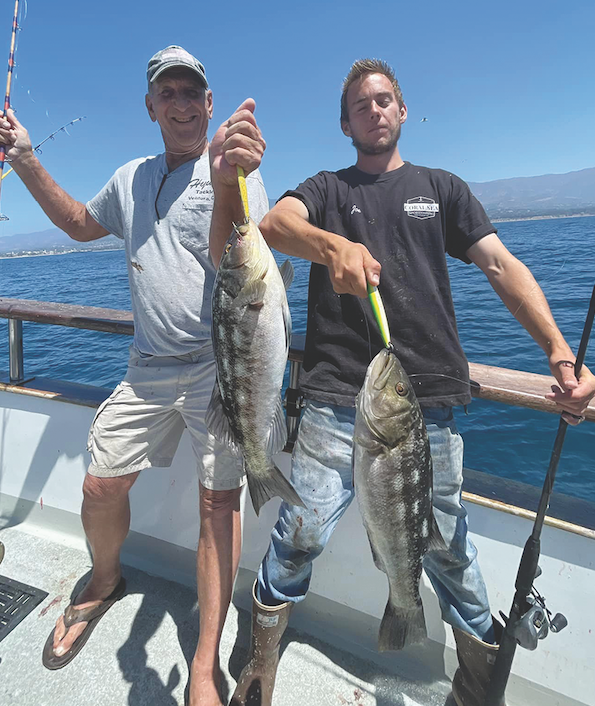 Updated July 4, 2022
CENTRAL COAST — Weather a few miles to sea got windier as the week went on. For Avila anglers it meant coming up just short of full limit bags over the weekend, after starting with limits-the-rule fishing. Up in Morro Bay it was limits for all anglers on the rockfish for about half the outings, with the remainder getting close to the mark. The Black Pearl had a charter with excellent results fishing up north — lots of big reds. Everything tried worked, from swimbaits to double tube baits, to good old fashioned flies and strips. The standard weight here is a 1-pound block. However, in the shallows much less weight is needed.
SANTA BARBARA/VENTURA COAST — The bass bite for both sand and calico bass went off, limit-style on several trips. Barracuda advanced into the area in a big way, all the way to Santa Barbara's local inshore areas.
SANTA MONICA BAY — After many years' absence, barracuda had returned into the Santa Monica Bay. Capt. Rick Oefinger said it'd been so long that many of his regulars were completely unfamiliar with the fishery, for having fished double dropper almost exclusively. But the best bite was on double leadered live baits with a 2 ouncer for the novice angler, and for the more experienced, a jig.
Surface irons such as the Tady AA, Tady C or 45 were good producers. So were the small heavy chrome irons.
LONG BEACH/SAN PEDRO LOCAL — Local afternoon winds had taken their toll on the topwater bite, cooling the sea surface. Yet, the bass bite was already back strong and the Victory had a couple of runs with full limits of both bass and sculpin. The sculpin bite continued for solid limits out on the 150.
ORANGE COUNTY LOCAL — Lots of bass to be caught, mostly catch-and-release grade fish, but thousands for the past month, over 15,000 at Dana Wharf Sportfishing alone. Newport Bay boats tapped into sculpin limits at will as well. Kelps south of Dana Point had white seabass lurking within. Even the big 3/4-day boats picked one or two while targeting calicos down there.
OCEANSIDE LOCAL — The inshore fishing was fast paced with lots of kelp bass caught and released each day according to their counts at both landings — lots of action.
SAN DIEGO LOCAL — The local bass bite took a nose dive, leaving bottom biters in a bit deeper waters in the cross-hairs on several local half-day trips. Anglers should come prepared to fish either top or bottom.