South Saltwater Fish Report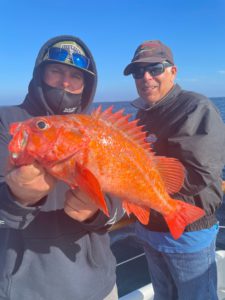 Updated November 23, 2020
CENTRAL COAST — This area offered another solid week of great bottom fishing. Once again the best area and trips for the big reds was north of Morro Bay on the longer trips. However, local 1/2-day trips also scored some big red scores too. Almost all party boat trips scored limits of rockfish or close to it. Lingcod catches again edged upward from the previous week's results. As ever, all methods worked, the basic double-fly rigs with a 1-pound lead, jig and fly and such. For anglers looking to try for quality bolina and other fish with bass gear and plastics the waters off Purisima were a best bet and boats ran there from Patriot's Avila location. Private boaters tested the deeper water soft bottom spots with crab pots and had good results, about 5 per person.
SANTA BARBARA/VENTURA COAST — A couple of windy days at the outer islands made sure all areas got a test drive this past week. Most of the days allowed the outer island fleet full access to the islands, but the couple that didn't sent Santa Barbara boats westward up the Gaviota Coast. Both Island and Gaviota reefs kicked out limits of rockfish with more reds on the coastal spots but on average a bit larger fish at the islands. Whitefish were found in volume both places. Local reefs of Santa Barbara provided limits of smaller reds and some others on a 1/2-day run. The deeper waters mid-Channel down east provided lots of rockfish too, for the Speed Twin and the Gentleman scored well along the upper Malibu Coast too. The coastal perch bite continued to wind up with the season and private boaters bouncing for halibut found success west of Santa Barbara mostly.
SANTA MONICA BAY — Early in the week anglers fishing rockfish in deep water encountered a few halibut too. There were more rockfish caught than anything else but still good numbers of whitefish on top of generally limits of rockfish for those on 3/4-day runs while 1/2-day anglers saw lots of rockfish averaging near 8 fish per person. Expect to see steamer sized fish mostly.
LONG BEACH/SAN PEDRO LOCAL — The shift to bottom grabbers has become the SOP for local trips. Seasons have shifted and waters remained rockfish cool. A mix of rockfish and whitefish made up most of the catch with a fair number of sculpin in the mix. Anglers saw bags average about 7 per rod or more on half-day trips.
ORANGE COUNTY LOCAL — Local half-day catches were mostly rockfish as the bass bite continued to be weak in shallow. Results were a bit better up along the lower end of the Huntington Flats than off more southerly shores. For the 3/4-day boats out of Dana Point the areas off the domes in deep water were within range, putting some better deep water results back in play. Catches of 5 or 6 fish per angler looked to be the norm.
OCEANSIDE LOCAL — Deeper water rockfish spots produced the best catches and most of that was rockfish and whitefish. Half-day saw catches average 6 fish per rod or so while some 3/4-day runs actually worked their way to boat limits.
SAN DIEGO LOCAL — Cooler coastal waters kept rockfish and other bottom biters the primary target. Five to 7 fish per rod were about average with a mix of rockfish, whitefish and sculpin making up most of the catch.