South Saltwater Fish Report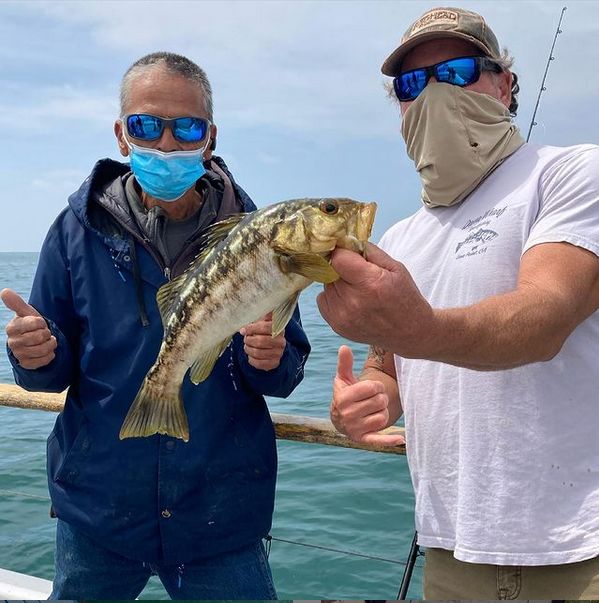 Updated April 12, 2021
CENTRAL COAST — Northwest winds ruled the region and while the bite was excellent on the rockfish and salmon were still caught when private boaters got enough of a morning break along the coast, winds and rough weather kept efforts to a minimum.
SANTA BARBARA/VENTURA COAST — Coastal areas were the key as westerly winds tore up the outer waters in this region. It was limit-style rockfishing with reds outpacing the rest of the bite. Inshore off Santa Barbara, local reefs produced plenty of whitefish in addition. Successful anglers fished smaller hooks and squid strips.
SANTA MONICA BAY — Rockfish were the main event here and ocean whitefish came in second. Tackle remained the basics with some smaller hooks and squid strips for the whitefish in shallower waters and a bit bigger gear out deep where the better rockfish were. Expect to bring a variety of sinker sizes up to 10 ounces. A twilight trip aboard the Redondo Special tested the warming waters and found a few biting bass.
LONG BEACH/SAN PEDRO LOCAL — Bottom biters were on the grab and some limit scores of sculpin came in as well as plenty of rockfish and some ocean whitefish. The numbers stayed high with anglers averaging around 7 to 10 fish each. Waters fished varied and included depths from 60 to 600 feet, so a variety of tackle was in order, sinkers to 12 ounces or even more, and braid-filled reels to bass gear and 2-ounce leadheads.
ORANGE COUNTY LOCAL — The areas out of Newport Bay produced both sculpin and rockfish locally, while out of Dana Point Harbor it took a bit of a run down coast to get to good bottom grabber turf out in deep water along the shelf break. Waters warmed into the low 60s and the local bass bite there warmed a bit with it. Anglers did well with double dropper gear when fishing bottom while both fly-line and reverse dropper gear worked in shallow off San Clemente.
OCEANSIDE LOCAL — A limit-style scorpionfish bite presented a pleasing change here. Local rockfishing was picky but there was a 3/4-day trip aboard the Pronto with 10 anglers bagging their limits of rockfish plus 5 around on the whitefish.
SAN DIEGO LOCAL — The primary target for the half-day fleet was bottom grabbers mostly, although a sampling of sand bass came in too. Anglers fished most successfully with double dropper gear, squid and fresh sardine strips. Results showed half-day trips bringing in 3 to 5 fish per person.