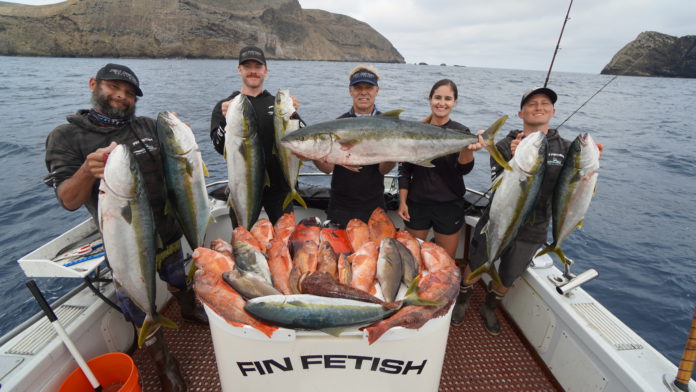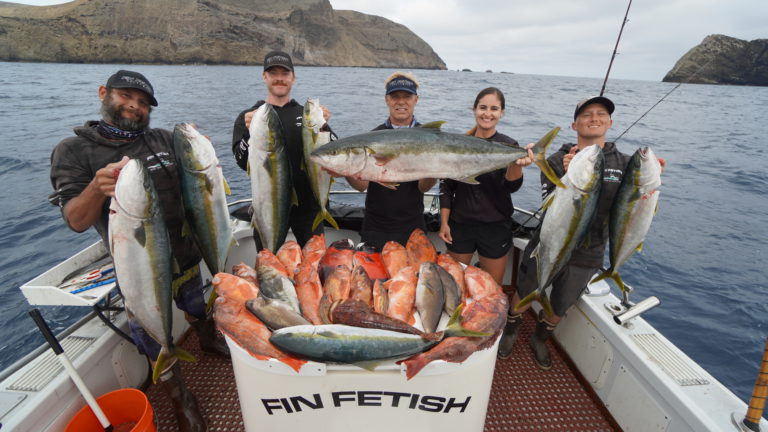 BY DYLAN DEPRES
MARINA DEL REY – Viktor Hluben and Brook Crist are well-known fishing personalities out of Florida (Landshark Outdoors on YouTube) who recently pulled the trigger on making the trip from to California after several years of trading messages with WON staffer Dylan Depres. They each have their own YouTube channels with a massive audience, and they produce hundreds of "Catch and Cook style" content. They've proved time and time again that fish dubbed as "trash fish," are mislabeled, creating beautiful dishes in the kitchen out of fish like Atlantic mackerel, pufferfish, Florida gar, jack crevalle and plenty of more.
It takes blind faith to make a cross-country mission to meet with a social media friend to fish a temperamental hero-or-zero fishery. Over dozens of phone calls leading up to the July trip, they were warned of the risks and the rewards of targeting bigger SoCal gamefish. The West Coast has seemingly many more factors to worry about that attribute to successful fishing like wind blowing on the outside zones, finicky water temps, or the presence of bait and conditions like water clarity and current or lack thereof.
Weeks of planning led to the following gameplan: We'd first do a reverse 1.5-day island trip with Fin Fetish Sportfishing targeting outer-island gamefish, then chase local bluefin on a day run on our own. Spoiler alert: the bluefin acted like bluefin with all show and no go, however the outer islands charter gave them a great sample on what SoCal has to offer.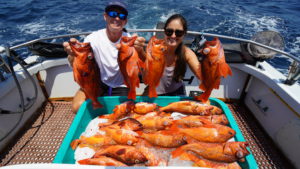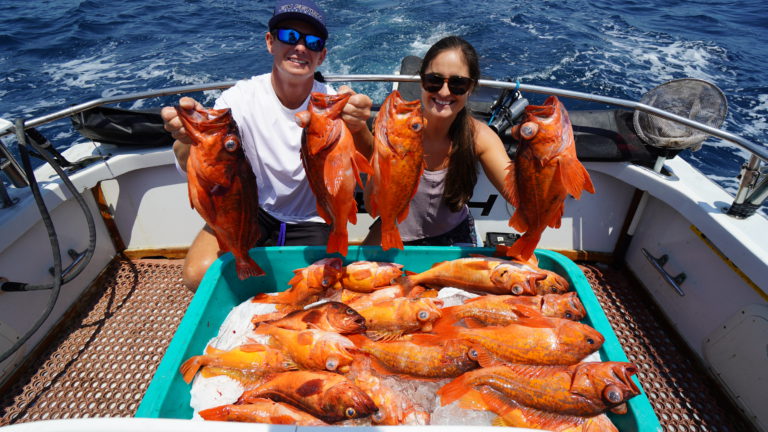 On a beautiful Wednesday morning our party of five departed. We consisted of Brian Norris and Ari Jamon of Fin Fetish, myself and friend Adam Baker plus Viktor and Brook. Before heading to our final destination of Santa Barbara Island, we hit some local stones in Santa Monica Bay to get our Floridian friends on their very first West Coast fish. We hit mixed rockfish with stripped squid at 500 feet deep. In these late morning drifts, the rockfish bit full speed, and we downloaded some great 2- to 4-pound. vermilion rockfish and mixed bosco, Mexican and chilipepper rockfish. Brooke and Viktor were stoked at the action, and commented on how "these fish just looked great to eat, and it was amazing how cold they were to the touch compared to Florida fish (coming from the deep water)." It didn't take longer than an hour to reach near-limits on the bag fillers and move on to our real course of action.
We motored over to Santa Barbara island where Norris recently scored a big hit on halibut just a few days before. We set up a few different rigs to see what they were biting, with a mix of dropper-loop sardine and fresh-dead squid. We got set up in the mid afternoon, and before long the first rod went off and Viktor connected with the right kind. He didn't find a halibut, but actually a nice yellowtail in the squid beds. Viktor commented on how strong the fish were, and said that pound-for-pound it was no doubt they fought harder than the Florida amberjack. They also couldn't get over the awesome island backdrop. During this afternoon period, a giant bird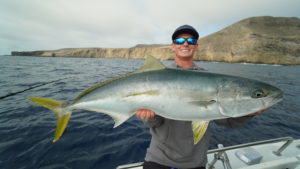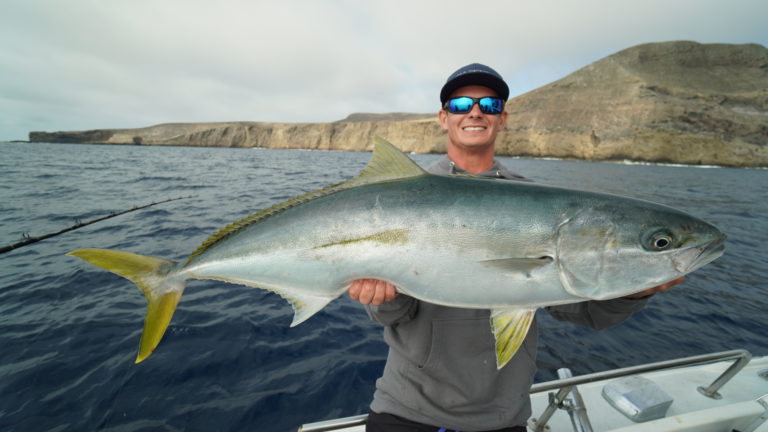 school came up a few miles away which was enough to convince Captain Norris to check it out. Hluben and I stepped onto the bow armed with surface iron to see what was under the birds. To our surprise, we encountered a wide-open calico bass bite with jigs getting smashed nearly every cast. Viktor managed the biggest one at about 4 pounds on the jig, a great fish to land for a first-time surface iron angler.
We didn't find any yellowtail with the birds, so we reset on the anchor position where we landed our first yellow. We continued to soak baits through the afternoon and evening, but this lone forkie would be our only gamefish for Day 1 at SBI. As nightfall approached, the boat switched gears into "making squid," mode and we set out lights. The squid participated pretty well and over a few fun-filled hours, we were able to put a few hundred pieces in the boat using dip nets and a crowder. We were all instructed to wake up at 4:30 a.m. for Day 2.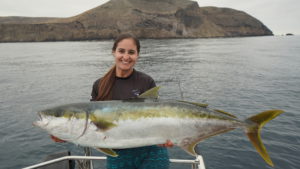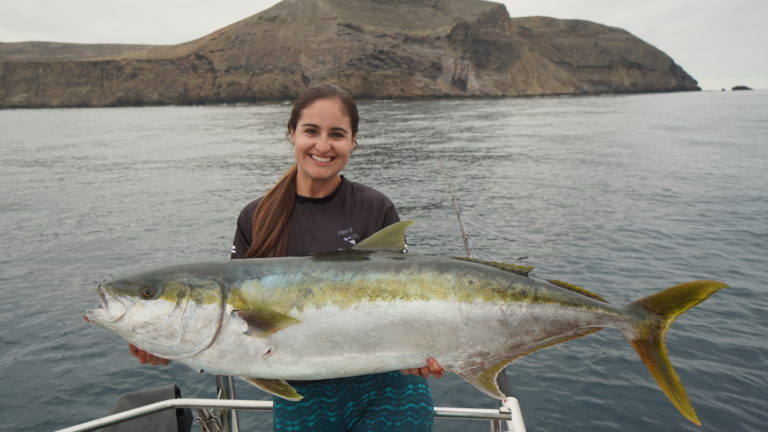 In the few hours before daylight, we set out the dropper loop lines now with live squid and periodically replaced our baits. Once morning light came, along with the dropper loop rods we also all fished leadheads or bucktail jigs to try to find a bite from mid-column. Things started coming together as a huge fish found one of our bucktails. Brook took the rod and the fish on the other end was a beast. Even Captain Norris thought it was a black seabass as it circled the boat several times taking serious runs on pinned down drag and 50-pound test. As the fish came to color, to all of our surprise, Norris exclaimed "it's a giant yellow!" A gaff-shot later the brute was welcomed aboard and it was a clean 40 pounds on our handheld scale. Again Hluben and Crist were baffled at the strength of our fish compared to their comparable amberjack and credited that it must have something to do with the colder water. This morning soak would continue to produce. Shortly after Brook's mossback was landed, I hooked up on a bucktail jig. Fast ripper runs indicated it was a yellowtail, and a really big one based on the weight loaded up. However, a few minutes into the fight, the mystery creature figured out it was hooked and there was no stopping it, as for the first time in my fishing career he got completely spooled. Heartbreak.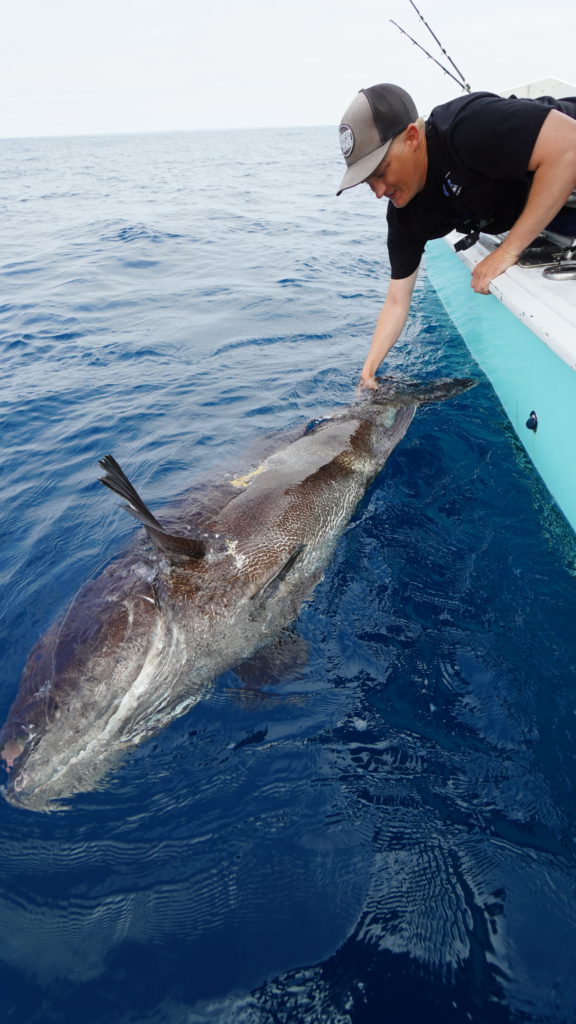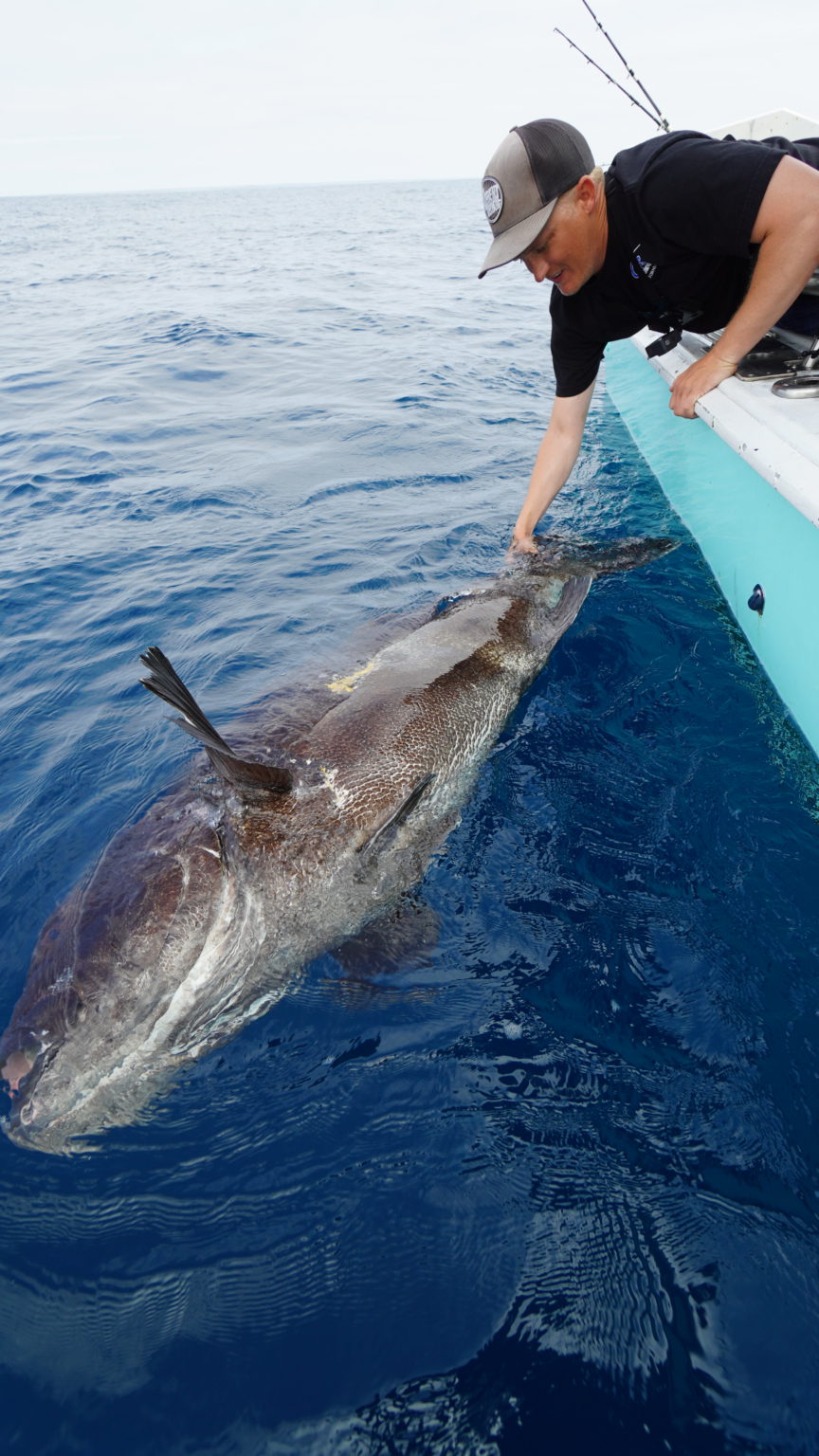 Not long after, Adam Baker's bucktail was bit and it was another beast. After nearly an hour of winding and grinding he finally managed to get the fish to the surface and it was a giant black seabass in the 250- to 300-pound. class.
The morning passed by and we did some exploring at some different spots. There were birds working the area we had the ripper bass fishing on Day 1 and we gave it a look. To our surprise, some huge mackerel were on the chew eating our full sized surface irons. These things were over 20-inches long and between three and four pounds. Some of the biggest we'd ever seen, one of them even pulled string on 40-lb test.
We tried to make the halibut thing happen at a different more shallow spot along a kelp line, re-rigging some rods to a reverse dropper loop with the live squid. We didn't find any halibut, however the shallow water variety species were biting. We landed sculpin, calico bass, shallow water rockfish and big sheephead. Viktor and Brook were especially stoked on the sheephead, saying "they were some of the most beautiful fish they'd ever seen" and also describing how they were nothing like the Florida sheephead they catch at home and much more like their Florida hogfish.
Without any success on gamefish in different areas, in the afternoon of Day 2, Norris took us back to our initial anchor spot where we'd sit it out for an afternoon snap. We began chumming some of the fresh-dead squid and our great sardines, and some mixed-grade yellowtail got on us. We had a steady pick going on the dropper-loop squid in the afternoon; some of the biting yellows were 5 to 10 pounds, and others were 18 to 22 pounds. Everybody got their shot. We were blessed with beautiful weather and able to stick it out much longer than normal at SBI. Over the course of the afternoon we boated seven more yellowtail and it seemed they strongly preferred the live squid over fresh-dead on this trip.
Our four anglers and two crew landed eight yellowtail from 8 to 40 pounds and countless critters to fill the gaps. Everybody aboard had a wonderful trip and tons of memories were made. We spent the latter portion of the week hanging out, filleting fish and cooking at the Irvine residence of Baker and I.
There will be a series of videos from the Fin Fetish trip going live on YouTube in the near future where you can see this trip in all its glory along with Viktor and Brook's take on cooking our SoCal fish. It was a blessing getting to share our fishery with some avid fishermen from the other side of the country, and just as much of a blessing that when we did go, the weather held up and the fish were biting. We're all excited to see the videos go live and we are already discussing another trip in the fall to target big bluefin.