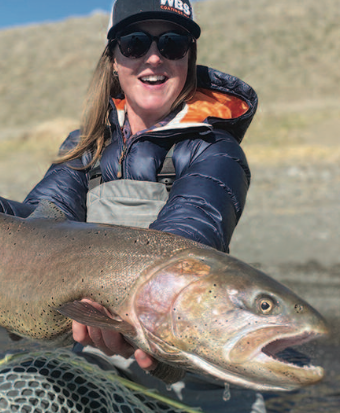 SUTCLIFFE, NEV. – Springtime has arrived at Pyramid Lake, and the Lahontan cutthroat trout are in all stages of the spawn. The action from the beaches has been excellent for experienced fly fishermen, and the crowds are starting to dissipate from the shorelines.
Captain Robert Hagerty of the Pyramid Fly Company in Reno said, "The stories you hear of anglers landing from 30 to 40 fish per day are not exaggerations as the trout are either in spawn of post-spawn, and they are eating everything they can find. Fish are being caught at every beach on the lake, and while some areas like Pelican and Windlass have more of the crowds, the crowds are nothing like those of the busy spring break days. Find a beach with deep water access close to shore and work it. Theresa Weidman and Jessica and Daryl Wilson from Conifer, Colorado booked a 3-day trophy trip with guide Morgan Kane, and within the three days, they caught a number of trout in the 3-to 6-pound range as well as 11 fish over 10 pounds with five of these from 14 to 18 pounds up to the big fish taken by Daryl. Midges in sizes 8 to 16 worked from 6 to 10 feet below the indicator and the Popcorn beetle/woolly worm combo on the strip has been getting fish for us consistently. I had to stop stripping flies for a few days because my forearm and hand was so sore like I was on a 6-day tuna trip."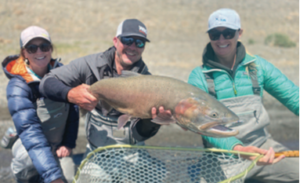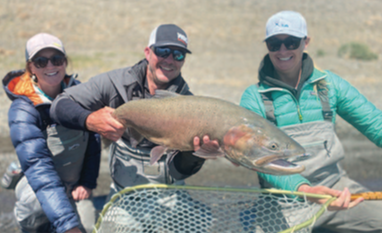 Miles Zimmerman of Trout Creek Outfitters Fly Shop in Truckee said, "As the season continues to wind down and these fish get into spawn mode, the bite has been relatively slow, although windy overcast days can still provide some solid fishing. The most consistent action has been with midges in sized 10 to 12 four to six feet under an indicator although it is worth having some other general attractor nymphs such as Copper John's, Pat's Rubberlegs, or worm patterns to mix it up when the worms aren't producing. As the fish remain in shallow water most of the day, and the days continue to get longer and warmer, now is a great time to head up here for the opportunity for a trophy Lahontan cutthroat."
The season for Lahontan cutthroat closes for the summer on June 30, but the lake is open year-round for Sacramento perch with a 10-fish limit.