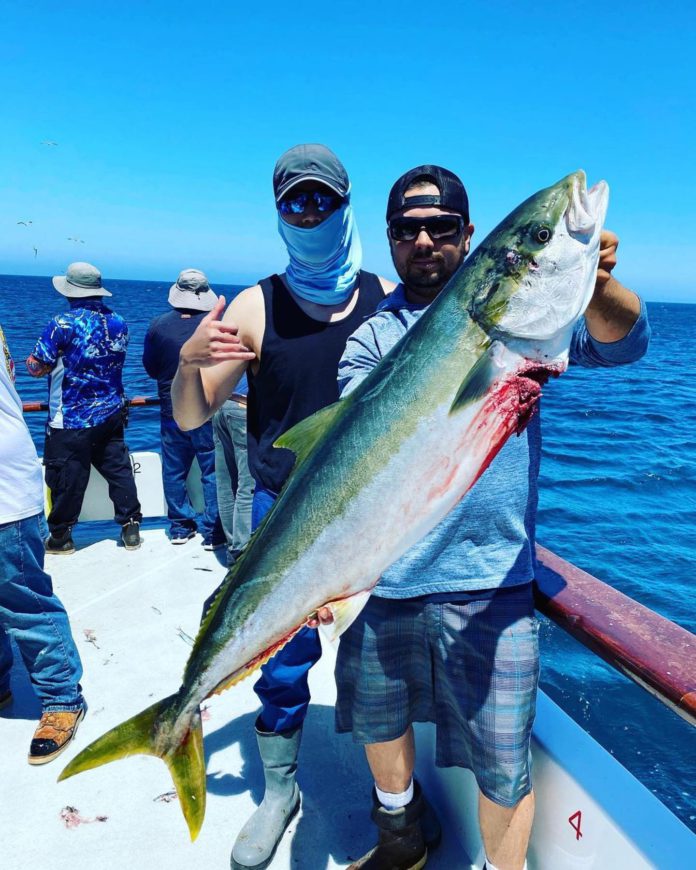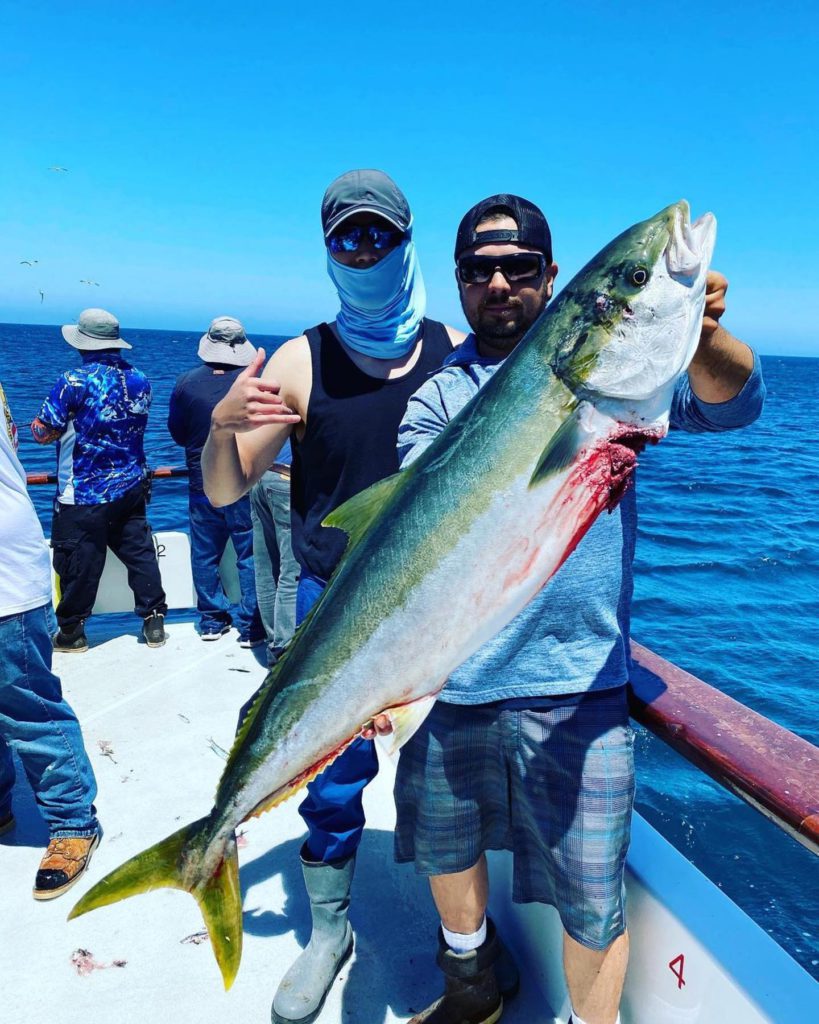 BY MERIT McCREA
SAN PEDRO/LONG BEACH — Early in the week the Fortune was on the yellows in an iron bite for 58 on a 1.5-day. Capt. Shon Roberts reported a pair at 47 and 43 pounds landed. But that was before the wind.
Even Sunday, after the worst of it had passed, the Pursuit fishing at Catalina Island posted, "20-25 knots of wind coming over the top of the island. Sea lions. No current. Weekend boat traffic. Found a way to make it happen. Got a nice sample of things today – 8 for about 13 on the yellows, 21 bonito, 18 bass, 2 barracuda and 63 whitefish."
Thankfully that island casts a nice lee from the swell, if not the wind too in places.
Meanwhile, the epic scorpionfish snap out on the 150 put limits for all anglers aboard most local trips and added nearly the same in just an hour's fishing for island-bound boats making a morning stop along their way across the channel.
Sunday the Freedom was back out at San Clemente Island, starting their day in sheltered east end waters before heading out for some bag fillers. Their 30 folks ended up with 115 whitefish, 12 bonito, 7 yellowtail, 32 rockfish and a handful of bass.
Out of Pierpoint Landing, the sculpin opportunity was not to be missed and every single trip, whether half- or 3/4-day, resulted in full limits first and foremost.
Their overnight boat Toronado found excellent bonito action at San Clemente Island as weather permitted. Again, a few halibut added to the excitement.
Long Beach Sportfishing Landing Manager Steve Phelps reported, "Well, just when we thought we were done with the wind it found us again, but we were able to make it out a few times this week and still catch some fish. The 3/4-day boat Victory went out yesterday in less-than-favorable conditions, but Captain Phil still loaded his 27 anglers up with 135 sculpin (limits), 10 whitefish, 50 bocaccio, 100 rockfish, 6 sand bass and 1 calico. The overnight boat Eldorado made it out once this week due to the wind and still loaded up on the bottomfish along with a few surface fish as well. Captain Jeff checked in with 216 rockfish, 34 vermilion rockfish, 142 whitefish, 2 sheephead, 2 sculpin, 2 lingcod, 2 halibut, 3 yellowtail and managed to hook and land one 50-pound bluefin on a foamer on the way home. The 6-pack charter boat Dreamer has been on fire at the Island, catching white seabass, yellowtail, calico bass and more. The 6-pack charter boat MarDiosa has been doing great on their full-day Catalina Island trips, fishing yellowtail, calico bass, bonito and rockfish."
The Victory never missed on sculpin limits all week long and the Ahra Ahn is slated to be back on the run starting June 1. And of course, all boats were available for private charter, he said.
At L.A. Waterfront, the Gail Force and Triton didn't have an update but the Sport King fished both Saturday and Sunday, charging the island and finding 42 calicos for 21 anglers Sunday, adding a number of other catches including a nice yellowtail.