BY RACHEL VON FLECK
SAN PEDRO – When you think of lobster hoop netting, you typically think of cold, wet weather. Our WON combo fishing/lobster trip aboard the Gail Force and Triton started out nothing like that. With the sunny, blue skies shining down on us, our groups boarded at San Pedro and headed off to a beautiful afternoon of fishing at Catalina. It was one of those days where the Pacific Ocean looked as flat as a lake, with nothing except for a few pods of dolphins splashing through the water.
After deckhand Sean Rubino of the Triton helped everyone rig up for rock fishing, we all relaxed and talked about the season's prior fishing ventures, enjoying delicious burgers and quesadillas that crew member Jake Bruce whipped up for us. I had just finished my meal when Triton Captain, Shane Kelly, alerted us to a whale off the port bow. Everyone gathered around as the whale surfaced multiple times and put on quite a show for us.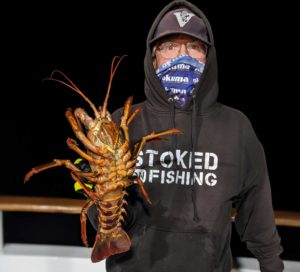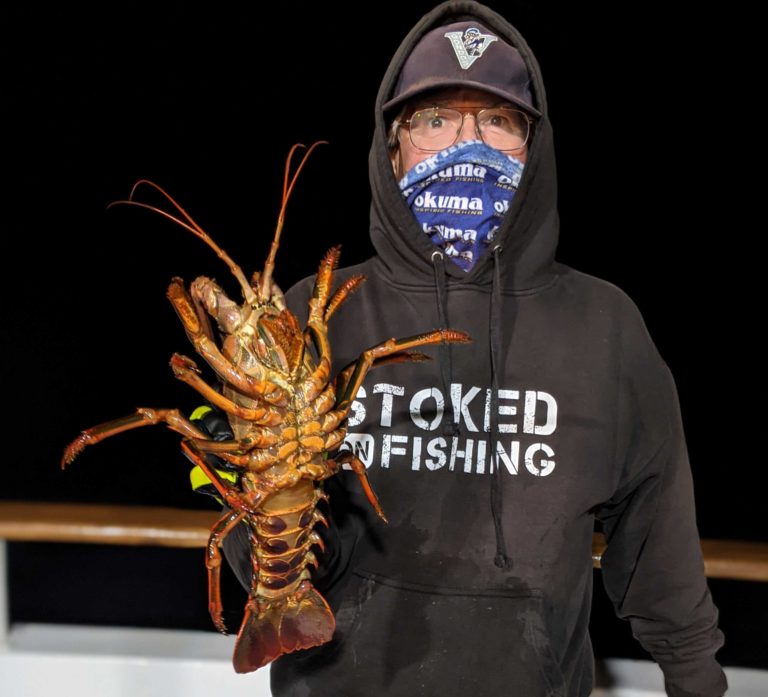 Once we got to the island, we set up in some deeper water and many of the passengers fished dropper loops with a 6- or 8-ounce sinker and cut squid or shrimp. Some passengers dropped artificials like diamond jigs, Laser Minnows, or Coltsnipers. Lucky for us, the sponsors for the trip provided giveaways to every passenger on each boat including a Promar hat and stickers, a Frogg Toggs waterproof bag (which came in handy to store our wet clothing after the trip), and then 20-pound HI-SEAS fluorocarbon and a P-Line laser Minnow which were useful for the type of fishing we were doing.
I was on the Triton for this trip, and we ended up pulling up some nice rockfish, a couple of sheephead, and plenty of whitefish. There were multiple times two fish were pulled up at once on the double dropper loop, and it was all around very fun fishing. The Gail Force also saw very good whitefish fishing with a sprinkling of rockfish and a couple sheephead as well. The sheephead took the jackpot on both boats, with the sponsor-provided Maui Jim Sunglasses Certificate and Accessory prize packs going to Brian Shintaku of Lakewood on the Gail Force and Rodney Kojima of Rowland Heights on the Triton.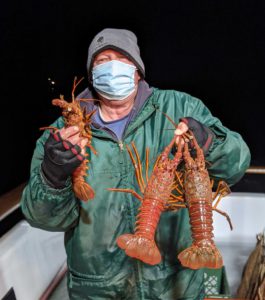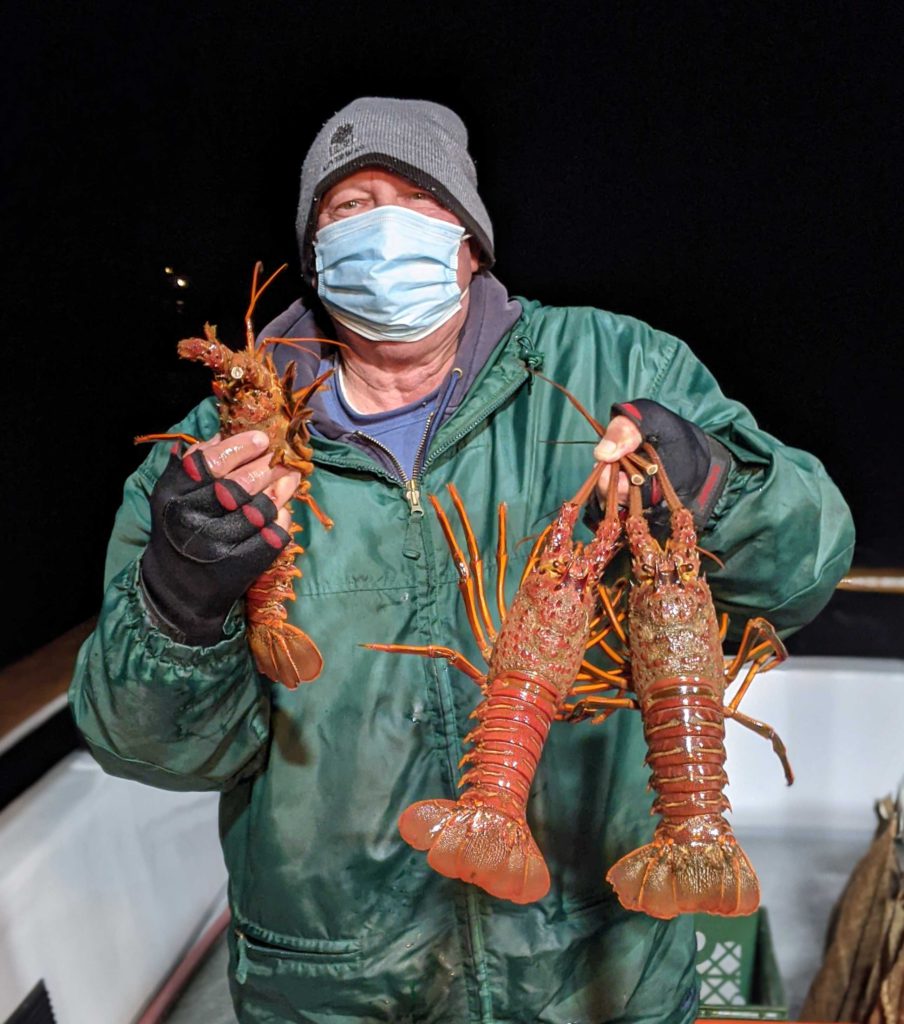 As the sun started to creep behind the island, we pulled anchors and set out to drop the hoop nets. We had a bit of time to relax as they threw out the ten Promar hoops and buoys on each boat. Once they were done, we went into some shallower water to fish for another 45 minutes, until we were ready to head back to the first pots we dropped. We caught a few small calico bass, more whitefish, and some large mackerel to finish up our fishing for the evening before the sky went dark, showing only the sliver of the moon.
That meant only one thing — it was time for the main event! We started packing on our colder weather gear including bibs, beanies, and gloves to prepare for the wet and cold we knew was coming. Everyone double checked their numbers and lined up excitedly to get ready for their turns.
When you take a lobster trip on the Gail Force or the Triton, they'll try to drop (time permitting) ten hoop nets and do three pulls on each net, providing each of the ten passengers three chances at lobster. I personally love the combo trips offered by these two boats; I've done quite a few on each, and it's a lot of fun whether you are with a group of friends or just meeting everyone for the first time. You have some down time to get to know the other passengers, a couple hours of fishing to compete for largest fish jackpot, and then when it comes time to pull the hoops, everyone tends to jump in and work together as a team.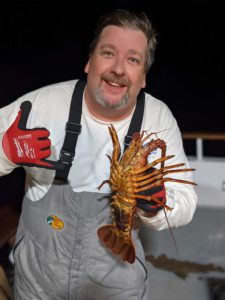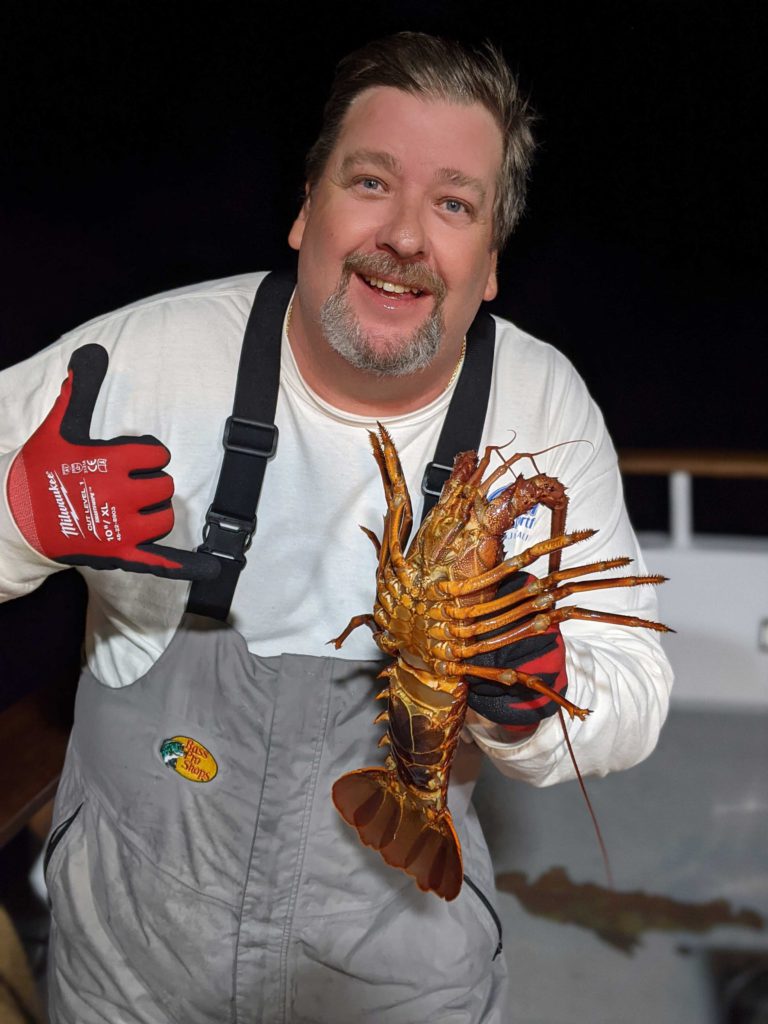 Many of our hoops were dropped in fairly deep water, with some of them sitting around 45 fathoms. In the first round of pulls, the Triton passengers brought up five legal lobsters (including what turned out to be the jackpot lobster by Jim Degner) and three times as many shorts were released. On our second set, we all took turns jumping in when anyone felt too tired to assure a smooth, steady pull was maintained so the lobsters had no chance of escape. When it came to the third and final set, many people were tag-teaming the pulls and switching off every 30 seconds or so. After a few missteps, we realized we'd benefit from an added person standing behind, guiding the rope so no one would trip, as well as making it easier for the deckhand to coil it up.
By the end of the three rounds, we ended the night with 17 legal lobsters and a couple of spider crabs for our haul on the Triton. Captain Jared Mallot of the Gail Force beat us in the friendly competition between boats with 18 legal lobsters and a total of 87 shorts that were released. A few of the passengers with a higher number of lobster split theirs up to make sure everyone went home with at least one.
As we turned back toward the mainland, a few of us headed down to the Triton's bunks to catch a snooze before we made it back to the docks. Others spent time breaking down their rods, changing into dry clothing, and packing up their wet gear.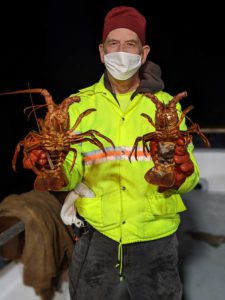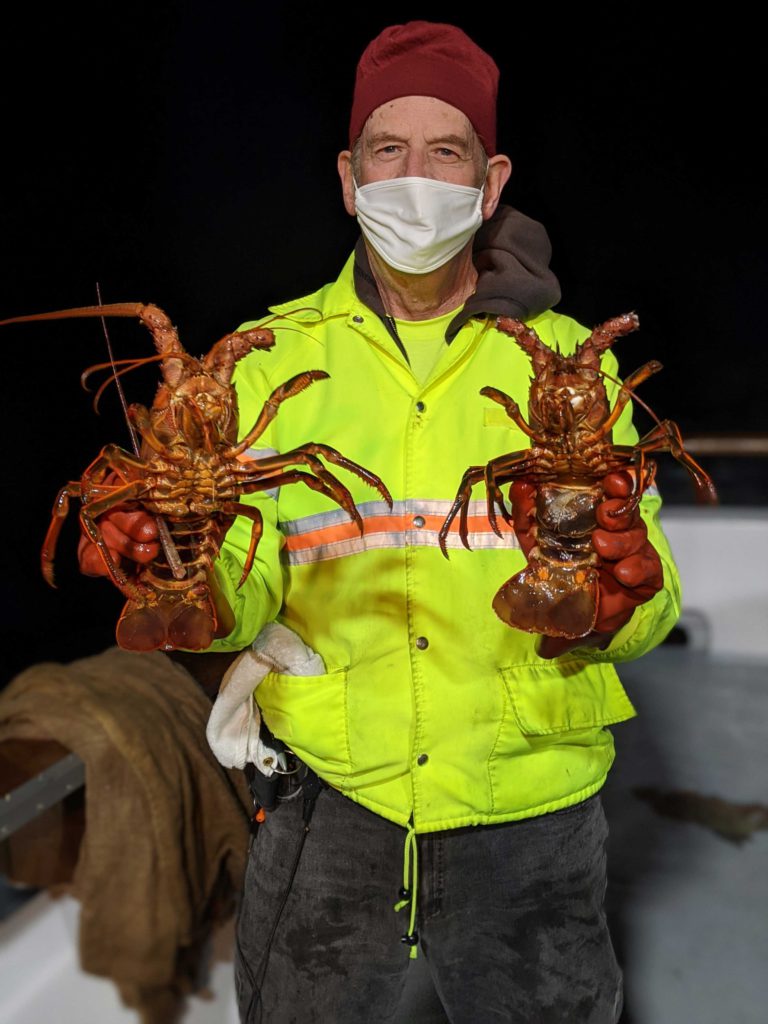 As we neared the landing, we presented the sponsored lobster jackpot prize of a Promar hoodie and a Promar Premier Snapback Hat to a very happy Jim Degner of Ladera Heights. Considering it was midnight when we got back, and many people had to drive a long distance home, everyone quickly dispersed as soon as we were docked. I ran over to the Gail Force to present the other Promar prize pack to their jackpot lobster winner, Mike Martin of Huntington Beach.
At the end of this trip, everyone went home with fish, giveaway items, at least one lobster, and various new tips for cleaning or preparing lobster. I heard countless new ideas for using the lobster meat, including lobster BLTs, lobster pot pies, lobster risotto, and many more. We also had a few, fun impromptu lobster-cleaning clinics run by some of the passengers, showing how to devein the lobster with its own antennae, how to separate the tail with all the meat from inside the body, and the best ways to steam, boil, broil, and poach the meat. After such a successful day with an amazing group of people and crew, the fun and excitement we experienced already has me planning my next lobster trip!