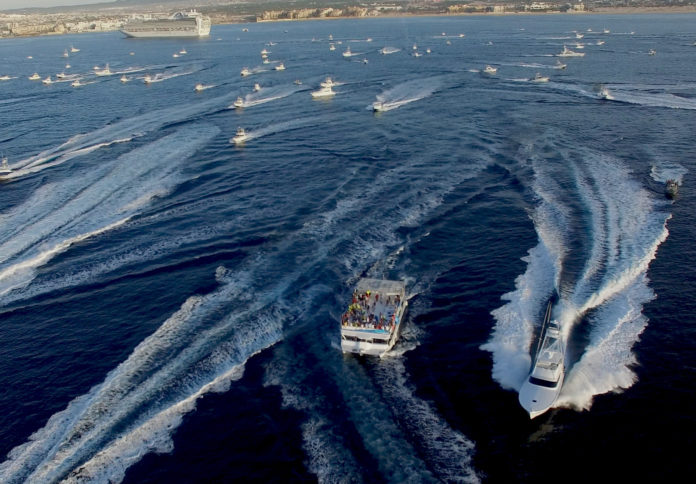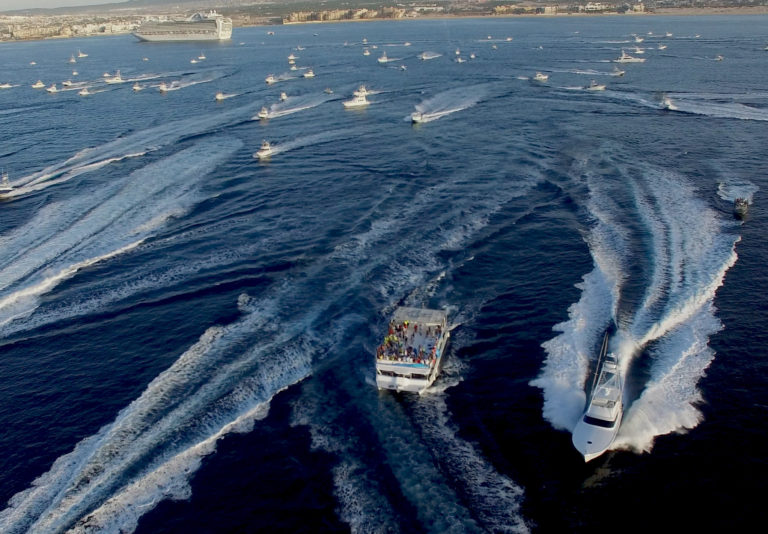 BY PAT MCDONELL
Each year the WON Los Cabos Tuna Jackpot has new wrinkle, a new look, subtle changes in the rules for more fairness, a new party, a new jackpot, and maybe an early bird day of signups to streamline check-in. Last year, though, there was nothing subtle about the many changes. They were wholesale, and not much fun. Now, the entrants certainly had fun, you can be assured of that. It is Cabo, after all. But with no gatherings or parties due to Covid restrictions, the anglers had to get creative.
This year, a year later, the tourney is in its 23rd year, looking to break the $1 million payout mark for a third consecutive year, and could boast 160-plus teams — and return to being a fun, party-filled event.
"We had 149 teams last year, and for a crazy situation of protocols we were thrilled at the turnout, excited about the introduction of our new website, catchstat.com, but disappointed we couldn't have parties like we usually do," said Gerry Mahieu, the new director the tuna tournament. "Yet, we still had a successful tournament with nine teams winning money, a record amount of money. The game plan right now is that we are focusing on hosting a real celebration of sportfishing, with more teams, the parties, a bigger payout, fireworks and a streamlined check-in and a great venue for the weigh-ins. But it's up to the Mexican government whether it will give the big tournaments the green light for gatherings."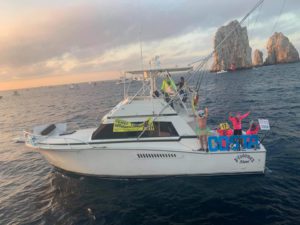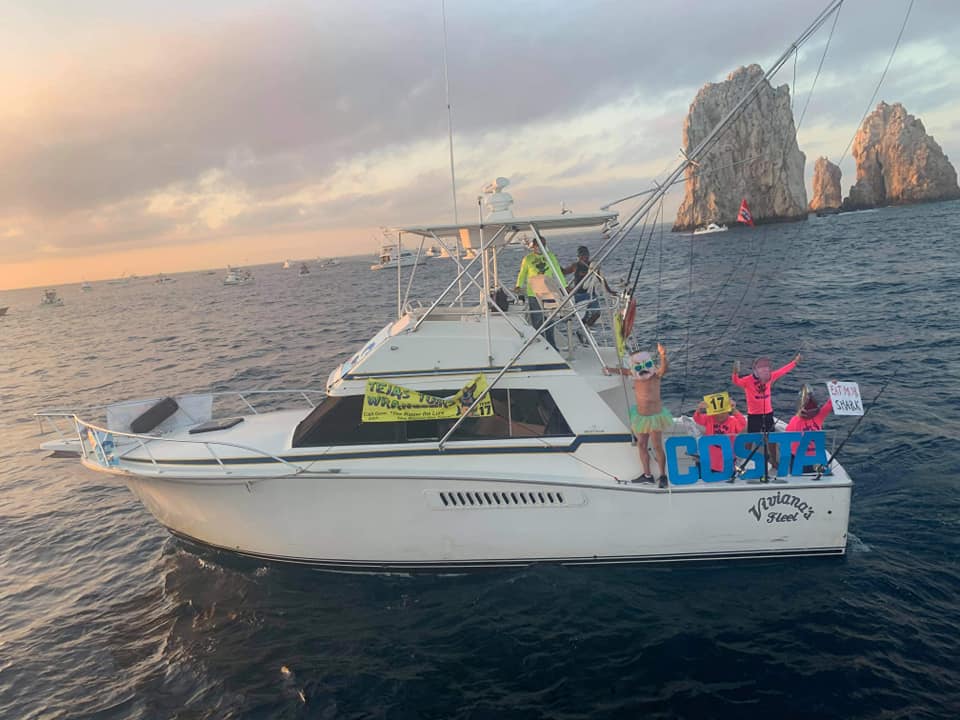 Mahieu himself is one of the big changes for 2021. He's the new director, and he comes at it with a wealth of experience in tournament fishing, both competing in and directing them. He founded the highly successful Saltwater Bass Series in Southern California and is usually booked solid as a popular SoCal charter captain on his Robalo CC sportfisher.
"I know I'm the new guy, trying to fill the shoes of Pat McDonell, and I'm going to give it my best shot. I spent four days in Cabo in late June meeting everyone who assists us down there, and they are as eager as I am to put on a great event," said Mahieu. "Also, Pat is helping give valuable input, and Billy Egan has been there as assistant director. And Tracy and Marco Ehrenberg of Pisces Sportfishing and their daughter Rebecca are there for us, as well as Dale and Grave Cote at Gricelda's Smokehouse and Brian Solomon and his daughter Samantha Solomon of Solomon's Landing, and many others who have been with use year after year. We think we have a great game plan here at WON to make that happen."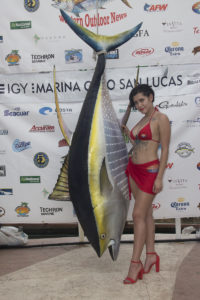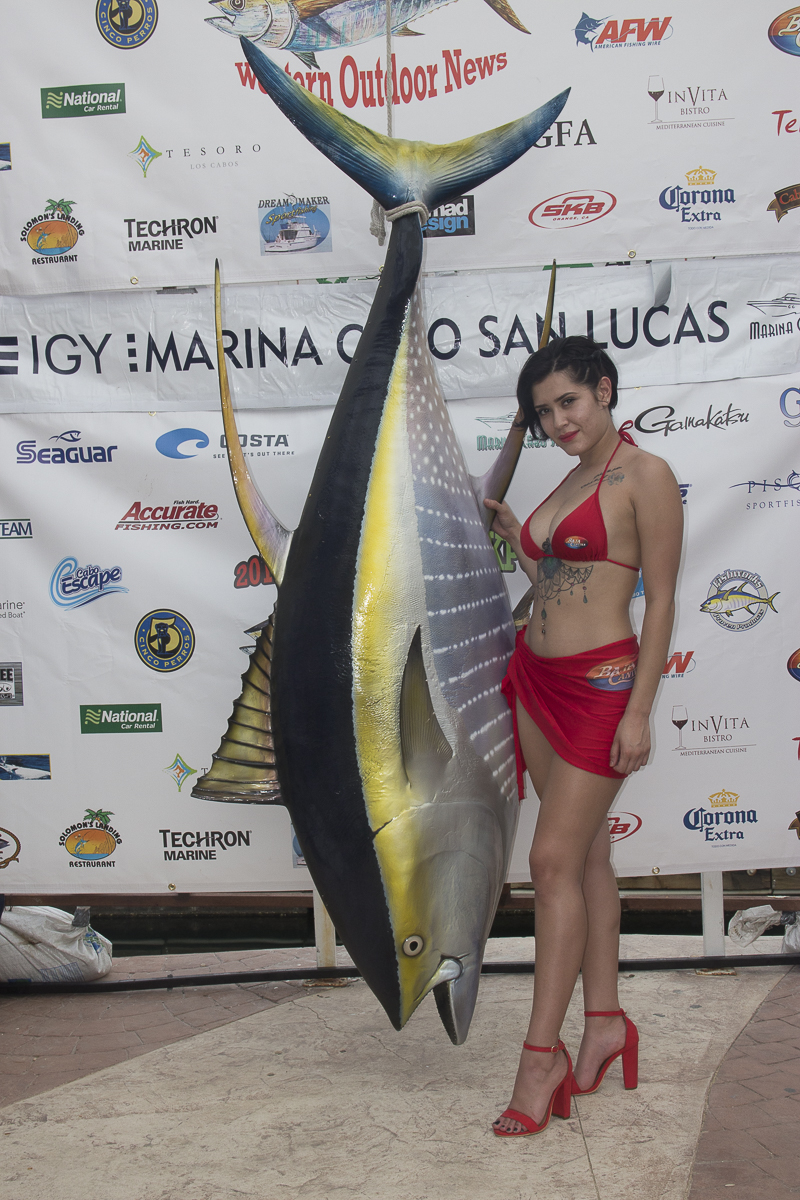 The schedule of events is in this special Tuna Jackpot Preview, and is also found at www.loscabostunajackpot.com and also at catchstat.com and www.cabotunajackpot.catchstat.com. Suffice to say, it's going to be a fun four days starting with the Tuesday Early Bird Check-in 1-4 p.m. at the Hotel Tesoro conference center, then the check-in Wednesday 1 to 6:30 in front of the Hotel Tesoro on the malecon, followed by the Welcome Party and Captains meeting 7:30 to 9 p.m. right there in front of the elevated stage as chairs are brought in, so stick around and have some beers and tequila as the sun sets and fun begins. Then there the two days of fishing, a Friday Fiesta at Baja Cantina's Maria Corona restaurant, and the awards gala dinner Saturday night on the cruise pier catered by Solomon's Landing.
Last year's tourney race to the Tuna Jackpot title was close, super close. Team Real Godz of Rods on the Ole Ole — manned by the crew from the charter boat Mucho Bueno that moved over when the latter vessel was not available. The Ole Ole pulled up at the Pisces dock with a 210 pounder on Day Two. Because anglers Shea and Stephanie Sumner and Gary and Annette Sigle were entered in only in the $500 tuna optional (with 94 other teams) they left a lot money on the table and walked away with a total of $80,625.
That meant the 209 pounder by Rocky Mountain Hookers — made up of Travis King, Frank Kavanaugh, Troy Johnston and Sean Sadler — that same day won all of the Day Two tuna optionals and scored $318,450, the most cash won by any team last year. The next highest total for the tourney was Team Burro, who claimed $246,200 for winning all the Day One optionals except the $5,000 tuna optional.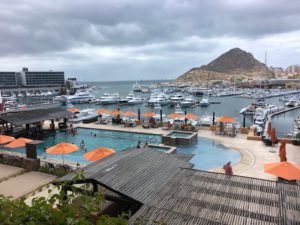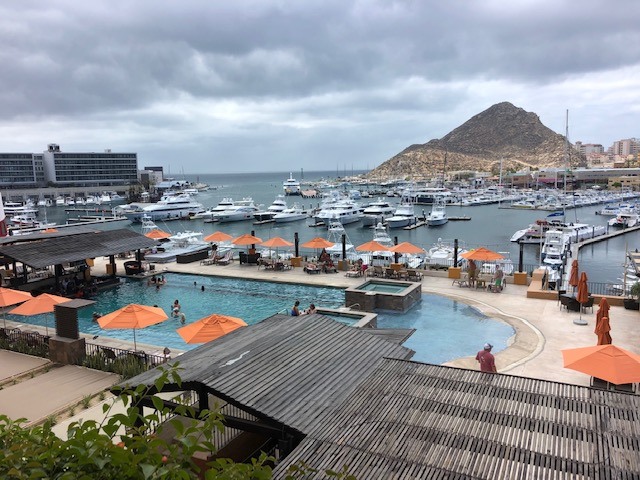 One of the dramatic high stakes stories was the fact that a 22.5-pound dorado caught the second day won the first and second day Dorado Optional money for a $105,600 payday on the Pisces Viking sportfisher, Tag. Thus, even in what could be billed as a "slow" tuna tournament for tuna, there were three tuna over 200, plus a 186 and a 175, and nine more fish over 100 pounds. And nine teams shared a cool million bucks-plus.
"A parade of big tuna is always nice at the scale," said Mahieu, "so we will see what Nov. 4 and 5 bring. The important thing is that we make sure we get them all weighed. It's serious money. And look at the money for the wahoo and dorado. It definitely shows that this event is one for all financial levels. It's also fun for the crowds. This year we will have the Gray Taxidermy weigh scale structure and electric winch and two new IWS-certified scales elevated onto a four-foot high stage for great viewing in front of the Hotel Tesoro. What a beautiful venue — the hotel and the lighthouse on one side, the beautiful IGY marina on the other. The malecon bars will be serving up drinks, and we will have an electronic scoreboard this year. It will be a crazy sight to see those fish wheeled up that ramp for assistant director Billy Egan to weigh and the crowd to see and cheer for the teams. We want to get back to that!"
One change that Mahieu will implement is a different first day dorado minimum. Last year it was 30 pounds the first day, and the $51,000 rolled over to the second day with a new minimum of 20 pounds for Day Two. That has happened two consecutive years, and it has produced some grumbling.
"I heard the concerns. The minimum weight for dorado should be the same both days. This year the minimum on dorado will be 25 pounds on both days, and with the size of the dorado being caught already this year in Southern Baja, that will not be difficult to achieve both days," said Mahieu. "The wahoo and tuna minimum weights will remain at 30 pounds."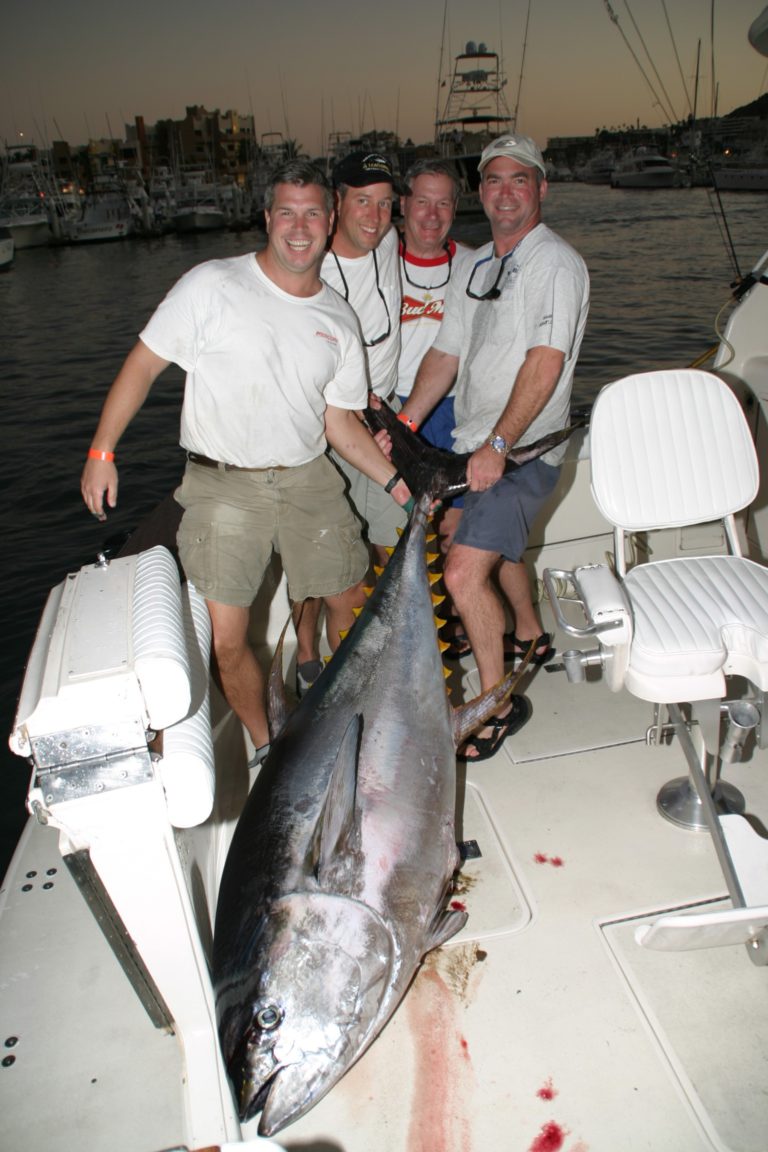 A few things implemented last year and in 2019 will also remain. One is that teams must be prepared to video weighable fish, as all teams may be required to provide video footage of the catch for tournament verification. A team's catch may be disqualified if video evidence is not provided. You may be asked for it by tournament officials at weigh-in.
"Have a teammate or crew member shoot the final minutes on a phone or other device," said Mahieu. "It will eliminate, with its 'time stamp,' any questions of when a fish was caught."
For 2021, all the standard tuna optionals ($500, $1,000, $$2,000, $3,000, $5,000, $10,000, $20,000), wahoo $1,000 and dorado $1,000 optionals remain. The $20,000 Gray FishTag Research Tuna Optional offers payouts going out to the biggest tuna among teams that enter it — $1,000 from each entry in this optional will be donated by Western Outdoor News to Gray FishTag Research in order to purchase satellite fish tags that run $5,000 each. The only stipulation for entering that $20,000 tuna optional is that only teams that enter across the board can enter the Gray optional. There were 20 teams across the board last year and six of those teams entered that Gray Research Optional, which paid $51,000 each day.
Last year, with Pisces Marina Del Rey scale and dock fuel facility used as the "remote" weigh area both days, it did not matter that the outer jetty was the 6 p.m. deadline spot. Boats just needed to get to that dock at the outer marina just inside the jetty. If the weigh-in is in front of the Hotel Tesoro in the inner harbor this year, the jetty and a video camera will again come into play. Boats must cross that imaginary line across the harbor from the end of the outer jetty by 6 p.m. A video camera will be positioned at the Marina Del Rey Fuel Dock. Be sure to
wing by close and hold up your team number to make sure you are seen.
"We are planning a great tourney, full of fun, prizes, drawings, Costa backpacks for all anglers, event hats and t-shirts, championship carved hook trophies and special championship shirts and hats, the Grand Raffle Drawing, and of course, there will be two flare gun starts each day with charity parties from 6 a.m. to 8 a.m. on those days aboard the Costa start boat Cabo Escape, with Smiles International Foundation.org benefitting from the individual $40 charter ticket on sale at the Smiles booth at check-in and at the boat both days before boarding at 6 a.m.
Smiles International Foundation is the official Jackpot charity again, and at their booth they will selling tickets to the two charity charters, clothing and tickets for the Grand Raffle, as all proceeds will go toward surgical supplies for the two week-long clinics for Baja California Sur children with cleft pallet deformities. Get more details on the all-volunteer foundation at smilesinternationalfoundation.org (and see page 12 of this supplement).
The Nov. 3-6 tournament promises to be bigger than ever, with more teams, more money, more parties and big fish, and then there's Cinco Perros
tequila… always the tequila.
Updates on the tourney can be found at www.loscabostunajackpot.com and at catchstat.com and cabotunajackpot.catchstat.com, and updates will also be posted on the official Tuna Jackpot Facebook page. Any questions about signing up, deadlines and methods of payment can be directed to Lori Twilegar at lori@wonews.com; (949) 366-0827.